Jurassic World: Dominion Dominates Fandom Wikis - The Loop
Play Sound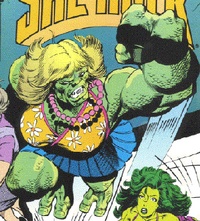 Abominatrix is a minor antagonist in Marvel Comics. She is in many ways the female equivelant of the better known Abomination, created to be a foil for the She-Hulk.
History
The woman who would become the Abominatrix was an employee of Jasper Keaton's savings and loan company. Following government deregulation of the S&L industry, Keaton made a large profit with short-term investments. He created a genetic research division which empowered two of his employees, creating the Abominatrix and Captain Rectitude. The Abominatrix was the product of a failed medical experiment (presumably using gamma rays) to control PMS. Instead, the experiment left her permanently in that condition.
Keaton employed the Abominatrix to kidnap Louise Mason. Mason, formerly known as the Blonde Phantom back in the 1940s, had been part of the All-Winners Squad's attempt to prevent gangster Dutch Malone from stealing the nuclear warhead nicknamed Rosebud. Keaton wanted to learn the current location of Rosebud so he could use it to force the US Senate Banking Committee to give him control of the Savings and Loans. Unfortunately for Keaton, Mason did not know where it was.
The Abominatrix battled She-Hulk on several occasions while she was trying to free Mason. Mason's daughter, now the Phantom Blonde, inadvertently revealed that Rosebud was hidden in a statue in front of Rosenblatt's hotel, the Benchmark. Rosebud's detonator was connected to Rosenblatt's pacemaker, and surprisingly enough, the aged Rosenblatt died of a heart attack while in a shoot-out with Keaton's men. She-Hulk succeeded in temporarily incapacitating Abominatrix in time to hurl the missile into the empty desert, where it destroyed Keaton's resort headquarters, the Nebuchadnezzar.

Villains
Comics
Abomination | Abominatrix | Absorbing Man | Adolf Hitler | Agony | A.I.M. | Air-Walker | Alkhema | Aleksander Lukin | Alistair Smythe | Amatsu-Mikaboshi | Amora | Anaconda | Annihilus | Ani-Men | Answer | Apocalypse | Arcade | Ares | Arnim Zola | Atlas | Attuma | Avalanche | Awesome Android | Badoon | Barracuda | Baron Blood | Baron Mordo | Baron Wolfgang von Strucker | Baron Zemo | Basilisk | Batroc | Beetle | Beyonder | Bi-Beast | Black Knight | Blackout | Black Order | Black Cat | Black Mamba | Black Talon | Black Widow | Blackie Drago | Blastaar | Blitzkrieg | Blizzard | Blob | Blood Brothers | Bombshell | Boomerang | Brothers Grimm | Brotherhood of Evil Mutants | Bulldozer | Bullseye | Burglar | Bushmaster | Bushwacker | Cache | Cannibals (Marvel Universe Vs) | Carnage | Carrion | Calypso | Celestials | Centurion | Chameleon | Chance | Chemistro | Chester Goudal | Chitauri | Collector | Colonel Ross Whittaker | Commander Kraken | Constrictor | Corruptor | Cottonmouth | Count Nefaria | Cowled Commander | Crime-Master | Crimson Dynamo | Crimson Widow | Cristu Bulat | Crossbones | Crossfire | D'Spayre | Daken | Damage | Daniel Whitehall | Dark Avengers | Dark Elves | Deadpool | Deathbird | Deathurge | Death Adder | Deke Wainscroft | Demogoblin | Diablo | Diamondback | Doctor Doom | Doctor Faustus | Doctor Octopus | Doctor Spectrum | Dormammu | Dracula | Dreadknight | Druig | Eddie Brock | Eel | Egghead | Ego the Living Planet | Electro | Elementals | Elements of Doom | Enclave | Enforcers | Equinox | Exodus | Ezekiel Stane | Fabian Cortez | Famine | Fin Fang Foom | Finn Cooley | Firelord | Fixer | Fold | Frost | Frost Giants | Frightful Four | Galactus | Gargantus | Garthan Saal | Ghost | Giganto | Goliath | Gladiator | Godzilla | Grand Director | Grandmaster | Grant Ward | Graviton | Green Goblin (Norman Osborn, Harry Osborn) | Grey Gargoyle | Grey Goblin | Griffin | Grim Reaper | Grizzly | Growing Man | Grotesk | Hammerhead | Hand | Hazmat | Hela | Hera | Herr Kleiser | Heinz Kruger | High Evolutionary | Hitman | Hive | Horsemen of Apocalypse | Hobgoblin | Hood | Hydro-Man | HYDRA | Immortus | Impossible Man | Inner Demons | Ironclad | Iron Monger | Jackal | J. Jonah Jameson | Jack O' Lantern | Jester | Jigsaw | Johnny Ohm | Jonas Hambleton | Jormungandr | Juggernaut | Justin Hammer | Kaine | Kang the Conqueror | Killer Shrike | King Cobra | Kingpin | Klaw | Knull | Korath the Pursuer | Korvac | Kraven the Hunter | Kree | Kristoff Vernard | Lady Deathstrike | The Leader | Lightmaster | Living Brain | Living Laser | Living Monolith | Lizard | Loki Laufeyson | Lucia Von Bardas | Ma Gnucci | Machinesmith | Mad Pharaoh | Mad Thinker | Madame Masque | Madame Viper | Madcap | Madelyne Pryor | Maelstrom | Maestro | Maginty | Magneto | Magus | The Maker | Malekith the Accursed | Man-Ape | Mandarin | Mandrill | Man-Spider | Man-Wolf | Master Man | Master Pandemonium | Masters of Evil | Masked Marauder | Maximus the Mad | Medusa | Melter | Menace | Mentallo | Mercurio the 4-D Man | Mesmero | Mephisto | Mister Fear | Mister Hyde | Mister Negative | Mister Payback | Mister Sinister | M.O.D.A.M. | M.O.D.O.K. | Mojo | Molecule Man | Mole Man | Molten Man | Monica Rappaccinni | Moonstone | Morbius the Living Vampire | Morgan le Fay | Moses Magnum | Mystique | Mysterio | Namor | Nebula | Nekra | Nicky Cavella | Nightmare | Nightshade | Niles Van Roekel | Nicky Cavella | Omega Red | Onslaught | Orka | Overdrive | Owl | Paladin | Phalanx | Phil Urich | Piledriver | Pluto | Presence | Princess Python | Proctor | Psycho-Man | Punisher | Puppet Master | Puma | Purple Man | Quasimodo | Quicksand | Quicksilver | Radioactive Man | Ragnarok | Ramrod | Rattler | Reavers | Red Ghost | Red Skull | Reverend Samuel Smith | Rhino | Rhino II | The Rose | Ringer | Ringmaster | Riot | Ronan the Accuser | Roxxon | Sabretooth | Sandman | Säurespritze | Sauron | Savage Land Mutates | Scarecrow | Scarlet Witch | Scorcher | Scorpion | Screaming Mimi | Sebastian Shaw | Secret Empire | Selene Gallio | Sentinels | Sentry 459 | Serpent Society | Shriek | Shocker | Shockwave | Sidewinder | Silver Sable | Sin | Sinister Six | Skaar | Skeleton Crew | Skrulls | Skurge | Slug | Space Phantom | Spider-Man Revenge Squad | Spider-Slayers | Spot | Squadron Sinister | Stranger | Street | Sunstroke | Superia | Super-Adaptoid | Super-Apes | Super Patriot | Super-Skrull | Supreme Intelligence | Superia | Surtur | Swarm | Swordsman | Symbiotes | Tarantula | Taskmaster | Technovore | Temugin | Ten Rings | Terminus | Thanos | Thorr Odinson | Thunderball | Thunderbolts | Thunderbolt Ross | Thundersword | Tiger Shark | Tinkerer | Titania | Titanium Man | Toad | Tombstone | Trapster | Trick Shot | Terrax the Tamer | Typhoid Mary | Tyrannus | U-Foes | Ulik | Ultimus | Ultron | Unicorn | Universal Church of Truth | Uranos | Vapor | Vector | Venom | Vermin | Vulture | Walrus | Warlord Krang | Whiplash | Whirlwind | White Rabbit | Will-O'-The-Wisp | Winter Soldier | Wizard | Wonder Man | Wrecker | Worthy | X-Ray | Yellow Claw | Ymir | Yon-Rogg | Zahnmörder | Zodiac | Zombie Giant-Man | Zombie Sentry | Zzzax
Movies
Ultimate Avengers 1 & 2: Herr Kleiser | Chitauri
Next Avengers: Heroes of Tomorrow: Ultron
The Avengers: Loki Laufeyson | Chitauri (The Other & Leviathans) | HYDRA (Gideon Malick & Jasper Sitwell) | Georgi Luchkov | Thanos
Avengers: Age of Ultron: Ultron | Ultron Sentinels | HYDRA (Wolfgang von Strucker, List, Scarlet Witch & Quicksilver) | Ulysses Klaue | Madame B | Chitauri (Leviathans) | Thanos
Avengers: Infinity War: Black Order (Thanos, Ebony Maw, Proxima Midnight, Corvus Glaive, Cull Obsidian, Nebula, Outriders, Chitauri & Leviathans) | Red Skull | The Collector | Loki Laufeyson | Winter Soldier | M'Baku | Scarlet Witch | Thunderbolt Ross
Avengers: Endgame: Black Order (Thanos, Ebony Maw, Proxima Midnight, Corvus Glaive, Cull Obsidian, Nebula, Outriders, Sakaaran Mercenaries, Chitauri, Leviathans & Chitauri Gorillas) | HYDRA/STRIKE (Red Skull, Alexander Pierce, Crossbones, Jasper Sitwell & Jack Rollins) | Loki Laufeyson (Variant L1130) | Winter Soldier | M'Baku | Scarlet Witch | Kraglin Obfonteri | Dark Elves | Thunderbolt Ross | Akihiko
Television
The Avengers: United They Stand
Ultron | Kang the Conqueror | Swordsman | Ringmaster | Masters of Evil (Baron Zemo, Absorbing Man, Boomerang, Moonstone, Tiger Shark & Whirlwind) | Attuma | Zodiac (Taurus & Scorpio) | Egghead | Scarlet Witch | Grim Reaper | Quicksilver | Namor | Doctor Doom | Baron Strucker | HYDRA | A.I.M. | Black Knight | The Collector
The Super Hero Squad Show
Doctor Doom | Mole Man | Fin Fang Foom | Abomination | Wrecker | Thunderball | Piledriver | Bulldozer | M.O.D.O.K | Klaw | Toad | Melter | Dormammu | Sabretooth | Juggernaut | Pyro | Whirlwind | Zzzax | Enchantress | Baron Mordo | Punisher | Egghead | Ringmaster | Skrulls (Super-Skrull) | Trapster | Mystique | Impossible Man | The Leader | Mad Thinker | Skurge | Crimson Dynamo | Batroc the Leaper | Loki Laufeyson | Magneto | Quicksilver | Scarlet Witch | HYDRA (Red Skull , Arnim Zola & Baron Wolfgang von Strucker) | Galactus | Terrax the Tamer | Firelord | Stardust | Thanos | Kree | Ego the Living Planet | Grandmaster | Annihilus | Nebula | Ronan the Accuser | Nightmare | Ultron | Dark Surfer | Sentinels | Dracula | High Evolutionary | Screaming Mimi

Avengers: Earth's Mightiest Heroes
HYDRA (Red Skull, Baron Von Strucker, Grim Reaper, Arnim Zola, Doughboy & Madame Viper) | Masters of Evil (Baron Zemo, Enchantress, Skurge, Chemistro, Abomination, Crimson Dynamo & Grey Gargoyle) | A.I.M. (M.O.D.O.K) | Kree Empire (Supreme Intelligence, Colonel Yon-Rogg & Ronan the Accuser) | Absorbing Man | Klaw | Ultron | Wrecker | Thunderball | Piledriver | Bulldozer | Red Hulk | Frost Giants (Loki Laufeyson & Ymir) | Technovore | Bi-Beast | The Leader | Whirlwind | Kang the Conqueror | Man-Ape | Malice | Mad Thinker | Mandrill | Graviton | Fenris Wolf | Lucia Von Bardas | Zzzax | Blizzard | Constrictor | Griffin | Living Laser | Whiplash | King Cobra | Magneto | Wendigo | Skrulls (Super-Skrull) | Ulik | Malekith the Accursed | Hela | Doctor Doom | Surtur | Glenn Talbot | Winter Soldier | J. Jonah Jameson | Destroyer | Annihilus | Purple Man | Galactus | Firelord | Stardust | Terrax the Tamer | Red Ghost | Super-Apes | Mandarin | Bushmaster | U-Foes (Vector, Vapor, X-Ray & Ironclad) | Crossfire | Serpent Society | Rattler | Death Adder | Anaconda | Air-Walker

Avengers Assemble
HYDRA/A.I.M. (Red Skull, M.O.D.O.K, Blood Brothers, Grim Reaper, Crossbones & Baron Wolfgang von Strucker) | J. Jonah Jameson | Doctor Doom | Ulik | Impossible Man | Dracula | Attuma | Hyperion | Wrecker | Thunderball | Piledriver | Bulldozer | Destroyer | Loki Laufeyson | Chitauri | Justin Hammer | Mojo | Galactus | Ringmaster | Black Order (Thanos) | Hela | Winter Soldier | Nighthawk | Zarda | Crimson Dynamo | Radioactive Man | Zzzax | Dormammu | Ultron | U-Foes (Vector, Vapor, X-Ray & Ironclad) | Roxxon Energy Corporation | Absorbing Man | Titania | Whirlwind | Fin Fang Foom | Maximus | Medusa | Masters of Evil/Thunderbolts (Baron Zemo, Beetle, Screaming Mimi, Moonstone, Fixer & Goliath) | Klaw | Ghost | A.I.M. (Kang the Conqueror, Whiplash & Spymaster) | Abomination | Kree Empire | Egghead | The Leader | Crimson Widow | Arnim Zola | Enchantress | Skurge | Typhoid Mary | Ares | Taskmaster | Doughboy | Ulik | Beyonder | Baron Mordo | Symbiotes | Morgan le Fey | Tiger Shark | Erik Killmonger | Princess Zanda | Man-Ape | Madame Masque | Kraven the Hunter | Vulture | Orka

Marvel Disk Wars: The Avengers
Loki Laufeyson | A.I.M. (M.O.D.O.K.) | Abomination | Baron Zemo | HYDRA (Red Skull, Crossbones) | King Cobra | Whirlwind | Tiger Shark | Whiplash | Diamondback | Crimson Dynamo | Dormammu | Sabretooth | Diablo | Graviton | Juggernaut | Lizard | Absorbing Man | Wrecking Crew (Bulldozer, Piledriver, Thunderball, Wrecker) | Silver Samurai | Green Goblin (Norman Osborn) | Venom | Ultron | Cottonmouth | Doctor Octopus | Mandarin | Ronan | Fin Fang Foom | Baron Blood | Vampires | Bi-Beast | Obadiah Stane | Predator X | Mystique | Taskmaster | Blizzard

Marvel Future Avengers
Masters of Evil (Ares, Enchantress, Leader, Winter Soldier) | Loki Laufeyson | Kang the Conqueror | Maximus | HYDRA/A.I.M. (Red Skull, M.O.D.O.K., Arnim Zola) | Green Goblin (Norman Osborn) | Super-Adaptoid | Deadpool | Morgan le Fay | Klaw | Crossbones | Blizzard | Diamondback | The Hood | Ezekiel Stane

Marvel's M.O.D.O.K.
M.O.D.O.K. | A.I.M. | Monica Rappaccini | The Anomaly | Hexus | Super-Adaptoid | Austin Van Der Sleet | Mister Sinister | Madame Masque | Whirlwind | Mandrill | The Leader | Arcade | Fin Fang Foom | The Brood | Frost Giants

What If...?
Infinity Ultron | Yellowjacket | Loki Laufeyson | The Destroyer | Brock Rumlow | Jack Rollins | Thunderbolt Ross | Whiplash | Arnim Zola | Prince Killmonger | Strange Supreme | Georges Batroc | Ego | Zombies (Scarlet Witch)
Video Games
Captain America and The Avengers: Red Skull | Crossbones | Klaw | Living Laser | Whirlwind | Sentinel | Wizard | Grim Reaper | Mandarin | Juggernaut | Ultron
Avengers in Galactic Storm: Kree (Ronan, Korath & Supreme Intelligence)
Marvel Avengers: Battle for Earth: Skrulls
Marvel Disk Wars: The Avengers - Ultimate Heroes: Red Skull | Loki Laufeyson | Baron Zemo | A.I.M. (M.O.D.O.K.) | Abomination | Graviton | Tiger Shark
LEGO Marvel's Avengers: Loki Laufeyson | Malekith the Accursed | Kurse | Various Villains
Marvel's Avengers: M.O.D.O.K. | Monica Rappaccinni | Abomination | Taskmaster | Super-Adaptoid | Lyle Getz | Maestro | Klaw | Crossbones
See Also
Avengers Academy Villains | Marvel Avengers Alliance Villains | Young Avengers Villains