Abyss (real name: Nils Styger,) serves as a minor villain in the Marvel Comics series Age of Apocalypse. He is one of the four Horsemen as well as Nightcrawler's half-brother. After Legion went back in time and accidentally killed his father, the timeline completely changed. Apocalypse has taken over and many characters have changed. One of them was Abyss. He became one of the members of the Horsemen of Apocalypse and acquired new abilities. He was eventually killed off by Banshee.
X-Corps
Later, Abyss appeared in Berlin, fighting the mutant Fever Pitch who was trying to kidnap him. Abyss and Fever Pitch were both captured by the X-Corps, a mutant militia group founded by Banshee. Nils was held in a containment prison; from which he witnessed the death of Sunpyre, who was killed by Mystique. He then escaped from his confinement thanks to Banshee and to protect him Nils sucked Mystique into the void within his body.
Family Revelations
The next thing we know about Abyss is that he joined forces with Nightcrawler, his half brother, and the X-Men to stop Azazel from invading the Earth with his other-dimensional army.
M-Day and X-Cell
Abyss is a survivor of the Legacy Virus but was de-powered after M-Day. He recently joined a group of de-powered mutants known as the X-Cell. Abyss temporarily regained his mutation thanks to Quicksilver. After seeing Elijah Cross die due to the side-effects of Quicksilver's unstable re-powering talents, Abyss took Fatale and Reaper and left for the Brimstone Dimension as he thought it may save them from exploding and losing their powers again. Abyss's fate is yet to be revealed.
Appearances in other media
Videogame appearance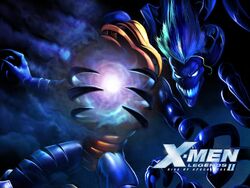 Abyss appears as a villain in
X-Men Legends II: Rise of Apocalypse
and a boss within the all-mutant island of Genosha while he remains as a Horseman of Apocalypse.
Powers and Abilities
Abyss possesses vast destructive abilities, enabling him to consume virtually limitless amounts of matter and energy. He can consume stars, planets, and even the "stuff of space itself," such that he is able to obliterate entire realities. Although he much prefers the empty void, he can also create animated servants—possibly even living beings. Abyss does need air, heat, or almost anything else to survive. He is fed by the matter and energy he consumes. He enjoys the negative existence of the Void, and loathes "foul matter" of any kind.
Abyss is made out of strong coils and can create a portal to an unknown dimension. He is also able to psionically affect others and draw in power from their fear.
Community content is available under
CC-BY-SA
unless otherwise noted.