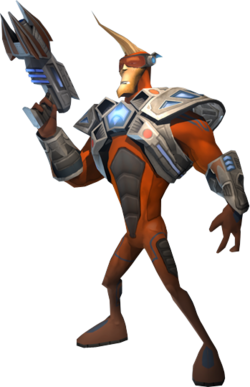 Ace Hardlight is the secondary antagonist of Ratchet: Deadlocked. He is a former Zordoom prisoner and champion of DreadZone.
History
Early life
Ace Hardlight was from an orphanage on the planet Bolden 3. He eventually became part of the superhero group Sonic 7.
DreadZone
Hardlight was taken by Gleeman Vox and has been killing many heroes such as Captain Starshield. He was the highest ranking contestant and became the leader of The Exterminators.
Odd Popularity
Fall And Redemption
Ace Hardlight is ready to defeat Ratchet at the Liberator Tournament. Even though Ratchet only defeated Hardlight, people scapegoated Ratchet for killing Ace Hardlight.
Zordoom Prison
After he left the DreadZone station, he was sent to Zordoom prison and was known as Inmate #510D.
Escape From Prison
Quotes
"This is as far as you go, Lombax. I am the star around here."
"You little rodent...you're gonna pay for that!!!"
Deleted Quotes
"If a Lombax can't see, he can't think. How about a little flashbang?"
Trivia
He was voiced by Andre Sogliuzzo.