✓
| | |
| --- | --- |
| | This Article Contains Spoilers - WARNING: This article contains major spoilers. If you do not wish to know vital information on plot / character elements in a story, you may not wish to read beyond this warning: We hold no responsibility for any negative effects these facts may have on your enjoyment of said media should you continue. That is all. |
Jafar says: Read my lips and come to grips with the reality!


This article is a stub and is in need of expansion. You can help Villains Wiki by expanding it.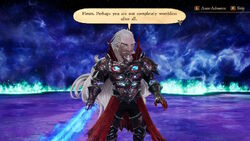 Adam is a major antagonist in Bravely Default 2. He is the holder of the Hellblader asterisk and leader of the Holograd empire. While not the main antagonist, he serves as the primary one for the first four chapters.
Appearance
Adam has long white hair and wields a flaming blue sword.
Personality
Adam is ruthless, but was willing to spare the heroes if they gave him the Wind Crystal. He is willing to reward minions if they serve him well. He will however execute minions if they fail him habitually.
Powers and Abilities
Adam is strong enough to easily kill Horten, even though Horten at the time was strong enough to challenge the party by himself. Most of his techniques are powerful, but cost him certain amounts of health.
Biography
Adam first appears killing Horten for his failure to secure the wind crystal, after his personal asterisk is taken from him by the party. Afterwards, he decides to take the wind crystal from the party himself, and succeeds. The heroes are unable to take him on due to his sheer power, so Sloan (a friend of the heroes) decides to fight him by himself. Sloan does his best, but due to his asterisk being shattered in two, he is unable to defeat Adam. So he self-destructs instead.
In Chapter 3, he slays Gwyndion, but is unable to stop him from slaying his spy Helios.
Eventually, after our heroes have collected most of the asterisks, Adam decides to fight the party himself once again within his Flying Fortress. However, the heroes succeed in defeating him this time around.