Adam Smith
is the titular sole antagonist in the
Torchwood
episode "Adam". He was a mysterious entity that could travel into people's dreams and memories and even change them.
He was portrayed by Bryan Dick.
History
Adam decided to use his powers on the Torchwood group since he thought their memories were unique and interesting, he later gained the trust of Jack Harkness with memories of his presumed deceased brother Gray. Hey changed Owen Harper into being a more vocal and emotional man and even made him slightly similar to Tosh.
He made Toshiko Sato have deep feelings for him and made her think they had a relationship for a long period of time. He also made Gwen Cooper see him as a good friend but accidentally made her forget about her husband Rhys. Finally, he placed the false of the memory of murdering three innocent women into Yanto Jones' head driving him insane. Jack realizing the truth about Adam locked him in the prison vaults.
Jack then erased footage of him from the security recordings and in an attempt to stop Jack from killing him, he implanted himself into another memory of Jack and his brother when the two were young. Jack took an amnesia pill and walked away, leaving Adam disheveled and tearful before he went into a seizure like a state and crumbled into nothing, disappearing forever with nobody from the team remembering him.
Videos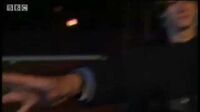 Community content is available under
CC-BY-SA
unless otherwise noted.