✓
This villain was proposed but was rejected by the community for not being heinous enough or lacks what is necessary to be a Pure Evil villain. Therefore, this villain shall be added to our "Never Again List", where proposed villains rejected by the community shall be placed to prevent future proposals of the same evil-doer. They can be proposed again (with the permission of an administrator) if new elements appear in their series that can change their status as non-PE villains.
Any act of adding this villain to the Pure Evil category without a proposal or creating a proposal for this villain without the permission of an administrator will result in a ban.
Additional Notice: This template is meant for admin maintenance only. Users who misuse the template will be blocked for a week minimum.
This article's content is marked as Mature
The page Mature contains mature content that may include coarse language, sexual references, and/or graphic violent images which may be disturbing to some. Mature pages are recommended for those who are 18 years of age and older.


If you are 18 years or older or are comfortable with graphic material, you are free to view this page. Otherwise, you should close this page and view another page.
| | | |
| --- | --- | --- |
| " | What we need right now is a clear message to the people of this country. This message must be read in every newspaper, heard on every radio, seen on every television. This message must resound throughout the entire InterLink! I want this country to realize that we stand on the edge of oblivion. I want every man, woman and child to understand how close we are to chaos. I WANT EVERYONE TO REMEMBER WHY THEY NEED US!!! | " |
| | ~ Chancellor Sutler to his high council. | |
High Chancellor Adam Sutler is one of the two main antagonists (alongside Peter Creedy) of the 2006 film, V For Vendetta. He is the leader of the fascist Norsefire Party and dictator of a dystopian England. He is based on the real-life Nazi dictator Adolf Hitler and the character of Adam Susan from the comic book of the same name.
He was portrayed by the late John Hurt who also played Caligula in I Claudius, Horned King in The Black Cauldron, Claudandus in Felidae, General Woundwort in Watership Down, Mr. Mole in Thumbelina, Harry in Pride, Lord Cotys in Hercules, Percival Graves in King Ralph, and Sailor John in Legend of the Lost Treasure.
Biography
In the film, Sutler is described by V as arriving at the public scene as "a young and upcoming politician" and "a deeply religious man and a member of the Conservative party". Sutler is elected Prime Minister by promising to restore order to the country after terrorists supposedly killed 80,000 people with a self-ignited bio-weapon that created a viral epidemic (it is later revealed that Norsefire had actually launched the attack). He then uses the supposed terrorist threat as a pretext for genocide, along with an ongoing propaganda campaign in the state-run media, to cow the public into silence and appoint himself High Chancellor, turning the country into a single-party state with himself as an autocrat.
For most of the film he is only seen communicating with his high council via an enormous viewscreen, until the end when he finally appears in person moments before his death.
When Sutler discovers he is being lampooned in a farce on a talk show, he is enraged and orders the show's host, Gordon Dietrich, arrested in the dead of night and executed (the official story is that Dietrich was killed only after a Qur'an was discovered among his belongings).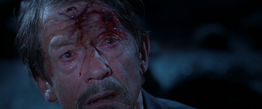 Sutler blames his right-hand man Peter Creedy for the failure to stop V and threatens to fire him. In order to secure his own power, Creedy subsequently makes a deal with V to assassinate Sutler. Creedy and his men kidnap Sutler from a news studio where Sutler is giving a speech to the people of the country, none of whom are listening due to being out protesting. After beating him up, Creedy's men bring Sutler to V in the London Underground, where Creedy personally executes Sutler, shooting his hated boss in the head at point-blank range. 
Differences from the graphic novel
Unlike his original counterpart, Sutler is a much more socially adept and assertive man, often speaking directly to his people. There is no indication he is celibate or refrains from alcohol. An example of his sociability stems from him running a skit show that makes fun of V to remind the public how futile rebellion is and to remind them how powerful he is.
Trivia
Sutler's name is apparently an amalgamation of his name in the comic book, Susan, and "Hitler". Interestingly, Sutler is also a word for a merchant who trades with the military, befitting the dictator of a military-industrial complex.
In the comic book, Susan is a timid introvert who worships the FATE supercomputer as a goddess and believes it and himself to be the only two real beings on Earth. Deep down, Susan wants to connect with his people and ultimately makes an effort to change his ways. Sutler is radically different, depicted as an arrogant tyrant who lives in luxury at the expense of his people. The FATE computer is also absent from the film and here Sutler is described as a devout Christian.
Sutler is also given visual similarities with Oswald Mosley and Adolf Hitler, having a similar hairstyle, figure, mustache and style of military dress Mosley wore (the "blackshirt"). However, Sutler is described as having broken away from the center-right Conservative Party, while in real life, Oswald Mosley's New Party, which developed into the British Union of Fascists, was a breakaway from the center-left Labour Party. Adam Susan in comparison, however, is extremely different and shares more similarities with Benito Mussolini.
Villains
Animated Features
Meowrice | Meowrice's Henchmen | Mouse King | Mouse Queen | Joker | Phantasm | Salvatore Valestra | Arthur Reeves | Chuckie Sol | Buzz Bronski | Grundel Toad | Berkeley Beetle | Mr. Mole | Mrs. Toad | Ms. Fieldmouse | Queen Gnorga | King Llort | Darla Dimple | Max | Mrs. Prysselius | Thunder Karlsson and Bloom | Ruber | Griffin | Ruber's Minions | Bladebeak | Kent Mansley | Kralahome | Master Little | The Jokerz (Dee Dee Twins, Chucko & Woof) | Count Grisham | Cheswick | Mojo Jojo | Gangreen Gang | Anubis | Seto Kaiba | Dark Yugi | Pegasus J. Crawford | Mokuba Kaiba | Marik Ishtar | Ebenezer Scrooge Puppet | Barkis Bittern | Maudeline Everglot | Stan Beals | Noah the Elder | Leopard Seal | Aguila | Stone Generals (Gato & Mono) | Karai | Foot Clan | Eddy's Brother | Kanker Sisters | Kevin | Sarah | Surtr | Nyra | Kludd | Pure Ones | Lord Business | Super Secret Police (Bad Cop & Sheriff Not-A-Robot) | Duplo Aliens | Mr. Ross | Future Mordecai | Rigby | Benson Dunwoody | Muscle Man | Hunter | Pigeon Toady | Wolf Pack | Penguins | Joker (Lego) | Harley Quinn (Lego) | Phantom Zone Criminals | Catwoman (Lego) | Poison Ivy (Lego) | Two-Face (Lego) | Lord Garmadon | Slade (Teen Titans Go!) | Balloon Man (Teen Titans Go!) | Lex Luthor (Teen Titans Go!) | Stonekeeper | Rex Dangervest | Velociraptors (Lego) | Foot Clan (Shredder & Baxter Stockman) | League of Assassins (Ra's al Ghul (Batman vs. TMNT), Ubu (Batman vs. TMNT) & Talia al Ghul (Batman vs. TMNT)) | Joker (Batman vs. TMNT) | Harley Quinn (Batman vs. TMNT) | Scarecrow (Batman vs. TMNT) | Mr. Freeze (Batman vs. TMNT) | Poison Ivy (Batman vs. TMNT) | Bane (Batman vs. TMNT) | Two-Face (Batman vs. TMNT) | Penguin (Batman vs. TMNT) | Hexagon (Trigon (TTG) & Trigon (Original)) | Spinel | Pink Diamond | Scorpion | Quan Chi | Shang Tsung | Goro | Shao Kahn | Kano | Baraka | Reptile | Moloch | Motaro | Dick Dastardly (2020) | Muttley (2020) | Rotten Robots | Dusty | Cerberus
Live Action Films
Jack Torrance | Hotel Caretaker | Lorraine Massey | Socs (Bob Sheldon, Randy Adderson, Paul Hoden & David) | Mrs. Cade | Scut Farkus | Grover Dill | Stripe | Ruby Deagle | Gremlins | Mama Fratelli | Francis Fratelli | Jake Fratelli | Audrey II | Orin Scrivello | Mr. Igoe | Max | David | Sergeant Nagata | Beetlejuice | Sandworms | Joker | Bob the Goon | Alicia Hunt | Carl Grissom | Max Eckhardt | Vinnie Ricorso | Joe Chill | Witches (Grand High Witch, Susan Irvine, Nicola Cuttle, Pamela, Lois Leffour, Mildred, Elizabeth, Henrietta, Jacqueline & Beatrice) | Brain Gremlin | Daffy | George | Lenny | Secretary Gremlin | Bat Gremlin | Electric Gremlin | Cushing Catheter | Penguin | Max Shreck | Catwoman | Red Triangle Circus Gang | Charles "Chip" Shreck | Dr. Charles Nichols | Frederick Sykes | Lawrence Van Dough | Ferguson | Lestat | Clarice Kensington | Miss Minchin | Riddler | Two-Face | Sugar | Spice | NygmaTech (Frogmen) | Neon Gang | Salvatore Maroni | Jonas Miller | Mr. Swackhammer | Monstars | Martians (Martian Leader, Martian Ambassador & Martian Girl) | John Wesley | Poison Ivy | Mr. Freeze | Bane | Grant Frost | Agent Smith | Cypher | Agents (Agent Jones, Agent Brown & Agent Johnson) | Susan McCallister | Jim Whitlock | Mako Sharks | Mr. Tinkles | Thrax | Mayor Phlegmming | Bruiser | Joe Cramp | Thrax's Henchmen | Scrappy-Doo | N' Goo Tuana | Zarkos | Demons | Luna Ghost | Akasha | Spiders (Consuela & Tank) | Mr. Chairman | Bob Smith | Robo Dog | Clara Dalrymple | Sir Trenton | Ruffshodd | Trenton's Pride | Ra's al Ghul | Scarecrow | Carmine Falcone | League of Shadows (Decoy of Ra's al Ghul) | Victor Zsasz | Joe Chill | Jonathan Jacobo | Arthur Slugworth | V | Adam Sutler | Lewis Prothero | Norsefire | Peter Creedy | Colonel Coetzee | Captain Poison | Zodiac Killer | Arthur Leigh Allen | Xerxes | Agent 23 | Siegfried | Dalip | Joker | Two-Face | Sal Maroni | Gambol | Joker's Thugs | Principal Deedle | Ezekial Gallows | Prudence Prufrock | Lord Henry Blackwood | Lord Coward | Esther Coleman | Decoy Queen | Kitty Galore | Paws | Mayor Brown | Wanda Grubwort | Lake Monster | Mal Cobb | Blue Jones | Angelique Bouchard | Dr. Julia Hoffman | Bane | Talia al Ghul | Barsad | Catwoman | John Daggett | Tom Buchanan | Jay Gatsby | Myrtle Wilson | George Wilson | Daisy Buchanan | Precursors | Kaiju (Trespasser, Knifehead, Mutavore, Otachi, Leatherback, Raiju, Scunner & Slattern) | Artemisia | M.U.T.O. | Dr. Mann | Victoria Vinciguerra | Léon Rom | Skull Devil | Preston Packard | It | Bowers Gang (Henry Bowers, Patrick Hockstetter, Belch Huggins & Vic Criss) | Alvin Marsh | Butch Bowers | Mathias Vogel | Ana Miller | Nolan Sorrento | Innovative Online Industries (I-R0k, F'Nale Zandor & Sixers) | Claire Wyden | Brett Wyden | George, Ralph and Lizzie | The Meg | Jack Morris | Shere Khan | Tabaqui | Howard Clifford | Ditto | Sebastian | Ann Laurent | King Ghidorah | Rodan | Alan Jonah | Asher Jonah | Emma Russell | The Banana Splits (Fleegle, Drooper, Snorky & Bingo) | Poppy | Karl | Leo | Cry Baby | Kelly | The Principal | The Biology Teacher | Tom Rogan | Arthur Fleck | Penny Fleck | Randall | Clowns (Joker) (Clown & Ambulance Clown) | Wall Street Three | Penny Fleck's Boyfriend | Rose the Hat | The True Knot | Andrei Sator | Priya Singh | Zeek | Pablo | Snarky
Shorts
Daffy Duck | Sylvester | Tasmanian Devil | Wile E. Coyote | Elmer Fudd | Yosemite Sam | Marvin the Martian | Instant Martians | Gossamer | Tom | Jerry | Spike
Television
The Grinch | Cousin Mel | I.M. Slime | Snow Miser | Heat Miser | North Wind
See Also
Adventure Time Villains | Batman Villains | Ben 10 Villains | Catwoman Villains | Cats & Dogs Villains | Cartoon Network Villains | DC Extended Universe Villains | Eraser Villains | Game of Thrones Villains | Gremlins Villains | Hanna-Barbera Cinematic Universe Villains | Harry Potter Villains | Lethal Weapons Villains | Looney Tunes Villains | Melanie Martinez Villains | Middle-Earth Villains | MonsterVerse Villains | Mortal Kombat Villains | Pokemon Villains | Powerpuff Girls Villains | Primal Villains | Regular Show Villains | Rick and Morty Villains | Robot Chicken Villains | Rush Hour Villains | Samurai Jack Villains | Scooby-Doo Villains | Steven Universe Villains | Superman Villains | The Banana Splits Movie Villains | The LEGO Movie Villains | The Matrix Villains | Tom and Jerry Villains | TMNT Villains | Wild Wild West Villains | Xiaolin Showdown Villains | Yu-Gi-Oh! Villains
Community content is available under
CC-BY-SA
unless otherwise noted.