Jurassic World: Dominion Dominates Fandom Wikis - The Loop
Play Sound

✓
This villain was proposed but was rejected by the community for not being heinous enough or lacks what is necessary to be a Pure Evil villain. Therefore, this villain shall be added to our "Never Again List", where proposed villains rejected by the community shall be placed to prevent future proposals of the same evil-doer. They can be proposed again (with the permission of an administrator) if new elements appear in their series that can change their status as non-PE villains.
Any act of adding this villain to the Pure Evil category without a proposal or creating a proposal for this villain without the permission of an administrator will result in a ban.
Additional Notice: This template is meant for admin maintenance only. Users who misuse the template will be blocked for a week minimum.
This article's content is marked as Mature
The page Mature contains mature content that may include coarse language, sexual references, and/or graphic violent images which may be disturbing to some. Mature pages are recommended for those who are 18 years of age and older.


If you are 18 years or older or are comfortable with graphic material, you are free to view this page. Otherwise, you should close this page and view another page.
| | | |
| --- | --- | --- |
| " | What we need right now is a clear message to the people of this country. This message must be read in every newspaper, heard on every radio, seen on every television. This message must resound throughout the entire InterLink! I want this country to realize that we stand on the edge of oblivion. I want every man, woman and child to understand how close we are to chaos. I WANT EVERYONE TO REMEMBER WHY THEY NEED US!!! | " |
| | ~ Chancellor Sutler to his high council. | |
High Chancellor Adam Sutler is one of the two main antagonists (alongside Peter Creedy) of the 2006 dystopian political action film V for Vendetta, based on the graphic novel of the same name.
He is the leader of the fascist Norsefire Party and dictator of a dystopian England. He is based on the real-life Nazi dictator Adolf Hitler and the character of Adam Susan from the comic book of the same name.
He was portrayed by the late John Hurt, who also played Caligula in I Claudius, the Horned King in The Black Cauldron, Claudandus in Felidae, General Woundwort in Watership Down, Mr. Mole in Thumbelina, Harry in Pride, Lord Cotys in Hercules, Percival Graves in King Ralph and Sailor John in Sodor's Legend of the Lost Treasure.
Personality
In the movie, Sutler is presented as an ambitious man with a penchant for power and a strong dislike for anything foreign to England. During his time in lead, he is also presented to be extremely controling, giving orders on absolutely everything, even details, and berating others when they fails to execute them. This is proved by his increasing wrath when he starts to lose control little by little on his country because of V. In relation to this, he is delusional and thinks himself to be a good person who prevents his country to fall into chaos. He seems to be easily offensed, as he orders the arrestation of Dietrich because of a farce in his talk show. In the light of these facts, he is a completely ruthless character, and one can see at the end another character trait: his cowardice, he is indeed fearful and cowardly when his death came.
Despite all of that, Sutler is not hypocritical and genuinely believes his monstrous acts are necessary for the well of England. He also does not take any sadistic pleasure from that. This traits gives him a bit of humanity in him, unlike Creedy who craves power only for the sake of it.
History
In the film, Sutler is described by V as arriving at the public scene as "a young and upcoming politician" and "a deeply religious man and a member of the Conservative party". Sutler is elected Prime Minister by promising to restore order to the country after terrorists supposedly killed 80,000 people with a self-ignited bio-weapon that created a viral epidemic (it is later revealed that Norsefire had actually launched the attack). He then uses the supposed terrorist threat as a pretext for genocide, along with an ongoing propaganda campaign in the state-run media, to cow the public into silence and appoint himself High Chancellor, turning the country into a single-party state with himself as an autocrat.
For most of the film he is only seen communicating with his high council via an enormous viewscreen, until the end when he finally appears in person moments before his death.
When Sutler discovers he is being lampooned in a farce on a talk show, he is enraged and orders the show's host, Gordon Dietrich, arrested in the dead of night and executed (the official story is that Dietrich was killed only after a Qur'an was discovered among his belongings).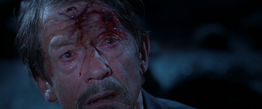 Sutler blames his right-hand man Peter Creedy for the failure to stop V and threatens to fire him. In order to secure his own power, Creedy subsequently makes a deal with V to assassinate Sutler. Creedy and his men kidnap Sutler from a news studio where Sutler is giving a speech to the people of the country, none of whom are listening due to being out protesting. After beating him up, Creedy's men bring Sutler to V in the London Underground, where Creedy personally executes Sutler, shooting his hated boss in the head at point-blank range.
Differences from the graphic novel
Unlike his original counterpart, Sutler is a much more socially adept and assertive man, often speaking directly to his people. There is no indication he is celibate or refrains from alcohol. An example of his sociability stems from him running a skit show that makes fun of V to remind the public how futile rebellion is and to remind them how powerful he is.
Trivia
Sutler's name is apparently an amalgamation of his name in the comic book, Susan, and "Hitler". Interestingly, Sutler is also a word for a merchant who trades with the military, befitting the dictator of a military-industrial complex.
In the comic book, Susan is a timid introvert who worships the FATE supercomputer as a goddess and believes it and himself to be the only two real beings on Earth. Deep down, Susan wants to connect with his people and ultimately makes an effort to change his ways. Sutler is radically different, depicted as an arrogant tyrant who lives in luxury at the expense of his people. The FATE computer is also absent from the film and here Sutler is described as a devout Christian.
Sutler is also given visual similarities with Oswald Mosley and Adolf Hitler, having a similar hairstyle, figure, mustache and style of military dress Mosley wore (the "blackshirt"). However, Sutler is described as having broken away from the center-right Conservative Party, while in real life, Oswald Mosley's New Party, which developed into the British Union of Fascists, was a breakaway from the center-left Labour Party. Adam Susan in comparison, however, is extremely different and shares more similarities with Benito Mussolini.
Villains