Jurassic World: Dominion Dominates Fandom Wikis - The Loop
Play Sound
Jafar says: Read my lips and come to grips with the reality!


This article is a stub and is in need of expansion. You can help Villains Wiki by expanding it.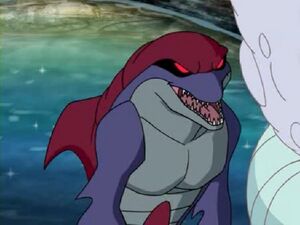 Adolpho is a villain from Loonatics Unleashed.
Adolpho is a mutated dolphin who wants revenge on the world for polluting the ocean and his putting his own kind in theme parks. Thanks to the power of the pollution Adolpho has the ability to change into a monster.
He can manipulate other dolphins to create whirlpools to sink ships, oil rigs, oceanography Stations, light houses and small islands, and other things at sea.
His henchmen captured Ace during the Loonatics' aquatic recon and trapped Ace in the tentacles of a giant jellyfish. While Lexi and Duck are rescuing Ace: Tech, Slam, and Rev see a whirlpool sinking Acmetropolis.
Tech and Rev figure out what needs to be done. It took Lexi and Duck to rescue Ace, break the mind control on the whales and dolphins, and defeat Adolpho, putting him in an aquarium in Acmetropolis Prison, along with the other villains.