Jafar says: Read my lips and come to grips with the reality!


This article is a stub and is in need of expansion. You can help Villains Wiki by expanding it.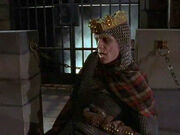 Adrian is the protagonist and antagonist of the TV show Are You Afraid of the Dark? in the episode of The Tale of the Walking Shadow.
He was an actor portraying title character in the Shakespearian play Macbeth. He was playing his role with his wife playing Lady Macbeth. But during the finale of the play, Adrian died before he could do his finale and left his wife as a widow. The play was canceled after he died but he was now a ghost and waiting for the play to be play but no one playing this play anymore.
Finally a high school decide to playing the play he was waiting for all years. When Ross came to the theater he see the ghost menancing him in a challenge and fright Ross. But at the rehearsal, he finally appears as a human form and frightening everyone who run away but Hermione conviced Ross to let him play with him for finally do the finale he was waiting for long times. And he finally made it after the crowd applause his performance he's reunited with his wife and the two of them finally leave in peace.