House of the Dragon Trailer - The Loop
Play Sound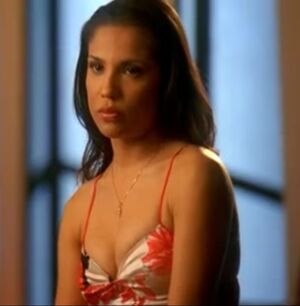 Adrienne Veston is the antagonist from "Bloodline", episode 5.19 of CSI: Miami.
She was portrayed by Tonantzin Carmelo.
Biography
Adrienne Veston is the wife of Reggie Veston, who runs the Kipayo Indian Casino, and they were both being questioned by Ryan and Calleigh regarding the murder of Doug Lansing. As later revealed, Reggie's name was on a black book that belonged to a deceased prostitute (who went under the name Tess), and after learning the truth, Adrienne confronted her husband. Right after Reggie confessed everything, Adrienne turned heel and killed her husband in a fit of rage, doing so by stabbing his face with her hair pin.
Adrienne was revealed as Reggie's killer when a single piece of confetti was found on the body - the confetti had traces of raspberry hairspray, which Adrienne uses. Calleigh informed Adrienne that she is under arrest.
Gallery