Wiki Targeted (Entertainment)
Play Sound
Jafar says: Read my lips and come to grips with the reality!


This article is a stub and is in need of expansion. You can help Villains Wiki by expanding it.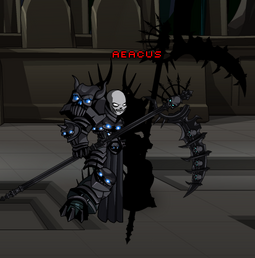 Aeacus is a semi-boss (particularly a main boss among the 3 judges of the Underworld). He, along with Minos and Rhadamanthys are known as the 3 Judges of the Underworld. Due to his distinctive Legion armor and dual Legion scythes, he is without doubt categorized to have sided with the Legion. His weapon of choice are the dual Legion Scythes. 
Ultra Aeacus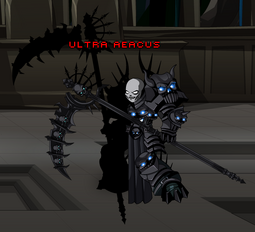 Another version of Aeacus, known as the Ultra Aeacus is a reconsidered stronger version of Aeacus. Nothing is changed to its appearance, but its HP and its attack damages are far more greater than how Aeacus dealt. Its attacks are more smarter and it is recommended to attack through party (group) though it is possible to defeat him solo with the right class.
Trivia
Aeacus is based and inspired through the Greek Mythological figure, Aeacus, a demigod king and one of the 3 Judges of the Dead, along with Minos and Rhadamanthus. 
Aeacus' armor is similar to those of the Undead Champion Armor. 

Villains
AdventureQuest/WarpForce
Agent Smith | Carnax | Chairman Platinum | Dark Madder | Diviara | Drakath the Darkness Dragon | Drakonnan | Drakonnas | Epheel | Erebus | Exodus | Jack Frost | Kabroz | Khandie Khain | Makkisar | Mysterious Stranger | Nightbane | Nightmare Queen | Ryuusei Cartwright | The'Galin | The Zardmaster | Zorbak
DragonFable
Akriloth | Baron Au'Mydas Bayconn | Baron Jaysun Valtrith | Captain Blackberry | Captain Davey | Chairman Platinum | Doppelganger | Dragonmaster Frostscythe | Drakath Slugwrath | Drakonnan | Dr. Voltabolt | En and Tropy | Envy | Exodus | Fluffy the Dracolich | Gary the Ice Elf | Gorgok | Greed | Kathool Atchoo | King Slugwrath | King Splurt | Klaatu | Leeta | Lord Frydaye XIII | Lust | Mysterious Stranger of the Shadowscythe | Necromancer | Nicto | Noxus | Okuchi no Okami | Queen Aisha | Queen Pallor | Roirr | Sally | Sek-Duat | Sepulchure | Sinnocence | Sphinxter | Super Mega Ultra Darkness Dracolich | Trey Surehunter | Vaal | Vayle | Verata | Wargoth | Xan | Zorbak
MechQuest
Chairman Platinum | Commander Qor | Drakath Slugwrath | Dr. Billy Boltavolt | Kathool Atchoo | Kingadent Slugwrath | Kratos | Lord Valoth | Mr. Z | Shadow Claws | The Unknown Master
AdventureQuest Worlds
Abomineator | Adimonde | Adventus | Aeacus | Akriloth | Ancient DoomKnight | Antiphuus | Apephryx | Arthur and Elise | Avada | Au'er | Azal the Infernal | Azkorath | Baron | Baron Au'Mydas Bayconn | Baron Jaysun Valtrith | Baron Luca | Baron Sunday | The Beast | The Beastmaker of the Neverworld | Beiza | Blazebeard | Blightbringer | Braddok BoneBreaker | Bride of Shrade | Brutalcorn | Brutus | CEO Totengeld | Caelgar | Calico Cobby | Captain Kraylox | Captain Laguna | Captain Scalebeard | Captain Von Poach | Carnax | Chairman Platinum | Chamat | Chaos Beast Attempt | Chaos Dragon | Chaos Harpy | Chaos Lord Alteon | Chaos Lord Hero | Chaos Manticore | Chaos Queen Beleen | Chaos Sphinx | Charolus | Chronocide | Cinderclaw the Ravenous | Cockatrice | The Collector | Commander Goregrim | Commodore Core | Count Maxius | Dage the Evil | Dage's Undead Horsemen | Dakka the Dire Dragon | Dark ArchMage Brentan | Dark Boitata | Dark Sepulchure | David Maxwell | Dead Morice | Decair | Desoloth | Desterrat Moya | Dethrix Drakath | Dilligaf | Dilligas | Dirtlicker | Discordia | Doppelganger | Dracowerepyre | Dragonmaster Frostscythe | Drakath the Champion of Chaos | Drayko Lancer | Dreamweaver | Dr. De'Sawed | Dr. Voltabolt | Emily | Enferr Os | Envy | Edvard | Eremon | Escherion | Eternal Dragon of Time | Exos | Extriki the Destroyer | FEAR | Fear Feeder | Feegrix | Filthy McGee | Final | Flester the Silver | Flintfang | Fluffy the Dracolich | Foul Fowl | Frigid Drakonnan | Frostfang | Gaiazor | Garvodeus | Gedoz | General Cynari | General Phyrz | General Tibias | Gladius | Glutus | Goredon Rampage | Goregold | Gorgorath | Gramiel | Grand Inquisitor | Graveclaw the Defiler | Gravelyn | Gressil | Grimlord | Grimskull | Gruaige Baas | Helzekiel | Howard | Howard's Grief | Incubus | InnDestroyer Yulgar | Issik the Vile | Ivoliss | Jaaku | Jing | Jir'abin | Junior | Kalron the Cryptborg | Karok the Fallen | Kathool Atchoo | Kezeroth | Khasaanda | Kimberly Freeman | King Alteon the Imbalanced | Kitsune | Kitty Boo Boo | Klashex | Klunk | Kolyaban the Reshaper | Krahen | Krampus | Kratos | Krellenos | Lake Hydra | Laken | Lascivia | Ledgermayne | Lord Balax'el | Lord Krom Wrath | Loremaster Anka | The L.O.S.E.R.s | Major Thermas | Malgor | Mallora | Maloth | Malxas | Mana Golem | Marchosias | Maximillian Lionfang | Meghan the Merciless | Mercutio | Minos | Mogdring | Mors Temporis | Mort | Mr. Wubbles | Mr. Socks | Munthor | Mysterious Figure | Mysterious Stranger of the Shadowscythe | Nastasia | Nevanna | Nightbane | Noxus | Nulgath | Nyctox | O-dokuro | Oblivion | One-Armed Bandit | Overseer SN.O.W. | PAL 9001 | Pax | Pettivox | Phedra | Phlegnn | Plank the Table | Pony Gary Yellow | Professor Iadoa | Queen Aisha | Queen of All Monsters | Quetzal | Raask | Rand Ravenson | Rangda | Raoul Silvertree | Rayce | Revontheus | Rhadamanthys | Rock Roc | Rogath | Rotgut the Full | Sally | Salvaza | Santy Claws | Scarletta | Scorn | Sek-Duat | Sekt | Sepulchure | ShadowKnight Gar | Shimazu the Defiler | Shrade | Sir Roderick | Sir Kut | Skew | Sleep Paralysis | Sleezter Bunny | Stalkwalker | Thanatops | Thanatos | THAT | The LunarMancer | Thug Boss | Tibicenas | Travon | Turkonian | Twisted Aria | Tyndarius | Undead Artix | Unseelie Glassbinder | Vaal | Vaden | Valsarian | Vath | Vaxen | Vayle | Vertigo | Vincenzo | Vordred | Vortrix | Wargoth the Frozen | Wilheim Vorkrieg | Wolfwing | X'dir | Xan | Xavier Lionfang | Xeven | Xiang | Xing and Xang | Yurrod the Gold | Zahart | Zeph'gorog | Ziri | Zorba the Bakk | Zorbak
HeroSmash
Chairman Platinum | Charries | Clock Blocker | Dage the Evil | Darcron | Dr. Insecro | Dyintime | General Fluffles | Hottica | King Zong | Lokos | Oblivion | Rocker | Super Death | Twi
Oversoul
Dilligaf | Drakath | Klunk | Nulgath | Revontheus | Taurus
AdventureQuest 3D
Akriloth | Faustbite | Phrozen | Shrade | Sleet | Talyn