This article's content is marked as Mature
The page Mature contains mature content that may include coarse language, sexual references, and/or graphic violent images which may be disturbing to some. Mature pages are recommended for those who are 18 years of age and older.


If you are 18 years or older or are comfortable with graphic material, you are free to view this page. Otherwise, you should close this page and view another page.
| | | |
| --- | --- | --- |
| " | I'm getting off this plane! | " |
| | ~ Gibbs' last words before his death. | |
Agent Gibbs (also simply known as Gibbs) is a major antagonist of the 1997 film Air Force One.
He is a corrupt Secret Service agent and a Radek agent. He is the one responsible for letting Egor Korshunov and his band of Russian terrorists hijack Air Force One.
He was portrayed by Xander Berkeley, who also played Red John in The Mentalist and Gregory in The Walking Dead.
History
Gibbs was once a trusted friend of President James Marshall (the protagonist of the film). However, it wasn't until the arrest of General Ivan Radek, Gibbs secretly plotted with Egor Korshunov and his accomplices to hold Marshall, his entire staff and his family hostage on Air Force One in order to coerce Russian President Petrov into releasing Radek.
As part of the plan, Gibbs secretly assassinates several agents and unlocks the plane's on-board armory for Korshunov and his henchmen (disguising as journalists), using a smoke grenade to signal them. To avoid any suspicion, Gibbs maintained his supposed loyalty to Marshall as the plane is being hijacked by the terrorists.
However, after a game of cat-and-mouse, President Marshall manages to help take down all the terrorists (including Korshunov) and cancel Radek's release, resulting Radek to be shot down as he attempted to escape. However, the plane has taken heavy damage and is unable to land safely, so they call in a U.S. Air Force Rescue HC-130 to rescue the President and his family.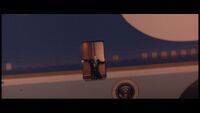 However, as Marshall is able to get his family to safety, Gibbs reveals his true colors by shooting down Major Caldwell and a parajumper, demanding Marshall to give him the remaining emergency strap. Fortunately, Marshall (furious at his betrayal) fought him long enough to prevent him from getting the emergency strap. Marshall escaped to safety while Gibbs was left on board crying in defeat as Air Force One crashes into the Caspian Sea, killing him instantly.
Trivia
In the final moments of the film, Gibbs attempts to leave Marshall at the Air Force One to die while he would be carried to safety by the emergency strap. However, given that Gibbs killed Major Caldwell and a parajumper, the Air Force Rescue HC-130 crewmen would have most likely pulled the rope away before Gibbs could reach it in order to leave him to die or drop it to leave Gibbs to fall to his death after killing Marshall. It's possible that Gibbs didn't think about this when he attempted to take out Marshall's life.

Villains
Animated Features
The Beast | Constance Nebbercracker | Shaw | Tank Evans | Reggie Belafonte | Mayor Shelbourne | General Grawl | Professor Kipple | Fifi | Doug | Ivan Ivanovitch Sakharine | Sakharine's Pirates (Allan | Tom | Pedro) | Falcon | Aristides Silk | Red Rackham | Quasimodo Wilson | Esmeralda | Queen Victoria | Chester V | Live Corp (Chester V's Holograms & Barb) | Bela | Bat Cronies | Ed and Edna | King Leonard Mudbeard | Green Pigs | Douche | Gargamel (2017) | Azrael (2017) | Monty | Smiler | Anti-Virus Bots | Hunter | King Herod | Thaddeus and Rufus | Abraham Van Helsing | Ericka Van Helsing | Kingpin | Doctor Octopus | Prowler | Green Goblin | Scorpion | Tombstone | Vanessa Fisk | Richard Fisk | Zeta | PAL Labs (PAL, PAL Max, Glaxxon 5000 and PAL Max Prime) | Pockets
Live-Action Films
Miss Hannigan | Rooster and Lily St. Regis | Christine | Gozer | Stay Puft Marshmallow Man | Terror Dogs (Zuul & Vinz Clortho) | Library Ghost | Murray Plotsky | Central Park Thief | Jareth | Goblin Army | Helping Hands | Dr. Christopher Meddows | Vigo | Janosz Poha | Scoleri Brothers | Mink Coat | Captain James Hook | Mr. Smee (1991) | Luc Deveraux | Andrew Scott | Koga | Ishikawa | Glam | Vinnie | Slam | Darren | Gerald Thomas | Mustangs | Jack Harding | J.J. | Jimmy | Eddy | Fouchet | Casper | Ferguson | Van Pelt | Agatha Trunchbull | Harry Wormwood | Cable Guy | Edgar the Bug | Egor Korshunov | Andrei Kolchak | Vladimir Krasin | Agent Gibbs | Boris Bazylev | Sergei Lenski | Igor Nevsky | General Ivan Radek | Arachnids | Mary Ann Rogers | Lothar Zogg | C.J. | Carl | Buelow | Zed | Klaus | Lars | Eric | Zilla | Alley Cats (Smokey, Monty, Lucky, Red & Unnamed Gray Cat) | Snowbell | S.E.T.H. | Deacon | William Tavington | Genus | General Russell Woodman | Green Goblin | Dennis Carradine | Bank Robbers | Harry Osborn | J. Jonah Jameson | Falcon | Serleena | Scrad & Charlie | Jarra | Dog Poop | Corn Face | Pineal Eye | Mosh Tendrils | Flesh Balls | Jeff | Creepy | Kylothians | Miss Gwyneth Harridan | Jenny | Bruce | Johnny Tapia | Captain James Hook | Mr. Smee (2003) | Grigori Rasputin | Karl Ruprecht Kroenen | Ilsa Von Haupstein | Sammael | Ogdru-Jahad (Behemoth) | Warren Vandergeld | Vandergeld Sisters | Heath and Russ | Doctor Octopus | Big Al | Warden Hazen | Mr. Electric | Minus | Zorgons | Robot | Jerry McDowell | Calvin Sims | Mr. Walken | Rosco | Bruno | Venom | Sandman | Camp Canola (Lance Warner and Robert Jeffrey Warner) | Grant Walbridge | Salim Yousfobdal | Derek Huff | Ted Jones | Budlofsky | Matheson | Carol Brazier | Veck Simms | James Kent | Ted Winter | Roger Wesley | David Ershon | Benjamin Chudnofsky | Frank Scanlon | Shane | Stephanie | Gargamel (2011) | Azrael (2011) | Boris the Animal | Weasel | Lilly | Obadiah Price | Mr. Wu | Boglodites | Lizard | Gustav Fiers | Cash Register Thief | Norman Osborn | Vexy and Hackus | Electro | Green Goblin | Donald Menken | Rhino | Ashley Kafka | Felicia Hardy | Guy Danlily | Miss Hannigan | Annie's Fake Parents | Jessica Delacourt | Agent Kruger | John Carlyle | Vincent Moore | Hippo | Amerika | Ninja | Yolandi | Vincent Sofel | Slappy the Dummy | Monsters (Giant Praying Mantis, Will Blake, Madame Doom, Brent Green, Count Nightwing & The Haunted Mask) | Rowan North | Mayhem | Electrocuted Ghost | Gertrude Aldridge | Francis Begbie | Sick Boy | Bestman Salvage (Vulture, Tinkerer, Shocker #1, Shocker #2 & Randy Vale) | Mac Gargan | Aaron Davis | Russel Van Pelt | Tommy Madigan | Thomas McGregor | Mr. McGregor | Mrs. McGregor | James Tod | Eddie Brock/Venom | Carlton Drake/Riot | Roland Treece | Cletus Kasady | High-T | The Twins | Riza Stavros | Luca Brasi | The Hive | Mysterio's Crew (Mysterio, William Ginter Riva, Victoria Snow, Gutes Guterman, Janice Lincoln, & Doug) | Elementals (Molten Man, Hydro-Man, Sandman, Cyclone & Elemental Fusion) | Skrulls (Talos) | Obadiah Stane | Jurgen the Brutal | Isabel Aretas | Armando Armas | Barnabas | Samuel Whiskers | Tom Kitten | Mitten
See Also
Bad Boys Villains | The Boys Villains | Ghostbusters Villains | Ghost Rider Villains | Godzilla Villains | Goosebumps Villains | Hotel Transylvania Villains | Jackie Chan Adventures Villains | Jumanji Villains | Karate Kid Villains | Men in Black Villains | Sony Pictures Universe of Marvel Characters Villains | Spider-Man Villains | Stuart Little Villains | The Boondocks Villains | Total Recall Villains | Trainspotting Villains | XXX Villains | Underworld Villains