This article's content is marked as Mature
The page Mature contains mature content that may include coarse language, sexual references, and/or graphic violent images which may be disturbing to some. Mature pages are recommended for those who are 18 years of age and older.


If you are 18 years or older or are comfortable with graphic material, you are free to view this page. Otherwise, you should close this page and view another page.
| | | |
| --- | --- | --- |
| " | Mr. Anderson! | " |
| | ~ Agent Smith whenever he sees Neo, and his most famous quote. | |
| | | |
| --- | --- | --- |
| " | I'd like to share a revelation that I've had during my time here. It came to me when I tried to classify your species and I realized that you're not actually mammals. Every mammal on this planet instinctively develops a natural equilibrium with the surrounding environment, but you humans do not. You move to an area and you... multiply and multiply until every natural resource is consumed. The only way you can survive is to spread to another area. There is another organism on this planet that follows the same pattern. Do you know what it is? A virus. Human beings are a disease, a cancer of this planet; you are a plague and we are the cure. | " |
| | ~ Agent Smith, as he interrogates Morpheus. | |
| | | |
| --- | --- | --- |
| " | I really should thank you for it after all it was your life that taught me the purpose of all life: the purpose of life is to end. | " |
| | ~ Agent Smith's famous quote from The Matrix: Revolutions. | |
Agent Smith is the main antagonist of The Matrix trilogy and a posthumous antagonist in the 2005 video game The Matrix Online. He is the leader of Agents who later became a computer virus within the second and third films, as well as Neo's archenemy. He refers to Neo as "Mr. Anderson".
He was portrayed by Hugo Weaving, who also portrayed Red Skull in the Marvel Cinematic Universe, V in V for Vendetta, Thaddeus Valentine in Mortal Engines, David Melrose in Patrick Melrose, and Megatron in the Transformers movie franchise.
Biography
Creation
Agent Smith and his two allies were created by The Architect to secure the Matrix for 600 years. During the first five centuries, he had pursued the five Ones but was unsuccessful.
The Matrix
600 years have passed and the sixth One was created. Smith was one of the three Agents sent to deal with Morpheus. After Neo (the sixth One) is successfully removed from the Matrix, Smith arranges Morpheus's capture by bribing Cypher, a disillusioned member of Morpheus's crew with being reintegrated into The Matrix. When Neo manages to free Morpheus, Smith and his fellow Agents engage in a lengthy cross-town chase. He and Neo fight, with Smith dominating most of the fight. Shortly after Neo escapes the fight, Smith guns him down. Neo revives, realizes his power as the One, and enters Smith, to destroy him from within.
The Matrix Reloaded
As a result of his contact with Neo, Smith is "unplugged"; no longer an Agent of the system but a "free man". His appearance is changed drastically as his sunglasses take on an angular shape and his suit is now black instead of dark green and his earpiece has disappeared. He still possesses the abilities of an Agent, but instead of being able to jump from one human to another, he is able to copy himself over any human or program in the Matrix through direct contact; this includes humans wired into the Matrix, non-Agent programs with human forms, red pills, and humans already possessed by Agents. Smith retains the memories and abilities, if any, of the one over which he copies himself. This ability is much like how a virus replicates, creating an ironic contrast with where Smith likens humanity to a virus during his speech with Morpheus.
He makes the claim that Neo has set him free, indicating that he now has not only the vision but also the ability to break free of the Machines' control and exist as a singular being. He is now allied with no one but himself, rendering him an outlaw to both the Matrix and the human minds which populate it. Being free of burden, however, Smith is also compelled to feel that he is still crushed by the weight of purpose.
He essentially correlates purpose with imprisonment, and because he still exists within the Matrix, there is an unseen purpose which binds together Neo and himself. He tries to copy his programming onto Neo, but when this fails, he and several of his clones attack him, forcing Neo to flee. Later, he and his clones try to stop Neo from reaching the machine mainframe, but this too fails.
The Matrix Revolutions
Smith has managed to copy himself over nearly every humanoid in the Matrix, giving him complete control over the "Core Network" (the underlying foundation of the inner workings of the Matrix), thus rendering him immutable by even the machines themselves. The Oracle explains to Neo that he and Smith have become equal in power and that Smith is Neo's negative, a result of The Matrix equation trying to balance itself. Also, she reveals that if he is not stopped, Smith will destroy everything. For this reason, the only way Smith can be eliminated, is for the equation to be "unbalanced". The Oracle herself is eventually taken over by Smith, granting him her power of foresight, or omniscience, as well as reality-bending powers equivalent to those possessed by Neo.
Neo engages in battle with Smith on the Machines' behalf in exchange for Zion's safety. The Smith created from the Oracle battles Neo alone; as he explains, he has foreseen his victory, and has no need for the help of his copies. The two are almost evenly matched, though Neo's combat abilities seem arguably superior to that of Smith, the latter who seems to attack more out of brute force, rather than the technical skill he used when he was an agent. In the midst of this battle, Smith explains to Neo his final nihilistic revelation: "It was your life that taught me the purpose of all life. The purpose of life is to end.".
When Neo is near defeat, Smith demands to know why Neo continues to fight, knowing he cannot win. Neo responds, "Because I choose to" and is beaten unconscious by the enraged Smith as a result. Suddenly recognizing the scene from his prophecy, Smith is compelled to deliver the line he said in it: "I say... Everything that has a beginning has an end, Neo". This is the only point where Smith does not refer to Neo as "Mr. Anderson".
Confused by his own behavior, Smith suddenly becomes frightened by the effect Neo has on his words- then, on the effect his words have on Neo. Unable to overpower Smith, Neo seems to concede to Agent Smith that he can never win, and thus submits to defeat. Neo's successfully 'sells' his 'defeat' to Smith. Smith, unaware of Neo's subterfuge, absorbs him, and for a moment, believes himself to be the victor; however, after copying himself onto Neo, Smith has exposed himself to the machines' mainframe. As such, the machines delete Smith, with him and his clones exploding in a simultaneous flash of white light, ending the war for good.
Other Media
The Matrix: Path of Neo
In the alternative ending of The Matrix Revolutions in The Matrix: Path of Neo, the final boss is the MegaSmith. The MegaSmith was used for gameplay reasons, because though the Wachowski Brothers thought the martyr approach suitable for film, they also believed that in an interactive medium such as a video game (based upon the successful completion of goals), this would not work. So, described by the brothers as "A little Hulk versus Galactus action", this character was created to be the more appropriate "final boss" of Path of Neo. The MegaSmith is composed of destroyed buildings, cars, and parts of the road, with the "spectator Smiths" standing around the crater and in the streets acting as the MegaSmith's muscles, resulting in Smith not only becoming the city's people, but the city itself.
The LEGO Batman Movie
Agent Smith appears in the 2017 Warner Animation Group film The LEGO Batman Movie. In the film, Smith appears as a member of the Phantom Zone Criminals, who allies the Joker after he convinces them to join him in his crusade to defeat Batman. Nevertheless, the Bat Family works together and succeed in sending Smith and his clones back into the Phantom Zone.
His voice actor was uncredited.
Space Jam: A New Legacy
Agent Smith will be appearing in the 2021 film Space Jam: A New Legacy, the anticipated sequel to the 1996 Warner Bros. hybrid film Space Jam. He is going to appear alongside other villains from other Warner Bros. properties to challenge LeBron James and the Looney Tunes into a basketball match. Much like in The LEGO Batman Movie, Smith will be reunited with the Joker, Lord Voldemort, and the Wicked Witch of the West.
It has been reported that Hugo Weaving will reprise his role as him.
Personality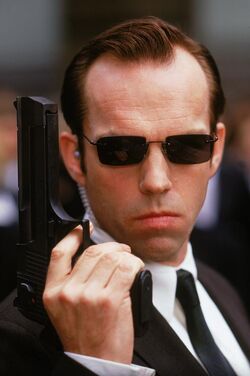 | | | |
| --- | --- | --- |
| " | Why, Mr. Anderson? Why, why, why? Why do you do it? Why? Why get up? Why keep fighting? Do you believe you're fighting for something? For more than your survival? Can you tell me what it is? Do you even know? Is it freedom or truth?! Perhaps peace?! Could it be for love?! Illusions, Mr. Anderson, vagaries of perception! Temporary constructs of a feeble human intellect trying desperately to justify an existence that is without meaning or purpose! And all of them as artificial as the Matrix itself, although only a human mind could invent something as insipid as love! You must be able to see it, Mr. Anderson! You must know it by now! You can't win! It's pointless to keep fighting! Why, Mr. Anderson?! Why?! WHY DO YOU PERSIST?! | " |
| | ~ Smith shows his deep nihilism and misanthropy to Neo | |
While other agents rarely act without consulting each other via their earpieces - they are, in fact, so in sync with each other they are sometimes known to finish each others' sentences - Smith is usually the one giving orders or using his earpiece to gather information for his own ends, signifying he is their leader, which is further proven because he is shown to have the authority to launch Sentinel attacks in the real world. As with other Agents, Smith generally approaches problems through a pragmatic point of view, but if necessary will also act with brute force and apparent rage, as well as satisfaction in downing their enemies.
However, unlike other agents, Smith is shown to prominently display emotions such as rage and sadism. He also retains a deep loathing for the purpose of his existence and humanity itself, having a very low and derogatory opinion of the latter, while considering himself as much of a prisoner as the enslaved humans. When interrogating Morpheus, Smith states his belief that the first Matrix (which was meant to be a perfect world where no humans suffered) had failed because humans defined their existence through misery and suffering, rather than the notion that the Machines lacked the programming language to understand the "perfect" human world. He had likened humans to a plague rather than mammals, noting their exploitative and destructive tendencies.
He eventually revealed to Morpheus about how deeply he loathed the Matrix, explaining that he felt that he feels he's "somehow been infected" whenever he has to interact with humans. Smith had hoped that the destruction of Zion would rid him of the Matrix forever, as he believed there wouldn't be any more reason for him to be there.
After the Architect had resurrected Smith and turned him into a virus. Smith had considered himself "freed", and he had become power hungry, as well more sadistic and easy to give in to anger. Using his abilities as a virus, Smith desired to take over or destroy the Matrix, as well as seek the elimination of both the Machines, whom he hated for creating him, and the humans, whom he loathed deeply. He infected other programs and humans wherever he could find them within the Matrix, turning them into duplicates of himself as they left a path of destruction in their wake within the virtual reality.
Gallery
Trivia
In recent years, The Matrix has been looked back as an allegory to gender transition in a transgender analysis approved by the Wachowskis, who came out in the 2010s as transgender women. According to this analysis, Agent Smith represents a transphobic individual who feels as the traditional American square-jawed masculine ideal and is against Neo's sense of identity, saying that he must give up one of the two lives he has because one has a future and the other not.

This can also be backed up by the fact that Smith always refers to Neo as "Mr. Anderson", with emphasis on the male pronoun, which is a reference to how trans individuals don't like to be referred by their birth names aligned with the gender they don't identify with.

Ironically, while Agent Smith expresses his disgust for the viral and cancerous nature of the human race, he later displays those same traits by replicating himself and consuming all life within the Matrix.
Despite his initial role as peacekeeper of the Matrix in the first film, Agent Smith's later ability to replicate himself makes him similar to a computer virus, as these malicious programs self-replicate themselves so they can spread on other programs and infect them.
In 2013, Hugo Weaving reprised his role as Agent Smith for a General Electric advertisement.
Despite that a fourth Matrix film is in development for a release in 2021, Hugo Weaving has stated that he won't be reprising his role as Agent Smith despite his previous interest in returning. According to Weaving, he was originally asked to return by Lana Wachowski, but had conflicting schedules due his involvement in Tony Kushner's theatrical adaptation of The Visit, leading Lana to change her mind and write him out. This likely means that Smith will remain dead.
James Woods, Kevin Spacey, Christopher Meloni and the late Dennis Hopper were all considered for the role of Agent Smith. Jean Reno was originally offered the role, but he declined it as he was at one point of his career in which he didn't want to leave his native France, unwilling to move to Australia for a four-and-a-half months shooting, leading to Hugo Weaving's casting.
In the 2016 superhero film Deadpool, Wade's nickname for the Recruiter is Agent Smith.
External Links
Villains
Animated Features
Meowrice | Meowrice's Henchmen | Mouse King | Mouse Queen | Joker | Phantasm | Salvatore Valestra | Arthur Reeves | Chuckie Sol | Buzz Bronski | Grundel Toad | Berkeley Beetle | Mr. Mole | Mrs. Toad | Ms. Fieldmouse | Queen Gnorga | King Llort | Darla Dimple | Max | Mrs. Prysselius | Thunder Karlsson and Bloom | Ruber | Griffin | Ruber's Minions | Bladebeak | Eric Cartman | Saddam Hussein | Sheila Broflovski | Satan | Mr. Garrison | Chef | Randy Marsh | Shelly Marsh | Gerald Broflovski | Kent Mansley | Kralahome | Master Little | The Jokerz (Dee Dee Twins, Chucko & Woof) | Count Grisham | Cheswick | Mojo Jojo | Gangreen Gang | Anubis | Seto Kaiba | Dark Yugi | Pegasus J. Crawford | Mokuba Kaiba | Marik Ishtar | Ebenezer Scrooge Puppet | Barkis Bittern | Maudeline Everglot | Stan Beals | Wasps | Noah the Elder | Leopard Seal | Aguila | Stone Generals (Gato & Mono) | Karai | Foot Clan | Eddy's Brother | Kanker Sisters | Kevin | Sarah | Surtr | Nyra | Kludd | Allomere | Jatt and Jutt | Pure Ones | Lord Business | Super Secret Police (Bad Cop & Sheriff Not-A-Robot) | Duplo Aliens | Mr. Ross | Future Mordecai | Rigby | Benson Dunwoody | Muscle Man | Hunter | Pigeon Toady | Wolf Pack | Penguins | Joker (Lego) | Harley Quinn (Lego) | Phantom Zone Criminals | Catwoman (Lego) | Poison Ivy (Lego) | Two-Face (Lego) | Lord Garmadon | Slade (Teen Titans Go!) | Balloon Man (Teen Titans Go!) | Lex Luthor (Teen Titans Go!) | Stonekeeper | Rex Dangervest | Velociraptors (Lego) | Foot Clan (Shredder) | League of Assassins (Ra's al Ghul (Batman vs. TMNT), Ubu (Batman vs. TMNT) & Talia al Ghul (Batman vs. TMNT)) | Joker (Batman vs. TMNT) | Harley Quinn (Batman vs. TMNT) | Scarecrow (Batman vs. TMNT) | Mr. Freeze (Batman vs. TMNT) | Poison Ivy (Batman vs. TMNT) | Bane (Batman vs. TMNT) | Two-Face (Batman vs. TMNT) | Penguin (Batman vs. TMNT) | Hexagon (Trigon (TTG) & Trigon (Original)) | Spinel | Pink Diamond | Scorpion | Quan Chi | Shang Tsung | Goro | Shao Kahn | Kano | Baraka | Reptile | Moloch | Motaro | Dick Dastardly (2020) | Muttley (2020) | Rotten Robots | Dusty | Cerberus
Live Action Films
Rhedosaurus | Giant Carpenter Ants | Jack Torrance | Hotel Caretaker | Lorraine Massey | Socs (Bob Sheldon, Randy Adderson, Paul Hoden & David) | Mrs. Cade | Scut Farkus | Grover Dill | Stripe | Ruby Deagle | Gremlins | Mama Fratelli | Albert | Audrey II | Orin Scrivello | Mr. Igoe | Max | David | Sergeant Nagata | Beetlejuice | Sandworms | Joker | Bob the Goon | Alicia Hunt | Carl Grissom | Max Eckhardt | Vinnie Ricorso | Joe Chill | Witches (Grand High Witch, Susan Irvine, Nicola Cuttle, Pamela, Lois Leffour, Mildred, Elizabeth, Henrietta, Jacqueline & Beatrice) | Brain Gremlin | Daffy | George | Lenny | Secretary Gremlin | Bat Gremlin | Electric Gremlin | Cushing Catheter | Penguin | Max Shreck | Catwoman | Red Triangle Circus Gang | Charles "Chip" Shreck | Charles Rane | Sabrina Ritchie | Forget | Vincent | Matthew | William Foster | Nick the Neo-Nazi | Switchblade Sam | Dr. Charles Nichols | Frederick Sykes | Lawrence Van Dough | Ferguson | HAL 9000 | Lestat | Armand | Santiago | Ilya Pavel Kazak | Rosa | Leonid Volkov | Zhukov | Stefan | Emilio Juantorena | Navigator | Codebreaker | Baker | Clarice Kensington | Miss Minchin | Riddler | Two-Face | Sugar | Spice | NygmaTech (Frogmen) | Neon Gang | Salvatore Maroni | Jonas Miller | Mr. Swackhammer | Monstars | Martians (Martian Leader, Martian Ambassador & Martian Girl) | John Wesley | Poison Ivy | Mr. Freeze | Bane | Grant Frost | Agent Smith | Cypher | Agents (Agent Jones, Agent Brown & Agent Johnson) | Susan McCallister | Jim Whitlock | Mako Sharks | William Wharton | Percy Wetmore | Jeremy Melton | Mr. Tinkles | Thrax | Mayor Phlegmming | Bruiser | Joe Cramp | Thrax's Henchmen | Lord Voldemort | Quirinus Quirrell | Draco Malfoy | Severus Snape | Mountain Troll | Burke Bennett | Frank Stokes | Merv Green | Buggy Ding Dong | Parade of Hope | Rainbow Randolph | Scrappy-Doo | N' Goo Tuana | Zarkos | Demons | Luna Ghost | Akasha | Spiders (Consuela & Tank) | Lucius Malfoy | Basilisk | Gilderoy Lockhart | Acromantula (Aragog & Acromantula Colony) | Mr. Gray | Mr. Chairman | Bob Smith | Robo Dog | Jonathan Jacobo | Peter Pettigrew | Dementors | Marge Dursley | Clara Dalrymple | Sir Trenton | Trenton's Pride | Ra's al Ghul | Scarecrow | Carmine Falcone | League of Shadows (Decoy of Ra's al Ghul) | Victor Zsasz | Joe Chill | Arthur Slugworth | V | Barty Crouch Jr. | Nagini | Bellatrix Lestrange | Adam Sutler | Lewis Prothero | Norsefire | Peter Creedy | Colonel Coetzee | Captain Poison | Zodiac Killer | Arthur Leigh Allen | Xerxes | Dolores Umbridge | Agent 23 | Siegfried | Dalip | Joker | Two-Face | Sal Maroni | Gambol | Joker's Thugs | Principal Deedle | Ezekial Gallows | Prudence Prufrock | Lord Henry Blackwood | Lord Coward | Esther Coleman | Decoy Queen | Kitty Galore | Paws | Mayor Brown | Wanda Grubwort | Lake Monster | Mal Cobb | Blue Jones | Angelique Bouchard | Dr. Julia Hoffman | Bane | Talia al Ghul | Barsad | Catwoman | John Daggett | Tom Buchanan | Jay Gatsby | Myrtle Wilson | George Wilson | Daisy Buchanan | Precursors | Kaiju (Trespasser, Knifehead, Mutavore, Otachi, Leatherback, Raiju, Scunner & Slattern) | Artemisia | M.U.T.O. | Dr. Mann | Victoria Vinciguerra | Léon Rom | Skull Devil | Preston Packard | It | Bowers Gang (Henry Bowers, Patrick Hockstetter, Belch Huggins & Vic Criss) | Alvin Marsh | Butch Bowers | Mathias Vogel | Ana Miller | Nolan Sorrento | Innovative Online Industries (I-R0k, F'Nale Zandor & Sixers) | Claire Wyden | Brett Wyden | George, Ralph and Lizzie | The Meg | Jack Morris | Shere Khan | Tabaqui | Howard Clifford | Ditto | Sebastian | Ann Laurent | King Ghidorah | Rodan | Alan Jonah | Asher Jonah | Emma Russell | The Banana Splits (Fleegle, Drooper, Snorky & Bingo) | Poppy | Karl | Leo | Cry Baby | Kelly | The Principal | The Biology Teacher | Tom Rogan | Arthur Fleck | Penny Fleck | Randall | Clowns (Joker) (Clown & Ambulance Clown) | Wall Street Three | Penny Fleck's Boyfriend | Rose the Hat | The True Knot | Andrei Sator | Priya Singh | Terrance Mendoza | Butch | Mechagodzilla | Apex Cybernetics (Walter Simmons, Ren Serizawa, & Maia Simmons) | Warbats | Hellhawks | Shang Tsung | Sub-Zero | Mileena | Reiko | Kano | Kabal | Goro | Reptile | Nitara | Shao Kahn
Shorts
Daffy Duck | Sylvester | Tasmanian Devil | Wile E. Coyote | Elmer Fudd | Yosemite Sam | Marvin the Martian | Instant Martians | Gossamer | Tom | Jerry | Spike
Television
The Grinch | Cousin Mel | I.M. Slime | Snow Miser | Heat Miser | North Wind
See Also
Adventure Time Villains | Batman Villains | Ben 10 Villains | Catwoman Villains | Cats & Dogs Villains | Cartoon Network Villains | DC Animated Movie Universe Villains | DC Extended Universe Villains | DC's Legends of Tomorrow Villains | Eraser Villains | Game of Thrones Villains | Gremlins Villains | Hanna-Barbera Cinematic Universe Villains | Harry Potter Villains | Lethal Weapons Villains | Looney Tunes Villains | Melanie Martinez Villains | Middle-Earth Villains | MonsterVerse Villains | Mortal Kombat Villains | New Line Cinema Villains | Pokemon Villains | Powerpuff Girls Villains | Primal Villains | Regular Show Villains | Rick and Morty Villains | Robot Chicken Villains | Rush Hour Villains | Samurai Jack Villains | Scooby-Doo Villains | Steven Universe Villains | Superman Villains | The Banana Splits Movie Villains | The Conjuring Villains | The LEGO Movie Villains | The Matrix Villains | Tom and Jerry Villains | TMNT Villains | Wild Wild West Villains | Xiaolin Showdown Villains | Yu-Gi-Oh! Villains
Community content is available under
CC-BY-SA
unless otherwise noted.