House of the Dragon Trailer - The Loop
Play Sound
This article's content is marked as Mature
The page Mature contains mature content that may include coarse language, sexual references, and/or graphic violent images which may be disturbing to some. Mature pages are recommended for those who are 18 years of age and older.


If you are 18 years or older or are comfortable with graphic material, you are free to view this page. Otherwise, you should close this page and view another page.
| | | |
| --- | --- | --- |
| " | Mr. Anderson! | " |
| | ~ Agent Smith whenever he sees Neo, and his most famous quote. | |
| | | |
| --- | --- | --- |
| " | I'd like to share a revelation that I've had during my time here. It came to me when I tried to classify your species and I realized that you're not actually mammals. Every mammal on this planet instinctively develops a natural equilibrium with the surrounding environment, but you humans do not. You move to an area and you... multiply and multiply until every natural resource is consumed. The only way you can survive is to spread to another area. There is another organism on this planet that follows the same pattern. Do you know what it is? A virus. Human beings are a disease, a cancer of this planet; you are a plague and we are the cure. | " |
| | ~ Agent Smith, as he interrogates Morpheus. | |
| | | |
| --- | --- | --- |
| " | I really should thank you for it after all it was your life that taught me the purpose of all life: the purpose of life is to end. | " |
| | ~ Agent Smith's famous quote from The Matrix: Revolutions. | |
| | | |
| --- | --- | --- |
| " | Oh, no, no, no. No, it's not fair... | " |
| | ~ Agent Smith's last words before being deleted. | |
Agent Smith is the main antagonist of The Matrix trilogy and a posthumous antagonist in the 2005 video game The Matrix Online.
He is the leader of Agents, who later becomes a computer virus within the second and third films, as well as Neo's archenemy. He was created by The Architect along with his fellow Agents to protect the Matrix, but is freed from this purpose after Neo defeated him, leading him to turn on the Machines and set himself to destroy them along with mankind.
He was portrayed by Hugo Weaving, who also played V in V for Vendetta, Megatron in the Transformers film series, Red Skull in Captain America: The First Avenger, David Melrose in Patrick Melrose and Thaddeus Valentine in Mortal Engines.
Biography
Creation
Agent Smith and his two allies were created by The Architect to secure the Matrix for 600 years. During the first five centuries, he had pursued the five Ones but was unsuccessful.
The Matrix
600 years have passed and the sixth One was created. Smith was one of the three Agents sent to deal with Morpheus. After Neo (the sixth One) is successfully removed from the Matrix, Smith arranges Morpheus's capture by bribing Cypher, a disillusioned member of Morpheus's crew with being reintegrated into The Matrix. When Neo manages to free Morpheus, Smith and his fellow Agents engage in a lengthy cross-town chase. He and Neo fight, with Smith dominating most of the fight. Shortly after Neo escapes the fight, Smith guns him down. Neo revives, realizes his power as the One, and enters Smith, to destroy him from within.
The Matrix Reloaded
As a result of his contact with Neo, Smith is "unplugged"; no longer an Agent of the system but a "free man". His appearance is changed drastically as his sunglasses take on an angular shape and his suit is now black instead of dark green and his earpiece has disappeared. He still possesses the abilities of an Agent, but instead of being able to jump from one human to another, he is able to copy himself over any human or program in the Matrix through direct contact; this includes humans wired into the Matrix, non-Agent programs with human forms, red pills, and humans already possessed by Agents. Smith retains the memories and abilities, if any, of the one over which he copies himself. This ability is much like how a virus replicates, creating an ironic contrast with where Smith likens humanity to a virus during his speech with Morpheus.
He makes the claim that Neo has set him free, indicating that he now has not only the vision but also the ability to break free of the Machines' control and exist as a singular being. He is now allied with no one but himself, rendering him an outlaw to both the Matrix and the human minds which populate it. Being free of burden, however, Smith is also compelled to feel that he is still crushed by the weight of purpose.
He essentially correlates purpose with imprisonment, and because he still exists within the Matrix, there is an unseen purpose which binds together Neo and himself. He tries to copy his programming onto Neo, but when this fails, he and several of his clones attack him, forcing Neo to flee. Later, he and his clones try to stop Neo from reaching the machine mainframe, but this too fails.
The Matrix Revolutions
Smith has managed to copy himself over nearly every humanoid in the Matrix, giving him complete control over the "Core Network" (the underlying foundation of the inner workings of the Matrix), thus rendering him immutable by even the machines themselves. The Oracle explains to Neo that he and Smith have become equal in power and that Smith is Neo's negative, a result of The Matrix equation trying to balance itself. Also, she reveals that if he is not stopped, Smith will destroy everything. For this reason, the only way Smith can be eliminated, is for the equation to be "unbalanced". The Oracle herself is eventually taken over by Smith, granting him her power of foresight, or omniscience, as well as reality-bending powers equivalent to those possessed by Neo.
Neo engages in battle with Smith on the Machines' behalf in exchange for Zion's safety. The Smith created from the Oracle battles Neo alone; as he explains, he has foreseen his victory, and has no need for the help of his copies. The two are almost evenly matched, though Neo's combat abilities seem arguably superior to that of Smith, the latter who seems to attack more out of brute force, rather than the technical skill he used when he was an agent. In the midst of this battle, Smith explains to Neo his final nihilistic revelation: "It was your life that taught me the purpose of all life. The purpose of life is to end.".
When Neo is near defeat, Smith demands to know why Neo continues to fight, knowing he cannot win. Neo responds, "Because I choose to" and is beaten unconscious by the enraged Smith as a result. Suddenly recognizing the scene from his prophecy, Smith is compelled to deliver the line he said in it: "I say... Everything that has a beginning has an end, Neo". This is the only point where Smith does not refer to Neo as "Mr. Anderson".
Confused by his own behavior, Smith suddenly becomes frightened by the effect Neo has on his words- then, on the effect his words have on Neo. Unable to overpower Smith, Neo seems to concede to Agent Smith that he can never win, and thus submits to defeat. Neo's successfully 'sells' his 'defeat' to Smith. Smith, unaware of Neo's subterfuge, absorbs him, and for a moment, believes himself to be the victor; however, after copying himself onto Neo, Smith has exposed himself to the machines' mainframe. As such, the machines delete Smith, with him and his clones exploding in a simultaneous flash of white light, ending the war for good.
Other Media
The Matrix: Path of Neo
In the alternative ending of The Matrix Revolutions in The Matrix: Path of Neo, the final boss is the MegaSmith. The MegaSmith was used for gameplay reasons, because though the Wachowski Brothers thought the martyr approach suitable for film, they also believed that in an interactive medium such as a video game (based upon the successful completion of goals), this would not work. So, described by the brothers as "A little Hulk versus Galactus action", this character was created to be the more appropriate "final boss" of Path of Neo. The MegaSmith is composed of destroyed buildings, cars, and parts of the road, with the "spectator Smiths" standing around the crater and in the streets acting as the MegaSmith's muscles, resulting in Smith not only becoming the city's people, but the city itself.
The LEGO Batman Movie
Agent Smith appears in the 2017 Warner Animation Group film The LEGO Batman Movie. In the film, Smith appears as a member of the Phantom Zone Criminals, who allies the Joker after he convinces them to join him in his crusade to defeat Batman. Nevertheless, the Bat Family works together and succeed in sending Smith and his clones back into the Phantom Zone.
His voice actor was uncredited.
Space Jam: A New Legacy
In the 2021 film Space Jam: A New Legacy, the sequel of the 1996 Warner Bros. hybrid film Space Jam, Smith alongside other villains from other Warner Bros. properties, such as the 1989 incarnation of Joker, Lord Voldemort, the Wicked Witch of the West, and the 2017-19 incarnation of Pennywise the Dancing Clown, made a cameo as one of the speculators of Al-G Rhythm's basketball game. Much like in The LEGO Batman Movie, Agent Smith has been reunited with Lord Voldemort and the Wicked Witch of the West.
Personality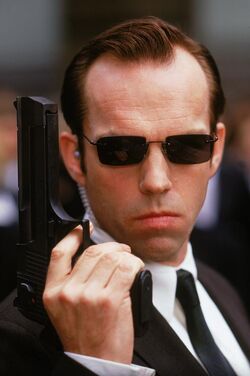 | | | |
| --- | --- | --- |
| " | Why, Mr. Anderson? Why, why, why? Why do you do it? Why? Why get up? Why keep fighting? Do you believe you're fighting for something? For more than your survival? Can you tell me what it is? Do you even know? Is it freedom or truth?! Perhaps peace?! Could it be for love?! Illusions, Mr. Anderson, vagaries of perception! Temporary constructs of a feeble human intellect trying desperately to justify an existence that is without meaning or purpose! And all of them as artificial as the Matrix itself, although only a human mind could invent something as insipid as love! You must be able to see it, Mr. Anderson! You must know it by now! You can't win! It's pointless to keep fighting! Why, Mr. Anderson?! Why?! WHY DO YOU PERSIST?! | " |
| | ~ Smith shows his deep nihilism and misanthropy to Neo | |
While other agents rarely act without consulting each other via their earpieces - they are, in fact, so in sync with each other they are sometimes known to finish each others' sentences - Smith is usually the one giving orders or using his earpiece to gather information for his own ends, signifying he is their leader, which is further proven because he is shown to have the authority to launch Sentinel attacks in the real world. As with other Agents, Smith generally approaches problems through a pragmatic point of view, but if necessary will also act with brute force and apparent rage, as well as satisfaction in downing their enemies.
However, unlike other agents, Smith is shown to prominently display emotions such as rage and sadism. He also retains a deep loathing for the purpose of his existence and humanity itself, having a very low and derogatory opinion of the latter, while considering himself as much of a prisoner as the enslaved humans. When interrogating Morpheus, Smith states his belief that the first Matrix (which was meant to be a perfect world where no humans suffered) had failed because humans defined their existence through misery and suffering, rather than the notion that the Machines lacked the programming language to understand the "perfect" human world. He had likened humans to a plague rather than mammals, noting their exploitative and destructive tendencies.
He eventually revealed to Morpheus about how deeply he loathed the Matrix, explaining that he felt that he feels he's "somehow been infected" whenever he has to interact with humans. Smith had hoped that the destruction of Zion would rid him of the Matrix forever, as he believed there wouldn't be any more reason for him to be there.
After the Architect had resurrected Smith and turned him into a virus. Smith had considered himself "freed", and he had become power hungry, as well more sadistic and easy to give in to anger. Using his abilities as a virus, Smith desired to take over or destroy the Matrix, as well as seek the elimination of both the Machines, whom he hated for creating him, and the humans, whom he loathed deeply. He infected other programs and humans wherever he could find them within the Matrix, turning them into duplicates of himself as they left a path of destruction in their wake within the virtual reality.
Gallery
Trivia
In recent years, The Matrix has been looked back as an allegory to gender transition in a transgender analysis approved by the Wachowskis, who came out in the 2010s as transgender women. According to this analysis, Agent Smith represents a transphobic individual who feels as the traditional American square-jawed masculine ideal and is against Neo's sense of identity, saying that he must give up one of the two lives he has because one has a future and the other not.

This can also be backed up by the fact that Smith always refers to Neo as "Mr. Anderson", with emphasis on the male pronoun, which is a reference to how trans individuals don't like to be referred by their birth names aligned with the gender they don't identify with.

Ironically, while Agent Smith expresses his disgust for the viral and cancerous nature of the human race, he later displays those same traits by replicating himself and consuming all life within the Matrix.
Despite his initial role as peacekeeper of the Matrix in the first film, Agent Smith's later ability to replicate himself makes him similar to a computer virus, as these malicious programs self-replicate themselves so they can spread on other programs and infect them.
In 2013, Hugo Weaving reprised his role as Agent Smith for a General Electric advertisement.
Despite that a third The Matrix sequel entitled The Matrix Resurrections was in development and will be released in 2021, Hugo Weaving stated that he won't be reprising his role as Agent Smith despite his previous interest in returning. According to Weaving, he was originally asked to return by Lana Wachowski, but had conflicting schedules due his involvement in Tony Kushner's theatrical adaptation of The Visit, leading Lana to change her mind and write him out. This likely means that Smith will remain dead.
James Woods, Kevin Spacey, Christopher Meloni and the late Dennis Hopper were all considered for the role of Agent Smith. Jean Reno was originally offered the role, but he declined it as he was at one point of his career in which he didn't want to leave his native France, unwilling to move to Australia for a four-and-a-half months shooting, leading to Hugo Weaving's casting.
In the 2016 superhero film Deadpool, Wade's nickname for the Recruiter is Agent Smith.
External Links
Villains
Villains
Comics
Abraham Langstrom | Alfred Protocol | Alfred Stryker | Alice | Amanda Waller | Amygdala | Anarky | An Innocent Guy | Arkham Knight | Arnold John Flass | Azrael | Baby Doll | Bane | Barbatos | Bat-Mite | The Batman Who Laughs | Black Glove | Black Mask | Blockbuster I | Blockbuster II | Brain | Broker | Brother EYE | Calculator | Calendar Man | Castle Bat | Captain Fear | Captain Boomerang | Carmine Falcone | Catman | Catwoman | Cheshire | Circus of Strange | Clayface | Claything | Clock King | Clownface | Club of Villains | Cluemaster | Composite Superman | Condiment King | Copperhead | Cornelius Stirk | Court of Owls | Crazy Quilt | Crime Doctor | Curtis Base | Dark Archer | David Cain | Dark Knights | Deacon Blackfire | Deadshot | Dealer | Deathstroke | Dick Grayson (Frank Miller) | The Dawnbreaker | The Devastator | Dr. Crane | Doctor Death | Doctor Double X | Doctor Phosphorus | Doctor Randolph Porter | Donna Troy | Dr. Silversmith | The Drowned | Electrocutioner | Emperor Penguin | Enigma | Ernie Chubb | Faceless | Firebug | Firefly | Flamingo | Floronic Man | Gearhead | General Ulysses Armstrong | Gilda Dent | Gorilla Boss | Gotham City Police Department | Gillian B. Loeb | Great White Shark | The Grim Knight | Harley Quinn | Holiday | Holly Robinson | Humpty Dumpty | Hugo Strange | Hush | Jack the Ripper | James Gordon, Jr. | Jason Todd | Joe Chill | Joker | Judge of Owls | Joker's Daughter | Key | KGBeast | King of Cats | King Snake | King Tut | Killer Croc | Killer Moth | Kite Man | Lady Shiva | League of Assassins | Leviathan | Lex Luthor | Lock-Up | Mad Hatter | Mad Monk | Magpie | Malochia | Man-Bat | Mary Keeny | Maxie Zeus | Maxwell Lord | The Merciless | Merrymaker | Micheal Atkins | Monk | Mr. Freeze | Mrs. Freeze | Mayor Oswald Cobblepot | Mr. Toad | Mr. Whisper | Mutants | Neo Joker | Neron | Nightslayer | Nocturna | Omega | Onomatopoeia | Orca | Outsider | Owlman | Phantasm | Penguin | Penny Plunderer | Phosphorus Rex | Planet Master | Poison Ivy | Polka Dot Man | Professor Arnold Hugo | Professor Pyg | Prometheus | Punchline | Ra's al Ghul | Ragdoll | Ratcatcher | Reaper | Red Death | Reverse-Flash | Riddler | Robin King | Roland Daggett | Roxy Rocket | Royal Flush Gang | Rupert Thorne | Saint Batman | Sal Maroni | Scarecrow | Sensei | Sewer King | Signalman | Simon Hurt | Sinestro | Snowman | Solomon Grundy | Spellbinder | Squid | Steeljacket | Suicide Squad | Talia al Ghul | Talon | Tally Man | Ten Eyed Man | Terrible Trio | Thomas Wayne | Tiger Shark | Timecode | Tony Zucco | Tweedledum and Tweedledee | Two-Face | Ubu | Vandal Savage | Ventriloquist | Ventriloquist II | Ventriloquist III | Vertigo | Victor Zsasz | Whisper A'Daire | Wrath | The Wonderland Gang | Zebra-Man
Theatrical Movies
Batman (1966): Joker | Catwoman | Penguin | Riddler
Batman (1989): Joker | Joker Goons (Bob Hawkins) | Alicia Hunt | Carl Grissom | Max Eckhardt | Vinnie Ricorso | Joe Chill
Batman Returns: Penguin | Red Triangle Circus Gang (Organ Grinder, Poodle Lady, Tattooed Strongman, Stungun Clown, Thin Clown, Fat Clown, Sword Swallower & Knifethrower Dame) | Max Shreck | Catwoman
Batman: Mask of the Phantasm: Joker | Phantasm | Salvatore Valestra | Arthur Reeves | Chuckie Sol | Buzz Bronski
Batman Forever: Riddler | Two-Face | Sugar | Spice | NygmaTech (Frogmen) | Neon Gang (Neon Gang Leader) | Salvatore Maroni
Batman & Robin: Poison Ivy | Mr. Freeze | Bane | Snowy Cones Thugs | Golums | Jason Woodrue
Batman Begins: Ra's al Ghul | League of Shadows (Ra's Decoy) | Scarecrow | Carmine Falcone | Victor Zsasz | Joe Chill
The Dark Knight: Joker | Joker's Thugs (Thomas Schiff, Chuckles, Kilson, Happy, Dopey, Grumpy & Bus Driver) | Two-Face | Sal Maroni | The Chechen | Gambol | Lau | Bank Manager | Michael Wuertz | Burmese Bandit
The Dark Knight Rises: League of Shadows (Bane, Talia al Ghul & Barsad) | Catwoman | John Daggett
Batman v Superman: Dawn of Justice: Lex Luthor | Doomsday | Anatoli Knyazev | Mercy Graves | Cesar Santos | Amajagh | Joe Chill | Superman | Zod | Joker | Steppenwolf
Suicide Squad: Eyes of the Adversary (Enchantress & Incubus) | Suicide Squad (Deadshot, Harley Quinn, Captain Boomerang, El Diablo, Killer Croc, Slipknot & Amanda Waller) | Joker's Gang (Joker, Jonny Frost, Panda Man & Monster T) | Griggs
The Lego Batman Movie: Joker | Harley Quinn | Phantom Zone Criminals (Zod, Sauron, Kraken, Lord Voldemort, Agent Smith, Jaws & Gremlins) | Catwoman | Poison Ivy | Two-Face | Bane | Riddler
Joker: Clowns (Joker, Clown & Ambulance Clown) | Penny Fleck | Randall | Wall Street Three | Penny Fleck's Boyfriend

Direct-to-video Movies
Batman & Mr. Freeze: SubZero: Mr. Freeze | Dr. Gregory Belson
Batman Beyond: Return of the Joker: Joker | The Jokerz (Chucko, Dee-Dee, Ghoul, Bonk, & Woof) | Harley Quinn
Batman: Mystery of the Batwoman: Penguin | Bane | Rupert Thorne | Carlton Duquesne
The Batman vs. Dracula: Dracula | Penguin | Joker
Superman/Batman: Public Enemies: Lex Luthor | Major Force | Metallo | Amanda Waller | Toyman | Solomon Grundy | Gorilla Grodd | Killer Frost | Lady Shiva | Giganta | Mongul | Captain Cold
Batman: Under the Red Hood: Jason Todd | Joker | Black Mask | Ra's al Ghul | Riddler
Superman/Batman: Apocalypse: Darkseid | Female Furies (Granny Goodness, Gilotina, Mad Harriet, Lashina & Stompa) | Doomsday
Batman: Year One: Batman | Gotham City Police Department (Commissioner Loeb, Arnold John Flass, & Howard Branden) | Falcone Crime Family (Carmine Falcone & Johnny Viti) | Catwoman | Joker
Batman: The Dark Knight Returns: Batman | Joker | Mutant Leader | Ellen Yindel | Harvey Dent | Selina Kyle
Son of Batman: Deathstroke | League of Assassins (Ra's al Ghul & Talia al Ghul) | Ubu | Killer Croc | Man-Bats
Batman: Assault on Arkham: Suicide Squad (Amanda Waller, Deadshot, Harley Quinn, Captain Boomerang, Killer Frost, King Shark, Black Spider, KGBeast) | Joker | Riddler | Penguin | Scarecrow | Victor Zsasz | Bane | Two-Face | Poison Ivy
Batman vs. Robin: Court of Owls (Samantha Vanaver, Talon, Owls Lieutenant, & Talon Warriors) | Dollmaker
Batman Unlimited: Animal Instincts: Animalitia (Penguin, Killer Croc, Man-Bat, Cheetah & Silverback)
Batman Unlimited: Monster Mayhem: Joker | Scarecrow | Clayface | Silver Banshee | Solomon Grundy
Batman: Bad Blood: League of Assassins (Talia al Ghul, The Heretic, Onyx, Firefly, Tusk, Mad Hatter, Electrocutioner, Hellhound, Calculator, & Killer Moth) | Black Mask
Batman: The Killing Joke: Joker | Vinnie & Joe | Paris Franz
Batman Unlimited: Mechs vs. Mutants: Penguin | Mr. Freeze | Cheetah | Hush | Mad Hatter | Two-Face | Bane | Chemo | Killer Croc | Clayface | Joker | Dr. Kirk Langstrom
Batman: Return of the Caped Crusaders: Joker | Penguin | Riddler | Catwoman | Archer | Black Widow | Bookworm | Clock King | Egghead | False Face | King Tut | Louie the Lilac | Mad Hatter | Minstrel | Mr. Freeze | Sandman | Shame | Siren
Batman and Harley Quinn: Harley Quinn | Poison Ivy | Floronic Man
Batman vs. Two-Face: Two-Face | Hugo Strange | Catwoman | King Tut | Bookworm | Joker | Penguin | Riddler | Clock King | Egghead | Mr. Freeze | Shame | Harley Quinn
Scooby-Doo! & Batman: The Brave and the Bold: Riddler | Clayface | Joker | Mr. Freeze | Catwoman | Penguin | Harley Quinn | Poison Ivy
Batman: Gotham by Gaslight: Jack the Ripper | Barbara-Eileen Gordon | Selina Kyle | Harvey Dent | Hugo Strange
Suicide Squad: Hell To Pay: Professor Zoom | Suicide Squad (Amanda Waller, Deadshot, Harley Quinn, Captain Boomerang, Bronze Tiger, Copperhead, Punch, Jewelee, & Count Vertigo) | Killer Frost | Blockbuster | Silver Banshee | Vandal Savage | Scandal Savage | Professor Pyg | Tobias Whale | League of Assassins (Deathstroke) | Two-Face
Batman Ninja: Joker | Harley Quinn | Catwoman | Gorilla Grodd | Bane | Penguin | Poison Ivy | Deathstroke | Two-Face
Batman vs. Teenage Mutant Ninja Turtles: Foot Clan (Shredder & Baxter Stockman) | League of Assassins (Ra's al Ghul & Ubu) | Joker | Penguin | Harley Quinn | Mr. Freeze | Scarecrow | Two-Face | Poison Ivy | Bane
Batman: Hush: Riddler/Hush | Catwoman | Poison Ivy | Bane | Joker | Harley Quinn | Clayface | Scarecrow | Lex Luthor | Lady Shiva | Two-Face | Penguin | Mr. Freeze | Thomas Elliot
Batman: Soul of the Dragon: Nāga | Kobra (Jeffery Burr, Schlangenfaust, Lady Eve, King Snake & Rip Jagger) | Ben Turner | Shiva | Richard Dragon | Jade
Batman: The Long Halloween: Holiday | Falcone Crime Family (Carmine Falcone, Milos Grapa, Alberto Falcone, Johnny Viti, & Sofia Falcone) | Two-Face | Joker | Solomon Grundy | Salvatore Maroni | Poison Ivy | Penguin | Scarecrow | Mad Hatter | San Ho Hui (Mickey Chen) | Calendar Man | Catwoman

Television
Batman 60s show
Joker | Penguin | Catwoman | Riddler | Mr. Freeze | The Archer | Black Widow | Bookworm | Egghead | Clock King | Queenie Goldstein | Sandman | Dr. Cassandra Spellcraft | Cabala | Minstrel | Shame | False Face | The Siren | Undine | Chandell & Harry | King Tut | Louie the Lilac | Mad Hatter | Cornelia | Baby Jane Towser | Lydia Limpet | Zelda the Great | The Puzzler | Olga, Queen of Cossacks | Marsha, Queen of Diamonds | Lord Marmaduke Ffogg | Lady Penelope Peasoup | Ma Parker | Freddy the Fence | Lola Lasagne | Nora Clavicle | Colonel Gumm | Minerva | Killer Moth | Calamity Jan
1970s Filmation series
Joker | Catwoman | Penguin | Riddler | Clayface | Mr Freese | Sweet Tooth
Batman: The Animated Series
Joker | Two-Face | Harley Quinn | Penguin | Catwoman | Rupert Thorne | Riddler | Poison Ivy | Scarecrow | Mad Hatter | Killer Croc | Clayface | Ra's al Ghul | Mr. Freeze | Man-Bat | Ventriloquist and Scarface | Roland Daggett | Clock King | Bane | Hugo Strange | Lloyd Ventrix | Kyodai Ken | Baby Doll | Emile Dorian | Red Claw | Boss Biggis | Sewer King | Talia al Ghul | Maxie Zeus | Lock-Up | Professor Milo | Count Vertigo | Daniel Mockridge | Grant Walker | Gil Mason | Arkady Duvall | Fake Harley | Ferris Boyle | Arnold Stromwell | Tony Zucco | H.A.R.D.A.C. | Calendar Girl | Batman Clone
The Batman
Joker | Penguin | Bane | Catwoman | Mr. Freeze | Ethan Bennit | Killer Croc | Man-Bat | Firefly | Riddler | Punch & Judy | Kabuki Twins | Hugo Strange | Cluemaster | Ragdoll | Temblor | Poison Ivy | Tony Zucco | Count Vertigo | Harley Quinn | Maxie Zeus | Clayface | Gearhead | Francis Grey | Killer Moth | D.A.V.E. | Dracula | Rumor | Toyman | Mirror Master | Lex Luthor (DC)Lex Luthor | Black Mask | Sinestro | Joker 2.0 | Prank | Killgore Steed | Team Penguin | Julie | Spellbinder | Blaze | The Joining | Cosmo Krank | Marty Slacker | Scorn | Wrath
Batman: The Brave and The Bold
Joker | Music Meister | Catwoman | Penguin | Mr. Freeze | Clayface | Riddler | Poison Ivy | Lex Luthor | Flower Children | Harley Quinn | Morgaine Le Fey | Sweet Tooth | Queenie Goldstein | Bane | Kite Man | Black Manta | Gentleman Ghost | Major Force | Mirror Master
Beware the Batman
Anarky | Ra's al Ghul | Deathstroke | Two-Face | Killer Croc | Simon Stagg | Professor Pyg | Mr. Toad | Man-Bat | Cypher | Magpie | Lady Shiva | Tobias Whale | Phosphorus Rex | Lunkhead | Humpty Dumpty | Silver Monkey | Key | Bethany Ravencroft
Harley Quinn
Harley Quinn | Poison Ivy | Joker | Scarecrow | Queen of Fables | Darkseid | Parademons | Penguin | Mr. Freeze | Bane | Lex Luthor | Killer Croc | Man-Bat | Riddler | Deadshot | Solomon Grundy | Kite Man | Doctor Psycho | Clayface | King Shark | Sy Borgman | Doctor Trap | Frank the Plant | Felix Faust | Toyman | Metallo | Livewire | Black Adam | Captain Cold | Gorilla Grodd | Black Manta | Cheetah | Giganta | Sinestro | Two-Face | Catwoman | Nick Quinzel | Sharon Quinzel
Video Games
LEGO Batman
Joker | Penguin | Riddler | Harley Quinn | Catwoman | Two-Face | Bane | Clayface | Killer Croc | Killer Moth | Mad Hatter | Man-Bat | Mr. Freeze | Poison Ivy | Scarecrow | Ra's al Ghul | Hush
Lego Batman 2: DC Super Heroes
Joker | Lex Luthor | Harley Quinn | Riddler | Two-Face | Catwoman | Bane | Penguin | Poison Ivy | Scarecrow | Captain Boomerang | Clayface | Mad Hatter | Ra's al Ghul | Killer Croc | Bane | Killer Moth | Mr. Freeze | Man-Bat | Hush | Zod | Sinestro | Brainiac | Gorilla Grodd | Captain Cold | Black Manta | Black Adam | Bizarro
Lego Batman 3: Beyond Gotham
Brainiac | Joker | Lex Luthor | Cheetah | Solomon Grundy | Firefly | Killer Croc | Sinestro | Atrocitus | Larfleeze | Star Sapphire | Composite Superman | Bane | Arkillo | Condiment King | Music Meister | Captain Cold | Black Adam | Black Manta | Black Hand | Bronze Tiger Cyborg Superman | Deadshot | Deathstroke | Lobo | Dex-Starr | Doomsday | Gorilla Grodd | Harley Quinn | Hush | Kalibak | Killer Moth | Man-Bat | Mad Hatter | Manchester Black | Metallo | Mr. Freeze | Mr. Mxyzptlk | Parasite | Penguin | Poison Ivy | Polka Dot Man | Red Hood | Riddler | Toyman | The Trickster | Ultra-Humanite | Catwoman | Bizarro | Amanda Waller | Captain Boomerang | El Diablo | King Shark | Killer Frost | Plastique | Terra | Zod | Faora | Joker | Two-Face | Ra's al Ghul | Bane | Catwoman | Scarecrow | Blight | Joker | Mr. Freeze | Arrow Deathstroke | Malcolm Merlyn | Darkseid
Injustice
Superman | Wonder Woman | Yellow Lantern | The Flash | Aquaman | Nightwing | Cyborg | Raven | Solomon Grundy | Catwoman | Bane | Black Adam | Deadshot | Poison Ivy | Scarecrow | Joker | Deathstroke
See Also
Arkhamverse Villains | Telltalle Batman Villains