Jurassic World: Dominion Dominates Fandom Wikis - The Loop
Play Sound

✓
| | |
| --- | --- |
| | This Article Contains Spoilers - WARNING: This article contains major spoilers. If you do not wish to know vital information on plot / character elements in a story, you may not wish to read beyond this warning: We hold no responsibility for any negative effects these facts may have on your enjoyment of said media should you continue. That is all. |
This article's content is marked as Mature
The page Mature contains mature content that may include coarse language, sexual references, and/or graphic violent images which may be disturbing to some. Mature pages are recommended for those who are 18 years of age and older.


If you are 18 years or older or are comfortable with graphic material, you are free to view this page. Otherwise, you should close this page and view another page.
| | | |
| --- | --- | --- |
| " | Mr. Anderson! | " |
| | ~ Agent Smith's most famous catchphrase, referring to Neo. | |
Agent Smith is the main antagonist of the The Matrix film series. He appears as the main antagonist of both The Matrix and The Matrix Revolutions, one of the two main antagonists (alongside The Architect) of The Matrix Reloaded and the secondary antagonist of The Matrix Resurrections. He also serves as a posthumous antagonist in the spin-off video game The Matrix Online.
He is the leader of Agents, who later becomes a computer virus within the second and third films, as well as Neo's archenemy. He was created by The Architect along with his fellow Agents to protect the Matrix, but is freed from this purpose after Neo defeated him, leading him to turn on the Machines and set himself to destroy them along with mankind.
In the original trilogy, he was portrayed by Hugo Weaving, who also played V in V for Vendetta, Megatron in the first three Transformers films, Red Skull in Captain America: The First Avenger, David Melrose in Patrick Melrose and Thaddeus Valentine in Mortal Engines. When possessing Bane in The Matrix: Reloaded and Revolutions, he is portrayed by Ian Bliss. In the fourth film, he was portrayed by Jonathan Groff, who also played King George III in Hamilton.
Biography
Creation
Agent Smith and his two allies were created by The Architect to secure the Matrix for 600 years. During the first five centuries, he had pursued the five Ones but was unsuccessful.
The Matrix
600 years have passed and the sixth One was created. Smith was one of the three Agents sent to deal with Morpheus. After Neo (the sixth One) is successfully removed from the Matrix, Smith arranges Morpheus's capture by bribing Cypher, a disillusioned member of Morpheus's crew with being reintegrated into The Matrix. When Neo manages to free Morpheus, Smith and his fellow Agents engage in a lengthy cross-town chase. He and Neo fight, with Smith dominating most of the fight. Shortly after Neo escapes the fight, Smith guns him down. Neo revives, realizes his power as the One, and enters Smith, to destroy him from within.
The Matrix Reloaded
As a result of his contact with Neo, Smith is "unplugged"; no longer an Agent of the system but a "free man". His appearance is changed drastically as his sunglasses take on an angular shape and his suit is now black instead of dark green and his earpiece has disappeared.
He still possesses the abilities of an Agent, but instead of being able to jump from one human to another, he is able to copy himself over any human or program in the Matrix through direct contact; this includes humans wired into the Matrix, non-Agent programs with human forms, red pills, and humans already possessed by Agents. Smith retains the memories and abilities, if any, of the one over which he copies himself. This ability is much like how a virus replicates, creating an ironic contrast with where Smith likens humanity to a virus during his speech with Morpheus.
He makes the claim that Neo has set him free, indicating that he now has not only the vision but also the ability to break free of the Machines' control and exist as a singular being. He is now allied with no one but himself, rendering him an outlaw to both the Matrix and the human minds which populate it. Being free of burden, however, Smith is also compelled to feel that he is still crushed by the weight of purpose.
He essentially correlates purpose with imprisonment, and because he still exists within the Matrix, there is an unseen purpose that binds together Neo and himself. He tries to copy his programming onto Neo, but when this fails, he and several of his clones attack him, forcing Neo to flee. Later, he and his clones try to stop Neo from reaching the machine mainframe, but this too fails.
Unbeknownst to anyone, Smith secretly overwrites a red pilled human, Bane, and is able to possess his human body in the real world. As Bane, Smith attempts to kill Neo in the real world where he lacks the powers granted by the Matrix. He is unable to and instead sneaks on one of Zion's ships. He sabotages the ship during an attack with Machines by prematurely activating the ships EMP, allowing the machines to kill everyone on board. Bane Smith is the only survivor and left in comatose.
The Matrix Revolutions
Smith has managed to copy himself over nearly every humanoid in the Matrix, giving him complete control over the "Core Network" (the underlying foundation of the inner workings of the Matrix), thus rendering him immutable by even the machines themselves. The Oracle explains to Neo that he and Smith have become equal in power and that Smith is Neo's negative, a result of The Matrix equation trying to balance itself. Also, she reveals that if he is not stopped, Smith will destroy everything. For this reason, the only way Smith can be eliminated is for the equation to be "unbalanced". The Oracle herself is eventually taken over by Smith, granting him her power of foresight, or omniscience, as well as reality-bending powers equivalent to those possessed by Neo.
In the real world, the Smith possessed Bane awakens and continues his attempts to kill Neo in the real world. Smith sneaks aboard their ship and takes Trinity hostage. When Neo confronts the human Smith, he holds Trinity at knife-point and demands Neo to drop his gun, all the while he comments about Neo's unwillingness to let Trinity die. When Neo complies, Smith drops Trinity down a hatch and holds Neo at gun-point. Before he shoots Neo, Smith taunts Neo by trying to make him realize that Bane is Smith. Smith describes their fleshy human bodies as "weak", "rotting", and "not meant to survive". Neo refuses to believe that Smith could escape the Matrix, to which Smith comments that it is "inevitable". The two engage in an intense fight with Smith blinding Neo with an electric cable. As a blind Neo stumbles to attack, Smith taunts Neo's state before he attacks him with a pipe, however Neo dodges the attack. Neo then finally sees beyond reality and is able to see Smith's conscience inside Bane's body. Neo overpowers Smith, with Smith remarking that "It's not over Mr. Anderson." Neo then smashes Smith's head with a pipe and ends his real world threat.
Inside the Matrix, Neo engages in battle with Smith on the Machines' behalf in exchange for Zion's safety. The Smith created from the Oracle battles Neo alone; as he explains, he has foreseen his victory and has no need for the help of his copies. The two are almost evenly matched, though Neo's combat abilities seem arguably superior to that of Smith, the latter who seems to attack more out of brute force, rather than the technical skill he used when he was an agent. In the midst of this battle, Smith explains to Neo his final nihilistic revelation: "It was your life that taught me the purpose of all life. The purpose of life is to end."
When Neo is near defeat, Smith demands to know why Neo continues to fight, knowing he cannot win. Neo responds, "Because I choose to" and is beaten unconscious by the enraged Smith as a result. Suddenly recognizing the scene from his prophecy, Smith is compelled to deliver the line he said in it: "I say… Everything that has a beginning has an end, Neo." This is the only point where Smith does not refer to Neo as "Mr. Anderson".
Confused by his own behavior, Smith suddenly becomes frightened by the effect Neo has on his words—then, on the effect, his words have on Neo. Unable to overpower Smith, Neo seems to concede to Agent Smith that he can never win, and thus submits to defeat. Neo successfully "sells" his "defeat" to Smith. Smith, unaware of Neo's subterfuge, absorbs him, and for a moment, believes himself to be the victor; however, after copying himself onto Neo, Smith has exposed himself to the machines' mainframe. As such, the machines delete Smith, with him and his clones exploding in a simultaneous flash of white light, ending the war for good.
The Matrix Resurrections
Smith takes a different form after his original body was destroyed. He worked as Neo's partner in a video game company. Taking on a new outer shell in order to avoid deletion, Smith was found by The Analyst, who turned Neo and Smith's bond into a 'chain' in which Smith would become amnesiac in the same way as Neo, and while Neo remained tethered to the system, so too did Smith. The now-amnesiac Smith became Neo's business partner. He would refer to Neo as 'Tom'. His tenacity translated into an eye for the bottom line, something that his business partner lacked.
Smith would converse with Neo about returning to The Matrix, which had become a successful series of video games (based upon Neo's suppressed memories), stating that Warner Bros, the company responsible for publishing the games, wanted Neo to work on a new game, or have his funding pulled from future projects. Neo began to suffer a breakdown, imagining Smith's mouth being sealed, in the same way, that Smith had sealed Neo's mouth in their first interrogation. During a S.W.A.T. raid on Deus Machina, Neo was confronted by Morpheus.
A program that was created subconsciously by Neo as a combination of the real world Morpheus and Smith. Neo began to suffer flashbacks to his past that he tried to rationalize as going really crazy. Smith came into the office. Spotting a handgun dropped by one of the dead S.W.A.T. members, deriving from Neo's breakdown, Smith's memories began to unlock. Smith picked up the handgun and began firing at Neo. Ultimately, Smith couldn't kill Neo before the Analyst warped the Matrix, bringing Neo before him.
Smith later returned when Neo, Bugs, and the crew of the Mnemosyne hovercraft, made their first attempt to rescue Trinity, with their route taking them through a run-down building. Neo recognized Smith despite him inhabiting a new shell. He tried to dissuade Neo from pursuing Trinity, stating that he had come to enjoy the freedom that he had gained and that Neo's actions could result in Smith's freedom being stripped once again.
Unlike before, Smith didn't see a conflict between the two as necessarily inevitable and simply asked Neo to stay out of his way as he sought revenge against the Analyst which Neo had no problem doing as long as Smith let him rescue Trinity. The Merovingian then showed up and a horde of Exiles attacked the Mnemosyne crew. Smith fought Neo, falling into a derelict bathroom below the building. Smith appeared to gain the upper hand, although before long, Neo's powers returned and he blasted Smith away.
Smith later came to Neo and Trinity's rescue when the Analyst was about to kill them, taking possession of the Simulatte barista in order to do so. He commented that he and Neo had more in common than the Analyst realized. Smith's attack gave Neo, Trinity, and their allies the chance to fight back and recover Trinity's body. Smith shoots the Analyst several times, causing him to disappear, before turning on Neo and Trinity, stating that their unexpected alliance is over. Smith tells Neo that the difference between them is that "anyone could've been you, whereas I've always been anyone". Smith then departs from his host body, leaving the barista confused.
It's completely unknown what became of Smith following the Analyst's defeat, but it can be implied that, given how the Analyst no longer has any authority over the Matrix, Smith may enjoy his newfound existence as a free program to do whatever he wants, no longer bound to any responsibility, though Neo and Trinity may keep him in check in case he ever poses a threat again.
Other Media
The Matrix: Path of Neo
In the alternative ending of The Matrix Revolutions in The Matrix: Path of Neo, the final boss is the MegaSmith. The MegaSmith was used for gameplay reasons, because though the Wachowski Brothers thought the martyr approach suitable for film, they also believed that in an interactive medium such as a video game (based upon the successful completion of goals), this would not work. So, described by the brothers as "A little Hulk versus Galactus action", this character was created to be the more appropriate "final boss" of Path of Neo. The MegaSmith is composed of destroyed buildings, cars, and parts of the road, with the "spectator Smiths" standing around the crater and in the streets acting as the MegaSmith's muscles, resulting in Smith not only becoming the city's people, but the city itself.
The LEGO Batman Movie
Agent Smith appears in the 2017 Warner Animation Group film The LEGO Batman Movie. In the film, Smith appears as a member of the Phantom Zone Criminals, who allies the Joker after he convinces them to join him in his crusade to defeat Batman. Nevertheless, the Bat Family works together and succeed in sending Smith and his clones back into the Phantom Zone.
His voice actor was uncredited.
Space Jam: A New Legacy
In the 2021 film Space Jam: A New Legacy, the sequel of the 1996 Warner Bros. hybrid film Space Jam, Smith alongside other villains from other Warner Bros. properties, such as the 1989 incarnation of Joker, Lord Voldemort, the Wicked Witch of the West, and the 2017-19 incarnation of Pennywise the Dancing Clown, made a cameo as one of the speculators of Al-G Rhythm's basketball game. Much like in The LEGO Batman Movie, Agent Smith has been reunited with Lord Voldemort and the Wicked Witch of the West.
Personality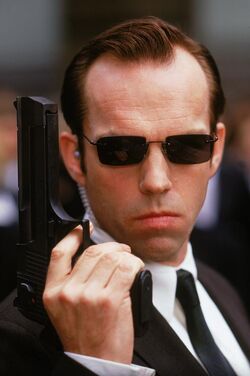 | | | |
| --- | --- | --- |
| " | Why, Mr. Anderson? Why, why, why? Why do you do it? Why? Why get up? Why keep fighting? Do you believe you're fighting for something? For more than your survival? Can you tell me what it is? Do you even know? Is it freedom or truth?! Perhaps peace?! Could it be for love?! Illusions, Mr. Anderson, vagaries of perception! Temporary constructs of a feeble human intellect trying desperately to justify an existence that is without meaning or purpose! And all of them as artificial as the Matrix itself, although only a human mind could invent something as insipid as love! You must be able to see it, Mr. Anderson! You must know it by now! You can't win! It's pointless to keep fighting! Why, Mr. Anderson?! Why?! WHY DO YOU PERSIST?! | " |
| | ~ Smith shows his deep nihilism and misanthropy to Neo. | |
While other Agents rarely act without consulting each other via their earpieces - they are, in fact, so in sync with each other they are sometimes known to finish each others' sentences - Agent Smith is usually the one giving orders or using his earpiece to gather information for his own ends, signifying he is their leader, which is further proven because he is shown to have the authority to launch Sentinel attacks in the real world. As with other Agents, Smith generally approaches problems through a pragmatic point of view, but if necessary will also act with brute force and apparent rage, as well as satisfaction in downing their enemies.
However, unlike other Agents, Smith is shown to prominently display emotions such as rage and sadism. He also retains a deep loathing for the purpose of his existence and humanity itself, having a very low and derogatory opinion of the latter, while considering himself as much of a prisoner as the enslaved humans. When interrogating Morpheus, Smith states his belief that the first Matrix (which was meant to be a perfect world where no humans suffered) had failed because humans defined their existence through misery and suffering, rather than the notion that the Machines lacked the programming language to understand the "perfect" human world. He had likened humans to a plague rather than mammals, noting their exploitative and destructive tendencies.
He eventually revealed to Morpheus how deeply he loathed the Matrix, explaining that he felt that he feels he's "somehow been infected" whenever he has to interact with humans. Smith had hoped that the destruction of Zion would rid him of the Matrix forever, as he believed there wouldn't be any more reason for him to be there.
After The Architect had resurrected Smith and turned him into a virus, Smith had considered himself "freed", and he had become power-hungry, as well more sadistic and easy to give in to anger. Using his abilities as a virus, Smith desired to take over or destroy the Matrix, as well as seek the elimination of both the Machines, whom he hated for creating him and the humans, whom he loathed deeply. He infected other programs and humans wherever he could find them within the Matrix, turning them into duplicates of himself as they left a path of destruction in their wake within the virtual reality.
However, after being restored from his deletion by The Analyst, Smith did significantly mellow out in the sixty years after the Machine War's conclusion. Under a new form, no longer one of the Matrix's defenders, Smith became less nihilistic under his new personality. He even stopped seeing Neo, whom he started calling "Tom" instead of "Mr. Anderson", as his enemy, having an apparent fondness for him. While he did try to kill Neo again upon recovering his memories, he mainly did so just to ensure Neo didn't mess his revenge plans against The Analyst, whom he despised for forcing him into "babysitting" Neo. His hatred for the Analyst was enough to the point Smith chose to save Neo and Trinity from the Analyst, even though he said that his alliance with them was over now. Thus, while Smith may have helped Neo even though he could have left him to be captured by the Analyst again, this doesn't mean that Smith is no longer evil as before.
Powers and Abilities
To be added
Quotes
Original Trilogy
| | | |
| --- | --- | --- |
| " | I'd like to share a revelation that I've had during my time here. It came to me when I tried to classify your species and I realized that you're not actually mammals. Every mammal on this planet instinctively develops a natural equilibrium with the surrounding environment, but you humans do not. You move to an area, and you… multiply and multiply until every natural resource is consumed. The only way you can survive is to spread to another area. There is another organism on this planet that follows the same pattern. Do you know what it is? A virus. Human beings are a disease, a cancer of this planet; you are a plague and we are the cure. | " |
| | ~ Agent Smith's speech to Morpheus. | |
| | | |
| --- | --- | --- |
| " | I'm going to enjoy watching you die, Mr. Anderson. | " |
| | ~ Agent Smith during his fight with Neo. | |
| | | |
| --- | --- | --- |
| " | We are here because of you, Mr. Anderson. We're here to take from what you tried to take from us: purpose. | " |
| | ~ Agent Smith's attempt to absorb Neo. | |
| | | |
| --- | --- | --- |
| " | I really should thank you for it after all it was your life that taught me the purpose of all life: the purpose of life is to end. | " |
| | ~ Agent Smith to Neo. | |
| | | |
| --- | --- | --- |
| " | This is my world! MY WORLD! | " |
| | ~ Agent Smith during the final confrontation with Neo. | |
| | | |
| --- | --- | --- |
| " | Oh, no, no, no. No, it's not fair. | " |
| | ~ Agent Smith's last words before being temporarily deleted. | |
| | | |
| --- | --- | --- |
| " | We're not here because we're free. We're here because we're not free. There's no escaping reason. No denying purpose. Because as we both know without purpose, we would not exist. | " |
| | ~ Agent Smith to Neo. | |
| | | |
| --- | --- | --- |
| " | I must get out of here. I must get free. And in this mind is the key. My key. Once Zion is destroyed, there is no need for me to be here, do you understand? I need the codes. I have to get inside Zion, and you have to tell me how. You're going to tell me, or you're going to die. | " |
| | ~ Agent Smith interrogating Morpheus. | |
| | | |
| --- | --- | --- |
| " | It is inevitable. | " |
| | ~ Agent Smith. | |
"
(Agent Smith) Bane: Yes. That's it, Mr. Anderson. Look past the flesh. Look through the soft gelatin of these dull cow eyes and see your enemy. Oh yes, Mr. Anderson.
Neo: It can't be.
(Agent Smith) Bane: There's nowhere I can't go, there's nowhere I can't find you.
Neo: That's impossible.
(Agent Smith) Bane: Not impossible, inevitable.
"
~ Neo realizes Agent Smith escaped The Matrix.
Resurrections
| | | |
| --- | --- | --- |
| " | After all these years, to be going back to where it all started. Back to the Matrix. | " |
| | ~ Agent Smith after being revived. | |
| | | |
| --- | --- | --- |
| " | MR. ANDERSON! I've missed you. | " |
| | ~ Agent Smith upon regaining his memories. | |
Gallery
Trivia
In recent years, The Matrix has been looked back as an allegory to gender transition in a transgender analysis approved by the Wachowskis, who came out in the 2010s as transgender women. According to this analysis, Agent Smith represents a transphobic individual who feels as the traditional American square-jawed masculine ideal and is against Neo's sense of identity, saying that he must give up one of the two lives he has because one has a future and the other not.

This can also be backed up by the fact that Smith always refers to Neo as "Mr. Anderson", with emphasis on the male pronoun, which is a reference to how trans individuals don't like to be referred by their birth names aligned with the gender they don't identify with.

Ironically, while Agent Smith expresses his disgust for the viral and cancerous nature of the human race, he later displays those same traits by replicating himself and consuming all life within the Matrix.
Despite his initial role as peacekeeper of the Matrix in the first film, Agent Smith's later ability to replicate himself makes him similar to a computer virus, as these malicious programs self-replicate themselves so they can spread on other programs and infect them.
In 2013, Hugo Weaving reprised his role as Agent Smith for a General Electric advertisement.
Despite that a third The Matrix sequel entitled The Matrix Resurrections was in development and will be released in 2021, Hugo Weaving stated that he won't be reprising his role as Agent Smith despite his previous interest in returning. According to Weaving, he was originally asked to return by Lana Wachowski, but had conflicting schedules due his involvement in Tony Kushner's theatrical adaptation of The Visit, leading Lana to change her mind and write him out. This likely means that Smith will remain dead. This turned out to be false as Smith returned in a new body with a younger appearance.
In the 2016 superhero film Deadpool, Wade's nickname for the Recruiter is Agent Smith.
External Links
Villains
Animated Features
Meowrice | Meowrice's Henchmen | Smaug | Gollum | Sauron | Witch-king of Angmar | Lord of the Lash | Ommadon | Bryagh | Solly | Mr. Featherschneid | Mouse King | Mouse Queen | Joker | Phantasm | Salvatore Valestra | Arthur Reeves | Chuckie Sol | Buzz Bronski | Grundel Toad | Berkeley Beetle | Mr. Mole | Mrs. Toad | Ms. Fieldmouse | Queen Gnorga | King Llort | Drake | Leopard Seal | Mr. Swackhammer | Monstars | Darla Dimple | Max | Mrs. Prysselius | Thunder Karlsson and Bloom | Ruber | Griffin | Ruber's Minions | Bladebeak | Eric Cartman | Saddam Hussein | Sheila Broflovski | Satan | Mr. Garrison | Chef | Randy Marsh | Shelly Marsh | Gerald Broflovski | Kent Mansley | Kralahome | Master Little | King Salazar | The Jokerz (Dee Dee Twins, Chucko & Woof) | Count Grisham | Cheswick | Black Mouth | Brutus | Thrax | Mayor Phlegmming | Thrax's Henchmen | Mojo Jojo | Gangreen Gang | Mr. Chairman | Bob Smith | Robo Dog | Anubis | Seto Kaiba | Dark Yugi | Pegasus J. Crawford | Mokuba Kaiba | Marik Ishtar | Ebenezer Scrooge Puppet | Outback Ollie | Rico and Mikey | Barkis Bittern | Maudeline Everglot | Finis Everglot | Brainiac | Lex Luthor | Mercy Graves | Mister Mxyzptlk | Stan Beals | Wasps | Noah the Elder | Leopard Seal | Killer Whales | Aguila | Stone Generals (Gato, Mono & Serpiente) | Karai | Foot Clan | Grendel | Grendel's Mother | Dragon | Eddy's Brother | Kanker Sisters | Kevin | Sarah | Surtr | Nyra | Kludd | Allomere | Jatt and Jutt | Pure Ones | Doomberg | Lorenzo Carvahal and Diaz Arnesto | Gil Yepes | Lord Business | Super Secret Police (Bad Cop & Sheriff Not-A-Robot) | Duplo Aliens | Mr. Ross | Future Mordecai | Rigby | Benson Dunwoody | Muscle Man | Hunter | Pigeon Toady | Wolf Pack | Penguins | Joker (Lego) | Harley Quinn (Lego) | Phantom Zone Criminals (Zod, Sauron, Kraken, Lord Voldemort, Agent Smith, Jaws, Gremlins, Medusa, Lord Vampyre, Wicked Witch of the West, Flying Monkeys, The Swamp Creature & Daleks) | Catwoman (Lego) | Poison Ivy (Lego) | Two-Face (Lego) | Bane | Riddler | Salvatore Maroni | Count Dracula | Imhotep | Lord Garmadon | Slade (Teen Titans Go!) | Balloon Man (Teen Titans Go!) | Lex Luthor (Teen Titans Go!) | Stonekeeper | Rex Dangervest | Velociraptors (Lego) | Foot Clan (Shredder) | League of Assassins (Ra's al Ghul (Batman vs. TMNT), Ubu (Batman vs. TMNT) & Talia al Ghul (Batman vs. TMNT)) | Joker (Batman vs. TMNT) | Harley Quinn (Batman vs. TMNT) | Scarecrow (Batman vs. TMNT) | Mr. Freeze (Batman vs. TMNT) | Poison Ivy (Batman vs. TMNT) | Bane (Batman vs. TMNT) | Two-Face (Batman vs. TMNT) | Penguin (Batman vs. TMNT) | Hexagon (Trigon (TTG) & Trigon (Original)) | Spinel | Pink Diamond | Scorpion | Quan Chi | Shang Tsung | Goro | Shao Kahn | Kano | Baraka | Reptile | Moloch | Motaro | Dick Dastardly (2020) | Muttley (2020) | Rotten Robots | Dusty | Cerberus | Terrance Mendoza | Butch | Al-G Rhythm | Pete | Goon Squad | Katz | Le Quack | Eustace Bagge
Live-Action Films
Prince John | Sir Guy of Gisbourne | High Sheriff of Nottingham | Dickon Malbete | Bishop of the Black Canons | Wicked Witch of the West | Kasper Gutman | Joel Cairo | Major Heinrich Strasser | Signor Ugarte | Signor Ferrari | Rhedosaurus | Giant Carpenter Ants | Alex's Droogs (Alex DeLarge) | Billy Boy | Scorpio | Toecutter | Toecutter's Gang (Bubba Zanetti, Nightrider & Johnny the Boy) | Overlook Hotel | Jack Torrance | Hotel Caretaker | Lorraine Massey | Lord Humungus | Lord Humungus' Marauders (Wez) | Roy Batty | Pris Stratton | Leon Kowalski | Zhora Salome | Cujo | Socs (Bob Sheldon, Randy Adderson, Paul Holden & David) | Mrs. Cade | Scut Farkus | Grover Dill | Stripe | Ruby Deagle | Gremlins | Mama Fratelli | Jake Fratelli | Francis Fratelli | Mr. Perkins | Troy Perkins | Aunty Entity | Ironbar Bassey | Sam & Sid Sleaze | Francis Buxton | Albert | Audrey II | Orin Scrivello | Gunnery Sergeant Hartman | Private Gomer Pyle | Door Gunner | Mr. Igoe | Max | David | Sergeant Nagata | Peter Dellaplane | Harlan Rook | Beetlejuice | Sandworms | Hughie Warriner | Gale Nolan | Thomas Perry | Richard Cameron | The Joker | Bob the Goon | Alicia Hunt | Carl Grissom | Max Eckhardt | Vinnie Ricorso | Joe Chill | Howard Hyde | Walter Boyett | Zack Gregory | Witches (Grand High Witch, Susan Irvine, Nicola Cuttle, Pamela, Lois Leffour, Mildred, Elizabeth, Henrietta, Jacqueline & Beatrice) | Brain Gremlin | Daffy | George | Greta | Lenny | Secretary Gremlin | Bat Gremlin | Electric Gremlin | Cushing Catheter | Jimmy Conway | Tommy DeVito | Paul Cicero | Henry Hill | Billy Batts | Tuddy Cicero | Parnell Edwards | Fat Andy | Jimmy Two-Times | Robert McMahon | Joe Manri | Frankie Carbone | Michael Franzese | Sheriff George of Nottingham | Guy of Gisbourne | Mortianna | Bishop of Hereford | Funekei Yoshida | Sato | Tanaka | Muto | Ito | Hardboy | Hagata | Earl Talbot Blake | Kim | Fence Shooter | Heather Evans | Penguin | Max Shreck | Catwoman | Red Triangle Circus Gang | Charles Rane | Sabrina Ritchie | Forget | Vincent | Matthew | William Strannix | Peter Krill | Daumer | William Foster | Nick the Neo-Nazi | Switchblade Sam | Pod People | Dial | Dr. Charles Nichols | Simon Phoenix | Raymond Cocteau | Frederick Sykes | Sidney J. Mussburger | Aloysius | Ray Finkle | Vinnie and Roc | Lawrence Van Dough | Ferguson | HAL 9000 | Lestat | Armand | Santiago | John Milner | Bill Wilcox | Ilya Pavel Kazak | Rosa | Leonid Volkov | Zhukov | Stefan | Emilio Juantorena | Navigator | Codebreaker | Baker | Clarice Kensington | Miss Minchin | Riddler | Two-Face | Sugar | Spice | NygmaTech (Frogmen) | Neon Gang | Salvatore Maroni | Travis Dane | Marcus Penn | Miguel Bain | Vincent Cadby | Neil McCauley | Waingro | Roger van Zant | Jonas Miller | Daniel Harper | Robert Deguerin | Mr. Swackhammer | Monstars | Martians (Martian Leader, Martian Ambassador & Martian Girl) | Yolanda Saldívar | John Wesley | Wesley's Whalers | Poison Ivy | Mr. Freeze | Bane | Jason Woodrue | John Milton | Christabella Andreoli | Lloyd Gettys | Grant Frost | Dr. Philip Adams | Agent Smith | Cypher Reagan | Agents (Agent Jones, Agent Brown & Agent Johnson) | Dr. Arliss Loveless | Susan McCallister | Jim Whitlock | Mako Sharks | William Wharton | Percy Wetmore | Kathy Morningside | Jeremy Melton | Lewis Strutt | Stanley Jobson | Gabriel Shear | Mr. Tinkles | Calico | The Russian | Thrax | Mayor Phlegmming | Thrax's Henchmen | Alonzo Harris | Roger | Lord Voldemort | Quirinus Quirrell | Draco Malfoy | Severus Snape | Mountain Troll | The Dursleys | Terry Benedict | Burke Bennett | Frank Stokes | Merv Green | Buggy Ding Dong | Parade of Hope | Rainbow Randolph | Morlocks (Über-Morlock) | Richard Haywood | Justin Pendleton | Walter Finch | Scrappy-Doo | N' Goo Tuana | Zarkos | Demons | Luna Ghost | Akasha | Spiders (Consuela & Tank) | Mayor Wade | Alistair Pratt | Jeannine Richardson | Jack Ferriman | Francesca | Lucius Malfoy | Basilisk | Gilderoy Lockhart | Acromantula (Aragog & Acromantula Colony) | Salvatore Maggio | Frankie Lombardo | Mr. Smith Mr. Gray | Byrus | Machines (The Architect) | The Merovingian | Agent Thompson | Agent Jackson | Twins | Bane | Vamps | T-X | T-1 | Skynet | Deus Ex Machina | Trainman | Mr. Chairman | Bob Smith | Robo Dog | Henry James | Jay McPherson | China | Luther | Martin Asher | Jonathan Jacobo | Peter Pettigrew | Dementors | Marge Dursley | Patience Phillips/Catwoman | Hedare Beauty (Laurel Hedare & George Hedare) | Clara Dalrymple | Sir Trenton | Trenton's Pride | Gabriel | Mammon | Balthazar | Lucifer Morningstar | Bo Sinclair | Vincent Sinclair | Guy of Lusignan | Raynald of Châtillon | Ra's al Ghul | Scarecrow | Carmine Falcone | League of Shadows (Decoy of Ra's al Ghul) | Victor Zsasz | Arthur Slugworth | Dr. Bernard Merrick | Tom Lincoln | Boss Hogg | Sheriff Rosco P. Coltrane | Barty Crouch Jr. | Nagini | Bellatrix Lestrange | Bill Cox | V | Adam Sutler | Lewis Prothero | Norsefire | Peter Creedy | Anthony Lilliman | Light Yagami | Lex Luthor | German Drinking Team | Cherry | Sister Summersisle | Frank Costello | Arnold French | Colin Sullivan | Captain Vidal | Pale Man | Colonel Coetzee | Captain Poison | Oliver Potter | Zodiac Killer | Arthur Leigh Allen | Xerxes | Willy Bank | Dolores Umbridge | Cornelius Fudge | Karen Crowder | Sam | Steven Wilkins | Mr. Kreeg | Laurie | Macy | Alpha Male | Darkseekers | Sweeney Todd | Nellie Lovett | Judge Turpin | Beadle Bamford | Jonas Fogg | Adolfo Pirelli | Royalton Industries (Arnold Royalton & Cruncher Block) | Snake Oiler | Agent 23 | KAOS (Siegfried) | Dalip | Shtarker | Joker | Two-Face | Sal Maroni | Gambol | Joker's Thugs | Spider | Smokie | Babyface Killer | T-RIP | Serena Kogan | Principal Deedle | Ezekial Gallows | Prudence Prufrock | Lord Henry Blackwood | Lord Coward | Irene Adler | Esther Coleman | Decoy Queen | Mr. Black | Rolf Woods | Kitty Galore | Paws | Mayor Brown | Chief of Staff | Carnegie | Wanda Grubwort | Lake Monster | Mal Cobb | Rodney Cole | Martin B | Elizabeth Harris | Blue Jones | James Moriarty | Sebastian Moran | Keith Clayton | Angelique Bouchard | Dr. Julia Hoffman | Collins Family | Bane | Talia al Ghul | Barsad | Catwoman | John Daggett | Hades | Kraken | Acrisius | Medusa | Prokopion | Charon | Kronos | Ares | Cyclopes | Minotaur | Makhai | Azog | Smaug | Witch-king of Angmar | Sauron | Gollum | Mickey Cohen | Tom Buchanan | Jay Gatsby | Myrtle Wilson | George Wilson | Daisy Buchanan | General Fallon | Giants | Lord Roderick | Wickie | Precursors | Kaiju (Trespasser, Knifehead, Mutavore, Otachi, Leatherback, Raiju, Scunner, Onibaba & Slattern) | Bathsheba Sherman | Annabelle the Doll | Pearly Soames | Lucifer | Artemisia | M.U.T.O. | Mimics | Disciples of the Ram (Annabelle Higgins & Thin Man) | Dr. Mann | Balem Abrasax | Titus Abrasax | Immortan Joe | Cult of the V8 (Rictus Erectus, Prime Imperator, Bullet Farmer, People Eater, Organic Mechanic, Coma-Doof Warrior, Nux, Slit, Ace, Morsov & War Boys) | Daniel Riddick | Susan Riddick | Tyler Harne | Deputy Stack | Emilio | Victoria Vinciguerra | Valak | Léon Rom | Lamar Blackburn | Braxton | Gellert Grindelwald | Credence Barebone | New Salem Philanthropic Society (Mary Lou Barebone) | Skullcrawlers (Skull Devil) | Preston Packard | King Vortigern | Mordred | Wallace Corporation (Niander Wallace & Luv) | It | Bowers Gang (Henry Bowers, Patrick Hockstetter, Belch Huggins & Vic Criss) | Alvin Marsh | Butch Bowers | Leonard Dekkom | Duncan Taylor | Phoenix Buchanan | Mathias Vogel | Ana Miller | Nolan Sorrento | Innovative Online Industries (I-R0k, F'Nale Zandor & Sixers) | Claire Wyden | Brett Wyden | George, Ralph and Lizzie | Damian Lewis | Jack Morris | Duke of St. Carta | Vinda Rosier | Abernathy | Queenie Goldstein | Shere Khan | Tabaqui | La Llorona | Patricia Alvarez | Howard Clifford | Ditto | Sebastian | Ann Laurent | King Ghidorah | Rodan | Alan Jonah | Asher Jonah | Emma Russell | The Bride | The Black Shuck | The Ferryman | The Samurai | Toy Monkey | Maryville Cemetery Ghosts | Critters | The Banana Splits (Fleegle, Drooper, Snorky & Bingo) | Poppy | Karl | Leo | Cry Baby | Kelly | The Principal | The Biology Teacher | Webby Garton | Steven Dubay | Chris Unwin | Tom Rogan | Arthur Fleck | Penny Fleck | Clowns (Clown & Ambulance Clown) | Wall Street Three | Penny Fleck's Boyfriend | Rose the Hat | The True Knot | Andrei Sator | Priya Singh | Zelda | Consuella | Esmerelda | Saoirse | Terrance Mendoza | Butch | Mechagodzilla | Apex Cybernetics (Walter Simmons, Ren Serizawa & Maia Simmons) | Shang Tsung | Sub-Zero | Mileena | Reiko | Kano | Kabal | Goro | Reptile | Nitara | Shao Kahn | Al-G Rhythm | Pete | Goon Squad | Baron Vladimir Harkonnen | Count Glossu Rabban | Piter de Vries | Helen Mohiam | Gabriel | The Analyst | Riddler | Penguin | Carmine Falcone | Joker
Animated Television
The Grinch | Cousin Mel | I.M. Slime | Snow Miser | Heat Miser | General Parvo | Werewolves | North Wind | Hervnick Z. Snerz | Goat | Yes-Man | The Dooka of Yookia | The Dookess of Zookia | Philip Trousers | Marilyn Blouse
Video Games
Sauron | Black Hand of Sauron | Celebrimbor | Tower of Sauron | Hammer of Sauron | Children of Arkham (Vicki Vale, Oswald Cobblepot & Blockbuster) | Catwoman | Two-Face | Falcone Crime Family | Joe Chill | Victor Zsasz | Mr. & Mrs. Vale | Gotham Criminal Triumvirate (Thomas Wayne, Hamilton Hill & Carmine Falcone) | The Pact (Riddler, Harley Quinn, Bane, Mr. Freeze, John Doe & Eli Knable) | The Agency (Amanda Waller & Roger Harrison) | Rumi Mori | Willy Deever | S.A.N.C.T.U.S. | Zog the Eternal | Brûz the Chopper
Shorts
Daffy Duck | Sylvester | Tasmanian Devil | Wile E. Coyote | Elmer Fudd | Yosemite Sam | Marvin the Martian | Instant Martians | Gossamer | Tom | Jerry | Spike | Butch
Music
Crazy Taxi Driver | Cry Baby | Big Bad Wolf | Mr. Potato Head
See Also
A. Film Production Villains | Adventure Time Villains | Amblin Entertainment Villains | Aquaman Villains | Archieverse Villains | Arkhamverse Villains | Arrowverse Villains | Batgirl Villains | Batman Villains | Batman Beyond Villains | Batwoman Villains | Ben 10 Villains | Birds of Prey Villains | Black Lightning Villains | Blade Runner Villains | Blue Beetle Villains | Blumhouse Productions Villains | Captain Planet Villains | Cartoon Network Villains | Castle Rock Entertainment Villains | Catwoman Villains | Cats & Dogs Villains | Christopher Nolan Villains | Constantine: The Hellblazer Villains | Danmachi Villains | DC Animated Universe Villains | DC Animated Movie Universe Villains | DC Extended Universe Villains | DC Super Hero Girls Villains | DC's Legends of Tomorrow Villains | Die Hard Villains | Doom Patrol Villains | DreamWorks Villains | Dune Villains | Eraser Villains | Flash Villains | Game of Thrones Villains | Gotham Villains | Green Arrow Villains | Green Lantern Villains | Gremlins Villains | Hanna-Barbera Cinematic Universe Villains | Harley Quinn Villains | Harry Potter Villains | Injustice Villains | Justice League Villains | Justice League Dark Villains | Justice Society Villains | Laika Villains | Legendary Entertainment Villains | Legion of Super-Heroes Villains | Lethal Weapons Villains | Loonatics Unleashed Villains | Looney Tunes Villains | Lucifer Villains | Mad Max Villains | Melanie Martinez Villains | Metro-Goldwyn-Mayer Villains | Middle-Earth Villains | MonsterVerse Villains | Mortal Kombat Villains | New Line Cinema Villains | Pacific Rim Villains | Peacemaker Villains | Pokémon Villains | Powerpuff Girls Villains | Primal Villains | Regular Show Villains | Rick and Morty Villains | Robin Villains | Robot Chicken Villains | Rush Hour Villains | Samurai Jack Villains | Sesame Street Villains | Scooby-Doo Villains | SHAZAM Villains | Sherlock Holmes Villains | Smallville Villains | South Park Villains | Space Jam Villains | Static Shock Villains | Steel Villains | Stephen King Villains | Steven Universe Villains | Studiocanal Villains | SWAT Kats Villains | Suicide Squad Villains | Supergirl Villains | Superman Villains | Swamp Thing Villains | Syfy Villains | Teen Titans Villains | Telltale Batman Villains | Terminator Villains | The Addams Family Villains | The Banana Splits Movie Villains | The Conjuring Villains | The Hangover Villains | The LEGO Movie Villains | The Matrix Villains | Tim Burton Villains | Tiny Toon Adventures Villains | Tom and Jerry Villains | TMNT Villains | Village Roadshow Pictures Villains | Watchmen Villains | Wild Wild West Villains | Wonder Woman Villains | Xiaolin Showdown Villains | Yu-Gi-Oh! Villains | Young Justice Villains

Villains
Animated Features
Noah the Elder | Leopard Seal | Killer Whales | Surtr | Nyra | Kludd | Allomere | Jatt and Jutt | Pure Ones | Doomberg | Lord Business | Super Secret Police (Bad Cop & Sheriff Not-A-Robot) | Duplo Aliens | Joker | Harley Quinn | Phantom Zone Criminals (Zod, Sauron, Kraken, Lord Voldemort, Agent Smith, Jaws, Gremlins, Medusa, Lord Vampyre, Wicked Witch of the West, Flying Monkeys, The Swamp Creature & Daleks) | Catwoman | Poison Ivy | Two-Face | Bane | Riddler | Salvatore Maroni | Nolan Sorrento | Innovative Online Industries (I-R0k, F'Nale Zandor & Sixers)
Live-Action Films
Toecutter | Toecutter's Gang (Bubba Zanetti, Nightrider & Johnny the Boy) | Lord Humungus | Lord Humungus' Marauders (Wez) | Aunty Entity | Ironbar Bassey | Hughie Warriner | Sala | Sky Bandits | Xander Drax | Charlie Zephro | Skulls of Touganda | Quill | Singh Brotherhood (The Great Kabai Sengh, The Evil Kabai Sengh & Kabai Sengh) | Ray Zephro | Styles | Jack Farley | Morgan | Breen | Agent Smith | Cypher Reagan | Agents (Agent Jones, Agent Brown & Agent Johnson) | Susan McCallister | Jim Whitlock | Mako Sharks | Kathy Morningside | Jeremy Melton | Judith Fessbeggler | Lewis Strutt | Stanley Jobson | Gabriel Shear | Mr. Tinkles | Calico | The Russian | Alonzo Harris | Patrick Koster | Roger | Jacobim Mugatu | Terry Benedict | Lestat | Akasha | Spiders (Consuela & Tank) | Mayor Wade | Jack Ferriman | Francesca | Mr. Gray | Byrus | Machines (The Architect) | The Merovingian | Agent Thompson | Agent Jackson | Twins | Bane | Vamps | Deus Ex Machina | Trainman | Henry James | Jay McPherson | China | Luther | Martin Asher | Patience Phillips/Catwoman | Hedare Beauty (Laurel Hedare & George Hedare) | Gabriel | Mammon | Balthazar | Lucifer Morningstar | Bo Sinclair | Vincent Sinclair | Arthur Slugworth | Boss Hogg | Sheriff Rosco P. Coltrane | Bill Cox | Oliver Potter | Willy Bank | Alpha Male | Darkseekers | Royalton Industries (Arnold Royalton & Cruncher Block) | Snake Oiler | Agent 23 | KAOS (Siegfried) | Dalip | Shtarker | Spider | Smokie | Lord Henry Blackwood | Lord Coward | Irene Adler | Kitty Galore | Paws | James Moriarty | Sebastian Moran | Keith Clayton | Angelique Bouchard | Dr. Julia Hoffman | Collins Family | Mickey Cohen | Tom Buchanan | Jay Gatsby | Myrtle Wilson | George Wilson | Daisy Buchanan | Donaka Mark | Pearly Soames | Lucifer | Mimics | Nicolai Itchenko | Vladimir Pushkin | Slavi | Guy Danlily | Miss Hannigan | Annie's Fake Parents | Balem Abrasax | Titus Abrasax | Immortan Joe | Cult of the V8 (Rictus Erectus, Prime Imperator, Bullet Farmer, People Eater, Organic Mechanic, Coma-Doof Warrior, Nux, Slit, Ace, Morsov & War Boys) | Daniel Riddick | Susan Riddick | Slappy the Dummy | Monsters (Giant Praying Mantis, Will Blake, Lawn Gnomes, Madame Doom, Brent Green, Haunted Car, Count Nightwing, The Haunted Mask, Igor, Headless Horseman, Nila Rahmad, Grim Reaper & Bride of Frankenstein) | Rhonda George | Léon Rom | Rowan North | Mayhem | Martin Heiss | Electrocuted Ghost | Gertrude Aldridge | Marshmallow Man | Bartholomew Bogue | McCann | Denali | King Vortigern | Mordred | Nolan Sorrento | Innovative Online Industries (I-R0k, F'Nale Zandor & Sixers) | Damian Lewis | Arthur Fleck | Penny Fleck | Clowns (Clown & Ambulance Clown) | Wall Street Three | Penny Fleck's Boyfriend | The Analyst
See Also
20th Century Studios Villains | Amblin Entertainment Villains | Batman Villains | Buena Vista International Villains | Cats & Dogs Villains | Catwoman Villains | Constantine: The Hellblazer Villains | Disney Villains | Lantern Entertainment Villains | Mad Max Villains | Metro-Goldwyn-Mayer Villains | New Line Cinema Villains | Paramount Villains | Sony Pictures Villains | Sherlock Holmes Villains | Stephen King Villains | Steven Spielberg Villains | Tarzan Villains | The Equalizer Villains | The LEGO Movie Villains | The Matrix Villains | Tim Burton Villains | Universal Studios Villains | Warner Bros. Villains

Villains
Comics
2-Face-2 | Abraham Langstrom | Alfred Protocol | Alfred Stryker | Alice | Amanda Waller | Amygdala | Anarky | An Innocent Guy | Ares | Arkham Knight | Arnold John Flass | Azrael | Baby Doll | Bane | Barbatos | Bat-Mite | The Batman Who Laughs | Black Glove | Black Mask | Blockbuster I | Blockbuster II | Brain | Broker | Brother EYE | Calculator | Calendar Man | Castle Bat | Captain Fear | Captain Boomerang | Carmine Falcone | Catman | Catwoman | Cheetah | Cheshire | Circus of Strange | Clayface | Clayface (Matt Hagen) | Claything | Clock King | Clownface | Club of Villains | Cluemaster | Composite Superman | Condiment King | Copperhead | Cornelius Stirk | Court of Owls | Crazy Quilt | Crime Doctor | Curtis Base | Dark Archer | David Cain | David Li | Dark Knights | Deacon Blackfire | Deadshot | Dealer | Deathstroke | Dick Grayson (Frank Miller) | The Dawnbreaker | The Devastator | Dr. Crane | Doctor Death | Doctor Double X | Doctor Phosphorus | Doctor Randolph Porter | Donna Troy | Dr. Silversmith | The Drowned | Electrocutioner | Emperor Penguin | Enigma | Ernie Chubb | Faceless | Falcone Crime Family | Film Freak | Firebug | Firefly | Flamingo | Floronic Man | Gearhead | General Ulysses Armstrong | Gilda Dent | Gorilla Boss | Gotham City Police Department | Gillian B. Loeb | Great White Shark | The Grim Knight | Harley Quinn | Holiday | Holly Robinson | Humpty Dumpty | Hugo Strange | Hush | Instigator | Jack the Ripper | James Gordon, Jr. | Jason Todd | Jeremiah Arkham | Joe Chill | Joker (Earth-22, 2008 Graphic Novel) | Judge of Owls | Joker's Daughter | Key | KGBeast | King of Cats | King Snake | King Tut | Killer Croc | Killer Moth | Kite Man | Lady Shiva | League of Assassins | Leviathan | Lex Luthor | Lock-Up | Lord Death Man | Mad Hatter | Mad Monk | Magpie | Malochia | Man-Bat | Mary Keeny | Maxie Zeus | Maxwell Lord | The Merciless | Merrymaker | Micheal Atkins | Monk | Mr. Bloom | Mr. Freeze | Mrs. Freeze | Mayor Oswald Cobblepot | Mr. Toad | Mr. Whisper | Mutants | Neo Joker | Neron | Nightslayer | Nocturna | Omega | Onomatopoeia | Orca | Outsider | Owlman | Phantasm | Penguin | Penny Plunderer | Phosphorus Rex | Planet Master | Poison Ivy | Polka Dot Man | Professor Arnold Hugo | Professor Pyg | Prometheus | Punchline | Ra's al Ghul | Ragdoll | Ratcatcher | Reaper | Red Death | Reverse-Flash | Riddler | Robin King | Roland Daggett | Roxy Rocket | Royal Flush Gang | Rupert Thorne | Saint Batman | Sal Maroni | Scarecrow | Sensei | Sewer King | Signalman | Simon Hurt | Sinestro | Snowman | Solomon Grundy | Spellbinder | Squid | Steeljacket | Suicide Squad | Talia al Ghul | Talon | Tally Man | Ten Eyed Man | Terrible Trio | Thomas Wayne | Tiger Shark | Timecode | Tony Zucco | Tweedledum and Tweedledee | Two-Face | Ubu | Vandal Savage | Ventriloquist | Ventriloquist II | Ventriloquist III | Vertigo | Victor Zsasz | Whisper A'Daire | White Rabbit | Wrath | The Wonderland Gang | Zebra-Man
Theatrical Movies
Batman (1966): Penguin | Catwoman | Joker | Riddler
Batman (1989): Joker | Joker Goons (Bob Hawkins) | Alicia Hunt | Carl Grissom | Max Eckhardt | Vinnie Ricorso | Joe Chill | Harvey Dent
Batman Returns: Penguin | Red Triangle Circus Gang (Organ Grinder, Poodle Lady, Tattooed Strongman, Stungun Clown, Thin Clown, Fat Clown, Sword Swallower, Knifethrower Dame & Fire Breather) | Max Shreck | Catwoman
Batman: Mask of the Phantasm: Phantasm | Joker | Salvatore Valestra | Arthur Reeves | Chuckie Sol | Buzz Bronski
Batman Forever: Riddler | Two-Face | Sugar | Spice | NygmaTech (Frogmen) | Neon Gang (Neon Gang Leader) | Salvatore Maroni
Batman & Robin: Poison Ivy | Mr. Freeze | Bane | Snowy Cones Thugs | Golums | Jason Woodrue
Batman Begins: Ra's al Ghul | League of Shadows (Ra's Decoy) | Scarecrow | Falcone Crime Family (Carmine Falcone, Victor Zsasz, & Arnold Flass) | Joe Chill
The Dark Knight: Joker | Joker's Thugs (Thomas Schiff, Chuckles, Kilson, Happy, Dopey, Grumpy & Bus Driver) | Two-Face | Sal Maroni | The Chechen | Gambol | Lau | Bank Manager | Michael Wuertz | Burmese Bandit
The Dark Knight Rises: League of Shadows (Bane, Talia al Ghul & Barsad) | Catwoman | John Daggett | Phillip Stryver | Ra's al Ghul | Scarecrow
Batman v Superman: Dawn of Justice: Lex Luthor | Doomsday | Anatoli Knyazev | Mercy Graves | Cesar Santos | Amajagh | Joe Chill | Zod | Joker | Steppenwolf
Suicide Squad: Eyes of the Adversary (Enchantress & Incubus) | Suicide Squad (Deadshot, Harley Quinn, Captain Boomerang, El Diablo, Killer Croc, Slipknot & Amanda Waller) | Joker's Gang (Joker, Jonny Frost, Panda Man & Monster T) | Griggs
The Lego Batman Movie: Joker | Harley Quinn | Phantom Zone Criminals (Zod, Sauron, Kraken, Lord Voldemort, Agent Smith, Jaws, Gremlins, Medusa, Lord Vampyre, Wicked Witch of the West, Flying Monkeys, The Swamp Creature & Daleks) | Catwoman | Poison Ivy | Two-Face | Bane | Riddler | Salvatore Maroni
Joker: Clowns (Joker, Clown & Ambulance Clown) | Penny Fleck | Wall Street Three | Penny Fleck's Boyfriend
The Batman (2022): Riddler | Falcone Crime Syndicate (Carmine Falcone, Penguin, William Kenzie, Vinnie, & The Twins) | Catwoman | Salvatore Maroni | Riddler's Cult | Pete Savage | Gil Colson | Don Mitchell Jr. | Train Gang | Joker
Direct-to-video Movies
Batman & Mr. Freeze: SubZero: Mr. Freeze | Dr. Gregory Belson
Batman Beyond: Return of the Joker: Joker | The Jokerz (Chucko, Dee-Dee, Ghoul, Bonk, & Woof) | Harley Quinn
Batman: Mystery of the Batwoman: Penguin | Bane | Rupert Thorne | Carlton Duquesne
The Batman vs. Dracula: Dracula | Penguin | Joker
Superman/Batman: Public Enemies: Lex Luthor | Major Force | Metallo | Amanda Waller | Toyman | Solomon Grundy | Gorilla Grodd | Killer Frost | Lady Shiva | Giganta | Mongul | Captain Cold
Batman: Under the Red Hood: Jason Todd | Joker | Black Mask | Ra's al Ghul | Riddler | Ms. Li
Superman/Batman: Apocalypse: Darkseid | Female Furies (Granny Goodness, Gilotina, Mad Harriet, Lashina & Stompa) | Doomsday
Batman: Year One: Batman | Gotham City Police Department (Commissioner Loeb, Arnold John Flass, & Howard Branden) | Falcone Crime Family (Carmine Falcone & Johnny Viti) | Catwoman | Joker
Batman: The Dark Knight Returns: Batman | Joker | Mutant Leader | Ellen Yindel | Harvey Dent | Selina Kyle
Son of Batman: Deathstroke | League of Assassins (Ra's al Ghul & Talia al Ghul) | Ubu | Killer Croc | Man-Bats
Batman: Assault on Arkham: Suicide Squad (Amanda Waller, Deadshot, Harley Quinn, Captain Boomerang, Killer Frost, King Shark, Black Spider, KGBeast) | Joker | Riddler | Penguin | Scarecrow | Victor Zsasz | Bane | Two-Face | Poison Ivy
Lego DC Comics: Batman Be-Leaguered: Bat-Mite | Lex Luthor | Joker | Penguin | Man-Bat | Captain Cold | Black Manta
Batman vs. Robin: Court of Owls (Samantha Vanaver, Talon, Owls Lieutenant, & Talon Warriors) | Dollmaker
Batman Unlimited: Animal Instincts: Animalitia (Penguin, Killer Croc, Man-Bat, Cheetah & Silverback)
Batman Unlimited: Monster Mayhem: Joker | Scarecrow | Clayface | Silver Banshee | Solomon Grundy
Batman: Bad Blood: League of Assassins (Talia al Ghul, The Heretic, Onyx, Firefly, Tusk, Mad Hatter, Electrocutioner, Hellhound, Calculator, & Killer Moth) | Black Mask
Batman: The Killing Joke: Joker | Vinnie & Joe | Paris Franz
Batman Unlimited: Mechs vs. Mutants: Penguin | Mr. Freeze | Cheetah | Hush | Mad Hatter | Two-Face | Bane | Chemo | Killer Croc | Clayface | Joker | Dr. Kirk Langstrom
Batman: Return of the Caped Crusaders: Joker | Penguin | Riddler | Catwoman | Archer | Black Widow | Bookworm | Clock King | Egghead | False Face | King Tut | Louie the Lilac | Mad Hatter | Minstrel | Mr. Freeze | Sandman | Shame | Siren
Batman and Harley Quinn: Harley Quinn | Poison Ivy | Floronic Man
Batman vs. Two-Face: Two-Face | Hugo Strange | Catwoman | King Tut | Bookworm | Joker | Penguin | Riddler | Clock King | Egghead | Mr. Freeze | Shame | Harley Quinn
Scooby-Doo! & Batman: The Brave and the Bold: Riddler | Clayface | Joker | Mr. Freeze | Catwoman | Penguin | Harley Quinn | Poison Ivy
Batman: Gotham by Gaslight: Jack the Ripper | Barbara-Eileen Gordon | Selina Kyle | Harvey Dent | Hugo Strange
Batman Ninja: Joker | Harley Quinn | Catwoman | Gorilla Grodd | Bane | Penguin | Poison Ivy | Deathstroke | Two-Face
Batman vs. Teenage Mutant Ninja Turtles: Foot Clan (Shredder & Baxter Stockman) | League of Assassins (Ra's al Ghul & Ubu) | Joker | Penguin | Harley Quinn | Mr. Freeze | Scarecrow | Two-Face | Poison Ivy | Bane
Batman: Hush: Riddler/Hush | Catwoman | Poison Ivy | Bane | Joker | Harley Quinn | Clayface | Scarecrow | Lex Luthor | Lady Shiva | Two-Face | Penguin | Mr. Freeze | Thomas Elliot
Batman: Death in the Family: Jason Todd | Joker | Black Mask | Ra's al Ghul | Riddler | Talia al Ghul | Cheetah | Two-Face
Batman: Soul of the Dragon: Nāga | Kobra (Jeffery Burr, Schlangenfaust, Lady Eve, King Snake & Rip Jagger) | Ben Turner | Shiva | Richard Dragon | Jade
Batman: The Long Halloween: Holiday | Falcone Crime Family (Carmine Falcone, Milos Grapa, Alberto Falcone, Johnny Viti, & Sofia Falcone) | Two-Face | Joker | Solomon Grundy | Salvatore Maroni | Poison Ivy | Penguin | Scarecrow | Mad Hatter | San Ho Hui (Mickey Chen) | Calendar Man | Catwoman

Television
Batman 60s show
Joker | Penguin | Catwoman | Riddler | Mr. Freeze | The Archer | Black Widow | Bookworm | Egghead | Clock King | Queenie Goldstein | Sandman | Dr. Cassandra Spellcraft | Cabala | Minstrel | Shame | False Face | The Siren | Undine | Chandell & Harry | King Tut | Louie the Lilac | Mad Hatter | Cornelia | Baby Jane Towser | Lydia Limpet | Zelda the Great | The Puzzler | Olga, Queen of Cossacks | Marsha, Queen of Diamonds | Lord Marmaduke Ffogg | Lady Penelope Peasoup | Ma Parker | Freddy the Fence | Lola Lasagne | Nora Clavicle | Colonel Gumm | Minerva | Killer Moth | Calamity Jan
1970s Filmation series
Joker | Catwoman | Penguin | Riddler | Clayface | Mr Freese | Sweet Tooth
Batman: The Animated Series and The New Batman Adventures
Joker | Two-Face | Harley Quinn | Penguin | Catwoman | Rupert Thorne | Riddler | Poison Ivy | Scarecrow | Mad Hatter | Killer Croc | Clayface | Ra's al Ghul | Mr. Freeze | Man-Bat | Ventriloquist and Scarface | Roland Daggett | Clock King | Bane | Hugo Strange | Lloyd Ventrix | Kyodai Ken | Baby Doll | Emile Dorian | Red Claw | Boss Biggis | Sewer King | Talia al Ghul | Maxie Zeus | Lock-Up | Professor Milo | Count Vertigo | Daniel Mockridge | Grant Walker | Gil Mason | Arkady Duvall | Ferris Boyle | Arnold Stromwell | Tony Zucco | H.A.R.D.A.C. | Randa Duane | Batman Clone | Calendar Girl
The Batman (2004)
Joker | Penguin | Bane | Catwoman | Mr. Freeze | Ethan Bennett | Killer Croc | Man-Bat | Firefly | Riddler | Punch & Judy | Kabuki Twins | Hugo Strange | Cluemaster | Ragdoll | Temblor | Poison Ivy | Tony Zucco | Count Vertigo | Harley Quinn | Maxie Zeus | Clayface | Gearhead | Francis Grey | Killer Moth | D.A.V.E. | Dracula | Rumor | Toyman | Mirror Master | Lex Luthor | Black Mask | Sinestro | Joker 2.0 | Prank | Killgore Steed | Team Penguin | Julie | Spellbinder | Blaze | The Joining | Cosmo Krank | Marty Slacker | Scorn | Wrath | Metallo | Shadow-Thief
Batman: The Brave and The Bold
Joker | Music Meister | Catwoman | Penguin | Mr. Freeze | Clayface | Riddler | Poison Ivy | Lex Luthor | Flower Children | Harley Quinn | Morgaine Le Fey | Sweet Tooth | Queenie Goldstein | Bane | Kite Man | Black Manta | Gentleman Ghost | Major Force | Mirror Master | Metallo | Brainiac | Flamingo | Mxyzptlk | Toyman | Thinker | Doctor Sivana | Mister Mind | Black Adam
Beware the Batman
Anarky | Ra's al Ghul | Deathstroke | Harvey Dent | Killer Croc | Simon Stagg | Professor Pyg and Mr. Toad | Man-Bat | Cypher | Magpie | Lady Shiva | Tobias Whale | Phosphorus Rex | Lunkhead | Humpty Dumpty | Silver Monkey | Key | Bethany Ravencroft | Daedalus Boch | Junkyard Dog | Sapphire Stagg | Matatoa | Anatol Mykros
Harley Quinn
Harley Quinn | Poison Ivy | Joker | Scarecrow | Queen of Fables | Darkseid | Parademons | Penguin | Mr. Freeze | Bane | Lex Luthor | Killer Croc | Man-Bat | Riddler | Deadshot | Calendar Man | Condiment King | Solomon Grundy | Kite Man | Doctor Psycho | Clayface | King Shark | Nora Fries | Sy Borgman | Doctor Trap | Frank the Plant | Felix Faust | Toyman | Metallo | Livewire | Parasite | Black Adam | Captain Cold | Gorilla Grodd | Black Manta | Cheetah | Giganta | Sinestro | Maxie Zeus | Eris | KGBeast | Two-Face | Catwoman | Nick Quinzel | Sharon Quinzel
Video Games
LEGO Batman
Joker | Penguin | Riddler | Harley Quinn | Catwoman | Two-Face | Bane | Clayface | Killer Croc | Killer Moth | Mad Hatter | Man-Bat | Mr. Freeze | Poison Ivy | Scarecrow | Ra's al Ghul | Hush
Lego Batman 2: DC Super Heroes
Joker | Lex Luthor | Harley Quinn | Riddler | Two-Face | Catwoman | Bane | Penguin | Poison Ivy | Scarecrow | Captain Boomerang | Clayface | Mad Hatter | Ra's al Ghul | Killer Croc | Bane | Killer Moth | Mr. Freeze | Man-Bat | Hush | Zod | Sinestro | Brainiac | Gorilla Grodd | Captain Cold | Black Manta | Black Adam | Bizarro
Lego Batman 3: Beyond Gotham
Brainiac | Joker | Lex Luthor | Cheetah | Solomon Grundy | Firefly | Killer Croc | Sinestro | Atrocitus | Larfleeze | Star Sapphire | Composite Superman | Bane | Arkillo | Condiment King | Music Meister | Captain Cold | Black Adam | Black Manta | Black Hand | Bronze Tiger Cyborg Superman | Deadshot | Deathstroke | Lobo | Dex-Starr | Doomsday | Gorilla Grodd | Harley Quinn | Hush | Kalibak | Killer Moth | Man-Bat | Mad Hatter | Manchester Black | Metallo | Mr. Freeze | Mr. Mxyzptlk | Parasite | Penguin | Poison Ivy | Polka Dot Man | Red Hood | Riddler | Toyman | The Trickster | Ultra-Humanite | Catwoman | Bizarro | Amanda Waller | Captain Boomerang | El Diablo | King Shark | Killer Frost | Plastique | Terra | Zod | Faora | Joker | Two-Face | Ra's al Ghul | Bane | Catwoman | Scarecrow | Blight | Joker | Mr. Freeze | Arrow Deathstroke | Malcolm Merlyn | Darkseid
Injustice
Superman | Wonder Woman | Yellow Lantern | The Flash | Aquaman | Nightwing | Cyborg | Raven | Solomon Grundy | Catwoman | Bane | Black Adam | Deadshot | Poison Ivy | Scarecrow | Joker | Deathstroke
See Also
Arkhamverse Villains | Batgirl Villains | Batman Beyond Villains | Batwoman Villains | Birds of Prey Villains | Catwoman Villains | Gotham Villains | Harley Quinn Villains | Nightwing Villains | Outsiders Villains | Red Hood Villains | Robin Villains | Telltalle Batman Villains