The Sandman Will Keep You Awake - The Loop
Play Sound



Click To Help Darkseid!

Darkseid has declared that this article requires immediate Cleanup in order to meet a higher standard.
Help improve this article by improving formatting, spelling and general layout - least it fall victim to an Omega Effect


✓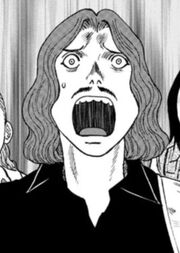 Aida is a major antagonist in Offal Island/Zoumotsujima the prequel to Freak island/Kichikujima.
He is the ex-lover of Alice.
Aida and his crew arrive on the island in serach photographs for Alice the model as Aida been here before. But Aida has noticed that somethings have changed after he came back and that things have changed but still is interested regardless. He would soon see a group of kids in animal mask with Kaoru who is a child in the prequel series among them Aida took photos them due to see this and later the group meets up with mari who is riding on Michiru's back. Michiru attacks Suga which makes Aida stay and take photos of him resulting in his capture. The manager Shiraki stated that while he eescaped aida was still captured with Alice detemined to save him and the others but it was a trap as Aida became a mutant with the family transforming him and later it was revealed that he would sacrfice the others to summon a demon with alice there Alice reveals that she and aida used to date until after having intercourse Aida dosen't want a child holding him back so convinces alice to abort it which she recultanly does. Alice poessed by the demon kills Aida by sucking off his live force.