Jurassic World: Dominion Dominates Fandom Wikis - The Loop
Play Sound
This article's content is marked as Mature
The page Mature contains mature content that may include coarse language, sexual references, and/or graphic violent images which may be disturbing to some. Mature pages are recommended for those who are 18 years of age and older.


If you are 18 years or older or are comfortable with graphic material, you are free to view this page. Otherwise, you should close this page and view another page.



Click To Help DIO!

DIO has declared that this article has stopped in time, and any and all information on it may be outdated.
Help improve this article by checking and updating it's info wherever necessary
And now time resumes!

✓

✓



Click To Help Dr. Wily!

Dr. Wily has declared that this article is still under construction.
Please don't delete or edit this article yet, it may contrast with the original author's edits.
After I finish this article, the world will be mine! MWAHAHAHAHA!
| | | |
| --- | --- | --- |
| " | Right now, there are two people nearby! [...] These two... I should really dispose of them first... I wonder if they're dead now. If an ambulance carrying them came by... I could figure who they are. The saw the equivalent exchange aspect of the Locacaca, too. If they're coming into our territory... then it only makes senses to remove them... | " |
| | ~ Aisho Dainenjiyama | |
Aisho Dainenjiyama is a minor antagonist in JoJo's Bizzare Adventure: JoJolion. Seeming a security guard for a baseball stadium, Aisho is, in truth, a Rock Human and an agent of the Locacaca Organization, dealing the Locacaca to others. He uses the Stand Doobie Wah!.
Appearance
Of somewhat short height, Aisho sports black hair and brown eyes. For clothing, he wears a black shirt with an exposed chest and brown highlights on the sleeves, tan shorts, a brown belt with a gray buckle, white socks, brown shoes, and an odd, turban-shaped cloth around his head and shoulders.
Personality
Aisho himself seems to not be someone of high skill at his job, being on edge, easy to upset when nervous or frustrated, cowardly when faced with the unknown, foolish or at least gullible, and has issues controlling his nature as a Rock Human. Despite this and a weak heart, Aisho still carries a degree of heartlessness in his actions, scoffing off the equivalent exchange of a old man's eyes (noting that he could just buy more fruit to help him) and even willing to let his Stand track down and kill Tsurugi Higashikata, who is not only a child, but the child of his ally, Jobin Higashikata. Despite this, he is still able to love others, which is shown with his former girlfriend.
Powers and Abilities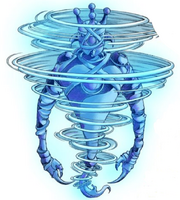 | | | |
| --- | --- | --- |
| " | Can they keep holding their breath? Just try to run away. | " |
| | ~ Aisho Dainenjiyama | |
Doobie Wah! is an automatic Stand that constantly generates a small yet powerful tornado, with it being summoned to automatically chase targets on Aisho's touch. Generating from a target's breath, Doobie Wah! is ruthless (always chasing down its targets and spawning back when their target breathes) and dangerous (being able to cut through both flesh and metal). Doobie Wah! can also use its claws to attack targets, can follow multiple people at once, and the tornado can increase in size with more breaths taken by the target. That being said, the Stand isn't perfect, as the tornado can decrease in size and vanish when it can't be near its target, and its possible to slow the Stand down for some time by holding one's breath or being inside the whirlwind.