Jurassic World: Dominion Dominates Fandom Wikis - The Loop
Play Sound
Aka, sometimes referred to as Abokado, is the true antagonist in the Dragon Ball Z movie: Yo! Son Goku and His Friends Return!!, and is the merged form of Abo and Kado.
He was voiced by Yasunori Masutani.
Appearance
Aka is a giant muscular purple alien. He has a large whip-like horn on his head and spikes on his arms and shoulders. He also wears a darker outfit that most minions of Frieza wear.
History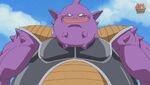 When Abo and Kado were getting defeated by Trunks and Son Goten, they decided to merge together to form Aka. This new form was proven to be more powerful then the two, So Goten and Trunks decided to fuse into Gotenks. Even in their fusion form, Gotenks were still no match for Aka. With the power of most of the Z Warriors and Goku's Super Saiyan 3 form, they were able to defeat Aka. However, Aka did not get killed. Instead, Aka reverted back into Abo and Kado and decide to attend the party dedicated to Mr. Satan, while eating some parsnips.
Powers and Abilities
Like nearly every villain in the Dragon Ball Series, Aka can fly, generate multiple ki blasts, and possesses superhuman abilities. His strongest ki attack is the Flaming Wahaha no Ha.
Power Level
During their time as minions of Frieza, Abo and Kado had similar power to the Ginyu Force. This means that they each had 40,000, meaning that as Aka they would have a power of around 800,000. Abo and Kado are stated to have power levels equal to Frieza by Tarble, and since Tarble only ever knew about Frieza's first form this means Abo and Kado have around 530,000. Though when fusing into Aka, Abo and Kado's power increases dramatically to be similar to Base Gotenks.
Videos