This article's content is marked as Mature
The page Mature contains mature content that may include coarse language, sexual references, and/or graphic violent images which may be disturbing to some. Mature pages are recommended for those who are 18 years of age and older.


If you are 18 years or older or are comfortable with graphic material, you are free to view this page. Otherwise, you should close this page and view another page.
| | | |
| --- | --- | --- |
| " | We are home. We live everywhere and anywhere we choose. The world is our garden. | " |
| | ~ Queen Akasha to her new groom Lestat. | |
| | | |
| --- | --- | --- |
| " | Join me or die. | " |
| | ~ Akasha | |
Queen Akasha (simply known as Akasha) is the main antagonist of the novel series The Vampire Chronicles by Anne Rice and its 2002 film adaptation Queen of the Damned. She is the oppressive queen of the vampires because she was the very first vampire ever born. According to the novel series The Vampire Chronicles, Akasha is one of the two lost-long ancient vampires alongside her husband and king, Enkil, who are both called Those Who Must Be Kept.
She was portrayed by the late Aaliyah in her second to last film role.
Biography
As told in the novel, Akasha was originally from Uruk, or modern-day Iraq. She rose to become a Queen in Kemet, the land that would eventually become Egypt; she and her husband King Enkil wanted their people to turn away from their cannibalistic ways and encourage the eating of grains. Queen Akasha was described as a lovely young woman who was "almost too pretty to be truly beautiful, for her prettiness overcame any sense of majesty or deep mystery." Underneath her physical beauty, Akasha is a fundamentally dark, empty vampire with no sense of morality, ethics nor human compassion; her actions are almost always based on her insatiable need to fill her own inner emptiness.
Akasha eventually becomes fascinated by the spirits of the supernatural, forcibly bringing the red-haired witch sisters Maharet and Mekare to her court to commune with these spirits. Against their advice, Akasha forces the witch sisters to seek answers from the spirits to countless shallow questions she asks, but the ensuing answers, some in the form of provocative and obscene gestures, ultimately enrage the Queen by confirming her inner emptiness -- "She had asked questions of the supernatural, a very foolish thing to do, and she had received answers which she could neither accept nor refute.". One spirit in particular, a bloodthirsty and aggressive entity called Amel, threatens Akasha and ultimately stages a weak but demonstrative attack against her. Akasha, in turn, has Mekare and Maharet publicly raped by her reluctant servant Khayman for their "witchcraft", and banishes them from Kemet.
1 year later, the twin witches are recalled to the kingdom by Khayman, where they learn that Amel had kept his presence in the kingdom and that, when the King and Queen were coincidentally assassinated by supporters of cannibalism one night, the spirit of Amel joined with Akasha's soul as it rose from her body, re-entering her body through her wounds and fusing with her heart and brain to create an entirely new being: the vampire. Amel's deadly lust for human blood thus passed to Akasha. Akasha then took her king Enkil and passed the "Dark Gift" onto him, transforming Enkil into a vampire, and then made Khayman, who then passed it on to Mekare and Maharet. It was Mekare who tells the Queen what kind of being she has become, as well as explaining her newfound sensitivity to sunlight and thirst for blood.
As her progeny proliferate, Akasha's need for blood diminishes. Eventually she (along with Enkil) becomes a living statue, kept safe for centuries by guardians who know that she is the source of their existence and immortality. After one of these guardians tires of the task, he places Akasha and Enkil in the sun; vampires worldwide are burned or destroyed as a result of all being linked by the spirit of Amel that still resides in Akasha.
Akasha draws the vampire Marius to her and urges him to take her and Enkil out of Egypt. Marius does so and protects them for nearly 2,000 years. At one point, Maharet stabs the statue of Akasha in the heart; as Maharet feels the energy leave her own body, it confirms the legend that to kill Akasha is to annihilate all vampires.
In 1985, the vampire Lestat wakes Akasha from her trance with his music. She rises and becomes a relentless and severe destroyer, killing most of her vampire progeny worldwide while simultaneously kidnapping Lestat, who becomes her lover and cohort. She spares at least seventeen (Maharet, Mekare, Khayman, Louis, Jesse, Gabrielle, Armand, Daniel, Marius, Mael, Santino, Pandora, Eric, Vittorio, Thorne and the coven that made Quinn Blackwood, Manfred Blackwood, Petronia and one from ancient Greece) vampires from her slaughter—either ancient vampires she cannot easily destroy, or Lestat's loved ones and demands that they join with her in her plan for a new world order: to kill 99% of the world's men and to set up a new "Eden" in which women, with Akasha as their Goddess, reign. A heated philosophical discussion ensues; while Akasha insists that her plan is for the benefit of humanity in the long run and will usher in a new era of peace, Maharet boldly defies her and points out the underlying truth: that Akasha simply wants to dominate and be worshipped, to once again subject everyone to her will, and to once again create a new system of religious dogma to fill her inner emptiness, with absolutely no regard for the lives at stake.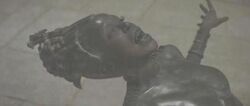 The surviving vampires all refuse to join with Akasha, but before she can destroy them, the vampire Mekare arrives at the scene and shoves her into a glass wall. The broken shards decapitate Akasha. Maharet and Mekare then immediately grab Akasha's heart and brain. Mekare eats the brain and then the heart, and thereby the soul of Akasha; as Mekare does so, she takes into herself the source of the spiritual fusion with Amel and becomes the new life force of the vampires, while Akasha's ancient body finally disintegrates into black dust.
Queen of the Damned (2002 Film)
Akasha was awakened from her slumber by newly made vampire Lestat de Lioncourt, bringing the statue form of Akasha to life before drinking some of her blood. The taste of Akasha's blood left Lestat enamored by Akasha, despite the warnings of Marius de Romanus (who had turned Lestat into a vampire) that she was too powerful for him. Years later, after Lestat had become the lead of a popular rock band, Akasha began searching for him.
When Akasha arrived at The Admiral's Arms (a London-based vampire club) and learned from one vampire that he and several vampires were planning to kill Lestat for exposing the existence of vampires and his overall flamboyant ways. Looking intrigued, Akasha replied, "Really? Is that what you're going to do?"
Before he even had a chance to answer, Akasha turned and then walked over to the dance floor. She then danced seductively before calling the vampire over to her; she then ripped the vampire's heart from him, later using her powers to cause several other vampire club-goers to turn to dust before eventually setting fire to the entire club.
Akasha later arrived at Lestat's live concert in Death Valley after he and Marius fought off a group of attacking vampires, taking him to her new home, which is surrounded by the corpses of 100s of people Akasha had slain overnight (presumably for sustanance and pleasure). The seductive vampiress then entranced Lestat into staying with her and becoming her king, with the pair feeding off of each other's blood.
In the film's climax, protagonist Jesse Reeves (along with her aunt Maharet, one of the Ancient Vampires, and a few of her fellow Ancients) confronted Akasha and Lestat, with Jesse being shocked upon seeing how Akasha had manipulated Lestat into becoming her subordinate. The evil Akasha blasted the Ancient Vampires for wanting to live peacefully with mortals before asking Lestat to kill Jesse.
Lestat appears to follow Akasha's orders as Jesse allows Lestat to feed off of her, but instead of killing her, Lestat instead drinks enough of Jesse's blood to break free of Akasha's hold. Mad at what Akasha made him do, he then attempted to kill Akasha by draining her of her blood, only to be stopped by Akasha. Akasha then began to fight off the Ancients, murdering two of them before becoming weakened by their attacks. After Akasha reminded the Ancients that anyone who drained the last of her blood would die, Lestat attempted to finish her off, only for Maharet to instead make the sacrifice, draining Akasha of her blood and causing the vampiress to first turn into bronze and then disintegrate into black dust.
Villains
Animated Features
Meowrice | Meowrice's Henchmen | Mouse King | Mouse Queen | Joker | Phantasm | Salvatore Valestra | Arthur Reeves | Chuckie Sol | Buzz Bronski | Grundel Toad | Berkeley Beetle | Mr. Mole | Mrs. Toad | Ms. Fieldmouse | Queen Gnorga | King Llort | Darla Dimple | Max | Mrs. Prysselius | Thunder Karlsson and Bloom | Ruber | Griffin | Ruber's Minions | Bladebeak | Kent Mansley | Kralahome | Master Little | The Jokerz (Dee Dee Twins, Chucko & Woof) | Count Grisham | Cheswick | Mojo Jojo | Gangreen Gang | Anubis | Seto Kaiba | Dark Yugi | Pegasus J. Crawford | Mokuba Kaiba | Marik Ishtar | Ebenezer Scrooge Puppet | Barkis Bittern | Maudeline Everglot | Stan Beals | Noah the Elder | Leopard Seal | Aguila | Stone Generals (Gato & Mono) | Karai | Foot Clan | Eddy's Brother | Kanker Sisters | Kevin | Sarah | Surtr | Nyra | Kludd | Pure Ones | Lord Business | Super Secret Police (Bad Cop & Sheriff Not-A-Robot) | Duplo Aliens | Mr. Ross | Future Mordecai | Rigby | Benson Dunwoody | Muscle Man | Hunter | Pigeon Toady | Wolf Pack | Penguins | Joker (Lego) | Harley Quinn (Lego) | Phantom Zone Criminals | Catwoman (Lego) | Poison Ivy (Lego) | Two-Face (Lego) | Lord Garmadon | Slade (Teen Titans Go!) | Balloon Man (Teen Titans Go!) | Lex Luthor (Teen Titans Go!) | Stonekeeper | Rex Dangervest | Velociraptors (Lego) | Foot Clan (Shredder & Baxter Stockman) | League of Assassins (Ra's al Ghul (Batman vs. TMNT), Ubu (Batman vs. TMNT) & Talia al Ghul (Batman vs. TMNT)) | Joker (Batman vs. TMNT) | Harley Quinn (Batman vs. TMNT) | Scarecrow (Batman vs. TMNT) | Mr. Freeze (Batman vs. TMNT) | Poison Ivy (Batman vs. TMNT) | Bane (Batman vs. TMNT) | Two-Face (Batman vs. TMNT) | Penguin (Batman vs. TMNT) | Hexagon (Trigon (TTG) & Trigon (Original)) | Spinel | Pink Diamond | Scorpion | Quan Chi | Shang Tsung | Goro | Shao Kahn | Kano | Baraka | Reptile | Moloch | Motaro | Dick Dastardly (2020) | Muttley (2020) | Rotten Robots | Dusty | Cerberus
Live Action Films
Jack Torrance | Hotel Caretaker | Lorraine Massey | Socs (Bob Sheldon, Randy Adderson, Paul Hoden & David) | Mrs. Cade | Scut Farkus | Grover Dill | Stripe | Ruby Deagle | Gremlins | Mama Fratelli | Francis Fratelli | Jake Fratelli | Audrey II | Orin Scrivello | Mr. Igoe | Max | David | Sergeant Nagata | Beetlejuice | Sandworms | Joker | Bob the Goon | Alicia Hunt | Carl Grissom | Max Eckhardt | Vinnie Ricorso | Joe Chill | Witches (Grand High Witch, Susan Irvine, Nicola Cuttle, Pamela, Lois Leffour, Mildred, Elizabeth, Henrietta, Jacqueline & Beatrice) | Brain Gremlin | Daffy | George | Lenny | Secretary Gremlin | Bat Gremlin | Electric Gremlin | Cushing Catheter | Penguin | Max Shreck | Catwoman | Red Triangle Circus Gang | Charles "Chip" Shreck | Dr. Charles Nichols | Frederick Sykes | Lawrence Van Dough | Ferguson | Lestat | Clarice Kensington | Miss Minchin | Riddler | Two-Face | Sugar | Spice | NygmaTech (Frogmen) | Neon Gang | Salvatore Maroni | Jonas Miller | Mr. Swackhammer | Monstars | Martians (Martian Leader, Martian Ambassador & Martian Girl) | John Wesley | Poison Ivy | Mr. Freeze | Bane | Grant Frost | Agent Smith | Cypher | Agents (Agent Jones, Agent Brown & Agent Johnson) | Susan McCallister | Jim Whitlock | Mako Sharks | William Wharton | Percy Wetmore | Mr. Tinkles | Thrax | Mayor Phlegmming | Bruiser | Joe Cramp | Thrax's Henchmen | Scrappy-Doo | N' Goo Tuana | Zarkos | Demons | Luna Ghost | Akasha | Spiders (Consuela & Tank) | Mr. Chairman | Bob Smith | Robo Dog | Clara Dalrymple | Sir Trenton | Ruffshodd | Trenton's Pride | Ra's al Ghul | Scarecrow | Carmine Falcone | League of Shadows (Decoy of Ra's al Ghul) | Victor Zsasz | Joe Chill | Jonathan Jacobo | Arthur Slugworth | V | Adam Sutler | Lewis Prothero | Norsefire | Peter Creedy | Colonel Coetzee | Captain Poison | Zodiac Killer | Arthur Leigh Allen | Xerxes | Agent 23 | Siegfried | Dalip | Joker | Two-Face | Sal Maroni | Gambol | Joker's Thugs | Principal Deedle | Ezekial Gallows | Prudence Prufrock | Lord Henry Blackwood | Lord Coward | Esther Coleman | Decoy Queen | Kitty Galore | Paws | Mayor Brown | Wanda Grubwort | Lake Monster | Mal Cobb | Blue Jones | Angelique Bouchard | Dr. Julia Hoffman | Bane | Talia al Ghul | Barsad | Catwoman | John Daggett | Tom Buchanan | Jay Gatsby | Myrtle Wilson | George Wilson | Daisy Buchanan | Precursors | Kaiju (Trespasser, Knifehead, Mutavore, Otachi, Leatherback, Raiju, Scunner & Slattern) | Artemisia | M.U.T.O. | Dr. Mann | Victoria Vinciguerra | Léon Rom | Skull Devil | Preston Packard | It | Bowers Gang (Henry Bowers, Patrick Hockstetter, Belch Huggins & Vic Criss) | Alvin Marsh | Butch Bowers | Mathias Vogel | Ana Miller | Nolan Sorrento | Innovative Online Industries (I-R0k, F'Nale Zandor & Sixers) | Claire Wyden | Brett Wyden | George, Ralph and Lizzie | The Meg | Jack Morris | Shere Khan | Tabaqui | Howard Clifford | Ditto | Sebastian | Ann Laurent | King Ghidorah | Rodan | Alan Jonah | Asher Jonah | Emma Russell | The Banana Splits (Fleegle, Drooper, Snorky & Bingo) | Poppy | Karl | Leo | Cry Baby | Kelly | The Principal | The Biology Teacher | Tom Rogan | Arthur Fleck | Penny Fleck | Randall | Clowns (Joker) (Clown & Ambulance Clown) | Wall Street Three | Penny Fleck's Boyfriend | Rose the Hat | The True Knot | Andrei Sator | Priya Singh | Zeek | Pablo | Snarky
Shorts
Daffy Duck | Sylvester | Tasmanian Devil | Wile E. Coyote | Elmer Fudd | Yosemite Sam | Marvin the Martian | Instant Martians | Gossamer | Tom | Jerry | Spike
Television
The Grinch | Cousin Mel | I.M. Slime | Snow Miser | Heat Miser | North Wind
See Also
Adventure Time Villains | Batman Villains | Ben 10 Villains | Catwoman Villains | Cats & Dogs Villains | Cartoon Network Villains | DC Extended Universe Villains | Eraser Villains | Game of Thrones Villains | Gremlins Villains | Hanna-Barbera Cinematic Universe Villains | Harry Potter Villains | Lethal Weapons Villains | Looney Tunes Villains | Melanie Martinez Villains | Middle-Earth Villains | MonsterVerse Villains | Mortal Kombat Villains | Pokemon Villains | Powerpuff Girls Villains | Primal Villains | Regular Show Villains | Rick and Morty Villains | Robot Chicken Villains | Rush Hour Villains | Samurai Jack Villains | Scooby-Doo Villains | Steven Universe Villains | Superman Villains | The Banana Splits Movie Villains | The LEGO Movie Villains | The Matrix Villains | Tom and Jerry Villains | TMNT Villains | Wild Wild West Villains | Xiaolin Showdown Villains | Yu-Gi-Oh! Villains
Community content is available under
CC-BY-SA
unless otherwise noted.