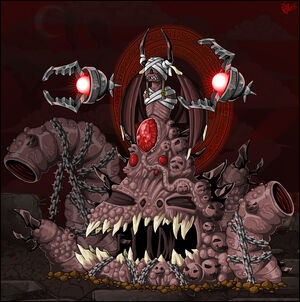 Akron
is a final boss in EBF3. He is an ancient demonic deity summoned by
Godcat
that has lived for billions of years. He used to rule over much of the world but was eventually defeated by other gods. Unable to destroy him, they bound him in his prison and forced him into a deep sleep. He was awoken by Matt, Natalie and Lance, who heard about the ancient evil and came to destroy it. They approached the demon's tomb and poked it. The deity then proceeded to sap their life energy, though they managed to survive. However, by now, the demon's powers were so dense, that time and space began to distort itself in his presence. The resulting rift hurled the heroes to a place only known as The Town. While they traveled seeking revenge, Akron spent its time trying to recover from the curse. Eventually the heroes arrive and defeat the weakened Akron.
Abilities
Trivia
Akron has his own theme, titled "Divine Madness".
As Akron loses health, his appearance changes over time. His horns become torn up, a white halo appears over his head, the large colored spot on his abdomen cracks, and his bandages come off, revealing bright red eyes.
Akron was named after the dark lord in Rhapsody of Fire's lyrics.
Akron's visual design is inspired by Anima from Final Fantasy 10, Asura from Soul Eater, and some of the Homunculi from Full Metal Alchemist.
If one of Akron's eyes starts to show shortly after you hit him, it could be an indication that he is about to morph into his second form.
Dark Godcat states in-battle that he created Akron as a "gift to humanity". This is significant because it establishes the fact that Godcat is the "big bad" of the series-- and the most powerful entity in Epic Battle Fantasy.
Gallery
Theme Music