| | | |
| --- | --- | --- |
| " | Listen. While you're sitting comfortably in some laboratory, we've been fighting for decades in one dirty war after another. I've seen human nature firsthand, and I'm here to tell you that it doesn't get any better. It just gets worse. So, I'm sorry that Monster Zero isn't exactly what we were expecting. But we opened Pandora's Box, and there's no closing it now. | " |
| | ~ Jonah explaining his motives. | |
Alan Jonah is the central antagonist of the MonsterVerse's Godzilla: King of the Monsters, the third movie of the MonsterVerse franchise and a sequel to the 2014 Godzilla film. He also served as the secondary antagonist of the prequel comic, Godzilla: Aftershock.
He is a former British Army colonel and MI-6 agent turned eco-terrorist leader who sought to find and awaken all the Titans across the globe so they can supplant humanity as the dominant species and restore order to nature with assistance from Monarch defector Dr. Emma Russell. However, his plot was foiled when Emma's daughter Madison used the ORCA, a device created by her mother that is capable of emitting frequencies, to stop the rampages of the Titans.
He was portrayed by Charles Dance, who also played Mr. Benedict in Last Action Hero, Master Vampire in Dracula Untold, Tywin Lannister in Game of Thrones, Emhyr var Emreis in The Witcher 3: Wild Hunt, Sardo Numspa in The Golden Child and David Carlton in Ali G Indahouse.
Biography
Background
According to Monarch, Alan Jonah was once a British Army colonel and MI6 agent but after many years of seeing humanity at its worst, he grew misanthropic. He founded a eco-terrorist organization, focused on letting the Titans destroy humanity as he believes that they will take better care of Earth than humans.
It is revealed in the novelization that Jonah's disdain for humanity was cemented when his daughter was kidnapped and killed on her way back from school while he was on deployment only for her body to be found six days later in a storm drain.
Godzilla: King of the Monsters
Alan's terrorist group first appears at the start of the film when an egg in China gives birth to Mothra, a moth-like Titan. The terrorists suddenly attack the area by bombing it and killing the scientists, the motive for the attack being to kidnap Monarch scientist Emma Russell and her daughter Madison. However, Emma herself planned and staged this as she was joining the organization and didn't want to make it public, as her intention was to join them in order to awaken the Titans to reverse humanity's wrongdoings.
Stealing a Monarch Osprey, Alan and his terrorists proceed to travel to Antarctica in order to free King Ghidorah, who has been frozen for centuries in the ice since after his fight with Godzilla over the title of alpha. The terrorists start shooting at Monarch soldiers, but Emma's ex-husband Mark Russell manages to escape. However, when he comes to rescue his family and come back to them, he sees Emma free Ghidorah herself using explosives, having noticed her betrayal to Jonah.
After Ghidorah's escape, Emma contacts Monarch for a negotiation, claiming that by awakening the Titans, she can restore the natural order and revert the wrongdoings of humanity. Afterward, Jonah plans on awakening a destructive Pteranodon-like Titan named Rodan in Isla de Mara, Mexico. He orders Emma to use the ORCA to awaken Rodan from a nearby volcano in Mexico, despite Madison's pleas to her mother not to listen to Jonah as there are still people evacuating the city, although Emma does it anyway.
Upon being awakened after responding to the ORCA's call, Rodan instantly starts destroying everything in his path but is somehow defeated by Ghidorah, who now steals Godzilla's title as the new alpha after the latter's supposed death by a nuclear warhead known as the Oxygen Destroyer while fighting his rival underwater (although it turned out that Godzilla had survived, but badly injured from the blast, although later revived after Dr. Serizawa sacrifices himself by detonating another warhead to increase Godzilla's power). Ghidorah then makes Rodan his right-hand man and calls out to the other Titans, ordering them to cause numerous massacres under his command.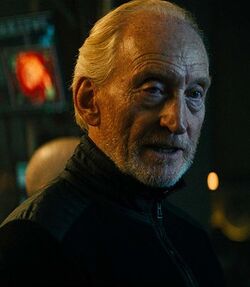 Emma eventually starts doubting that Jonah's goals are as effective as he says they are and suggests the possibility of using the ORCA to broadcast a signal from the Fenway Park stadium in Boston, but Jonah disagrees. However, Madison, having overheard their conversation, manages to steal the ORCA and travels to Boston, where she leads Ghidorah and the other Titans to her location. Later, Jonah decides to let Emma go when he finds out the latter is wanting to save Madison and her family. Regretting what she has done, Emma ends up sacrificing her life to Ghidorah in order to distract him so that she can save Godzilla and let her family escape, before being killed by the Titan while attempting to lure him away using the ORCA.
However, Ghidorah is ultimately killed for good by Godzilla with Mothra's help (thanks to her sacrificing herself to Ghidorah and transferring her energy into Godzilla in order to make him achieve a fiery form to destroy Ghidorah) while the Titans, who had once served Ghidorah, now submit to Godzilla as the rightful king of the monsters and true alpha. In the aftermath, rather than having the planet reset back to its natural order, Godzilla instead forced the Titans to undo the wrongdoings of mankind by repairing all the damage caused to Earth, leaving Jonah's plan in vain.
Despite this, Jonah's plot has now been foiled, but it is revealed that he survived as shown where he and his mercenaries travel to Mexico and find one of Ghidorah's severed heads that Godzilla had previously bitten off earlier during his fight with his foe underwater. It is uncertain how Jonah will use it for unknown purposes since he has now purchased Ghidorah's severed head.
Godzilla vs. Kong
In 2024, sometime after the events of the Boston attack, Jonah met Walter Simmons, the CEO of Apex Cybernetics, in Pensacola. The two made a mutual agreement in which Jonah sold Ghidorah's skull to Simmons. Walter would then later use the skull as a cockpit for the construction of Mechagodzilla.
Quotes
| | | |
| --- | --- | --- |
| " | Man does not control the laws of nature, and neither do you. | " |
| | ~ Jonah shooting down Emma's attempt to reason with him. | |
| | | |
| --- | --- | --- |
| " | Madison, tell me, what exactly did Mommy sell you on? Some grand utopia? Man and monster living together in blissful harmony? | " |
| | ~ Jonah mockingly asking Madison if Emma sold her on the idea to release the Titans by promising humans and monsters living together in peace. | |
| | | |
| --- | --- | --- |
| " | Hello, Doctor Russell. That was a warning shot. I suggest you come along with me now. | " |
| | ~ Jonah to Emma. | |
| | | |
| --- | --- | --- |
| " | I seem to remember you telling me that the world always belonged to them. Well, maybe it's time we give it back. | " |
| | ~ Jonah to Emma. | |
Relationships
???
???
Madison Russell
???
Mark Russell
???
???
Lindy Jonah
???
???
Personality
Alan is an unemotional, stoic, and calm, yet insane man who doesn't care about the lives lost in his terrorist attacks. This could be due to different reasons, such as experiencing so many horrible things during his time as agent and colonel that he's became unaffected by the death or viewing his victims as sacrifices for a higher cause.
Alan's motive can be simplified by saying that he wants to save planet Earth from humanity as he believes humanity will destroy the planet, but his way of preventing destruction inevitably caused more destruction than what he's trying to stop, as Ghidorah most likely would have destroyed the entire world had he not been stopped. While Jonah seems to be aware of Ghidorah is an unusual Titan, he doesn't know or care that the Kaiju intends to destroy all life on Earth or the fact that he is a malicious alien with an agenda even more sinister than even Jonah's, putting his cause to save the planet in question.
However, by then, Alan had already given any hope for humanity that he decided to allow Ghidorah to destroy the planet and wait for the end, the novelization also mentions that Alan hates humanity because he had a daughter who got kidnapped on her way home and murdered. In the novelization, he also was perfectly fine with ordering his men to slit Madison's throat if Emma went near the Orca, he also seems to hold a fascination and obsession with the Titans, believing them to be worthy of ruling the Earth. Even after Ghidorah's defeat, Alan's obsession with him was still present, as he brought one of his severed heads to use it for unknown reasons.
Despite his nihilism and suicidal plans, Alan shows signs of humanity, as rather than having his men kill Emma once she's no longer needed, he instead lets her go when he finds out she's wanting to save Madison, even letting her take one of his vehicles. The novelization mentions that this was either due to not caring about Emma anymore or simply because he had some humanity left in him (since he himself lost a child), or his stoic exterior in the situation actually masks a fear of death as he was not willing to risk his life to go with Emma, despite being his part in releasing the Titans. Alan also cared greatly for one of his soldiers, Asher, being greatly concerned for him when Mark fatally shot him in an attempt to rescue his wife Emma and his daughter Madison. This care also seems to extend to the rest of his men, as he is unwilling to let Emma take any of them with her to find Madison due to fear for their safety, even though it was his neglect that put them and himself in harm's way and risk of facing Ghidorah's wrath as just as much as anyone else.
However, Jonah's care for his men could be limited, due to his intentions to destroy humanity and never seemed to take their lives into consideration since Ghidorah would've likely turned on Jonah and his mercenaries, further proving his instability, which led him to make very bad decisions that make his judgment and ability to inspire loyalty among his followers even more questionable as his inability to take responsibility for the crisis and blindly sabotaging his own plans makes him actually look incompetent and could normally lead someone like him to be viewed as a possible liability to his organization, due to his instability and reluctance to regain control of the situation.
Gallery
Trivia
Jonah could be considered the human counterpart to King Ghidorah, also being a homicidal killer who wished to change the world to how he sees fit. It is even theorized he may be the MonsterVerse version of the Controller of Planet X from Invasion of Astro Monster as well as Controller X from Godzilla: Final Wars. That being said, Jonah is not as evil as Controller X or King Ghidorah, just unstable and petty.

Another similarity between Jonah and Ghidorah - Both are evil but rather non-sadistic in the movie but both are more vicious and sadistic in the novelization.

In the novelization while Jonah had more sympathetic qualities such as his genuine care for Asher (he still cared for Asher in the movie but their relationship wasn't as focused on) and his loss of his daughter, he was also slightly more villainous ordering his men to slit Madison's throat if Emma went near the Orca.
Alan Jonah is the second villain to be a human in the MonsterVerse franchise, following Preston Packard. In stark contrast to Preston, however, Jonah survived the events of his debut film.

Coincidentally, the two shared a similar military background.

Despite Jonah's actions, for some fans he was the most popular human character in the film and one of the most popular human characters in the MonsterVerse. In fact, many of his actions are arguably consistent with his cause than Dr. Emma Russell, who initially believes Ghidorah to be an Earth-based Titan, but was soon revealed to be an alien bent on taking over the planet and killing all of humanity, something even Jonah figured out rather quickly. However, he and his echo-terrorist group are viewed by the fanbase as the most unnecessary subplots as well as the weakest element in the film, due to their presence driving away from the main plot of Ghidorah's rampage and for being out of place in a story that normally features him as the main threat, which usually involves either him acting on his own or an Alien threat playing a role in his rampage. While Charles Dance's acting was praised, Jonah's role and relevance to the plot as well as his characterization received a mixed reception, in addition to his motives being murky at best and even confusing at worst. Many fans felt his character would've worked better in a film featuring Biollante as Godzilla's main opponent, whose debut film featured a similar terrorist group that played an antagonistic role in the film.
It is currently unknown if Jonah is truly aware of Ghidorah's alien origins as it was Monarch who found it based on the cave paintings depicting his conflicts with Godzilla, however it was hinted that Jonah was aware that Ghidorah was not from Earth from the very beginning as he said: "God had nothing to do with this."
It is also theorized by the fandom that the Alan Jonah that appeared in the movie is not the real one, but rather an Alien impersonating him, due to the implications of his knowledge of Ghidorah. It may be implied that the real Jonah was either abducted or killed by them decades the film and his eco-terrorist movement to restore the Earth was really a front for an Alien invasion. The implication could be that an Expy of the Xiliens is going to play a future role in the MonsterVerse as they had a history of using members of their species posing as humans for infiltration. In addition, they also use monsters to destroy humanity, so they can settle on their planet and colonize it. This could explain Jonah's insane motives and willingness to allow Ghidorah to destroy the Earth.
Whereas Jonah's motives were to humble his own race whom he deemed ravaging the planet, King Ghidorah proved to be the bigger threat because he sought Earth's destruction.
His name (specifically his surname) could be a reference and homage to the prophet Jonah from the Old Testament of the Bible as they are both associated with giant monsters (Jonah was swallowed by a whale and lived in its stomach for three days before being vomited out; Alan Jonah wanting to use monsters on mankind) and are both hateful to mankind's evil tendencies (Ninevites for the prophet Jonah; the entire world for Alan Jonah).
Villains

Villains
Animated Features
Stan Beals | Wasps
Live-Action Films
Ra's al Ghul | League of Shadows (Ra's Decoy) | Scarecrow | Carmine Falcone | Victor Zsasz | Arnold Flass | Joe Chill | Lex Luthor | Scrunt | German Drinking Team | Cherry | Xerxes | Theron | Ephialtes | The Immortals | Joker | Joker's Thugs (Thomas Schiff, Chuckles, Kilson, Happy, Dopey, Grumpy & Bus Driver) | Two-Face | Sal Maroni | The Chechen | Gambol | Lau | Bank Manager | Michael Wuertz | Burmese Bandit | Rorschach | Ozymandias | The Comedian | Doctor Manhattan | Moloch | The Flasher | Leslie Chow | Officer Franklin and Officer Garden | Melissa | Sam | Steven Wilkins | Mr. Kreeg | Laurie | Macy | Lord Ozunu | Takeshi | Hades | Acrisius | Medusa | Charon | Prokopion | Dioskilos | Kraken | Quentin Turnbull | Burke | Mal Cobb | Blue Jones | Kingsley | Russian mobsters | Kronos | Ares | Cyclopes | Makhai | Minotaur | Bane | Talia al Ghul | Barsad | Catwoman | John Daggett | General Fallon | The Giants | Lord Roderick | Wickie | Marshall | Black Doug | Precursors | Kaiju (Trespasser, Knifehead, Mutavore, Otachi, Leatherback, Raiju, Scunner & Slattern) | Artemisia | Artaphernes | M.U.T.O. | Satan | Mehmed II | Master Vampire | Dr. Mann | Mother Malkin | Mutsushiro Watanabe | Elias Kassar | General Lyons | Indominus rex | Vic Hoskins | Henry Wu | Lady Lucille Sharpe | Krampus | Krampus' Elves | Krampus' Toys | Krampus' Gingerbread Men | Gul'dan | The Horde (Blackhand the Destroyer & Orgrim Doomhammer) | Dean Redding | Tao Tei (Tao Tei Queen) | Skullcrawlers (Skull Devil) | Preston Packard | Eli Mills | Ken Wheatley | Gunnar Eversol | Kores Botha | Xia | Ku Klux Klan (David Duke, Felix Kendrickson, Walter Breachway, Ivanhoe & Nelson Walker) | Andy Landers | Connie Kendrickson | Kennebrew Beauregard | Howard Clifford | Ditto | Sebastian | Ann Laurent | King Ghidorah | Alan Jonah | Rodan | Asher Jonah | Emma Russell | Mechagodzilla | Apex Cybernetics (Walter Simmons, Ren Serizawa & Maia Simmons) | Baron Vladimir Harkonnen | Count Glossu Rabban | John Hartley | Nolan Booth | Sarah Black | Sotto Voce | Leatherface
See Also
Amblin Entertainment Villains | Batman Villains | Blumhouse Productions Villains | Christopher Nolan Villains | DC Extended Universe Villains | Dead Rising Villains | Dracula Villains | Dune Villains | Godzilla Villains | Jurassic Park Villains | King Kong Villains | MonsterVerse Villains | Netflix Villains | New Line Cinema Villains | Paramount Villains | Pokémon Villains | Superman Villains | Texas Chainsaw Massacre Villains | The Hangover Villains | The Toxic Avengers Villains | Universal Studios Villains | Warcraft Villains | Warner Bros. Villains | Watchmen Villains