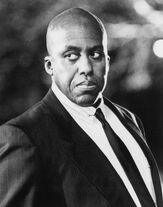 Albert Diggs
is one of the villains of the 1990 Action/Comedy, 
Bird on a Wire.
He was played by Bill Duke.
Biography
When Eugene Sorenson gets released from prison after Jarmin put him away for drug dealing, he joins forces with his partner, Diggs, and corrupt contact and cop, Joe Weyburn, to hunt Jarmin down and kill him.
The purpose of Eugene Sorenson and Diggs going after Jarmin is to get rid of any of the drug dealer's loose ends. Diggs and Eugene Sorenson do a surprise attack and shoot and kill Jarmin's boss and shoot Jarmin in his ass. Jarmin and Graves go on the run from Eugene Sorenson and Diggs, who are able to track the heroes down at a zoo that Jarmin used to work at, thanks to Joe Weyburn.
Eugene Sorenson, Joe Weyburn, and Diggs attack Jarmin and Graves at the zoo, Jarmin sets free animals and sets up traps. This complicates the fight with them to the point, where Eugene Sorenson, Joe Weyburn, and Diggs split up to battle with Jarmin and Graves. Diggs gets led into a trap where he's locked himself inside a cage from leopards thinking it's empty, where he gets mauled to death by a lion.