Jurassic World: Dominion Dominates Fandom Wikis - The Loop
Play Sound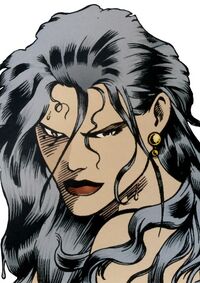 Aleema Keto was a Sith sorceress and an antagonist in the Star Wars: Tales of the Jedi series.
Biography
Keto was the niece of Lord Keto, the ruler of Empress Teta. She became a Sith sorceress by learning the ways of the Dark Side. Aleema Keto found the dark side cult the Krath and successfully usurped the throne. When Ulic Qel-Droma infiltrates the Krath, Keto seduces him and offers a place within her cult. She had her cousin Satal killed after Qel-Droma accepted her offer. With Ulic Qel-Droma, she teams up with Exar Kun and becomes a senior member of his brotherhood.
Aleema leads the brotherhood's forces to attack Coruscant and betrays Ulic to the enemy forces. After Qel-Droma was rescued by Exar Kun, he tricked Aleema into making a supernova which killed her.
Keto as one would expect from someone as evil as the average Sith overlord, goes beyond being a spoiled brat. She commits many heinous crimes, some against her parents all to satisfy her sense of adventure. Her actions proved so vile that even her cousin Satal, who was otherwise as evil as her, proved to have more regard for human life. Some of her more unforgivable actions include burning many people alive, blasting her tutor's tongue out, ordering the death of Satal who at first seemed to be the one person she cared about, and betraying her parents. All of this makes her one of the worst villains of the franchise.
One of the other reasons Keto stands out is because of the reason that she gave in to the Dark Side. Like her cousin, she did it because she was bored of her life. Thus, despite her sadism, she does not even care about power. Even worse, this means that most of her actions were out of a desire to maintain her spoiled lifestyle. Thus, she truly is nothing more than a heartless brat who desires adventure over even basic morality.