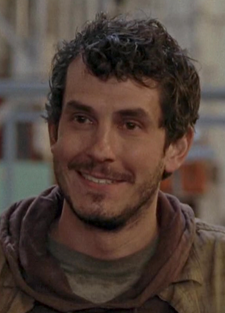 Alex is a character first introduced in Season 4 of AMC's The Walking Dead, in the episode "A". He is a resident of Terminus.
Summary
Nothing is known about Alex's life before or as the outbreak began. He may have lived in or near the location which would later be used as Terminus and somehow joined the survivors of Terminus.
Alex appears in Terminus and shows Rick's group around. He is held hostage after Rick becomes suspicious about the clothes the residents are wearing. He tries to reason with Rick and the others to let him go, but a Terminus resident attempts to shoot Rick as Gareth ordered him to. Rick moves out of the way and Alex takes the bullet instead.
Trivia
Alex is the last character to die in the fourth season.
He is also the first resident of Terminus to die.