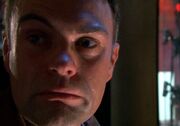 | | | |
| --- | --- | --- |
| " | The 21st Century is when it all changes... and we're not ready. | " |
| | ~ Hopkin's last words. | |
Alex Hopkins is a supporting character in "Fragments", the twelfth episode of Season Two of Torchwood. He is the leader of Torchwood Three who later kills the majority of the team after having visions of the future. He was portrayed by Julian Lewis Jones.
Biography
Hopkins was the head of Torchwood Three, also known as Torchwood Cardiff. During a hunt for an alien on New Years Eve 1999, he was approached by a little girl who gave him Object 1, an artefact which would allow him to see into the future. While waiting for the rest of his team at The Hub for a New Year's party, Hopkins opened Object 1, and had visions of The 456 and Miracle Day. Deciding that Torchwood wasn't ready for the 21st Century, Hopkins shot and killed his teammates Karen Baldwin, James Unsworth and Ariana when they arrived, before calling Torchwood boss Yvonne Hartman and telling her they weren't ready. When Jack Harkness, the final Torchwood Three member arrived, Hopkins didn't shoot him, as he was immortal and would be unaffected. Instead, Hopkins explained himself to Jack, telling him that the murders were "mercy killings" before shooting himself in the head.