Jurassic World: Dominion Dominates Fandom Wikis - The Loop
Play Sound
| | | |
| --- | --- | --- |
| " | We're special, Clark. People like us don't need boundaries and limitations. | " |
| | ~ Alicia to Clark Kent, Obsession | |
Alicia Baker is a recurring character appearing in the third and fourth seasons of the WB/CW television series Smallville.
A Smallville High student, Alicia had the ability to teleport that she acquired during the first meteor shower.
She was portrayed by Sarah Carter, who also portrayed adult Grace Gibbons on The Flash and Katherine in Skinwalkers.
Biography
Early life
On the day of the first meteor shower, Alicia was playing on the swings when a meteor hit near her. Suddenly she was in the middle of a cornfield having acquired the ability to teleport through the meteors.
Alicia had a reputation in high school of being very stuck up. In reality, she was afraid that if she ever became friends with anyone, they would discover her abilities.
Obsession
In the Season 3 episode "Obsession," Alicia is among the group of Smallville High School students on a field trip to LuthorCorp. She gets trapped in a malfunctioning elevator with Clark Kent, who's forced to use his powers in front of her to stop the elevator.
To prevent Clark's secret from being exposed, she reveals her own power of teleportation and teleports herself and Clark out of the elevator to the lobby. She promises to keep Clark's secret.
Clark and Alicia start to bond, and they slowly form a romance. Over time, Alicia became infatuated with Clark to the point of obsession, even teleporting into his bedroom in order to sleep with him.
Clark was severely reprimanded by his parents and Alicia apparently teleported away. However, she was actually spying on their conversation and learned of Clark's vulnerability to kryptonite.
However, Alicia became possessive of Clark to the point where she attacks her own father after he warns Clark about his daughter. Clark asks her if she harmed her father and they argue until she teleports away. Pretending to be wanted by the police, Alicia found Clark at an old warehouse and he once again tries to convince her to turn herself in.
She says they should just run away and Clark pretends to agree. He tried to trap her in a lead-painted room, but she figures out his plan and uses a meteor rock to subdue him. She leaves him incapacitated on the floor and walks out.
Alicia arrives at the Talon She and attempts to kill Lana Lang with a butcher knife, saying that Clark told her all the secrets he would never tell Lana. Clark arrives to stop her by dousing her in lead paint and she is unable to teleport away.
Unsafe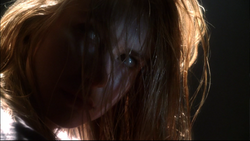 Alicia was taken to Belle Reve where she was treated by Dr. William McBride and appears in the Season 4 episode "Unsafe."
She is released from Belle Reve with a clean bill of mental health, and returns to Smallville, where she rekindles her relationship with Clark, who's initially wary of her.
She wanted to prove that she was better. When her therapist, Dr. William McBride, stalks her and insists that she not see Clark, Alicia tries to persuade Clark to leave Smallville with her.
When Clark refuses, she gives him a Red Kryptonite necklace, causing his uninhibited personality, Kal, to emerge.
Alicia and Kal are getting into a very heated moment when she asks him to slow down, because she's a virgin. Kal is not very interested in her trepidation, proclaiming, "That's great! So am I!" Eventually, he blurts that he wants Alicia to marry him and breaks her lead bracelet off.
Kal and Alicia teleport to Las Vegas to get married so they can consummate their relationship, but during the honeymoon, Alicia decides she wants "all of Clark" and removes the necklace, restoring Clark to normal.
Clark, however, is disgusted with Alicia's actions. She says she was desperate to be with him and Clark realizes that she might not be better after all. They argue until Alicia teleports away.
Later, when Clark is confronted by Dr. McBride at gunpoint in his barn, Alicia appears and teleports in front of Clark, taking a bullet fired by Dr. McBride at Clark, protecting Clark's secret and redeeming herself in Clark's eyes.
Sometime after that, Clark visits Alicia in the hospital and returns her lead bracelet (which prevented her from using her powers). In the final scene, Alicia comes by the Kent barn, where she and Clark reconcile, after which she breaks down in tears as Clark hugs her comfortingly.
Pariah
In the next episode, "Pariah," Alicia and Clark attend karaoke night at the Talon but receive a chilling reception. Alicia asked Lana to give her another chance, but Lana walked away. She later becomes the prime suspect after Lana and her boyfriend Jason Teague were attacked in a locked room.
In his loft, Clark receives a visit from Alicia. He asks her if she was in the alley and she again tells him that she had nothing to do with Lana's attack. However, she admits that she was not wearing her bracelet, because giving up her powers was like being in prison.
When Clark begins questioning her innocence, she tricks Clark into revealing his powers in front of Chloe Sullivan. Tragically, Alicia is murdered by Tim Westcott, a metahuman who turns out to be the one who attacked Lana and Jason earlier in an attempt to frame Alicia.
Alicia is buried in Smallville's cemetery.
Legacy
Alicia was mentioned when Lana asked Clark if they ever spend the night together and Clark assured her he didn't. Before Clark's five year reunion at Smallville High, the guidance counselor had files on deceased students that contained Alicia's, Tina Greer and Jake Pollen.
Trivia
According to the High School Yearbook, Alicia was most likely to "Travel the world".

Villains
Protagonists

Villains
Comics
Alex Luthor | Amanda Waller | Amazo | Anomaly | Anti-Monitor | Atlas | Atomic Skull | Ballser | Bane | Barbatos | Bernadeth | Bertron | Bizarro | Black Adam | Black Banshee | Black Mercies | Black Zero | Blanque | Blackrock | Blaze | Bloodsport | Bloody Mary | Brainiac | Bruno Mannheim | Boss Moxie | Bug-Eyed Bandit | Captain Boomerang | Captain Cold | Catwoman | Cheetah | Chemo | Chessure | Circe | Clayface | Coldcast | Commander Gor | Composite Superman | Cyborg Superman | Cythonna | Dabney Donovan | Dark Knights | Darkseid | Dax Novu | Deathstroke | Desaad | Deuce & Charger | Dev-Em | Devilance | The Devastator | Doctor Light | Doctor Manhattan | Doctor Polaris | Donna Troy | Doomsday | Earth-Man | Eclipso | The Enchantress | Epoch | Equus | Eradicator | Eradicator (Dark Multiverse) | Ernest Smalley | Eve Teschmacher | Faora Hu-Ul | Fastbak | Female Furies | Fifth-Dimensional Imps | Forgotten Villains | Francis Redhorn | Funky Flashman | Galactic Golem | Gilotina | Gorilla Grodd | Granny Goodness | Green Man | Glorious Godfrey | Gzptlsnz | H'El | Heat Wave | Hector Hammond | Hellgrammite | Helspont | Hfuhruhurr | Imperiex | Intergang | Jax-Ur | Joker | Jon Lane Kent | Justice League of Earth | Kaizen Gamorra | Kalibak | Kanto | Karkull | Killer Croc | King Shark | Kobra Cult | Ku Klux Klan | Lashina | Last Sun | Legion of Super-Villains | Lex Luthor | Livewire | Lobo | Mad Harriet | Magpie | Major Disaster | Major Force | Malice Vundabar | Manchester Black | Mandrakk | Mantis | Master Jailer | Masters of Disaster | Match | Maxima | Maxwell Lord | Mercy Graves | Metallo | Mister Oz | Mongal | Mongul | Mongul II | Morgaine Le Fey | Morgan Edge | Mr. Freeze | Mxyzptlk | Neron | Neutron | Nick O' Teen | Nimrod The Hunter | Overman | Parademons | Parallax | Parasite | Phantom Zoners | Planeteer | Plasmus | Plastique | Prankster | Preus | Princess Zala Jor-El | Prometheus | Psycho-Pirate | Queen Bee | Queen of Fables | Rampage | Rogol Zaar | Reverse-Flash | Royal Flush Gang | Samuel Lane | Scarecrow | Secret Society of Super Villains | Shockwaver | Shrapnel | Silver Banshee | Sinestro | Sleez | Solomon Grundy | Subjekt-17 | Suicide Squad | Superboy-Prime | Superdoom | Superman Revenge Squad | Superman (Earth-2) | Superman (The Dark Side) | The SuperMan | Spellbinder | Steppenwolf | Stompa | Talia al Ghul | Tarantula | Thaddeus Killgrave | Thunder & Lightning | Titano | Tobias Whale | Toyman | Two-Face | Ultra-Humanite | Ultraman | Ursa | Vincent Edge | Virman Vundabar | Vyndktvx | Weather Wizard | Whirlicane | Whisper A'Daire | William Dunn | Xa-Du | Zod
Theatrical Movies
Superman: Lex Luthor | Otis | Eve Teschmacher | General Zod | Non | Ursa | Brad Wilson
Superman II: General Zod | Non | Ursa | Lex Luthor | Otis | Eve Teschmacher | Rocky
Superman III: Ross Webster | Corrupted Superman | Vera Webster | Lorelei Ambrosia | Gus Gorman | Brad Wilson
Superman IV: The Quest for Peace: Lex Luthor | Nuclear Man
Superman Returns: Lex Luthor
Man of Steel: Sword of Rao (Dru-Zod, Faora-Ul, Nam-Ek, Jax-Ur, Tor-An, Car-Vex, Nadira, & Dev-Em II)
Batman v Superman: Dawn of Justice: Lex Luthor | Doomsday | Anatoli Knyazev | Mercy Graves | Cesar Santos | Amajagh | Joe Chill | Zod | Steppenwolf
Direct-to-video Movies
Superman: Brainiac Attacks: Brainiac | Lex Luthor | Mercy Graves | Mister Mxyzptlk
Superman: Doomsday: Lex Luthor | Superman Clone | Doomsday | Toyman | Mercy Graves
Superman/Batman: Public Enemies: Lex Luthor | Major Force | Metallo | Amanda Waller | Toyman | Solomon Grundy | Gorilla Grodd | Killer Frost | Lady Shiva | Giganta | Mongul | Captain Cold
Superman/Batman: Apocalypse: Darkseid | Female Furies (Granny Goodness, Gilotina, Mad Harriet, Lashina & Stompa) | Doomsday
Superman/Shazam!: The Return of Black Adam: Black Adam
All-Star Superman: Lex Luthor | Solaris | Parasite | Nasthalthia Luthor | Bar-El & Lilo-El
Superman vs. The Elite: The Elite (Manchester Black, Coldcast, Menagerie & Hat) | Atomic Skull
Superman: Unbound: Brainiac
The Death Of Superman: Doomsday | Lex Luthor | Intergang (Bruno Mannheim) | Mercy Graves | Cyborg Superman
Reign Of The Supermen: Cyborg Superman | Darkseid | Parademons | Lex Luthor | Mercy Graves
Superman: Red Son: Superman | Brainiac | Lex Luthor | Batman | Superior Man
Superman: Man of Tomorrow: Parasite | Lobo | Lex Luthor
Television
1940's Superman
Bulleteers | Inventor | Mechanical Monsters | Mad Scientist
Superman: The Animated Series
Lex Luthor | Brainiac | Darkseid | Metallo | Toyman | Intergang (Bruno Mannheim, Spider Spinelli, & Blaine) | Mercy Graves | Joey | Parasite | Dr. Vale | Lobo | Gnaww | Preserver | Kanto | Earl Garver | Jax-Ur | Mala | Prometheon | General Hardcastle | Weather Wizard | Livewire | Bizarro | Kurt Bowman | Luminus | Mister Mxyzptlk | Superman (Brave New Metropolis) | Lex Luthor (Brave New Metropolis) | Titano | Desaad | Kalibak | Joker | Harley Quinn | Karkull | Corey Mills | Suit | Maxima | De'Cine | Steppenwolf | Parademons | Female Furies (Granny Goodness, Stompa, Mad Harriet, & Lashina) | Volcana | Kurt | Starro | Roxy Rocket | Penguin | Bane | Riddler | Mad Hatter | Darci Mason | Sinestro | Unity | Reverend Amos Howell | Society of Shadows (Ra's al Ghul, Talia al Ghul, & Ubu)
Krypton
Brainiac | Zod | Doomsday | Lobo | Jax-Ur | Kol-Da | Lis-Ser | Daron-Vex | Araame | Lyta-Zod Clone
Superman & Lois
Tal-Rho | John Henry Irons | Leslie Larr | Mitch Anderson | Bizarro | Zeta-Rho | Superman (John Henry Irons' Earth) | Reno Rosetti | David Fuglestad | Atom-Man | Zod | Phillip Karnowsky | Kit Faulkner | Inverse Society (Ally Allston, Lana-Rho, Jonathan-El, & Erin Wu) | Intergang (Thaddeus Killgrave)
Video Games
Superman Arcade: Emperor Zaas | Lex Luthor | Metallo | Parasite
Superman: Shadow of Apokolips: Lex Luthor | Darkseid | Metallo | Livewire | Parasite | Kanto | Mercy Graves | Volcana
Mortal Kombat vs. DC Universe: Dark Kahn | Lex Luthor | Scorpion | Shang Tsung | Darkseid
Injustice: Superman | Brainiac | Doomsday | Aquaman | Black Adam | Sinestro | Lex Luthor | Joker | Darkseid
See Also
Legion of Super-Heroes Villains | Lobo Villains | Smallville Villains | Steel Villains | Superboy Villains | Supergirl Villains | Superwoman Villains