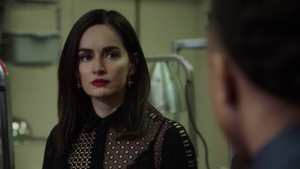 Alicia Jimenez is a supporting antagonist/Bigger Bad in Season 4, the secondary antagonist in season 5 and a supporting antagonist in season 6 of the Starz TV series Power. She is the leader of the Jimenez cartel along with her brother Diego Jimenez.
She is portrayed by Ana De La Reguera.
Biography
Alicia, Diego and their cartel were competition and bitter rivals of the Mexican drug lord Felipe Lobos and their cartel would attempt assassinations on the drug lord.
Season 4
After Lobos is killed by his former distributors James St. Patrick and Tommy Egan, She and her brother make their first appearance when they show up to one of their henchmen's house and punish him for snorting cocaine that he was supposed to sell by having him snort the drug, causing him to overdose and die. They also have the man's wife killed and she takes the man's daughter.
They later meet a drug dealer and assistant nightclub manager named Dre Coleman.
Season 5
???
Season 6
???
Community content is available under
CC-BY-SA
unless otherwise noted.