Obi-Wan Finale - The Loop
Play Sound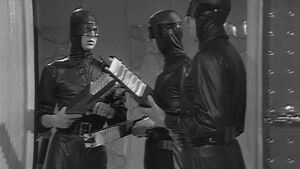 The Aliens are the main antagonistic faction in the Doctor Who story "The War Games". They have made a small number of appearances in other media.
History
The Aliens were a humanoid species led by the War Lord. At some point, they allied themselves with the renegade Time Lord known as the War Chief. The Aliens planned to dominate the galaxy and the War Chief offered them his knowledge of time travel, constructing space-time machines known as SIDRATs which were more advanced than TARDISes in some ways but with limited life spans.
Having identified humans as the most warlike species in the galaxy, the Aliens planned to recruit an army of them, brainwashed to serve them. To this end, they kidnapped soldiers from various wars in Earth history, placing them in simulations of their wars to see who the best fighters were. Aliens posed as their commanding officers, having hypnotic control over them. The glasses they wore to hypnotise their subjects may also have helped protect their eyes from extreme light, as all Aliens wore glasses or other eye covering.
The Aliens' brainwashing techniques were less than perfect, with a significant minority of the kidnapped humans breaking their conditioning and forming resistance groups. Stumbling upon the plan, the Second Doctor, Jamie and Zoe helped unite the resistance groups, who lured the Aliens' guards away from their central control complex. Despite the Doctor apparently luring them into a trap at the Aliens' behest, the rebels eventually seized control of the Aliens' base. The Doctor summoned help from the Time Lords, who returned the kidnapped soldiers to their own times and took the War Lord away for trial. A group of Aliens tried to rescue him, but they were captured and executed with him. The Aliens' home planet was imprisoned in a time loop.
The novel Timewyrm: Exodus revealed the Aliens eventually broke the loop with the help of the War Chief, who had been believed dead. Together, they made another plan to conquer the galaxy using brainwashed Nazi soldiers, planning to take control of Nazi Germany from behind the scenes and use it as a power base for interplanetary conquest. They were defeated again by the Seventh Doctor and Ace.
Trivia
Early storylines referred to the Aliens as "War Lords" but this was dropped from the finished story, with the War Lord merely being the name of their leader. The name "War Lords" was used in the novelisation and Timewyrm: Exodus, but the novel Divided Loyalties stated "Aliens" was the name by which they referred to themselves.