Jurassic World: Dominion Dominates Fandom Wikis - The Loop
Play Sound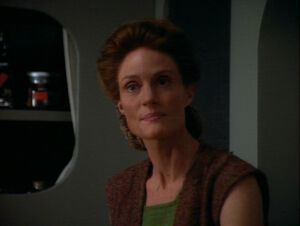 Alixus is the main antagonist of the Star Trek: Deep Space Nine episode "Paradise".
She was portrayed by Gail Strickland, who also played Janet Munroe in Walker, Texas Ranger.
Biography
Alixus was a philosopher and prolific author, who believed the human race had become stagnant and needed to get back to a simpler, technology free way of life. She was determined to prove her theories were correct and so involved a group of human colonists as the unwitting subjects of an experiment. En route to their intended destination, Gemulon V, Alixus arranged for their ship's life support to fail and them to land on a planet in the Ourellius system for repairs. Alixus and her son Vinod had placed a machine on the planet that generated a duonetic field that rendered all technology useless.
Alixus convinced the colonists that the field was a natural phenomenon and that they should abandon all technology and all hope for rescue and establish a rural settlement on the planet. Alixus' determination to prove her theories was so extreme that she deliberately denied the colonists access to advanced medical help, instead insisting they produce natural remedies. As a result, three colonists died as a result of a disease carried by local insects. She also instigated a brutal penal system, where crimes such as petty theft were punished by being placed in a metal box in the sun and left to dehydrate for hours.
Ten years after the colony was established, Commander Sisko and Chief O'Brien stumbled across it in the Runabout Rio Grande. They beamed down to investigate and became trapped on the surface. Alixus saw them as new recruits for the colony, and deactivated the duonetic field just long enough to beam up to the Rio Grande and set it on a course into a star. However, she had a hard time convincing Sisko and O'Brien to embrace their lifestyle, especially since another colonist, Meg, was dying. She tried to get a colonist named Cassandra to seduce Sisko, then made him stand watch overnight when he challenged her.
The natural remedies proved insufficient to save Meg and Alixus allowed her to die. She then drummed up hatred against O'Brien for wasting time trying to re-establish communications. She held Sisko responsible as his commanding officer and placed him in the box. She offered him water if he changed out of his Starfleet uniform into colony clothes and accepted their way of life. Sisko refused to submit to her however, voluntarily returning to the box.
O'Brien eventually overpowered Vinod and turned off the duonetic field, demonstrating technology was working again by phasering open the box Sisko had been imprisoned in. He revealed Alixus' duplicity to the other colonists. Alixus insisted she had acted to create a community and show them all a better way of living. Sisko challenged her over the deaths she had caused and she claimed she had suffered watching them die but knew casualties were inevitable. Sisko replied that she would pay for what she'd done. Major Kira hailed them from the Runabout Orinoco, which had just arrived in orbit. The colonists admitted Alixus had a point and chose to stay with their colony. Sisko and O'Brien took Alixus and Vinod away under arrest.

Villains
Movies
Star Trek: The Motion Picture: V'Ger: Klingons ( Barak )
Star Trek II: The Wrath of Khan: Augments (Khan & Joachim)
Star Trek III: The Search for Spock: Klingons (Kruge, Torg, Maltz) | Valkris
Star Trek IV: The Voyage Home: Whale Probe | Kamarag
Star Trek V: The Final Frontier: The One | Klingons (Klaa & Vixis) | Sybok
Star Trek VI: The Undiscovered Country: Khitomer Conspiracy (General Chang, Nanclus, Valeris, Admiral Cartwright, Patrick West, Harlan Burke, Thomas Samno)
Star Trek Generations: Tolian Soran | Klingons (Lursa & B'Etor)
Star Trek: First Contact: The Borg (Borg Queen)
Star Trek: Insurrection: Son'a (Ahdar Ru'afo & Gallatin) | Matthew Dougherty
Star Trek: Nemesis: Remans (Shinzon, Viceroy, Tal'aura, Suran & Donatra)
Star Trek (2009): Romulans (Nero & Ayel)
Star Trek Into Darkness: Khan | Alexander Marcus
Star Trek Beyond: Krall | Manas | Kalara
Television
Adam Soong | Ah-Kel | Alixus | Anan 7 | Apollo | Arctus Baran | Ardra | Arik Soong | Armus | Arne Darvin | Arthur Coleman | Augris | Automated Unit 3947 | Khan | Ba'ul | Balok | Banean Doctor | Barjan T'Or | Basso Tromac | Ben Finney | Benjamin Maxwell | Beta XII-A entity | Bok | The Borg | Bothan | Bractor | Broca | Brunt | Cardassian Union (Dukat, Damar & Cardassians) | Charlie Evans | Chu'lak | Claudius Marcus | Clown | Colonel Grat | Colonel Phillip Green | Crell Moset | Crystalline Entity | Culluh | Cyrus Redblock | D'Ghor | D'Nesh | Damrus | Danby Connor (MU) | Devinoni Ral | Denevan parasites | Dereth | Dexter Remmick | Doctor Chaotica | Dolim | Dr. Janice Lester | Dular Garos | Duras | Ekosian SS (Melakon) | Elim Garak (Mirror Universe) | Ellen Landry | Equinox EMH | Erik Pressman | Evil Kirk | Fallit Kot | Gabriel Lorca (MU) | Garth of Izar | Gary Mitchell | Gorgan | Gorn | Female Changeling | Gowron | Grebnedlog | Hagath | Harry Mudd | Henoch | Hikaru Sulu (MU) | Hoshi Sato (Mirror Universe) | House of Duras | Ibudan | Ilon Tandro | Imperial Starfleet | Ira Graves | J'Dan | Jabin | James Leyton | James T. Kirk | Jaro Essa | Jem'Hadar | Jev | John Frederick Paxton | John Gill | Jonathan Archer (Mirror Universe) | Jor Brel | Joran Dax | Julian Bashir (Changeling) | J'Vini | Karnas | Kathryn Janeway (Kyrian Recreation) | Kar Kantar | Kazon | Kell | Kennelly | Keyla | Kieran MacDuff | Kila Marr | Kira Nerys (Mirror Universe) | Kivas Fajo | Kodos the Executioner | Kol | Kol-Sha | Koloth | Konmel | Kor | Korok | Korris | Kras | Krax | Kunivas | L'Rell | Landru | Lazarus | Leland | Lenore Karidian | Letek | Locutus | Locutus | Lon Suder | Lore | Lurin | Lutan | Luther Sloan | M-113 Creature | Maab | Madred | Malcolm Reed (MU) | Malon | Maras | Marla McGivers | Martok (Changeling) | Martus Mazur | Matthew Harris | Matthew Ryan | Maxwell Burke | Mazarites | Menos | Michael Eddington | Michael Jonas | Miles O'Brien (Changeling) | Morag (Klingon) | Na'kuhl | Nagilum | Navaar | Neela | Neral | Neural Parasites | Nomad | Norah Satie | Nyota Uhura | Oracle of the People | Patar | Paul Stamets (MU) | Pavel Chekov (Mirror) | Pe'Nar Makull | Philippa Georgiou (MU) | Professor Moriarty | Q | Rao Vantika | Razik | Redjac | Regent of Palamar | Dr. Roger Korby | Rojan | Romulan Commander (Balance of Terror) | Ron Tracey | Rota Sevrin | Rudolph Ransom | Ruon Tarka | Sabin Genestra | Sela | Seska | Seven of Nine (KR) | Sharat | Shran | Silaran Prin | Silik | Sobi | Spawnmother (2364) | Sphere-Builders | Spock (Mirror Universe) | Sulan | Surata IV Vine | Sylvia Tilly | Sylvia (Ornithoid) | T'Kuvma | T'Paal | Tahna Los | Talosian Keeper | Talosians | Tarah | Tarr | Tedran | Terra Prime | The Albino | The Doctor (Kyrian Recreation) | Thot Gor | Thot Pran | Tomalak | Toral | Toran | Trabe | Traeg | Travis Mayweather (MU) | Trekal Darhe'el | Trelane | Tret | Tristan Adams | Ulis | Ux-Mal Entity | V'Las | V'latak | Vaal | Vaatrik Pallra | Valdore | Verad Kalon | Ves Alkar | Voq | Wesley Crusher | Weyoun | William Ross | Winn Adami | Worf (Mirror Universe) | Yuta | Zorn
Comic Books
Alfred Bleikoff | Enab
Novels
B'orel | Darok | Dralath | Dovraku | Kazanak | Korak | Krit | Lokog | Mettus | Romulan Praetor (2280s) | Spawnmother (2376) | Tron | True Sons of Antar | Valak | Zakal