Doctor Strange in The Multiverse o Madness - The Loop
Play Sound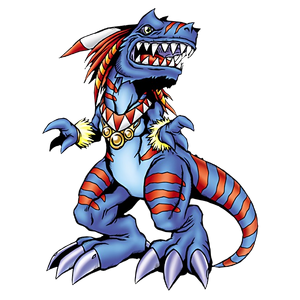 Allomon was a minor villain in Digimon Tamers.
Appearance
Allomon is an Armor Level Digimon that looks like an Allosaurus. He has blue skin, red stripes on his neck, legs and back, and feathers on his head and neck.
Abilities
Allomon can shoot strong flames from its mouth.
Biography
Digimon Tamers
An Allomon Bio-emerged from the Digital World to the real world and attacks Renamon and Rita. Rika and Renamon came and fought Allomon.
At first, Allomon had the advantage. Then Takato, Henry, Guilmon, and Terriermon came and wanted to help Rika and Renamon. Both of them refused and Renamon regains her strength. Rika then Digi-Modified Renamon, and she froze Allomon solid with her Frozen Wind attack, then finished him off with a Diamond Storm, and absorbed his data.
Digimon Adventure: (2020)
A group of Allomon along with a Tankdramon attacked several Woodmon, Budmon, and a Lopmon, who were living peacefully in a jungle. Two Allomon killed two Woodmon by burning one and crushing another one with its razor sharp teeth. Taichi and Greymon fought back against the Allomon, and Greymon grabbed a Megadramon's tail to kill three Allomon.
More Allomon fought back against MetalGreymon and almost overwhelmed him, but manage to shake em off by destroying one with his metal claw, and tricked one into being destroyed by Tankdramon before Sora and Garudamon arrived to help Taichi and MetalGreymon.
Later on in the series, as Valkyrimon sends Taichi into another dimension to the test to determine his courage, two red-eyed and black-colored Allomon attack Taichi and Botamon. They spew green flames instead of normal flames. They trap Taichi and Botamon with their fire, and a third Allomon joins in. Taichi, refusing to give up his courage, runs through the fire with Botamon's bubbles. Botamon briefly warp-digivolves to a glowing Greymon and destroys the three Allomon.
Attacks
Gallery
Trivia
Allomon's rival is Tyrannomon.
Allomon can armor-digivolve from Hawkmon.