Obi-Wan Finale - The Loop
Play Sound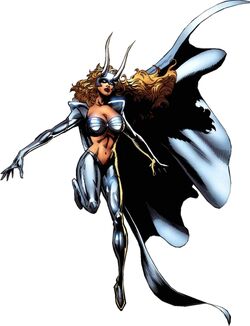 Amanda Sefton is a powerful sorceress and a villainess in the Marvel Comics.
After hearing that Kurt had killed Stephan, Jimaine changed her name to Amanda Sefton and began to date Kurt shortly after he joined the X-Men. She was kidnapped twice by Arcade but survived unscathed. After Margali tried to gain vengeance for Stephan's killing, Jimaine intervened and revealed herself to Kurt as Amanda. She aided the X-Men in battle numerous times. After an incident with the Beyonder, Nightcrawler broke up with Jimaine and the X-Men went into hiding before the issue could be resolved.
Jimaine also attempted to become Doctor Strange's disciple, leading into her mother having a brief confrontation with the Sorcerer Supreme.
After hearing Kurt had resurfaced as a member of Excalibur, Jimaine traveled to Muir to try and find the team. Jimaine stayed there until the residents were possessed by the Shadow King and after the Muir Island Saga, she retired from super-heroing. Kurt called her out of retirement to help retrieve Captain Britain from the time stream and she almost managed the feat, having to exchange Rachel for Brian. Kurt and Amanda then traveled to Germany where their mother had been captured by D'Spayre. Jimaine and Kurt saved Margali and Amanda followed him back to Excalibur.
Later, Jimaine convinced Shadowcat to give Magik's soulsword to her and she gave it to her mother for safekeeping. Margali used it to kill every magician ahead of her on the winding way and Margali joined the London branch of the Inner Circle of the Hellfire Club as the Red Queen. After defeating Margali, Jimaine vanished from Excalibur without telling anyone. Margali had secretly taken over her body while the true Jimaine was held captive by Belasco.
Jimaine eventually freed herself and defeated her mother once again. She realized that someone needed to rule Limbo and took the mantle herself, changing her codename to Magik in tribute to Illyana. She controls the stepping discs of Limbo as did Belasco, through magic.
The Archenemy arose as an attempt to catalog various magics. Magik was tricked by S'ym into gathering the other Lords of the Splinter Realms to combine forces against it. However, using their combined power Jimaine was able to send Nightcrawler (Kurt Wagner) to stop the machine powering it and then destroyed the being with her Soulsword.
Jimaine has learned that various evil powers seek to take the Soulsword. She briefly sent it to Nightcrawler for safe-keeping. Jimaine was attacked by Nightmare, but saved by her mother Margali. They then went to help Nightcrawler against another demon, Hive. Hive warned the Szardos family that a major war is brewing, and they and the Soulsword are at the center of it all.

Villains
Comics
0101 | Abomination | Absorbing Man | Absalom | Acolytes | Adversary | Ahab | A.I.M. | Akhenaten | Alan Lewis | Amanda Sefton | Ani-Mator | Annihilus | Apocalypse | Arcade | Archangel | Arclight | Arnim Zola | Avalanche | Awesome Android | Azazel | Badoon | Barbarus | Bastion | Baron Karza | Baron Wolfgang von Strucker | Batroc | Beef | Beetle | Black Tom Cassidy | Belasco | Beyonder | Black Box | Blastaar | Blockbuster | Blood Brothers | Bolivar Trask | Blob | Bogeyman | Boomerang | Brood | Brotherhood of Evil Mutants | Brainchild | Bulldozer | Bullseye | Burner | Cameron Hodge | Carnage | Cassandra Nova | Chameleon | Children of the Vault | Chimera | Clan Akkaba | Coach | Computo | Constrictor | Count Nefaria | Creeps | Crossbones | Dark Avengers | Dark Beast | Dark Phoenix | Dark X-Men | Deadpool | Demon Bear | Demogoblin | Doctor Doom | Doctor Octopus | Doctor Rice | Dracula | Egghead | Electro | Emma Frost | Erik Killmonger | Exodus | Fenris | Freedom Force | Friends of Humanity | Frightful Four | Frost Giants | Galactus | Gamesmaster | Graydon Creed | Green Goblin | Grizzly | Hammerhead | Hand | Hela | Hellfire Club | Henry Peter Gyrich | High Evolutionary | Hobgoblin | Holocaust | Horsemen of Apocalypse | HYDRA | Impossible Man | Jackal | Jack O' Lantern | J. Jonah Jameson | Juggernaut | Kang | Kid Omega | Kingpin | Killer Shrike | Klaw | Knull | Krakoa | Kraven | Lord Deathstrike | Lady Deathstrike | Legion | Leper Queen | Lilith | Living Monolith | Lizard | Loki | Mad Thinker | Madame Viper | Madelyne Pryor | Magneto | Magus | Malekith the Accursed | Mandarin | Marrow | Masters of Evil | Master Mold | Medusa | Maximus | Mesmero | Mikhail Rasputin | Mister Jip | Mister Negative | Mister Sinister | M.O.D.O.K. | Mojo | Mole Man | Moonstone | Morbius | Morlocks | Moses Magnum | Mutant Response Division | Mystique | Mysterio | N'Astirh | Namor | Nanny | Nekra | Neo | Nightmare | Nimrod | Nitro | Norman Osborn | Obnoxio the Clown | Omega Gang | Omega Red | Onslaught | Orphan-Maker | Ozymandias | Pandemonia | Phalanx | Piledriver | Pilgrimm | Predator X | Proteus | Psycho-Man | Puma | Punisher (Earth-95216) | Purifiers | Pyro | Quicksilver | Reavers | Red Ghost | Red Skull | Reverend Craig | Rhino | Right | Rogue | Ronan | Sabretooth | Sandman | Sat-Yr-9 | Sauron | Savage Land Mutates | Scarlet Witch | Scorpion | Sebastian Shaw | Selene Gallio | Sentinels | Serpent Society | Shadow King | Shadow Xavier | Shocker | Silver Sable | Silver Samurai | Simon Trask | Sinister Six | Skrulls | Spiral | Stranger | Stinger | Stryfe | Stephen Lang | Sublime | Sugarman | Super-Adaptoid | Super-Apes | Supreme Intelligence | Swarm | Thanos | Thunderball | Thunderbolt Ross | Tiger Shark | Tinkerer | Toad | Trevor Fitzroy | Typhoid Mary | Tyrannus | Unus | Vampires | Venom | Vulcan | Vulture | Wendigo | Whiplash | Whirlwind | White Rabbit | William Stryker | Wizard | Wrecker | X-Man | Xemnu | Xorn | Ymir | Zaladane
Movies
X-Men: Brotherhood of Mutants (Magneto, Mystique, Sabretooth & Toad) | Pyro
X2: William Stryker Jr. | Lady Deathstrike | Jason Stryker | Brotherhood of Mutants (Magneto, Mystique & Pyro)
X-Men: The Last Stand: Brotherhood of Mutants (Magneto, Dark Phoenix, Pyro, Juggernaut, Multiple Man & Mystique) | Omega Gang (Callisto, Psylocke, Quill, Arclight, Avalanche, Spike, Glob Herman & Phat) | Archangel
X-Men: First Class: Hellfire Club (Sebastian Shaw, Emma Frost, Azazel, Angel Salvadore & Riptide) | William Stryker Sr. | Magneto | Mystique
X-Men: Days of Future Past: Trask Industries (Bolivar Trask, William Stryker Jr. & Sentinels) | Magneto | Mystique | Toad | Horsemen of Apocalypse (Apocalypse)
X-Men: Apocalypse: Ashir En Sabah Nur/Horsemen of Apocalypse (Apocalypse, Magneto, Psylocke & Archangel) | Dark Phoenix | Mystique | William Stryker Jr. | Blob
X-Men: Dark Phoenix: Dark Phoenix | D'Bari (Vuk & Jones) | Brotherhood of Mutants (Magneto & Selene Gallio) | Mystique
The New Mutants: Essex Corp (Cecilia Reyes) | Demon Bear | Reverend Craig | Smiley Men
Television
X-Men (1992): Magneto | Sentinels | Sabretooth | Juggernaut | Apocalypse | Mesmero | Horsemen of Apocalypse | Mister Sinister | Omega Red | Brotherhood of Mutants (Mystique, Avalanche, Blob & Pyro) | Dark Phoenix | Master Mold | Bolivar Trask | Silver Samurai | Hellfire Club (Sebastian Shaw, Harry Leland, Jason Wyngarde, Donald Pierce & Emma Frost) | Reavers (Bonebreaker & Lady Deathstrike) | Supreme Intelligence | D'Ken | Deathbird | Graydon Creed | Red Skull | Toad | Sauron | High Evolutionary | Phalanx | Brood | Skrulls | Super-Adaptoid | Awesome Android | Mojo
X-Men: Evolution: Magneto | Brotherhood of Mutants (Mystique, Avalanche, Toad, Blob, Quicksilver & Scarlet Witch) | Pyro | Mastermind | HYDRA (Madame Viper & Omega Red) | David Haller | Juggernaut | Bolivar Trask | Sentinels | Apocalypse | Horsemen of Apocalypse | Mesmero | Sabretooth | Destiny | Arcade
Wolverine and the X-Men: Brotherhood of Mutants (Magneto, Mystique, Scarlet Witch, Juggernaut, Quicksilver, Avalanche, Blob, Pyro & Toad) | Dark Phoenix | Bolivar Trask | Sentinels | Sabretooth | Mutant Response Division (Colonel Moss) | Shadow King | Hellfire Club (Sebastian Shaw, Donald Pierce, Harry Leland, Selene Gallio, Emma Frost & Stepford Cuckoos) | Master Mold | Silver Samurai | Nitro | Mojo | Mister Sinister | Apocalypse
Marvel Anime: X-Men: Hellfire Club (Emma Frost, Martermind) | U-Men (Sublime)
Legion: Legion | Shadow King | Oliver Bird | Time Eaters
The Gifted: Sentinel Services (Jace Turner, Ed Weeks) | Trask Industries (Roderick Champell) | Ted Wilson | Hellfire Club (Fenris, Reeva Paype, Frost Sisters) | Benedict Ryan

Video Games
The Uncanny X-Men: Magneto | White Queen | Juggernaut | Sabretooth | Boomerang
X-Men: Madness in Murderworld: Arcade | Magneto | Juggernaut | Blob | White Queen | Mystique | Pyro | Wendigo | Silver Samurai
X-Men II: The Fall of the Mutants: Mystique | Avalanche | Blob | Pyro | Spiral
Spider-Man & X-men: Arcade's Revenge: Arcade | Carnage | Rhino | Apocalypse | Juggernaut | Selene Gallio | Sentinels | Master Mold
X-Men (1992): Brotherhood of Mutant Terrorists (Magneto, Mystique, White Queen, Juggernaut, Blob, Pyro, Wendigo & Living Monolith) | Sentinels
X-Men (1993): Magneto | Apocalypse | Sabretooth | Juggernaut | Sentinels | Ahab | Mojo
X-Men 2: Clone Wars: Apocalypse | Phalanx | The Brood | Magneto
X-Men: Children of the Atom: Magneto | Juggernaut | Omega Red | Silver Samurai | Sentinel | Spiral | Mojo
X-Men (1994): Magneto | Sebastian Shaw | Callisto | Sauron | Brood Queen | Omega Red
X-Men 2: Game Master's Legacy: Gamesmaster | Apocalypse | Mister Sinster | Exodus
X-Men: Mutant Apocalypse: Apocalypse | Juggernaut | Omega Red | Brood Queen | Sentinels | Acolytes | Exodus | Magneto
X-Men vs. Street Fighter: Apocalypse | Acolytes | Magneto | Juggernaut | Sabretooth | Rogue | Angel
X-Men 3: Mojo World: Mojo | Magneto | Master Mold | Trevor Fitzroy | Spiral
X-Men: The Ravages of Apocalypse: Apocalypse | Mister Sinister | Magneto
X-Men: Mutant Academy: Magneto | Mystique | Sabretooth | Toad
X-Men: Mutant Wars: Magneto | Mystique | Sabretooth | Apocalypse
X-Men: Wolverine's Rage: Lady Deathstrike | Sabretooth | Deadpool
X-Men: Mutant Academy 2: Magneto | Mystique | Sabretooth | Juggernaut | Toad
X-Men: Reign of Apocalypse: Apocalypse | Archangel | Magneto | Dark Phoenix | Juggernaut | Sabretooth | Silver Samurai | Sauron | Blob | Pyro
X-Men: Next Dimension: Brotherhood of Evil Mutants (Magneto, Sabretooth, Toad, Mystique, Juggernaut, Blob, Lady Deathstrike & Pyro) | Bastion | Sentinels
X2: Wolverine's Revenge: Magneto | Sabretooth | Wendigo | Lady Deathstrike | Juggernaut | Omega Red | Apocalypse | Mr. Sinister
X-Men Legends: Brotherhood of Evil Mutants/Acolytes (Magneto, Mystique, Blob, Pyro, Avalanche, Sabretooth & Toad) | Marrow | Juggernaut | Shadow King | Apocalypse | Master Mold
X-Men Legends II: Rise of Apocalypse: Apocalypse | The Brood | Lady Deathstrike | Sauron | Omega Red | Stepford Cuckoos | Deadpool | Mister Sinister | Dark Beast | Living Monolith | Mystique | Destiny | Blob | Emma Frost | Sebastian Shaw | Archangel | Selene Gallio | Quicksilver
X-Men The Official Game: Brotherhood of Mutants (Magneto, Sabretooth & Pyro) HYDRA (Silver Samurai & Deathstike) | Multiple Man | Jason Stryker | Master Mold | Mystique | Toad
See Also
Alpha Flight Villains | Deadpool Villains | Excalibur Villains | New Mutants Villains | Wolverine Villains | X-Factor Villains | X-Force Villains | X-Men Movie Villains