She-Hulk Trailer Dropped - The Loop
Play Sound
| | | |
| --- | --- | --- |
| " | NO! I am not taking no more charity...not from kin, not from friends, and especially not no damn government! The taste of it rots in my mouth! I'm gonna get me power over my own life! And heaven help the one who tries to take that power from me!! | " |
| | ~ Amanda Waller to her sister. | |
| | | |
| --- | --- | --- |
| " | What brings you to see the great and powerful Amanda Waller!? | " |
| | ~ Amanda Waller addressing those who greet her. | |
Amanda Blake Waller is a fictional character and an anti-villainous antagonist in the DC Comics universe.
She has had various and very different incarnations throughout her history, but is almost always a hard line top-ranking U.S. Government agent involved in clandestine operations. She has always been and more often than not, depicted as an middle age African-American woman, she tends to be of the heavy-set variety (though thinner, slimmer versions of her have also appeared in the New 52 storylines and her Arrowverse counterpart).
Biography
Origin
Born and raised in the crime-ridden Cabrini-Green area of Chicago, the woman that would become one of the U.S. government's highest ranking agents and most feared in the world was just an ordinary young woman as she married her sweetheart Joseph Waller at the age of 18.
Quickly having a large family, her first child Joe, Jr., then Damita, then the twins Martin and Jessie, and then her youngest child Coretta. While their lives were a financial struggle, and they often relied on social programs, they were happy.
However, tragedy would soon find its way into the Waller family as her oldest son Joe, Jr. was killed in a mugging gone wrong before he could start his college life, and her daughter Damita was raped and brutally murdered on her way home from church.
While they knew who was responsible, the police could not get a conviction with no witnesses and these enraged her husband as he set out to kill the rapist known as "Candyman", and both men shot each other dead.
It was through these tragic events that would change the woman known as Amanda Waller as she swore that the streets would take no more of her family and she wouldn't rely or accept help from the government that failed her family and pity from her mournful family.
With a renewed prospective on life, Waller took on multiple jobs as she worked hard to put all her younger children through college and then herself as she went through college and earned a political science degree. She then decided to go into politics, and approached a democratic congressional candidate named Marvin Collins to become his campaign director.
Thanks to her efforts and skills, Collins was elected and he took her with him to Washington as his aide. It was there that Waller discovered old files on a clandestine secret agency and supervisory organization called Task Force X while searching through old bills, and asked to revive the program as the colorfully named Suicide Squad under her direction.
When DC later rebooted their series into the New 52, Waller was given a much younger and slimmer appearance. In this continuity, other than the Suicide Squad, she is also involved with Team 7 and is one of the founders of the Justice League of America to undermine the main Justice League team (in this continuity the JLA is a separate group from the JL).
Following the release of the DC Rebirth event, Waller was returned to her more classic appearance.
Other Media
Television
Justice League Unlimited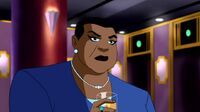 Amanda Waller was one of the stand-out major antagonists and anti-heroes of the Justice League Unlimited cartoon series. She is voiced by CCH Pounder.
In the show, Waller's history is reworked as an already influential government official and the puppeteer of a shadow government of Cadmus. In the show, Waller helped establish Cadmus after Superman's assault on Earth while controlled by Darkseid.
Though Superman would be freed from Darkseid's control and set out to make amends, many officials began to consider back-up plans to protect the US and world in general if one of their superheroes ever went rogue again. When Earth was invaded by the Justice Lords, versions of the Justice League from an alternate reality, officials previously only spooked began to put together an initiative called Cadmus and Amanda Waller was it's founding member.
Waller devoted herself to preparing for the next time the Justice League decided to turn on humanity by doing things like growing her own bio engineered super-heroes, programmed to be loyal to her.
Collecting DNA from Supergirl to make a clone loyal to Cadmus, spying on the members of the Justice League, kidnapping and attempting to brainwash mutants from around the country as an elite anti-superhero crew, freeing Lex Luthor from jail and indeed sponsoring his bid for President of the United States.
Lex Luthor gave Cadmus a one of a kind prototype gun created to permanently rob a meta-human's super powers used once to de-power the Justice Lords, in exchange for the gun and his financial backing of Cadmus to get it off the ground Amanda Waller was Luthor's friend in high-places, although she never fully trusted him.
Luthor turned on Waller and Cadmus by hijacking the Watch Tower's energy gun and attempting to destroy Cadmus' base of operations, fortunately Waller had the foresight to move the base before-hand fearing implication if the Justice League raided the base.
Waller followed up on a lead from Batman about the attack being controlled remotely from an outside source and quickly found the signal linking back to Luthor.
Luthor had set off the attack to implicate the Justice League, get rid of his debts to Cadmus and destroy any obstacles that could shut down his grand scheme to up-load his brain into an advanced android based on the Amazo android, granting him what her saw as god-hood.
Waller, arrived just in time to destroy the android Lex was planning on using as a new body. As the Justice League arrived, Amanda shot Luthor point blank range with an energy rifle as thanks for his treachery, however his body regenerates revealing Lex Luthor was an avatar for Brainiac.
Unbeknownst to Luthor, and his decisions up until that point had been subconsciously influenced by a piece of the evil AI implanted as genetic code in Luthor long ago.
Waller still had a back up-plan though and siced the Justice League on Brainiac/Luthor when he proved more than she was prepared for. After the experience and a public scandal revealing the influences of Cadmus in Luthor's political campaign Cadmus is shut down by the government, though Amanda and other heads of Cadmus are spared arrest much of their previous official powers were destroyed, reducing most of them to normal bureaucrats.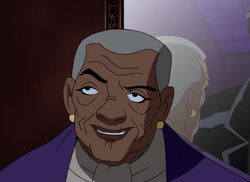 Amanda still had the right clout to make things happen behind the scenes though, just not in any official capacity anymore and knew enough to pretend she had been robbed of all her influence like the other members of Cadmus.
65 years after the events of Justice League Unlimited 's era, Amanda Waller is still alive and kicking as a retired but still powerful woman feared in underworld circles.
In her old age Waller admits that at a certain point she began to fear less of what would happen if the super-heroes of the world went rogue and more of what the world would do without them, this mentality would push her to clone Bruce Wayne and set up psychological conditions to turn the young boy into the next Batman.
The assassin she sent to kill the boy's apparent parents had a history with Batman and refused to pull the trigger, however the boy's father would be killed anyway due to Mr. Fixx and Derek Powers, triggering events as Waller had foreseen even without becoming an orphan like the original Batman.
Smallville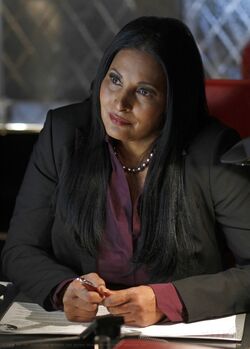 Waller was the ruthless White Queen of Checkmate who hired Cameron Mahkent aka Icicle II to hunt down and kill members of the Justice Society of America, using his anger towards them as a catalyst. She later sent clues to Lois Lane about the JSA and Icicle to which she began investigating.
After giving Lois time to investigate, Waller visited her, telling her that she planted the classified information and gave her a phone before leaving, all this without introducing herself. When Icicle failed in his mission, Waller took him into custody and revealed that he had actually succeeded, having been used in order to shake up the JSA and bring them back together.
She then aimed a gun at him and said "Welcome to the Suicide Squad" before shooting him. Waller then met up with Tess Mercer in the Checkmate base, at which point revealing that Tess is a Checkmate agent.
When Tess failed to kidnap Green Arrow and recruit him for the government, Waller threatened to terminate her. Later, at the Checkmate Castle, John Jones attempted to destroy the Kandorian blood sample that Dr. Chisholm took from the Kandorians, but Waller managed to trap the Martian Manhunter in a fire cage.
After taking her form to fool a Checkmate agent, John escaped. Later, while she was in her office, Waller had her men kidnap Watchtower. When The Blur came into Waller's office, she showed that she had Chloe and that she knew what she's doing.
When she finally made Clark step into the light to reveal his identity, the power went out. After Clark and Chloe escaped, the Martian Manhunter came back to the Castle and erased her memory of Clark, Chloe and Oliver's identities. She later found a Red Queen on her chess board and swiped it off in anger, realizing that she wasn't the only player in the game.
Waller had her men search for Tess until she realized where the Kandorians were. When she and her men had captured them, she ordered her men to execute the Kandorians. Clark, as the Blur, arrived just in time to save them all, except for Faora, whom Waller was talking with. As Waller was threatening Faora, Major Zod arrived and threw her into her car.
Fortunately for her, Clark came just in time to stop Zod from murdering Waller. Waller later told Stuart Campbell that he needed to stop his mission against Tess, but he ignored her order. Later, Zod tracked Checkmate down and, as Amanda and Stuart were in the hallway, he used his heat vision to burn down the castle, as she told him to run. Waller and Campbell's fate are unknown.
Young Justice
In this series, Amanda Waller is the former warden of Belle Reve Penitentiary. She is portrayed as tough, intimidating, stubborn, and harsh, traits required for a job as intense as warden of Belle Reve. Even when in danger, her strong attitude is just as salient, as exhibited during the prisoner takeover of Belle Reve.
Unbeknownst to Waller, Superboy and Miss Martian were on an undercover mission at Belle Reve as Tommy and Tuppence Terror.
When they arrived along with Mister Freeze and Icicle Jr., Waller introduced herself and explained the basics of the inhibitor collars. She then stated the prison walls were thick enough to hold even Superman, and went on to say that no one had and never would escape Belle Reve.
After a "scuffle" in the mess hall, Mr Freeze was brought before Waller. Freeze froze the prison guard, and broke his cuffs with an ice gauntlet. Waller activated his collar, but Freeze tore it off, and froze Waller's arm before she could fire a gun. Freeze shut down the collars and cell doors, allowing the prisoners to break free. He imprisoned Waller, Dr. Hugo Strange, and the guards in the cells.
When Brick taunted Waller about being warm due to their thermal uniforms, Waller incited him. Brick grabbed her through the bars menacingly, but Hugo Strange convinced him to spare her.
Eventually, Superboy (still disguised as Tommy Terror), turned the collars back on. This angered Icicle Sr., who assumed it was Waller. He confronted her and as he was about to land a blow, Hugo tackled Icicle Sr. and knocked him out. After Superboy walked out with Miss Martian, the prisoners were put back in their cells, and Belle Reve was scheduled to be up and running the next day.
Unfortunately, the breakout attempt cost Waller her job as warden, and she was replaced by Hugo Strange.
Arrow
Main article: Amanda Waller (Arrowverse)
In this series, Amanda Waller is the leader of A.R.G.U.S.. In the season 2 episode "Keep Your Enemies Closer", she captures John telling him that she needs his help to rescue Lyla Michaels as she has gone dark in Moscow. She parts with a statement saying that A.R.G.U.S. are aware of what Oliver and him do at night. In the end of the episode "Tremors" she takes Bronze Tiger out of jail and recruits him for the Suicide Squad.
Movies
Superman/Batman: Public Enemies
Amanda Waller appeared in the movie adaptation Superman/Batman: Public Enemies, with C. C. H. Pounder reprising her role. This version is depicted as more sympathetic, betraying President Lex Luthor's offer of a prominent position in his "new world order" to provide Superman and Batman with information that they can use to destroy a Kryptonite Asteroid that is heading for Earth.
Green Lantern (2011)
Amanda Waller appeared in the live-action Green Lantern film, where she is played by Angela Bassett. This version is a scientist who works for the DEO under the command of Senator Robert Hammond, father of xenobiologist Hector Hammond. After Hector acquires the power to read minds from exposure to Parallax's DNA (a fragment of which remained in the body of Abin Sur until Hammond was called on to perform the autopsy), contact with Waller reveals that her family was killed by an unidentified gunman when she was younger.
Hammond attempts to kill her using his telekinetic powers in a later confrontation, but Green Lantern caught her in a ring-formed 'pool' of water that subsequently carried her out of harm's way.
Batman: Assault on Arkham
Amanda Waller appeared as the main antagonist of the animated movie, Batman: Assault on Arkham.
For the backdrop of the story, Waller puts together the Suicide Squad on a special mission: infiltrate Arkham Asylum and take down the Riddler, who has stolen top secret information on potential Squad members from Waller's COMPUTER. During the mission, Killer Frost learns that there is no information and the real reason is Riddler knows how to disarm the nanobombs in their necks. After realizing that the Suicide Squad knows how to disarm the bombs, she attempts to detonate them, only to kill King Shark and Black Spider, the latter of whom at the time was in Batman's batsuit due to Batman stealing his so he could be closer to the Suicide Squad.
At the end of the film, Batman confronts her in her office where Batman warns her to stop her games and there won't be a next time, where she mocks Batman telling him that she is the U.S. Government and no one can stop them. Batman leaves in the middle of the conversation, which she calls Batman a punk after noticing it. When she turns around, she notices a laser sight on her chest and then moves between her eyes. She realizes it is Deadshot taking revenge and only lets out a shocked "motherf-" (the remaining part of the f-word is omitted due to it zooming out). Deadshot is shown in the distance with his daughter. As Deadshot is shown peering through his sniper, he says aloud "Bang" before smiling. Her assassination was prevented thanks to Batman.
Batman: Hush
Amanda Waller appeared in Batman: Hush. When captured Bane and took him to Arkham, she attempt to get him to join the Suicide Squad. However, Bane is out of control. With the help from Batman, Waller captured Bane and used the nerve toxin to knock Bane unconscious.
Suicide Squad: Hell to Pay
After Ocean Master's defeat by the Justice League, Amanda sent her Suicide Squad (Deadshot, Black Manta, Count Vertigo, Punch and Jewelee) to collect information from Tobias Whale. When Vertigo and Jewelee betrayed the Squad and killed Punch, Waller denotated their nano-bombs only blowing up Vertigo's head. When Jewelee was killed by Deadshot, Lawton told Waller to turn off the bomb which questioning Floyd if it's mercy killing or he went soft on her. Waller once again assemble the Suicide Squad (Deadshot, Harley Quinn, Captain Boomerang, Copperhead, Killer Frost and Bronze Tiger) to get a valuable card from Vandal Savage. However, Killer Frost was saved by Professor Zoom/Reverse Flash into getting the card themselves. When Copperhead holding the traitorous Killer Frost long enough, Waller denotated Copperhead's nano bomb to kill both Copperhead and Killer Frost. After the deaths of both Professor Zoom and Bronze Tiger, Deadshot gives Waller the now-useless card and gotten disgust when seeing Harley is still alive. Waller removed the nano bombs of the remaining members of the Suicide Squad and letting Lawton to be with his Daughter, Zoe.
DC Extended Universe
Main article: Amanda Waller (DC Extended Universe)
Amanda Waller appeared in the 2016 movie Suicide Squad where she convinced the government to allow her to create the Task Force X as a last way to save the United States from alien or metahuman attacks. Unintentionally, this results in the Enchantress being set loose on Midway City, where Waller and a group of ARGUS agents are located. The Squad is sent into the city to retrieve Waller but Waller's escape helicopter is destroyed by Enchantress' brother Incubus. Amanda is ultimately saved by the Suicide Squad but true to her cold-hearted nature forces the team members to resume their prison sentence but only gives Deadshot to spend his time with his daughter, Zoe.
Amanda Waler returned in the sequel film, The Suicide Squad.
Video games
Injustice
In the comic, Waller appears in the Quiver to capture Harley Quinn with her team. When Harley gets away, she orders Deadshot to stop her, to which he succeeded. Later when Harley wakes up in her base, she welcomes her in the Suicide Squad due to the fact that she now has a bomb in her head. When a guard is neutralized by a Batman, Amanda tells him that he can't go in a governement facility like that. This Batman imposter thanks her before shooting her and Rick in the face, killing them both.
DC Universe Online
Amanda Waller appears in DC Universe Online, voiced by Debra Cole. In the Bludhaven Alert, Major Force mentioned to the players that Waller has sent him to Bludhaven to gather samples of Chemo and to test out the Chemoids.
Batman: Arkham
Batman: Arkham Origins
Amanda makes a brief appearance in a post-credits cutscene in Batman: Arkham Origins. She enters Blackgate Prison and gives Deathstroke the opportunity to work for the Suicide Squad. Like her Justice League Unlimited counterpart, she is voiced by CCH Pounder.
Batman: Arkham Origins Blackgate
Waller appears as the overarching antagonist of Batman: Arkham Origins Blackgate. She anonymously hires Catwoman to break Bane out of Blackgate.
Batman: The Enemy Within
Main article: Amanda Waller (Telltale)
External Links
Amanda Waller at the Heroes wiki
Villains
Comics
2-Face-2 | Abraham Langstrom | Alfred Protocol | Alfred Stryker | Alice | Amanda Waller | Amygdala | Anarky | An Innocent Guy | Ares | Arkham Knight | Arnold John Flass | Azrael | Baby Doll | Bane | Barbatos | Bat-Mite | The Batman Who Laughs | Black Glove | Black Mask | Blockbuster I | Blockbuster II | Brain | Broker | Brother EYE | Calculator | Calendar Man | Castle Bat | Captain Fear | Captain Boomerang | Carmine Falcone | Catman | Catwoman | Cheetah | Cheshire | Circus of Strange | Clayface | Clayface (Matt Hagen) | Claything | Clock King | Clownface | Club of Villains | Cluemaster | Composite Superman | Condiment King | Copperhead | Cornelius Stirk | Court of Owls | Crazy Quilt | Crime Doctor | Curtis Base | Dark Archer | David Cain | David Li | Dark Knights | Deacon Blackfire | Deadshot | Dealer | Deathstroke | Dick Grayson (Frank Miller) | The Dawnbreaker | The Devastator | Dr. Crane | Doctor Death | Doctor Double X | Doctor Phosphorus | Doctor Randolph Porter | Donna Troy | Dr. Silversmith | The Drowned | Electrocutioner | Emperor Penguin | Enigma | Ernie Chubb | Faceless | Falcone Crime Family | Film Freak | Firebug | Firefly | Flamingo | Floronic Man | Gearhead | General Ulysses Armstrong | Gilda Dent | Gorilla Boss | Gotham City Police Department | Gillian B. Loeb | Great White Shark | The Grim Knight | Harley Quinn | Holiday | Holly Robinson | Humpty Dumpty | Hugo Strange | Hush | Instigator | Jack the Ripper | James Gordon, Jr. | Jason Todd | Jeremiah Arkham | Joe Chill | Joker | Judge of Owls | Joker's Daughter | Key | KGBeast | King of Cats | King Snake | King Tut | Killer Croc | Killer Moth | Kite Man | Lady Shiva | League of Assassins | Leviathan | Lex Luthor | Lock-Up | Lord Death Man | Mad Hatter | Mad Monk | Magpie | Malochia | Man-Bat | Mary Keeny | Maxie Zeus | Maxwell Lord | The Merciless | Merrymaker | Micheal Atkins | Monk | Mr. Bloom | Mr. Freeze | Mrs. Freeze | Mayor Oswald Cobblepot | Mr. Toad | Mr. Whisper | Mutants | Neo Joker | Neron | Nightslayer | Nocturna | Omega | Onomatopoeia | Orca | Outsider | Owlman | Phantasm | Penguin | Penny Plunderer | Phosphorus Rex | Planet Master | Poison Ivy | Polka Dot Man | Professor Arnold Hugo | Professor Pyg | Prometheus | Punchline | Ra's al Ghul | Ragdoll | Ratcatcher | Reaper | Red Death | Reverse-Flash | Riddler | Robin King | Roland Daggett | Roxy Rocket | Royal Flush Gang | Rupert Thorne | Saint Batman | Sal Maroni | Scarecrow | Sensei | Sewer King | Signalman | Simon Hurt | Sinestro | Snowman | Solomon Grundy | Spellbinder | Squid | Steeljacket | Suicide Squad | Talia al Ghul | Talon | Tally Man | Ten Eyed Man | Terrible Trio | Thomas Wayne | Tiger Shark | Timecode | Tony Zucco | Tweedledum and Tweedledee | Two-Face | Ubu | Vandal Savage | Ventriloquist | Ventriloquist II | Ventriloquist III | Vertigo | Victor Zsasz | Whisper A'Daire | White Rabbit | Wrath | The Wonderland Gang | Zebra-Man
Theatrical Movies
Batman (1966): Joker | Catwoman | Penguin | Riddler
Batman (1989): Joker | Joker Goons (Bob Hawkins) | Alicia Hunt | Carl Grissom | Max Eckhardt | Vinnie Ricorso | Joe Chill
Batman Returns: Penguin | Red Triangle Circus Gang (Organ Grinder, Poodle Lady, Tattooed Strongman, Stungun Clown, Thin Clown, Fat Clown, Sword Swallower, Knifethrower Dame & Fire Breather) | Max Shreck | Catwoman
Batman: Mask of the Phantasm: Phantasm | Joker | Salvatore Valestra | Arthur Reeves | Chuckie Sol | Buzz Bronski
Batman Forever: Riddler | Two-Face | Sugar | Spice | NygmaTech (Frogmen) | Neon Gang (Neon Gang Leader) | Salvatore Maroni
Batman & Robin: Poison Ivy | Mr. Freeze | Bane | Snowy Cones Thugs | Golums | Jason Woodrue
Batman Begins: Ra's al Ghul | League of Shadows (Ra's Decoy) | Scarecrow | Falcone Crime Family (Carmine Falcone, Victor Zsasz, & Arnold Flass) | Joe Chill
The Dark Knight: Joker | Joker's Thugs (Thomas Schiff, Chuckles, Kilson, Happy, Dopey, Grumpy & Bus Driver) | Two-Face | Sal Maroni | The Chechen | Gambol | Lau | Bank Manager | Michael Wuertz | Burmese Bandit
The Dark Knight Rises: League of Shadows (Bane, Talia al Ghul & Barsad) | Catwoman | John Daggett | Ra's al Ghul | Scarecrow
Batman v Superman: Dawn of Justice: Lex Luthor | Doomsday | Anatoli Knyazev | Mercy Graves | Cesar Santos | Amajagh | Joe Chill | Zod | Joker | Steppenwolf
Suicide Squad: Eyes of the Adversary (Enchantress & Incubus) | Suicide Squad (Deadshot, Harley Quinn, Captain Boomerang, El Diablo, Killer Croc, Slipknot & Amanda Waller) | Joker's Gang (Joker, Jonny Frost, Panda Man & Monster T) | Griggs
The Lego Batman Movie: Joker | Harley Quinn | Phantom Zone Criminals (Zod, Sauron, Kraken, Lord Voldemort, Agent Smith, Jaws, Gremlins, Medusa, Lord Vampyre, Wicked Witch of the West, & Daleks) | Catwoman | Poison Ivy | Two-Face | Bane | Riddler
Joker: Clowns (Joker, Clown & Ambulance Clown) | Penny Fleck | Wall Street Three | Penny Fleck's Boyfriend
The Batman (2022): Riddler | Falcone Crime Syndicate (Carmine Falcone, Penguin, William Kenzie, Vinnie, & The Twins) | Catwoman | Salvatore Maroni | Riddler's Cult | Pete Savage | Gil Colson | Don Mitchell Jr. | Train Gang | Joker
Direct-to-video Movies
Batman & Mr. Freeze: SubZero: Mr. Freeze | Dr. Gregory Belson
Batman Beyond: Return of the Joker: Joker | The Jokerz (Chucko, Dee-Dee, Ghoul, Bonk, & Woof) | Harley Quinn
Batman: Mystery of the Batwoman: Penguin | Bane | Rupert Thorne | Carlton Duquesne
The Batman vs. Dracula: Dracula | Penguin | Joker
Superman/Batman: Public Enemies: Lex Luthor | Major Force | Metallo | Amanda Waller | Toyman | Solomon Grundy | Gorilla Grodd | Killer Frost | Lady Shiva | Giganta | Mongul | Captain Cold
Batman: Under the Red Hood: Jason Todd | Joker | Black Mask | Ra's al Ghul | Riddler | Ms. Li
Superman/Batman: Apocalypse: Darkseid | Female Furies (Granny Goodness, Gilotina, Mad Harriet, Lashina & Stompa) | Doomsday
Batman: Year One: Batman | Gotham City Police Department (Commissioner Loeb, Arnold John Flass, & Howard Branden) | Falcone Crime Family (Carmine Falcone & Johnny Viti) | Catwoman | Joker
Batman: The Dark Knight Returns: Batman | Joker | Mutant Leader | Ellen Yindel | Harvey Dent | Selina Kyle
Son of Batman: Deathstroke | League of Assassins (Ra's al Ghul & Talia al Ghul) | Ubu | Killer Croc | Man-Bats
Batman: Assault on Arkham: Suicide Squad (Amanda Waller, Deadshot, Harley Quinn, Captain Boomerang, Killer Frost, King Shark, Black Spider, KGBeast) | Joker | Riddler | Penguin | Scarecrow | Victor Zsasz | Bane | Two-Face | Poison Ivy
Lego DC Comics: Batman Be-Leaguered: Bat-Mite | Lex Luthor | Joker | Penguin | Man-Bat | Captain Cold | Black Manta
Batman vs. Robin: Court of Owls (Samantha Vanaver, Talon, Owls Lieutenant, & Talon Warriors) | Dollmaker
Batman Unlimited: Animal Instincts: Animalitia (Penguin, Killer Croc, Man-Bat, Cheetah & Silverback)
Batman Unlimited: Monster Mayhem: Joker | Scarecrow | Clayface | Silver Banshee | Solomon Grundy
Batman: Bad Blood: League of Assassins (Talia al Ghul, The Heretic, Onyx, Firefly, Tusk, Mad Hatter, Electrocutioner, Hellhound, Calculator, & Killer Moth) | Black Mask
Batman: The Killing Joke: Joker | Vinnie & Joe | Paris Franz
Batman Unlimited: Mechs vs. Mutants: Penguin | Mr. Freeze | Cheetah | Hush | Mad Hatter | Two-Face | Bane | Chemo | Killer Croc | Clayface | Joker | Dr. Kirk Langstrom
Batman: Return of the Caped Crusaders: Joker | Penguin | Riddler | Catwoman | Archer | Black Widow | Bookworm | Clock King | Egghead | False Face | King Tut | Louie the Lilac | Mad Hatter | Minstrel | Mr. Freeze | Sandman | Shame | Siren
Batman and Harley Quinn: Harley Quinn | Poison Ivy | Floronic Man
Batman vs. Two-Face: Two-Face | Hugo Strange | Catwoman | King Tut | Bookworm | Joker | Penguin | Riddler | Clock King | Egghead | Mr. Freeze | Shame | Harley Quinn
Scooby-Doo! & Batman: The Brave and the Bold: Riddler | Clayface | Joker | Mr. Freeze | Catwoman | Penguin | Harley Quinn | Poison Ivy
Batman: Gotham by Gaslight: Jack the Ripper | Barbara-Eileen Gordon | Selina Kyle | Harvey Dent | Hugo Strange
Batman Ninja: Joker | Harley Quinn | Catwoman | Gorilla Grodd | Bane | Penguin | Poison Ivy | Deathstroke | Two-Face
Batman vs. Teenage Mutant Ninja Turtles: Foot Clan (Shredder & Baxter Stockman) | League of Assassins (Ra's al Ghul & Ubu) | Joker | Penguin | Harley Quinn | Mr. Freeze | Scarecrow | Two-Face | Poison Ivy | Bane
Batman: Hush: Riddler/Hush | Catwoman | Poison Ivy | Bane | Joker | Harley Quinn | Clayface | Scarecrow | Lex Luthor | Lady Shiva | Two-Face | Penguin | Mr. Freeze | Thomas Elliot
Batman: Death in the Family: Jason Todd | Joker | Black Mask | Ra's al Ghul | Riddler | Talia al Ghul | Cheetah | Two-Face
Batman: Soul of the Dragon: Nāga | Kobra (Jeffery Burr, Schlangenfaust, Lady Eve, King Snake & Rip Jagger) | Ben Turner | Shiva | Richard Dragon | Jade
Batman: The Long Halloween: Holiday | Falcone Crime Family (Carmine Falcone, Milos Grapa, Alberto Falcone, Johnny Viti, & Sofia Falcone) | Two-Face | Joker | Solomon Grundy | Salvatore Maroni | Poison Ivy | Penguin | Scarecrow | Mad Hatter | San Ho Hui (Mickey Chen) | Calendar Man | Catwoman

Television
Batman 60s show
Joker | Penguin | Catwoman | Riddler | Mr. Freeze | The Archer | Black Widow | Bookworm | Egghead | Clock King | Queenie Goldstein | Sandman | Dr. Cassandra Spellcraft | Cabala | Minstrel | Shame | False Face | The Siren | Undine | Chandell & Harry | King Tut | Louie the Lilac | Mad Hatter | Cornelia | Baby Jane Towser | Lydia Limpet | Zelda the Great | The Puzzler | Olga, Queen of Cossacks | Marsha, Queen of Diamonds | Lord Marmaduke Ffogg | Lady Penelope Peasoup | Ma Parker | Freddy the Fence | Lola Lasagne | Nora Clavicle | Colonel Gumm | Minerva | Killer Moth | Calamity Jan
1970s Filmation series
Joker | Catwoman | Penguin | Riddler | Clayface | Mr Freese | Sweet Tooth
Batman: The Animated Series
Joker | Two-Face | Harley Quinn | Penguin | Catwoman | Rupert Thorne | Riddler | Poison Ivy | Scarecrow | Mad Hatter | Killer Croc | Clayface | Ra's al Ghul | Mr. Freeze | Man-Bat | Ventriloquist and Scarface | Roland Daggett | Clock King | Bane | Hugo Strange | Lloyd Ventrix | Kyodai Ken | Baby Doll | Emile Dorian | Red Claw | Boss Biggis | Sewer King | Talia al Ghul | Maxie Zeus | Lock-Up | Professor Milo | Count Vertigo | Daniel Mockridge | Grant Walker | Gil Mason | Arkady Duvall | Ferris Boyle | Arnold Stromwell | Tony Zucco | H.A.R.D.A.C. | Randa Duane | Batman Clone | Calendar Girl
The Batman (2004)
Joker | Penguin | Bane | Catwoman | Mr. Freeze | Ethan Bennett | Killer Croc | Man-Bat | Firefly | Riddler | Punch & Judy | Kabuki Twins | Hugo Strange | Cluemaster | Ragdoll | Temblor | Poison Ivy | Tony Zucco | Count Vertigo | Harley Quinn | Maxie Zeus | Clayface | Gearhead | Francis Grey | Killer Moth | D.A.V.E. | Dracula | Rumor | Toyman | Mirror Master | Lex Luthor | Black Mask | Sinestro | Joker 2.0 | Prank | Killgore Steed | Team Penguin | Julie | Spellbinder | Blaze | The Joining | Cosmo Krank | Marty Slacker | Scorn | Wrath | Metallo | Shadow-Thief
Batman: The Brave and The Bold
Joker | Music Meister | Catwoman | Penguin | Mr. Freeze | Clayface | Riddler | Poison Ivy | Lex Luthor | Flower Children | Harley Quinn | Morgaine Le Fey | Sweet Tooth | Queenie Goldstein | Bane | Kite Man | Black Manta | Gentleman Ghost | Major Force | Mirror Master | Metallo | Brainiac | Flamingo | Mxyzptlk | Toyman | Thinker | Doctor Sivana | Mister Mind | Black Adam
Beware the Batman
Anarky | Ra's al Ghul | Deathstroke | Harvey Dent | Killer Croc | Simon Stagg | Professor Pyg and Mr. Toad | Man-Bat | Cypher | Magpie | Lady Shiva | Tobias Whale | Phosphorus Rex | Lunkhead | Humpty Dumpty | Silver Monkey | Key | Bethany Ravencroft | Daedalus Boch | Junkyard Dog | Sapphire Stagg | Matatoa | Anatol Mykros
Harley Quinn
Harley Quinn | Poison Ivy | Joker | Scarecrow | Queen of Fables | Darkseid | Parademons | Penguin | Mr. Freeze | Bane | Lex Luthor | Killer Croc | Man-Bat | Riddler | Deadshot | Calendar Man | Condiment King | Solomon Grundy | Kite Man | Doctor Psycho | Clayface | King Shark | Nora Fries | Sy Borgman | Doctor Trap | Frank the Plant | Felix Faust | Toyman | Metallo | Livewire | Parasite | Black Adam | Captain Cold | Gorilla Grodd | Black Manta | Cheetah | Giganta | Sinestro | Maxie Zeus | Eris | KGBeast | Two-Face | Catwoman | Nick Quinzel | Sharon Quinzel
Video Games
LEGO Batman
Joker | Penguin | Riddler | Harley Quinn | Catwoman | Two-Face | Bane | Clayface | Killer Croc | Killer Moth | Mad Hatter | Man-Bat | Mr. Freeze | Poison Ivy | Scarecrow | Ra's al Ghul | Hush
Lego Batman 2: DC Super Heroes
Joker | Lex Luthor | Harley Quinn | Riddler | Two-Face | Catwoman | Bane | Penguin | Poison Ivy | Scarecrow | Captain Boomerang | Clayface | Mad Hatter | Ra's al Ghul | Killer Croc | Bane | Killer Moth | Mr. Freeze | Man-Bat | Hush | Zod | Sinestro | Brainiac | Gorilla Grodd | Captain Cold | Black Manta | Black Adam | Bizarro
Lego Batman 3: Beyond Gotham
Brainiac | Joker | Lex Luthor | Cheetah | Solomon Grundy | Firefly | Killer Croc | Sinestro | Atrocitus | Larfleeze | Star Sapphire | Composite Superman | Bane | Arkillo | Condiment King | Music Meister | Captain Cold | Black Adam | Black Manta | Black Hand | Bronze Tiger Cyborg Superman | Deadshot | Deathstroke | Lobo | Dex-Starr | Doomsday | Gorilla Grodd | Harley Quinn | Hush | Kalibak | Killer Moth | Man-Bat | Mad Hatter | Manchester Black | Metallo | Mr. Freeze | Mr. Mxyzptlk | Parasite | Penguin | Poison Ivy | Polka Dot Man | Red Hood | Riddler | Toyman | The Trickster | Ultra-Humanite | Catwoman | Bizarro | Amanda Waller | Captain Boomerang | El Diablo | King Shark | Killer Frost | Plastique | Terra | Zod | Faora | Joker | Two-Face | Ra's al Ghul | Bane | Catwoman | Scarecrow | Blight | Joker | Mr. Freeze | Arrow Deathstroke | Malcolm Merlyn | Darkseid
Injustice
Superman | Wonder Woman | Yellow Lantern | The Flash | Aquaman | Nightwing | Cyborg | Raven | Solomon Grundy | Catwoman | Bane | Black Adam | Deadshot | Poison Ivy | Scarecrow | Joker | Deathstroke
See Also
Arkhamverse Villains | Batgirl Villains | Batman Beyond Villains | Batwoman Villains | Birds of Prey Villains | Catwoman Villains | Gotham Villains | Harley Quinn Villains | Nightwing Villains | Outsiders Villains | Red Hood Villains | Robin Villains | Telltalle Batman Villains
Villains
Comics
Alex Luthor | Amanda Waller | Amazo | Anomaly | Anti-Monitor | Atlas | Atomic Skull | Ballser | Bane | Barbatos | Bernadeth | Bertron | Bizarro | Black Adam | Black Banshee | Black Mercies | Black Zero | Blanque | Blackrock | Blaze | Bloodsport | Bloody Mary | Brainiac | Bruno Mannheim | Boss Moxie | Bug-Eyed Bandit | Captain Boomerang | Captain Cold | Catwoman | Cheetah | Chemo | Chessure | Circe | Clayface | Coldcast | Commander Gor | Composite Superman | Cyborg Superman | Cythonna | Dabney Donovan | Dark Knights | Darkseid | Dax Novu | Deathstroke | Desaad | Deuce & Charger | Dev-Em | Devilance | The Devastator | Doctor Light | Doctor Manhattan | Doctor Polaris | Donna Troy | Doomsday | Earth-Man | Eclipso | The Enchantress | Epoch | Equus | Eradicator | Eradicator (Dark Multiverse) | Ernest Smalley | Eve Teschmacher | Faora Hu-Ul | Fastbak | Female Furies | Fifth-Dimensional Imps | Forgotten Villains | Francis Redhorn | Funky Flashman | Galactic Golem | Gilotina | Gorilla Grodd | Granny Goodness | Green Man | Glorious Godfrey | Gzptlsnz | H'El | Heat Wave | Hector Hammond | Hellgrammite | Helspont | Hfuhruhurr | Imperiex | Intergang | Jax-Ur | Joker | Jon Lane Kent | Justice League of Earth | Kaizen Gamorra | Kalibak | Kanto | Karkull | Killer Croc | King Shark | Kobra Cult | Ku Klux Klan | Lashina | Last Sun | Legion of Super-Villains | Lex Luthor | Livewire | Lobo | Mad Harriet | Magpie | Major Disaster | Major Force | Malice Vundabar | Manchester Black | Mandrakk | Mantis | Master Jailer | Masters of Disaster | Match | Maxima | Maxwell Lord | Mercy Graves | Metallo | Mister Oz | Mongal | Mongul | Mongul II | Morgaine Le Fey | Morgan Edge | Mr. Freeze | Mxyzptlk | Neron | Neutron | Nick O' Teen | Nimrod The Hunter | Overman | Parademons | Parallax | Parasite | Phantom Zoners | Planeteer | Plasmus | Plastique | Prankster | Preus | Princess Zala Jor-El | Prometheus | Psycho-Pirate | Queen Bee | Queen of Fables | Rampage | Rogol Zaar | Reverse-Flash | Royal Flush Gang | Samuel Lane | Scarecrow | Secret Society of Super Villains | Shockwaver | Shrapnel | Silver Banshee | Sinestro | Sleez | Solomon Grundy | Subjekt-17 | Suicide Squad | Superboy-Prime | Superdoom | Superman Revenge Squad | Superman (Earth-2) | Superman (The Dark Side) | The SuperMan | Spellbinder | Steppenwolf | Stompa | Talia al Ghul | Tarantula | Thaddeus Killgrave | Thunder & Lightning | Titano | Tobias Whale | Toyman | Two-Face | Ultra-Humanite | Ultraman | Ursa | Vincent Edge | Virman Vundabar | Vyndktvx | Weather Wizard | Whirlicane | Whisper A'Daire | William Dunn | Xa-Du | Zod
Theatrical Movies
Superman: Lex Luthor | Otis | Eve Teschmacher | General Zod | Non | Ursa | Brad Wilson
Superman II: General Zod | Non | Ursa | Lex Luthor | Otis | Eve Teschmacher | Rocky
Superman III: Ross Webster | Corrupted Superman | Vera Webster | Lorelei Ambrosia | Gus Gorman | Brad Wilson
Superman IV: The Quest for Peace: Lex Luthor | Nuclear Man
Superman Returns: Lex Luthor
Man of Steel: Sword of Rao (Dru-Zod, Faora-Ul, Nam-Ek, Jax-Ur, Tor-An, Car-Vex, Nadira, & Dev-Em II)
Batman v Superman: Dawn of Justice: Lex Luthor | Doomsday | Anatoli Knyazev | Mercy Graves | Cesar Santos | Amajagh | Joe Chill | Zod | Steppenwolf
Direct-to-video Movies
Superman: Brainiac Attacks: Brainiac | Lex Luthor | Mercy Graves | Mister Mxyzptlk
Superman: Doomsday: Lex Luthor | Superman Clone | Doomsday | Toyman | Mercy Graves
Superman/Batman: Public Enemies: Lex Luthor | Major Force | Metallo | Amanda Waller | Toyman | Solomon Grundy | Gorilla Grodd | Killer Frost | Lady Shiva | Giganta | Mongul | Captain Cold
Superman/Batman: Apocalypse: Darkseid | Female Furies (Granny Goodness, Gilotina, Mad Harriet, Lashina & Stompa) | Doomsday
Superman/Shazam!: The Return of Black Adam: Black Adam
All-Star Superman: Lex Luthor | Solaris | Parasite | Nasthalthia Luthor | Bar-El & Lilo-El
Superman vs. The Elite: The Elite (Manchester Black, Coldcast, Menagerie & Hat) | Atomic Skull
Superman: Unbound: Brainiac
The Death Of Superman: Doomsday | Lex Luthor | Intergang (Bruno Mannheim) | Mercy Graves | Cyborg Superman
Reign Of The Supermen: Cyborg Superman | Darkseid | Parademons | Lex Luthor | Mercy Graves
Superman: Red Son: Superman | Brainiac | Lex Luthor | Batman | Superior Man
Superman: Man of Tomorrow: Parasite | Lobo | Lex Luthor
Television
1940's Superman: Bulleteers | Inventor | Mechanical Monsters | Mad Scientist
Superman: The Animated Series: Lex Luthor | Brainiac | Darkseid | Metallo | Toyman | Intergang (Bruno Mannheim, Spider Spinelli, & Blaine) | Mercy Graves | Joey | Parasite | Dr. Vale | Lobo | Gnaww | Preserver | Kanto | Earl Garver | Jax-Ur | Mala | Prometheon | General Hardcastle | Weather Wizard | Livewire | Bizarro | Kurt Bowman | Luminus | Mister Mxyzptlk | Superman (Brave New Metropolis) | Lex Luthor (Brave New Metropolis) | Titano | Desaad | Kalibak | Joker | Harley Quinn | Karkull | Corey Mills | Suit | Maxima | De'Cine | Steppenwolf | Parademons | Female Furies (Granny Goodness, Stompa, Mad Harriet, & Lashina) | Volcana | Kurt | Starro | Roxy Rocket | Penguin | Bane | Riddler | Mad Hatter | Darci Mason | Sinestro | Unity | Reverend Amos Howell | Society of Shadows (Ra's al Ghul, Talia al Ghul, & Ubu)
Krypton: Brainiac | Zod | Doomsday | Lobo | Jax-Ur | Kol-Da | Lis-Ser | Daron-Vex | Araame | Lyta-Zod Clone
Superman & Lois: Tal-Rho | Ally Allston | John Henry Irons | Leslie Larr | Mitch Anderson | Bizarro | Zeta-Rho | Superman (John Henry Irons' Earth) | Reno Rosetti | David Fuglestad | Atom-Man | Zod | Phillip Karnowsky | Kit Faulkner | Intergang (Thaddeus Killgrave)
Video Games
Superman Arcade: Emperor Zaas | Lex Luthor | Metallo | Parasite
Superman: Shadow of Apokolips: Lex Luthor | Darkseid | Metallo | Livewire | Parasite | Kanto | Mercy Graves | Volcana
Mortal Kombat vs. DC Universe: Dark Kahn | Lex Luthor | Scorpion | Shang Tsung | Darkseid
Injustice: Superman | Brainiac | Doomsday | Aquaman | Black Adam | Sinestro | Lex Luthor | Joker | Darkseid
See Also
Legion of Super-Heroes Villains | Lobo Villains | Smallville Villains | Steel Villains | Superboy Villains | Supergirl Villains | Superwoman Villains

Villains
Comics
Abra Kadabra | Amanda Waller | Amos Fortune | Amazo | Anarky | Angle Man | Anti-Justice League | Anti-Monitor | Appellaxians | Aquarius | Asmodel | Atomic Skull | Axis America | Bane | Barbatos | The Batman Who Laughs | Black Adam | Black Hand | Black Lantern Corps | Black Manta | Black Spider | Blockbuster | Blue Beetle (Dark Multiverse) | Brainiac | Bronze Tiger | Brother Eye | Brotherhood of Evil | Cadre | Calculator | Calendar Man | Captain Boomerang | Captain Cold | Castle Bat | Catalyst | Catman | Catwoman | Cheetah | Chemo | Cheshire | Circe | Clayface | Clock King | Cluemaster | Copperhead | Construct | Cosmic King | Crazy Quilt | Crime Syndicate of America | Crucifer | Cyborgirl | Darkseid | Dark Supergirl | Deadline | Deadshot | Deathstroke | Demolition Team | Demons Three | Despero | Doctor Alchemy | Doctor Destiny | Doctor Double X | Doctor Impossible | Doctor Light | Doctor Manhattan | Doctor Phosphorus | Doctor Polaris | Doctor Poison | Doctor Psycho | Doctor Regulus | Doctor Sivana | Dominators | Doomsday | Dragon King | Dumas | Earthworm | Eclipso | Electrocutioner | Elite | Enchantress | Epoch the Lord of Time | Eradicator | Evil Star | Fatal Five | Felix Faust | Fiddler | Floronic Man | Funky Flashman | Gamemnae | General Eiling | Genocide | Gentleman Ghost | Golden Gilder | Goldface | Gorilla Grodd | Gunhawk | Harley Quinn | Hector Hammond | Hellgrammite | Human Flame | Hyena | Ibac | Icicle | Imperiex | Injustice League | Intergang | I.Q. | Johnny Sorrow | Joker | Key | Killer Croc | Killer Frost | Killer Moth | Kite Man | Kobra | Kobra Cult | Krona | League Buster | League of Assassins | Legion of Doom | Lex Luthor | Libra | Lobo | Mad Hatter | Mageddon | Magpie | Manchester Black | Manhunters | Matter Master | Maxwell Lord | Mekanique | Merlyn | Mirror Master | Mister Atom | Mister Mind | Mister Nebula | Mr. Freeze | Mongul | Mordru | Morgaine Le Fey | Multiplex | Nekron | Nekron (Pre-Crisis) | Neron | Neutron | Nightshade | Obsidan | Ocean Master | Overman | Parademons | Parasite | Penguin | Perpetua | Pied Piper | Plastique | Poison Ivy | Professor Ivo | Professor Zoom | Prometheus | Psycho-Pirate | Queen Bee | Queen of Fables | Ra's al Ghul | Rainbow Raider | Rama Khan | Red Death | Red King | Red Panzer | Red Volcano | Riddler | Roulette | Royal Flush Gang | Satanus | Scarecrow | Science Squad | Secret Society of Super Villains | Shadow-Thief | Shaggy Man | Shark | Simon Stagg | Sinestro | Solomon Grundy | Star Sapphire | Starbreaker | Starro | Steppenwolf | Suicide Squad | Superboy-Prime | Tattooed Man | Terra-Man | T.O. Morrow | Two-Face | Ultra-Humanite | Vandal Savage | Volcana | Warp | Weather Wizard | White Martians | Wizard
Theatrical Movies
Justice League: Steppenwolf | Parademons (Parademon Scout) | Darkseid | Black Clad (Black Clad Alpha) | Lex Luthor | Deathstroke | Ares
Zack Snyder's Justice League: Darkseid's Elite (Darkseid, Steppenwolf, DeSaad, Granny Goodness, & Parademons) | Lex Luthor | Deathstroke | Black Clad (Black Clad Alpha) | Ares | Joker
Direct-to-video Movies
Justice League: The New Frontier: The Centre | Captain Cold
Justice League: Crisis on Two Earths: Crime Syndicate of America (Owlman, Ultraman, Superwoman, Johnny Quick, Power Ring, J'edd J'arkus, & Black Power) | Lex Luthor | White Martians | President Slade Wilson | Rose Wilson
Justice League: Doom: Legion of Doom (Vandal Savage, Bane, Cheetah, Ma'alefa'ak, Metallo, Mirror Master, & Star Sapphire) | Royal Flush Gang (King, Queen, Jack, Ace, & Ten)
Justice League: The Flashpoint Paradox: Professor Zoom | Wonder Woman | Aquaman | Ocean Master | Black Manta | Deathstroke | Lex Luthor | Clayface | Rogues (Captain Cold, Captain Boomerang, Top, Heat Wave, & Mirror Master) | Joker | Yo-Yo
Justice League: War: Darkseid | Desaad | Parademons | Ocean Master
Justice League: Throne of Atlantis: Ocean Master | Black Manta | The Trench | Lex Luthor
Justice League League: Gods and Monsters: Will Magnus
Justice League vs. Teen Titans: Trigon | Legion of Doom (Lex Luthor, Cheetah, Solomon Grundy, Toymaster, & Weather Wizard) | Atomic Skull | Ra's al Ghul
Justice League vs. the Fatal Five: Fatal Five (Emerald Empress, Mano, Persuader, Tharok, & Validus) | Bloodsport | Two-Face | Harley Quinn | Poison Ivy

Video Games
Injustice: Gods Among Us: One Earth Regime (Superman, Wonder Woman, Yellow Lantern, The Flash, Aquaman, Cyborg, Shazam, Nightwing, Raven, Hawkgirl, Sinestro, Black Adam, Killer Frost, Solomon Grundy, Catwoman, Bane, & Doomsday) | Joker | Lex Luthor | Deathstroke | Ares
Injustice 2: Brainiac | Gorilla Grodd | Captain Cold | Reverse Flash | Cheetah | Deadshot | Poison Ivy | Bane | Scarecrow | One Earth Regime (Superman, Wonder Woman, Aquaman, Cyborg, Nightwing & Black Adam) | Dr. Fate | The Lords of Order | Grid | Atrocitus | Joker | Darkseid
See Also
Justice League Dark Villains | Justice League International Villains | Justice Society Villains | Young Justice Villains

Villains
Comics
Black Manta | Black Spider | Brain | Brick | Bronze Tiger | Brother Blood | Brotherhood of Evil | Catman | Cheshire | China White | Clayface | Clock King | Count Vertigo | Constantine Drakon | Crumbler | Cupid | Deadshot | Deathstroke | Double Down | Dr. Light | Dr. Sivana | Electrocutioner | Jinx | Joker | Killer Croc | Kodiak | Komodo | League of Assassins | Longbow Hunters | Mammoth | Merlyn | Metallo | Mister Freeze | Neron | Onomatopoeia | Professor Ojo | Professor Zoom | Prometheus | The Queen | Ra's al Ghul | Red Dart | Richard Dragon | Riddler | Royal Flush Gang | Skylark | Solomon Grundy | Stinger | Warp | Wizard
Movie
DC Showcase: Green Arrow: Merlyn | Count Vertigo
Television
Season 1: Oliver Queen | Malcolm Merlyn | China White | Edward Fyers | Billy Wintergreen | Adam Hunt | Constantine Drakon | Martin Somers | Deadshot | Jason Brodeur | Royal Flush Gang | Huntress | Frank Bertinelli | Firefly | Ted Gaynor | Count Vertigo | Amanda Waller
Season 2: Oliver Queen | Deathstroke | Isabel Rochev | Brother Blood | Anthony Ivo | League of Assassins (Nyssa al Ghul & Al-Owal) | China White | Dollmaker | Mayor | Officer Daily | Amanda Waller | Count Vertigo | Cyrus Gold | H.I.V.E. (Milo Armitage) | William Tockman | Suicide Squad (Bronze Tiger, Deadshot & Shrapnel) | Huntress | Frank Bertinelli | Clinton Hogue
Season 3: Oliver Queen | League of Assassins (Ra's al Ghul, Maseo Yamashiro, Nyssa al Ghul & Chase) | Matthew Shrieve | Amanda Waller | China White | Werner Zytle | Komodo | Cooper Seldon | Captain Boomerang | Roy Bivolo | Danny Brickwell | Deathstroke | Michael Amar | Joseph Cray | Suicide Squad (Deadshot & Cupid) | H.I.V.E. (Mina Fayad) | Jake Simmons
Season 4: Oliver Queen | H.I.V.E. (Damien Darhk, Ruvé Darhk, Malcolm Merlyn, Andrew Diggle, Milo Armitage, Phaedra Nixon, Mina Fayad, Thomas, Demolition Team, Michael Amar, Danny Brickwell & Cooper Seldon) | Shadowspire (Baron Reiter, Conklin & Joyner) | Amanda Waller | Lonnie Machin | Jeremy Tell | Rogue Anti-Vigilante Task Force (Liza Warner) | Vandal Savage | Calculator | Cupid | Brie Larvan | Evelyn Sharp
Season 5: Oliver Queen | Prometheus | Talia al Ghul | Evelyn Sharp | Black Siren | Konstantin Kovar | Ishmael Gregor | Tobias Church | Lonnie Machin | Ragman | Janet Carroll | J.G. Walker | Derek Sampson | Scimitar | Vigilante | Dominators | Laura Washington | Hideo Yamane | Sean Sonus | James Edlund | China White | Liza Warner | Cupid | Anatoly Knyazev | Captain Boomerang | Justin Claybourne
Season 6: Oliver Queen | (Ricardo Diaz, Black Siren, Anatoly Knyazev, Kimberly Hill & Sam Armand) | Cayden James | Sheck | Vigilante | Alex Faust | Jackals (Joe Wilson & Nylander) | Dark Arrow | Overgirl | Eobard Thawne | Prometheus (Earth-X) | Quentin Lance (Earth-X) | Athena
Season 7: Oliver Queen | Ninth Circle (Emiko Queen, Dante, Virgil & Beatrice) | Kevin Dale | Ricardo Diaz | Longbow Hunters (Red Dart, Kodiak & Silencer) | Stanley Dover | Danny Brickwell | Derek Sampson | John Deegan | Monitor | A.M.A.Z.O. | Psycho-Pirate | Ghost Initiative (Joe Wilson, China White & Cupid)
Season 8: Oliver Queen | Anti-Monitor | Deathstroke Gang (John Diggle, Jr. & Grant Wilson) | Monitor | Athena | Edward Fyers | Billy Wintergreen | Shadow Demons | Lex Luthor

Video Games
Injustice: Superman | Killer Frost | Solomon Grundy | Sinestro | Black Adam | Wonder Woman | Nightwing | Raven | Catwoman | The Flash | Bane | Gorilla Grodd

Villains
Comics
Amanda Waller | Bane | Basilisk | Black Adam | Black Manta | Black Mask | Black Spider | Blackguard | Bloodsport | Brainiac | Bronze Tiger | Captain Boomerang | Captain Cold | Cheetah | Chemo | Chronos | Clock King | Copperhead | Count Vertigo | Crime Syndicate of America | Darkseid | Deadshot | Deathstroke | Doomsday | Doctor Light | Eclipso | The Enchantress | Electrocutioner | Female Furies | Gentleman Ghost | Giganta | Harley Quinn | Heat Wave | James Gordon, Jr. | Javelin | Joker | Joker's Daughter | KGBeast | Killer Croc | Killer Frost | King Shark | Klarion | Kobra Cult | Lobo | Magpie | Major Disaster | Major Force | Man-Bat | Manchester Black | Manhunters | Master Jailer | Match | Mindboggler | Nocturna | Owlman | Parademons | Parasite | Plasmus | Plastique | Poison Ivy | Professor Zoom | Punch and Jewelee | Shrapnel | Solomon Grundy | Starro | Suicide Squad | Talon | Tattooed Man | Thinker | Ultraman | Vandal Savage | Weasel | Zebra-Man | Zod
Movies
Suicide Squad: Eyes of the Adversary (Enchantress & Incubus) | Suicide Squad (Deadshot, Harley Quinn, Captain Boomerang, El Diablo, Killer Croc, Slipknot & Amanda Waller) | Joker's Gang (Joker, Jonny Frost, Panda Man & Monster T) | Griggs
Suicide Squad: Hell To Pay: Professor Zoom | Suicide Squad (Amanda Waller, Deadshot, Harley Quinn, Captain Boomerang, Bronze Tiger, Copperhead, Punch, Jewelee, & Count Vertigo) | Killer Frost | Blockbuster | Silver Banshee | Vandal Savage | Scandal Savage | Professor Pyg | Tobias Whale | League of Assassins (Deathstroke) | Two-Face
The Suicide Squad: The Thinker | Starro | Silvio Luna | Corto Maltese Armed Forces (Mateo Suarez & Vera) | Suicide Squad (Bloodsport, Ratcatcher 2, Harley Quinn, Peacemaker, King Shark, Polka Dot Man, Captain Boomerang, Blackguard, Mongal, Javelin, The Detachable Kid, Weasel, Savant & Amanda Waller) | Kaleidoscope | Calendar Man | Double Down | Karma | Ratcatcher | Polka Dot Man's Mother | Bloodsport's Father
See Also
Harley Quinn Villains | Peacemaker Villains
Villains
Comics
Amanda Waller | Basilisk | Black Mask | Bud and Lou | Catwoman | Calendar Man | Clock King | Dark Knights | Deadshot | Egg Fu | The Enchantress | Female Furies | Floronic Man | Gotham Sirens | Granny Goodness | Harley Quinn | Hugo Strange | James Gordon, Jr. | Joker | Joker's Daughter | King Shark | Lord Death Man | Mercy Graves | Penguin | Poison Ivy | Punchline | Riddler | Scarecrow | Sportsmaster | Suicide Squad | Two-Face | Zod
Movies
Suicide Squad: Eyes of the Adversary (Enchantress & Incubus) | Suicide Squad (Deadshot, Harley Quinn, Captain Boomerang, El Diablo, Killer Croc, Slipknot & Amanda Waller) | Joker's Gang (Joker, Jonny Frost, Panda Man & Monster T) | Griggs
Batman and Harley Quinn: Harley Quinn | Poison Ivy | Floronic Man
Suicide Squad: Hell To Pay: Professor Zoom | Suicide Squad (Amanda Waller, Deadshot, Harley Quinn, Captain Boomerang, Bronze Tiger, Copperhead, Punch, Jewelee, & Count Vertigo) | Killer Frost | Blockbuster | Silver Banshee | Vandal Savage | Scandal Savage | Professor Pyg | Tobias Whale | League of Assassins (Deathstroke) | Two-Face
Birds of Prey (and the Fantabulous Emancipation of One Harley Quinn): Harley Quinn | Huntress | Black Mask | Victor Zsasz | Stefano Galante | Carlo Rossi | Happy | Joker
The Suicide Squad: The Thinker | Starro | Silvio Luna | Corto Maltese Armed Forces (Mateo Suarez & Vera) | Suicide Squad (Bloodsport, Ratcatcher 2, Harley Quinn, Peacemaker, King Shark, Polka Dot Man, Captain Boomerang, Blackguard, Mongal, Javelin, The Detachable Kid, Weasel, Savant & Amanda Waller) | Kaleidoscope | Calendar Man | Double Down | Karma | Ratcatcher | Polka Dot Man's Mother | Bloodsport's Father
Television
Harley Quinn | Poison Ivy | Clayface | King Shark | Joker | Scarecrow | Queen of Fables | Penguin | Killer Croc | Man-Bat | Doctor Psycho | Riddler | Two-Face | Catwoman | Bane | Mr. Freeze | Deadshot | Solomon Grundy | Calendar Man | Condiment King | Felix Faust | Lex Luthor | Toyman | Metallo | Livewire | Parasite | Black Adam | Captain Cold | Gorilla Grodd | Black Manta | Cheetah | Giganta | Sinestro | Maxie Zeus | Eris | KGBeast | Bud and Lou | Nora Fries | Sy Borgman | Doctor Trap | Frank the Plant | Kite Man | Nick Quinzel | Sharon Quinzel | Darkseid | Parademons
Video Games
Batman: Arkham Knight: Harley Quinn: Harley Quinn | Poison Ivy | Penguin
Injustice: Superman | Poison Ivy | Deadshot | Scarecrow | Wonder Woman | Joker

Villains
Protagonists