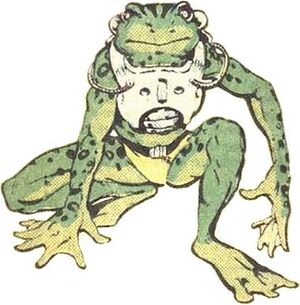 Amphibius is a human/frog hybrid mutate with the leg strength and nautical abilities of a frog, a member of The Savage Land Mutates and a villain in the Marvel Universe and an enemy towards Ka-Zar, and the X-Men.
Biography
Amphibius was one of several of his people who were artificially mutated through technological means by the self-styled mutant master of magnetism, Magneto, so as to grant them superhuman powers. On Magneto's behalf, the Mutates battled Ka-Zar, the Lord of the Savage Land, and his allies the X-Men. After the destruction of Magneto's machines by the X-Man Marvel Girl, the Mutates returned to their original non-superhuman states.
Renaming themselves the Beast Brood, the Mutates proceeded to capture scientists in the hope of forcing them to mutate other Savage Land natives into superhuman beings. The  Avengers and the Norse goddess Sif came and defeated the Beast Brood, delivering them to legal authorities in Chile.
One of the Mutates, Brainchild, assumed leadership of the group. Under Brainchild's leadership, the Mutates clashed with the winged X-Man named Angel, the costumed crimefighter Spider-Man, and Ka-Zar. The trio of heroes were searching for Karl Lykos, the human alter ego of the mutant pterosaur known as Sauron. Captured by the Mutates, the heroes were freed by Lykos but at a terrible cost, as Lykos became Sauron once more.
Zaladane subsequently led the Mutates in raids on Antarctic research stations, plundering Chilean cities, and kidnapping scientists in an effort to cement her seat of power in the Savage Land. Zaladane then dispatched the mutates to kidnap the former X-Man named Polaris, who was unknowingly Zaladane's sister. Zaladane stole her mutant ability to manipulate magnetism and the Mutates clashed with the X-Men who had come to rescue their missing friend.
When the X-Men were helping a band of Saurids return to the Savage Land, Brainchild seized the opportunity to settle an old score with the weather-manipulating X-Man named Storm. BThe X-Man Sage subsequently reversed Brainchild's mental manipulation of Storm, and the Mutates were turned over to the leaders of both the Saurids and the Savage Land tribes, who seek for all denizens of the jungle to coexist in peace.
Television History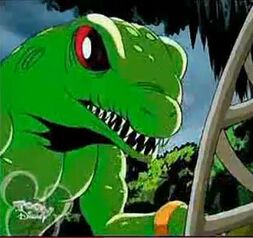 Amphibius appeared in the X-Men animated series. Originally a native of the Savage Land but was transformed by Magneto into one of his Mutates. When Magneto disappeared, Amphibius and the other Mutates found a new master, Mister Sinister. After the defeat of Barbarus and Vertigo, Sinister dispatched Amphibius to capture Magneto and Professor X who had become stranded in the Savage Land. He was successful until the company was attacked by an enraged elasmosaur, where Magneto and Professor X escaped.
Gallery

Villains
Comics
Abomination | Adversary | Ahab | A.I.M. | Apocalypse | Arcade | Archangel | Arkon | Avalanche | Azazel | Badoon | Bastion | Batroc | Belasco | Beyonder | Blastaar | Blood Brothers | Bolivar Trask | Blob | Brotherhood of Evil Mutants | Bullseye | Cameron Hodge | Cassandra Nova | Children of the Vault | Clan Akkaba | Count Nefaria | Crossbones | Dark Beast | Dark Phoenix | Dark X-Men | Deadpool | Doctor Doom | Doctor Octopus | Dracula | Emma Frost | Exodus | Fenris | Freedom Force | Friends of Humanity | Galactus | Graydon Creed | Hand | Hela | Hellfire Club | High Evolutionary | Holocaust | Horsemen of Apocalypse | HYDRA | Impossible Man | Juggernaut | Kang | Kid Omega | Kingpin | Krakoa | Kraven | Lady Deathstrike | Legion | Leper Queen | Lilith | Living Monolith | Lizard | Loki | Madelyne Pryor | Magneto | Magus | Mandarin | Marrow | Masters of Evil | Master Mold | Mesmero | Mikhail Rasputin | Mister Jip | Mister Sinister | Mojo | Mole Man | Morlocks | Moses Magnum | Mutant Response Division | Mystique | N'Astirh | Nanny | Nekra | Neo | Nimrod | Nitro | Obnoxio the Clown | Omega Gang | Omega Red | Onslaught | Orphan-Maker | Ozymandias | Pandemonia | Phalanx | Pilgrimm | Predator X | Proteus | Psycho-Man | Purifiers | Pyro | Quicksilver | Reavers | Red Ghost | Red Skull | Rhino | Right | Rogue | Sabretooth | Sat-Yr-9 | Sauron | Savage Land Mutates | Scarlet Witch | Sebastian Shaw | Selene Gallio | Sentinels | Serpent Society | Shadow King | Shadow Xavier | Shocker | Silver Sable | Silver Samurai | Simon Trask | Skrulls | Spiral | Stranger | Stryfe | Stephen Lang | Sublime | Sugarman | Super-Adaptoid | Supreme Intelligence | Toad | Trevor Fitzroy | Typhoid Mary | Tyrannus | Unus | Vulcan | Wendigo | William Stryker | Xemnu | Xorn
Movies
X-Men: Brotherhood of Mutants (Magneto, Mystique, Sabretooth & Toad) | Pyro
X2: William Stryker Jr. | Lady Deathstrike | Jason Stryker | Brotherhood of Mutants (Magneto, Mystique & Pyro)
X-Men: The Last Stand: Brotherhood of Mutants (Magneto, Dark Phoenix, Pyro, Juggernaut, Multiple Man & Mystique) | Omega Gang (Callisto, Psylocke, Quill, Arclight, Avalanche, Spike, Glob Herman & Phat) | Archangel
X-Men: First Class: Hellfire Club (Sebastian Shaw, Emma Frost, Azazel, Angel Salvadore & Riptide) | William Stryker Sr. | Magneto | Mystique
X-Men: Days of Future Past: Trask Industries (Bolivar Trask, William Stryker Jr. & Sentinels) | Magneto | Mystique | Toad | Horsemen of Apocalypse (Apocalypse)
X-Men: Apocalypse: Ashir En Sabah Nur/Horsemen of Apocalypse (Apocalypse, Magneto, Psylocke & Archangel) | Dark Phoenix | Mystique | William Stryker Jr. | Blob
Dark Phoenix: Dark Phoenix | D'Bari (Vuk & Jones) | Brotherhood of Mutants (Magneto & Selene Gallio) | Mystique
Community content is available under
CC-BY-SA
unless otherwise noted.