She-Hulk Trailer Dropped - The Loop
Play Sound
This article's content is marked as Mature
The page Mature contains mature content that may include coarse language, sexual references, and/or graphic violent images which may be disturbing to some. Mature pages are recommended for those who are 18 years of age and older.


If you are 18 years or older or are comfortable with graphic material, you are free to view this page. Otherwise, you should close this page and view another page.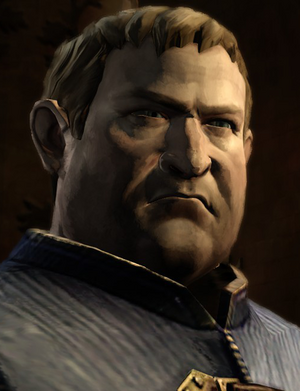 Andros is an antagonist in Telltale Games' Game of Thrones videogame. He is a merchant lord who also serves as Ambassador to House Whitehill. He serves as a supporting antagonist of Mira Forrester's storyline.
Biography
Andros is first seen in King's Landing, and is extremely rude to Mira who is there to sell Forrester Ironwood. After the discussion, he leaves and is not seen again.
Later, he attends Tommen's Coronation Feast in this episode and is overheard arguing with his business partner, Rickard Morgryn. It is learned, through Mira eavesdropping on his conversations, that Andros has been made an exclusive Kings Landing contact by the Whitehills. Andros remains cocky, boastful, and egotistical about this new opportunity, despite it souring his relationship with Morgryn. Andros has now taken an interest in taking on Lyman Lannister as his new business partner.
Andros is distrustful of Mira and the House she comes from, and yells at Lyman when he catches them talking. He shouts at Mira to stay away from Lyman, attracting attention from nearby guests and crowds. It is later learned that Andros betrayed his new business partner by revealing to others that Lyman was addicted to drinking the milk of the poppy. Because of Lyman's anger at this discovery, Lyman reveals that Andros has been buying hundreds of sellswords so that he can create an army for the Whitehills. The plan is to use the army to march against Ironrath.
Andros gets angry when he finds out that Mira told Lyman about his betrayal. He threatens Mira, saying that she's made "a grave error" by making an enemy out of him. When Mira shows even more defiance, he turns bright red before storming away. Andros was mentioned by Sera and Mira after the coronation feast, Sera blames Mira for making Andros yell and create a scene during the feast, regardless of the player's relationship with Sera, she would side with Andros and won't believe Mira's reasons.
He was mentioned again when Mira meets Cersei, Cersei asks Mira to become one of Tyrion's witness about the Purple Wedding and not mention her own name, in return Cersei would take care of the Whitehill sellswords for House Forrester, stating that she 'never liked the man anyway'. The only time Andros is seen in this episode is near the end getting executed by the headsman. It seems Cersei truly did take care of the Whitehill soldiers and executed Lord Andros.

Villains
Video Games
Toy Mafia (Hugh Bliss) | Brady Culture | Soda Poppers | Jurgen | Strong Bad | The King of Town | Sultry Buttons | Uzi Bazooka | Craig | Trogdor | Queen Bee | Bumblebees | Pudgie-Woo and Tinkie-Wee | Monty Muzzle | The Narrator | General Skun-ka'pe | Anton Papierwaite | Sammun-Mak | "Junior" Max | Charlie Ho-Tep | Billy Yoder | Dr. Laura Sorkin | Miles Chadwick | Walkers | Stranger | Save-Lots Bandits | St. John Family (Andrew, Dan & Brenda) | Jake | Linda | Jolene | Vernon | Crawford Oberson | Logan | Larry | Lilly | Kenny | Marcus Crabtree | Nate | Russell | Roman | Bigby Wolf | Crooked Man | Bloody Mary | Jersey Devil | Georgie Porgie | Vivian | Bluebeard | Ichabod Crane | Grendel | Jack Horner | Woodsman | The Tweedles | Geppetto | Carver's Group (William Carver, Troy & Johnny) | Arvo | Buricko | Vitali | Natasha | Winston | Victor | Ralph | Michelle | Kenny | Jane | Mike | Rhys | Fiona | Handsome Jack AI | August | Hugo P. Vasquez | Vallory | Bossanova | Rudiger | Asher Forrester | Andros | Britt Warrick | Damien | Dezhor zo Raza | Gared Tuttle | Gryff Whitehill | Harys | Ludd Whitehill | Rickard Morgryn | Tazal | Hostile Mobs (Wither Storm) | The Ocelots | Ivor | Soren the Architect | Aiden | Maya | Gill | White Pumpkin | PAMA | Hadrian | Mevia | Em | Norma | Randall | Monroe Colonists (Gabby & Jonas) | Children of Arkham (Vicki Vale, Oswald Cobblepot & Blockbuster) | Catwoman | Two-Face | Falcone Crime Family | Joe Chill | Victor Zsasz | Mr. & Mrs. Vale | Gotham Criminal Triumvirate (Carmine Falcone, Thomas Wayne & Hamilton Hill) | The New Frontier (Joan, Badger & Max) | Scavenger | Romeo | Stella | Prismarine Foes | Warden | The Pact (Riddler, Harley Quinn, Bane, Mr. Freeze, John Doe & Eli Knable) | The Agency (Amanda Waller & Roger Harrison) | Rumi Mori | Willy Deever | S.A.N.C.T.U.S. | The Delta (Lilly, Minerva, Abel, Dorian, Sullene, Gad, Michael, Gina & Armando) | Marlon | Violet
See Also
Game of Thrones Villains | Homestar Runner Villains | Jurassic Park Villains | Minecraft Villains | Telltale Batman Villains | Telltale's The Walking Dead Villains | Wallace and Gromit Villains