"Angel(s)" may be referring to two or more different villains. If you're uncertain which one you're looking for, just flip a coin.
If you came here from a link, please go back and make the right link for one of the villains listed below.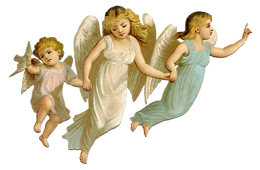 Angel(s) are supernatural beings, which are commonly associated with good-deeds and heroism. They are generally lead by the God, and they reside in Heaven. Despite usually being depicted as good, Angles have been depicted as a villain in fictional works.
Notable Angels
In Modern Literature
In Movies
In TV Shows
In Cartoons & Animations
In Japanese Production
In Video Games
See Also
Religion Related
Word Related
Community content is available under
CC-BY-SA
unless otherwise noted.