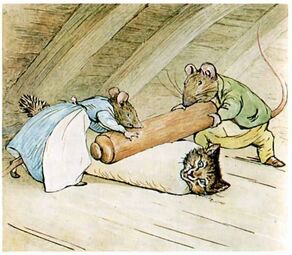 Anna Maria Whiskers is one of the two adversaries of Beatrix Potter's book The Tale of Samuel Whiskers (or the Roly-Poly Pudding). She is the taller, slender wife of Samuel Whiskers. She is first seen entering their home under the attic floor, when her husband calls her in, and she chases after Tom Kitten with a string, strips him of his blue jacket, and ties him up with it. She is then asked by her husband to make him a "kitten dumpling roly-poly pudding" for his dinner. She explains that it requires dough, a pat of butter and a rolling pin. He tries insisting bread crumbs, but she firmly insists butter and dough. She has him get the butter and rolling pin while she goes and gets the dough. Yet, in the kitchen, where some dough for Mrs. Tabitha Twitchit's bread is rising, she steals some of it, unaware that one of Tom's sisters, Moppet, is spying from a flour barrel. Later, as Samuel is buttering Tom, she rolls out the dough, and they both put him on the dough. She folds the dough over before they start rolling the dough on him. They roll it until Samuel sees Tom's tail sticking out. When he tells her she didn't fetch enough dough, she remarks that she fetched all she could carry. She and Samuel then force themselves to pack up and leave the attic floor as John Joiner saws the floor in order to get them, leaving Tom behind. Due to the wheelbarrow (which happens to be the author's) being "a little too heavy for Samuel", she ends up pushing it. As they are now in Farmer Potatoes' barn, Anna Maria is at the top, bringing up anything he tied onto the rope.
Community content is available under
CC-BY-SA
unless otherwise noted.