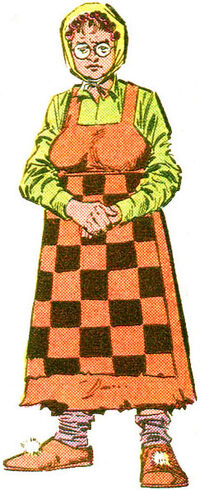 Annalee is a villain from Marvel Comics.
History
Very little is specifically known about Annalee's origin and history, but it is suggested that Annalee's children were early victims of the supervillain known as Scalphunter. Presumably a homeless vagrant, Annalee was one of the first Morlocks when Callisto first organized the group.
Driven mad by the untimely death of her own children, Annalee has attempted to replace them with several failed kidnappings. With the aid of the sociopathic mutant Masque and the morlock Beautiful Dreamer she captured the Power children and attempted to transform them into a surrogate family. Her efforts nearly suceeded, but were thwarted by Katie Power (then known as Energizer) who escaped and contacted the X-Men. After a short battle she was forced to release them. She soon found other children to adopt, namely the mutants Leech and Artie.
Annalee was killed during the Mutant Massacre by the supervillain massacring Marauders.
Television Appearance
Annalee was a member of the Morlocks, a community of mutants living beneath the streets of New York City.
Wanting to sire an heir, Callisto, leader of the Morlocks, led the X-Men Cyclops and Jean Grey to the Morlock tunnels where Annalee used her hypnosis to make them fall asleep. Later, she convinced Jean Grey that she was her daughter.
Along with Ape, Annalle stole an ambulance to gain medical supplies for the young Morlock Leech who was seriously ill. They crossed paths with the X-Men Storm, Wolverine and Jubilee who helped revive the child.
Gallery
Community content is available under
CC-BY-SA
unless otherwise noted.