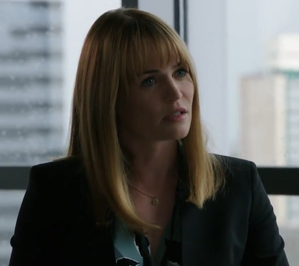 Anne Foreman is the main villainess from "Suspicious Minds," episode 3.02 of NCIS: New Orleans.
She was played by Sprague Grayden, who also played recurring villainess Olivia Taylor on 24, serial killer Dina Katz on Rosewood, and one-shot villainess Valerie Roberts on Law & Order: Los Angeles.
Anne Foreman is an employee at Certel, a cyber security office, as well as the girlfriend of Navy Lt. Commander Henry Warbeck. She was also the mastermind behind a lucrative computer hacking scheme, using her office computer to steal fiberoptic data and rob banks. She colluded with brothers Max and James Connor; the latter brother being a fellow employee and the former murdering Warbeck and two others who played a poker game with Elvis Bertrand, a former Navy Intelligence Analyst and an old friend of Dwayne Pride.
In order to find Warbeck's killer and find those involved, Elvis worked with Anne, who hid her true villainous actions. The episode's climax saw James Connor shot and killed by FBI Agent Tammy Gregorio, who (along with Chris LaSalle and Sonja Percy) were at Certel on the case. The group learned that James had an accomplice when they saw a message on his phone, and after Elvis realized that the computer he was on was the one used in the hack, the evil Anne pointed a gun at him, revealing herself as the villainess. After a shot was fired, Pride went to Anne's office and saw her being held at gunpoint by Elvis, who wanted to kill her for revenge. Anne claimed that Warbeck wasn't supposed to be hurt and attempted to state that the Connors coerced her into the scheme, but neither Pride nor Elvis believed her. After Pride talked Elvis down, Anne was arrested for her crimes.
Community content is available under
CC-BY-SA
unless otherwise noted.