Doctor Strange in The Multiverse o Madness - The Loop
Play Sound

✓
This Villain was proposed and approved by Villains Wiki's Pure Evil Proposals Thread. Any act of removing this villain from the category without a Removal Proposal shall be considered vandalism (or a futile "heroic" attempt of redemption) and the user will have high chances of being terminated blocked. You cannot make said Removal Proposal without permission from an admin first.
Additional Notice: This template is meant for admin maintenance only. Users who misuse the template will be blocked for a week minimum.

NOTE: This article is about the incarnation of the Anti-Monitor from the Arrowverse. The mainstream version can be found here: Anti-Monitor.
| | | |
| --- | --- | --- |
| " | It is time to end the age of heroes and everything you hold close. | " |
| | ~ Anti-Monitor's most famous quote. | |
| | | |
| --- | --- | --- |
| " | Universe after universe has fallen before my power. World after world consumed. With every death, I steal my mirror's strength and mine grows ever stronger. Who am I? I am the Anti-Monitor. Come, Harbinger. There is work to be done. | " |
| | ~ Anti-Monitor introducing himself to Harbinger. | |
| | | |
| --- | --- | --- |
| " | It is done, the Infinite Earths are gone. Soon, only the antimatter universe will remain. | " |
| | ~ Anti-Monitor after wiping out the entire multiverse. | |
| | | |
| --- | --- | --- |
| " | I am destiny incarnate, inexorable, and inescapable. You are nothing. Insects fated to be crushed beneath my heel without a moment's thought. Fighting is useless. Surrender. | " |
| | ~ Ant-Monitor to the Paragons before fighting him. | |
Mobius, better known as the Anti-Monitor, is the overarching antagonist of the Arrowverse.
He is a cosmic being of supreme power and malevolence that desires the annihilation of the multiverse and all life in it by any means necessary. All so that he could replace it with his own Antimatter universe and rule over all of it. He is opposed by his more benevolent mirror counterpart, the Monitor.
He was portrayed by LaMonica Garrett, who also played the Monitor in the same franchise. While possessing Lyla Michaels/Harbinger, he was portrayed by Audrey Marie Anderson, who also played Aubrey Haskins in Castle.
Roles
He is main antagonist of the Crisis Saga, serving as the overarching antagonist of the first half of Season 6 of The Flash, Season 7 of Arrow, the first half of Season 5 of Supergirl and the Elseworlds crossover event and as the main antagonist of the Arrowverse crossover Crisis on Infinite Earths and Season 8 of Arrow. He also serves as the posthumous overarching antagonist of the second half of Season 6 of The Flash, the second half of Season 5 of Supergirl, Season 1 of Batwoman and Season 1 of Superman & Lois.
Biography
Early Existence
During the multiverse's creation, Mobius at one point could have been killed by his benevolent counterpart, the Monitor, but Novu spared his life, which he deeply regretted as Mobius began to terrorize the multiverse as the Anti-Monitor. At some point in time, he became the master of the Shadow Demons, using them as his footsoldiers in his army. When the threat of the Anti-Monitor became apparent, the Anti-Monitor was confined to a chamber, although whether it was the Monitor who trapped him there or not remains unknown, in where he built an antimatter cannon to execute his scheme. When Barry Allen of Earth 90 charged towards the Monitor and was repelled, he found himself within the reach of the Anti-Monitor, who whisked him into his prison and forced him to run on a treadmill to power the weapon. During a test run of the antimatter cannon, the Anti-Monitor used it to destroy Earth 2.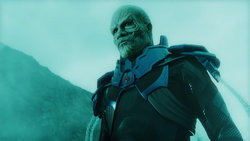 Crisis of 2019
The Anti-Monitor was also unintentionally freed by Harrison Nash Wells, later known as Pariah, thinking he was the Monitor. After he was freed, he unleashed a wave of antimatter all across the multiverse that destroyed Earth-89, Earth-9, Earth-X, and Earth-66.
After an antimatter signature was detected on Earth 38, the heroes were gathered there to stop him, so the Anti-Monitor sent the Shadow Demons to stop them from interfering. Even though the heroes failed to stop the Anti-Monitor and the Shadow Demons from destroying Earth 38, they managed to save half of all life on their Earth, but at a cost, Oliver Queen, also known as the Green Arrow, was killed in the process, only to be revived later.
Sometimes later, the Anti-Monitor communicated with Lyla Michaels, also known as Harbinger, through unknown means and, despite her pleas to stop, he forcibly summoned her to his lair. Once she arrived, the Anti-Monitor introduced himself, while revealing that the worlds were falling under his power and every death allowed for him to steal more power from his counterpart, and the Anti-Monitor demanded Harbinger's cooperation and proclaimed that there was work to be done.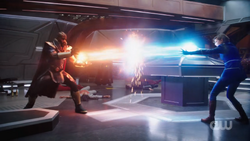 After all the Earths in the multiverse were destroyed except Earth 1, the Anti-Monitor possessed Harbinger and teleported to the Waverider and tried to fool the multiverse's heroes. However, the heroes were clever enough to see through his guise and futilely tried to kill him. He easily overpowered the heroes and clashed with and eventually defeated and killed the Monitor, and had his Antimatter wave destroy Earth 1 while the multiverse's survivors helplessly watched and the Anti-Monitor proudly proclaimed his victory. As the wave was heading towards the ship, Pariah teleported the Paragons away, confusing the Anti-Monitor who asked Pariah where did he send them only to learn it was somewhere he can't touch them, the Vanishing Point. Nevertheless, the Anti-Monitor won the day as the Antimatter wave destroyed the heroes, but not before they defiantly proclaim the Paragons will fight to their last breath and use any means necessary to defeat him, which the Anti-Monitor scoffed at and releases his control from Harbinger before the Antimatter wave destroyed them, completing his victory, despite that he failed to kill the Paragons.
Final Fight and Defeat
Once Jim Corrigan taught him how to use the Spectre's power, Oliver headed to the Vanishing Point to rescue the Paragons and strengthen Barry's powers. With his increased speed, Barry ran through the Speed Force, but was ambushed there by the Anti-Monitor, losing everyone else across the Speed Force.
Once Barry retrieves everyone, they arrive at the dawn of time, only to learn the Anti-Monitor is waiting for them, explaining that he will always learn of the multiverse's existence no matter what, as there will always be a Novu in the multiverse who cannot give up his ambitions, and sends the shadow demons to destroy them. Oliver appears and gives them a pep talk, telling them that they will have to hold the line, buying them time to recreate the universe. The Paragons run headlong into battle, fighting the shadow demons while Oliver and the Anti-Monitor watch from above and then face each other, one-on-one, in the battle for reality itself. As they are even matched, Oliver uses the Spectre's power to restore the multiverse, with the Paragons providing additional assistance via Lex's Book of Destiny page and seemingly destroying the Anti-Monitor.
However, the Anti-Monitor survived the Spectre's power and the heroes realize that he cannot be killed because he's made of antimatter, but they can destabilize his form, and have him shrinking for eternity. He send the shadow demons to fight the heroes and they leap into fighting them and as they do, the Anti-Monitor reveals himself to the Paragons and announces his new plan to renew his destruction of the new multiverse and warns the heroes that fighting is useless and forces them to surrender. The heroes dedicate their fight to Oliver and his sacrifice to restore the multiverse and they all fight the Anti-Monitor, but he easily deflects all of their attacks and the Anti-Monitor grows huge to end them all. He warns everyone that the age of heroes ends now.
To stop him once and for all, Nash, Ray and Choi work to develop a bomb capable of shrinking the Anti-Monitor for eternity while the other heroes distract him. Once it's finished, Barry brings Ray to the fight with the Anti-Monitor. Ray gives the bomb to Kara and she uses it on the Anti-Monitor and sends him to the microverse forever. The Anti-Monitor shrinks away, defeated and thus bringing his threat of the multiverse to an end once and for all.
Personality
The Anti-Monitor is an extremely unpredictable, cruel, evil, homicidal, and mostly manipulative individual presumably from the most diabolical kind that can ever be in the Multiverse.
Over the years of his existence, he was proven to be famously known for his incredible, unimaginable evil, wanting to destroy the entire Multiverse killing off an infinite amount of innocent lives without any kinds of guilt or remorse, implying how much far ruthless he truly is, and would not hesitate to kill or destroy every single life form which stands in his path.
The Anti-Monitor is an extremely intelligent, sophisticated and manipulative individual, knowing how to utilize these psychological aspects to manipulate or even break those which survived the cataclysmic destruction he had done, and often he is shown to be completely arrogant due to his immensely powerful godly position, deeming himself nearly a god, even more than his counterpart the Monitor.
His manipulative side is proven to be shown when he is convincing Harrison Nash Wells into freeing him from his chamber, an action the Anti-Monitor knows that his counterpart Monitor would regret on imprisoning him in the chamber. Additionally, the Anti-Monitor is completely in denial that the entire Multiverse should exist, stating that only the Anti-Matter Universe should be existing, thus driving him to use his powers to be able to erase the Multiverse.
Victims
Victims killed by Anti-Monitor
Residents of Earth 2

Adrian Chase/The Hood
Barry Allen
"Barry Allen's Father"
"Barry Allen's Mother"
Beyoncé Knowler
Bruce
Bruce Wayne
"Caitlin Snow's Mother"
Damien Darhk
Diana
Dinah Drake
Eddie
Evan McCulloch/Mirror Master
Felicity Smoak
Floyd Lawton
Hal
Harrison "Harry" Wells
Henry Hewitt
Iris West-Allen
"Iris West's Grandfather"
Jesse Wells/Jesse Quick
Jinn Pierce
"Laurel Lance's Sister"
"Laurel Lance's Sister's Child"
Linda Park/Dr. Light
Malcolm Merlyn
Moira Queen
Rene Ramirez
Robert Queen/The Arrow
Singh
Snart
Tommy Merlyn/Dark Archer
Walter
Numerous Unnamed Earth 2 Central City Residents
Numerous Unnamed Earth 2 Gorilla City Residents
Numerous Unnamed Earth 2 Starling City Residents
Numerous Unnamed People

Residents of Earth 38

Alex Danvers
Alura Zor-El

Andrea Rojas

Cat Grant
Eliza Danvers

Gamemnae

George Lockwood

Hat

Imra Ardeen
James Olsen
Jane Doe
Jeremiah Danvers
Jonathan Kent
Kal-El/Clark Kent/Superman
Kelly Olsen
Lucy Lane
Lois Lane
Maggie Sawyer
Miranda Crane
Mon-El

Mo

Nia Nal/Dreamer
Querl Dox/Brainiac 5

Rama Khan

Ruby Arias
Sam Lane
Samantha Arias
Sarah Walker
William Dey
Winn Schott
Numerous Unnamed Earth 38 Argo City Residents
Numerous Unnamed Earth 38 National City Residents
Numerous Unnamed Humans
Numerous Unnamed Aliens

Residents of Earth 9

Hank Hall/Hawk
Jason Todd/Robin
Numerous Unnamed Earth 9 San Francisco Residents

Residents of Earth 66

Dick Grayson
Numerous Unnamed Earth 66 Gotham City Residents

Residents of Earth 89

Batman
Joker
Alexander Knox
Numerous Unnamed Earth 89 Gotham City Residents

Residents of Earth X

Ray Terrill/The Ray
Laurel Lance/Siren X
Leo Snart
Winn Schott
Numerous Unnamed People

Residents of Earth-TUD5

Jefferson Pierce/Black Lightning
Jennifer Pierce/Lightning
Anissa Pierce/Thunder/Black Bird
Lynn Stewart
Peter Gambi

Percy Odell

Numerous Unnamed Freeland Residents

Residents of Earth 203

Barbara Gordon/Oracle
Helena Kyle/Huntress
Numerous Unnamed Earth 203 New Gotham Residents

Residents of Earth 96

Kal-El/Clark Kent/Superman
Numerous Unnamed Earth 96 Metropolis Residents

Residents of Earth 3

Jay Garrick/The Flash
Joan Williams
"The Trickster"

Residents of Earth 12
Residents of Earth 19

"Accelerated Man"
Cisco Ramon/Echo
Josh/Breacher
Zak Zeal

Residents of Earth 167

Clark Kent
Lois Lane
Clark and Lois's daughters

Residents of Earth 221
Barry Allen/The Flash (Earth 90) (Indirectly)
Residents of Earth 1

Allegra Garcia
Amaya Jiwe/Vixen
Ava Sharpe
Axel Walker/The Trickster
Behrad Tomaz
Ben Turner/Bronze Tiger
Cecille Horton
Charlie
Chester P. Runk
Cisco Ramon/Vibe
Clarissa Stein
Connor Hawke
Curtis Holt/Mr. Terrific
David Singh
Dinah Drake/Black Canary
Dinah Lance
Donna Smoak
Dorothy Heywood
Esi
Esperanza Garcia / Ultraviolet
Felicity Smoak/Overwatch
Gary Green
Grant Wilson
Iris West-Allen
James Jesse/The Trickster
Joe West
John Constantine
John Diggle/Spartan
John Diggle Jr.
Joslyn Jackam/Weather Witch
Kendra Saunders/Hawkgirl
Lily Stein
Linda Park
Lyla Michaels/Harbinger
Mari/Vixen
Mark Mardon/Weather Wizard
Mia Smoak/Blackstar
Mick Rory/Heat Wave
Mona Wu
Nate Heywood/Steel
Noah Kuttler/The Calculator
Patty Spivot
Paul Holt
Ralph Dibny/Elongated Man
Ray Palmer/Atom
Rene Ramirez/Wild Dog
Rory Regan
Roy Harper/Arsenal
Scythian Torvil/Hawkman
Tatsu Yamashiro
Thea Queen/Speedy
Tina McGee
Todd Rice/Obsidian
Wally West/Kid-Flash
Walter Steele
William Clayton
Zari Tomaz
Zoey Ramirez
Numerous Unnamed Earth 1 Star City Residents
Numerous Unnamed Earth 1 Central City Residents
Numerous Unnamed Earth 1 Gotham City Residents
Numerous Unnamed People

Harrison Nash Wells/Pariah
Gallery
Trivia
In the comics, the Anti-Monitor is a major antagonist and the main antagonist in the Crisis on Infinite Earths comics as the Monitor's evil antimatter counterpart, he sought to destroy the multiverse and replace it with his Antimatter Universe. Decades later in the New 52 storyline Forever Evil, he returned with a new design which the show's version is similar to, and later still in the Rebirth comics and his real name was revealed to be Mobius.
This portrayal of the character is the first live-action appearance of Anti-Monitor.
His physical appearance is extremely similar to that of Marvel's villain Apocalypse, which fans have noticed. Oddly enough, Anti-Monitor has been noted to resemble Apocalypse's comic book counterpart more than the cinematic version.
His endgame was foreshadowed by Zoom's scheme to destroy the Multiverse. But unlike Zoom, he succeeded.
External Links

Villains

Villains
Comics
Alphina | Anti-Monitor | Appex | Atomic Skull | Atrocitus | Barry Metznerr | Belinda Zee | Bizarro | Bizarro-Girl | Black Banshee | Black Flame | Blackstarr Blithe | Brainiac | Buzz | Carnivore | The Council | Chemo | Cyborg Superman | Dark Angel | Darkseid | Dark Supergirl | Decay | Delacore | Despero | Diasporans | Dollmaker | Dominators | Doomsday | Emerald Empress | Eradicator | Female Furies | Felix Faust | The Gang | Granny Goodness | Graviton Man | H'el | Hecate | Insect Queen | Indigo | Intergang | Kryptonite Man | Lady Styx | Lena Luthor | Lesla-Lar | Lex Luthor | Livewire | Lobo | Metallo | Mongul | Mxyzptlk | Nasthalthia Luthor | Nightflame | Parasite | Positive Man | Powerboy | Princess Zala Jor-El | Psi | Reactron | Reign | Rogol Zaar | Roho | Satan Girl | Selena | Shrapnel | Silver Banshee | Simon Tycho | Splyce | Superboy-Prime | Superman Revenge Squad | Superwoman | Toyman | Twilight | Ultra-Humanite | Worldkiller-1 | Xenon | Zod
Television
Season 1: Astra and Non's Army (Non, Astra, Indigo, Vartox, Hellgrammite & Maxima) | Maxwell Lord | Reactron | Livewire | Ethan Knox | Red Tornado | T.O. Morrow | Jemm | Dirk Armstrong | Bizarro | Toyman | Miranda Crane | Master Jailer | Silver Banshee | Project Cadmus (Colonel James Harper)
Season 2: Queen Rhea | Project Cadmus (Lillian Luthor, Cyborg Superman & John Corben) | Scorcher | Roulette | Parasite | Dominators | Phillip Karnowsky | Livewire | Mister Mxyzptlk | Music Meister | Beth Breen | Rick Malverne | Lex Luthor | Zod
Season 3: Worldkillers (Selena, Reign, Purity, Pestilence & Thomas Coville) | Morgan Edge | Bloodsport | Psi | Dominators | New Reich (Dark Arrow, Overgirl & Promethus) | Eobard Thawne | Red Tornado | Livewire | Lillian Luthor | Red Daughter
Season 4: Lex Luthor | Children of Liberty (Agent Liberty, Mercy Graves, Raymond Jensen & Natalie Hawkings) | Otis Graves | The Elite (Manchester Black, Pamela Ferrer, The Hat & Morae) | Hellgrammite | Monitor | John Deegan | A.M.A.Z.O. | Psycho-Pirate | Leviathan (Eve Teschmacher & Margot Morrison) | Red Daughter | Phil Baker | Lillian Luthor | Malefic J'onzz
Season 5: Leviathan (Gamemnae, Rama Khan, Tezumak, Sela, Andrea Rojas, Margot Morrison, & Eve Teschmacher) | Lex Luthor | Malefic J'onzz | Lena Luthor | Lillian Luthor | Anti-Monitor | Midnight | Shadow Demons | Toyman | Mister Mxyzptlk | Worldkillers (Selena, Reign, & Thomas Coville) | Children of Liberty (Agent Liberty & Otis Graves) | Dominators
Season 6: Nyxlygsptlnz | Lex Luthor | Lillian Luthor | Otis Graves | Zulian Maletarians | Eve Teschmacher | Mister Mxyzptlk | Leviathan (Gamemnae)
Video Games
Injustice: Superman | Brainiac | Wonder Woman | Black Adam | Nightwing | Cheetah

Villains
Comics
Abbadonia | Alice | Amygdala | Bane | Black Mask | Bloody Mary | Bruno Mannheim | Christopher Falchion | Court of Owls | Cutter | Delores Winters | The Drowned | Fright | Green Fairy | Intergang | Killer Croc | Killshot | Kobra Cult | Kyle Abbot | La Llorona | Lamprey | Mad Hatter | Many Arms of Death | Maro Ito | Medusa | Morgaine Le Fey | Mortician | Mr. Freeze | Nathan Grantham | Nocturna | Night-Thief | Nyx | Poison Ivy | Professor Pyg | Religion of Crime | Riddler | Rush | Scatter | Scorpiana | Sister Shard | Tahani | Whisper A'Daire | Wolf Spider
Movies
Batman: Mystery of the Batwoman: Penguin | Bane | Rupert Thorne | Carlton Duquesne
Batman: Bad Blood: League of Assassins (Talia al Ghul, The Heretic, Onyx, Firefly, Tusk, Mad Hatter, Electrocutioner, Hellhound, Calculator, & Killer Moth) | Black Mask

Television
Season 1: Wonderland Gang (Alice, Jonathan Cartwright, & Chuck Dodgson) | August Cartwright | Hush | Crows Security (Catherine Hamilton-Kane & Miguel Robles) | Magpie | The Executioner | The Rifle | Anti-Monitor | Monitor | Lex Luthor | Bruce Wayne (Earth-99) | Shadow Demons | Nocturna | Duela Dent | Mabel Cartwright | Johnny Sabatino | Tim Teslow | Safiyah Sohail | Joker
Season 2: Many Arms of Death (Safiyah Sohail, Tatiana, The Pike, & Dire-Flail) | False Face Society (Black Mask, Rudy, & Circe Sionis) | Alice | Enigma | Crows Security (Russell Tavaroff & Miller) | Ethan Rogers | Hush | Victor Zsasz | Candy Lady | Amygdala | Ellis O'Brien | Kilovolt | Cluemaster | Gotham City Police Department | Wonderland Gang (Jonathan Cartwright) | Catherine Hamilton-Kane | Joker
Season 3: Marquis Jet | Alice | Poison Ivy | Mary Hamilton | Liam Crandle | Killer Croc | Professor Pyg | Victor Zsasz | Kiki Roulette | Joker | Jonathan Cartwright | Black Glove Society (Virgil Getty)


Villains
Comics
Black Manta | Black Spider | Brain | Brick | Bronze Tiger | Brother Blood | Brotherhood of Evil | Catman | Cheshire | China White | Clayface | Clock King | Count Vertigo | Constantine Drakon | Crumbler | Cupid | Deadshot | Deathstroke | Double Down | Dr. Light | Dr. Sivana | Electrocutioner | Jinx | Joker | Killer Croc | Kodiak | Komodo | League of Assassins | Longbow Hunters | Mammoth | Merlyn | Metallo | Mister Freeze | Neron | Onomatopoeia | Professor Ojo | Professor Zoom | Prometheus | The Queen | Ra's al Ghul | Red Dart | Richard Dragon | Riddler | Royal Flush Gang | Skylark | Solomon Grundy | Stinger | Warp | Wizard
Movie
DC Showcase: Green Arrow: Merlyn | Count Vertigo
Television
Season 1: Oliver Queen | Malcolm Merlyn | China White | Edward Fyers | Billy Wintergreen | Adam Hunt | Constantine Drakon | Martin Somers | Deadshot | Jason Brodeur | Royal Flush Gang | Huntress | Frank Bertinelli | Firefly | Ted Gaynor | Count Vertigo | Amanda Waller
Season 2: Oliver Queen | Deathstroke | Isabel Rochev | Brother Blood | Anthony Ivo | League of Assassins (Nyssa al Ghul & Al-Owal) | China White | Dollmaker | Mayor | Officer Daily | Amanda Waller | Count Vertigo | Cyrus Gold | H.I.V.E. (Milo Armitage) | William Tockman | Suicide Squad (Bronze Tiger, Deadshot & Shrapnel) | Huntress | Frank Bertinelli | Clinton Hogue
Season 3: Oliver Queen | League of Assassins (Ra's al Ghul, Maseo Yamashiro, Nyssa al Ghul & Chase) | Matthew Shrieve | Amanda Waller | China White | Werner Zytle | Komodo | Cooper Seldon | Captain Boomerang | Roy Bivolo | Danny Brickwell | Deathstroke | Michael Amar | Joseph Cray | Suicide Squad (Deadshot & Cupid) | H.I.V.E. (Mina Fayad) | Jake Simmons
Season 4: Oliver Queen | H.I.V.E. (Damien Darhk, Ruvé Darhk, Malcolm Merlyn, Andrew Diggle, Milo Armitage, Phaedra Nixon, Mina Fayad, Thomas, Demolition Team, Michael Amar, Danny Brickwell & Cooper Seldon) | Shadowspire (Baron Reiter, Conklin & Joyner) | Amanda Waller | Lonnie Machin | Jeremy Tell | Rogue Anti-Vigilante Task Force (Liza Warner) | Vandal Savage | Calculator | Cupid | Brie Larvan | Evelyn Sharp
Season 5: Oliver Queen | Prometheus | Talia al Ghul | Evelyn Sharp | Black Siren | Konstantin Kovar | Ishmael Gregor | Tobias Church | Lonnie Machin | Ragman | Janet Carroll | J.G. Walker | Derek Sampson | Scimitar | Vigilante | Dominators | Laura Washington | Hideo Yamane | Sean Sonus | James Edlund | China White | Liza Warner | Cupid | Anatoly Knyazev | Captain Boomerang | Justin Claybourne
Season 6: Oliver Queen | (Ricardo Diaz, Black Siren, Anatoly Knyazev, Kimberly Hill & Sam Armand) | Cayden James | Sheck | Vigilante | Alex Faust | Jackals (Joe Wilson & Nylander) | Dark Arrow | Overgirl | Eobard Thawne | Prometheus (Earth-X) | Quentin Lance (Earth-X) | Athena
Season 7: Oliver Queen | Ninth Circle (Emiko Queen, Dante, Virgil & Beatrice) | Kevin Dale | Ricardo Diaz | Longbow Hunters (Red Dart, Kodiak & Silencer) | Stanley Dover | Danny Brickwell | Derek Sampson | John Deegan | Monitor | A.M.A.Z.O. | Psycho-Pirate | Ghost Initiative (Joe Wilson, China White & Cupid)
Season 8: Oliver Queen | Anti-Monitor | Deathstroke Gang (John Diggle, Jr. & Grant Wilson) | Monitor | Athena | Edward Fyers | Billy Wintergreen | Shadow Demons | Lex Luthor

Video Games
Injustice: Superman | Killer Frost | Solomon Grundy | Sinestro | Black Adam | Wonder Woman | Nightwing | Raven | Catwoman | The Flash | Bane | Gorilla Grodd