| | | |
| --- | --- | --- |
| " | I am pleased that you remembered me after all these years, my pharaoh. It will make my ultimate vengeance all the sweeter. You will fall and my reign of destruction shall begin! | " |
| | ~ Anubis to Yami. | |
| | | |
| --- | --- | --- |
| " | You may have destroyed the card, Pharaoh. But not the Pyramid of Light around my neck! Behold it's power!! Inspired by your modern saying, two heads are better than one. Theinen the Great Sphinx! | " |
| | ~ Anubis to Yami as he summons Theinen. | |
Anubis is the main antagonist in the 2004 movie Yu-Gi-Oh!: The Pyramid of Light. He is an ancient and powerful Egyptian sorcerer who sought to destroy the world, but was thwarted by Yami Yugi.
He was voiced by Scottie Ray, who also voiced the Utrom Shredder, the Tengu Shredder and the Cyber Shredder in the 2003 Teenage Mutant Ninja Turtles series. He is also named after the Death God in Egyptian Mythology.
Appearance
When Yugi had a vision after being driven unconscious by a strange force when looking at the pyramid, he saw Kaiba being grabbed by Anubis who had a black jackal-like head with a white muzzle instead of his human head and his was not pulsating, possibly being Anubis' complete form, if he had successfully drained all of the energy from Yami Yugi and Kaiba.
When he reveals himself in his incomplete form to Yami Yugi. Anubis was shown as a tanned and muscular but pulsating man with dirty blonde hair, red eyes, and a jewel embedded in his forehead. His clothing consisted of a black cape attached to spiked padding which were held by strings, along with gray shoulder pads, black pants, and the Pyramid of Light hanging around his neck.
After losing the duel to Yugi, Anubis used the power of the center jewel of the Pyramid of Light to assume a monster form that started off as slime until forming an armored jackal-like monster that could stand on his hind legs, possessed bladed wings, and an axe-like blade on top of his head, and the Pyramid's jewel in the center of his chest.
Personality
Anubis was an evil sorcerer who sought the destruction of all life with his Shadow monsters. Power-hungry and cunning, he is not above using humans to suit his ends, such as when he possessed Seito Kaiba. But when they get in the way of his plans, he will discard them. He is also vengeful as he bears an ancient grudge against Atem for banishing him thousands of years ago. In his monster form, he is both primal and berserk, caring only for death and destruction.
Abilities and Powers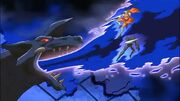 Anubis' powers are connected to the Pyramid of Light. With the item, he is able to have his spirit go wherever needed, transport his mummified body and the pyramid into the Millennium Puzzle, command undead mummies, possess others, and show others the future. When the Pyramid of Light card is in play, Anubis is able to drain life energy from others who have taken damage during the duel in order to restore his body. He is also shown to be able to create cards of his own, creating the Pyramid of Light which he put in Pegasus' Deck, and his Sphinx monsters through a black slime that releases from his hands. Anubis's original form shows him with tan skin, a ragged black cape, and the Pyramid of Light. When in his monster form, Anubis is able to breathe a devastating black flame from his mouth and can easily resist other monsters' attacks. In his presence, Duelists can summon Duel Monster cards that have real powers, including their special effects, as Joey Wheeler was able to summon "Gilford the Lightning" and "Gearfried the Iron Knight" to battle Anubis, Maximillion Pegasus was able to summon "Toon Dark Magician Girl" and "Blue-Eyes Toon Dragon" to stop falling debris, while Yugi and Kaiba were able to summon the "Blue-Eyes Shining Dragon", whose special effect to destroy any monster brought his end once and for all.
History
Past
5,000 years ago, Anubis tried to destroy the world, but was defeated by Pharaoh Atem using the Dagger of Fate. His body was then placed in a sarcophagus which was chained to wall in an underground chamber, with his prized possession, the Pyramid of Light, being hidden in a secret chamber behind it. Despite all of this, a prophecy foretold he would eventually return from the dead to finish what he started.
His resting place was then discovered by archeologists, around the same time Yugi finally completed the Millennium Puzzle When Yugi inserted the final piece, not only did Yami's spirit awaken, but also Anubis's spirit inside the Pyramid of Light, causing an earthquake and a storm which kills all the archeologists.
Yu-Gi-Oh!: The Movie: Pyramid of Light
Anubis's spirit placed the Pyramid of Light card in Maximillion Pegasus's deck, which, along with the Blue Eyes Shining Dragon, was taken by Kaiba when he beat Pegasus in a duel.
Kaiba dueled Yami Yugi, and played the Pyramid of Light card to destroy his Egyptian Gods. Playing this card empowered Anubis to suck Yugi, Joey, and Tristan's souls into the Millennium Puzzle, where they were attacked by mummies. When Yami or Kaiba lost life points in their duel, their life force was sucked out and given to Anubis, who gave Kaiba duel commands, but Kaiba resisted and tried to destroy the Pyramid of Light so he could beat Yami with his own Egyptian Gods, but was unsuccessful.
Anubis then appeared in physical form, restored to life, and knocked Kaiba out. Anubis continued the duel against Yami, but when Yugi blinded Anubis's eye inside the Millennium Puzzle by throwing the Dagger of Fate at it, the Pyramid of Light was weakened, enabling Yami to destroy the card. Anubis summoned an overpowered monster, but Yami revived the Egyptian Gods, who destroyed the monster, defeating Anubis. The actual Pyramid of Light was destroyed, and seemingly, so was Anubis. Yugi, Joey, and Tristan's souls were released.
However, the orb of the Pyramid of Light, containing Anubis's soul, survived, and Anubis transformed into a monster, telling Yugi it was time to die. With Yami at his side, Yugi summoned Blue Eyes Shining Dragon, given to him by Kaiba, which had the power to destroy any monster. Blue Eyes Shining Dragon used Shining Nova Attack to destroy Anubis once and for all, along with the orb of the Pyramid of Light.
Gallery
Trivia
Anubis is often mistaken for being the universe's actual adaptation of the Egyptian God Anubis, however this is only because it isn't established in the English dub that he just happens to be named Anubis and has no connection to the god.

In Egyptian Mythology, Anubis is the Egyptian god of embalming, possessing a jackal head and was said to have created the first Egyptian mummy. Anubis was originally the god of the Underworld and of the dead (later replaced by Osiris). Both of these are similar to character in his title of "Lord of the Dead" and his complete form's jackal-like head, along with his ability to control mummies. However the Egyptians never viewed Anubis as evil, and he was, in fact, one of their most respected and revered gods due to his role of bringing the dead to the afterlife.
Villains
Animated Features
Meowrice | Meowrice's Henchmen | Mouse King | Mouse Queen | Joker | Phantasm | Salvatore Valestra | Arthur Reeves | Chuckie Sol | Buzz Bronski | Grundel Toad | Berkeley Beetle | Mr. Mole | Mrs. Toad | Ms. Fieldmouse | Queen Gnorga | King Llort | Darla Dimple | Max | Mrs. Prysselius | Thunder Karlsson and Bloom | Ruber | Griffin | Ruber's Minions | Bladebeak | Eric Cartman | Saddam Hussein | Sheila Broflovski | Satan | Mr. Garrison | Chef | Randy Marsh | Shelly Marsh | Gerald Broflovski | Kent Mansley | Kralahome | Master Little | The Jokerz (Dee Dee Twins, Chucko & Woof) | Count Grisham | Cheswick | Mojo Jojo | Gangreen Gang | Anubis | Seto Kaiba | Dark Yugi | Pegasus J. Crawford | Mokuba Kaiba | Marik Ishtar | Ebenezer Scrooge Puppet | Barkis Bittern | Maudeline Everglot | Stan Beals | Wasps | Noah the Elder | Leopard Seal | Aguila | Stone Generals (Gato & Mono) | Karai | Foot Clan | Eddy's Brother | Kanker Sisters | Kevin | Sarah | Surtr | Nyra | Kludd | Allomere | Jatt and Jutt | Pure Ones | Lord Business | Super Secret Police (Bad Cop & Sheriff Not-A-Robot) | Duplo Aliens | Mr. Ross | Future Mordecai | Rigby | Benson Dunwoody | Muscle Man | Hunter | Pigeon Toady | Wolf Pack | Penguins | Joker (Lego) | Harley Quinn (Lego) | Phantom Zone Criminals | Catwoman (Lego) | Poison Ivy (Lego) | Two-Face (Lego) | Lord Garmadon | Slade (Teen Titans Go!) | Balloon Man (Teen Titans Go!) | Lex Luthor (Teen Titans Go!) | Stonekeeper | Rex Dangervest | Velociraptors (Lego) | Foot Clan (Shredder) | League of Assassins (Ra's al Ghul (Batman vs. TMNT), Ubu (Batman vs. TMNT) & Talia al Ghul (Batman vs. TMNT)) | Joker (Batman vs. TMNT) | Harley Quinn (Batman vs. TMNT) | Scarecrow (Batman vs. TMNT) | Mr. Freeze (Batman vs. TMNT) | Poison Ivy (Batman vs. TMNT) | Bane (Batman vs. TMNT) | Two-Face (Batman vs. TMNT) | Penguin (Batman vs. TMNT) | Hexagon (Trigon (TTG) & Trigon (Original)) | Spinel | Pink Diamond | Scorpion | Quan Chi | Shang Tsung | Goro | Shao Kahn | Kano | Baraka | Reptile | Moloch | Motaro | Dick Dastardly (2020) | Muttley (2020) | Rotten Robots | Dusty | Cerberus
Live Action Films
Rhedosaurus | Giant Carpenter Ants | Jack Torrance | Hotel Caretaker | Lorraine Massey | Socs (Bob Sheldon, Randy Adderson, Paul Hoden & David) | Mrs. Cade | Scut Farkus | Grover Dill | Stripe | Ruby Deagle | Gremlins | Mama Fratelli | Albert | Audrey II | Orin Scrivello | Mr. Igoe | Max | David | Sergeant Nagata | Beetlejuice | Sandworms | Joker | Bob the Goon | Alicia Hunt | Carl Grissom | Max Eckhardt | Vinnie Ricorso | Joe Chill | Witches (Grand High Witch, Susan Irvine, Nicola Cuttle, Pamela, Lois Leffour, Mildred, Elizabeth, Henrietta, Jacqueline & Beatrice) | Brain Gremlin | Daffy | George | Lenny | Secretary Gremlin | Bat Gremlin | Electric Gremlin | Cushing Catheter | Funekei Yoshida | Sato | Penguin | Max Shreck | Catwoman | Red Triangle Circus Gang | Charles "Chip" Shreck | Charles Rane | Sabrina Ritchie | Forget | Vincent | Matthew | William Foster | Nick the Neo-Nazi | Switchblade Sam | Dr. Charles Nichols | Frederick Sykes | Lawrence Van Dough | Ferguson | HAL 9000 | Lestat | Armand | Santiago | Ilya Pavel Kazak | Rosa | Leonid Volkov | Zhukov | Stefan | Emilio Juantorena | Navigator | Codebreaker | Baker | Clarice Kensington | Miss Minchin | Riddler | Two-Face | Sugar | Spice | NygmaTech (Frogmen) | Neon Gang | Salvatore Maroni | Jonas Miller | Mr. Swackhammer | Monstars | Martians (Martian Leader, Martian Ambassador & Martian Girl) | John Wesley | Poison Ivy | Mr. Freeze | Bane | Grant Frost | Agent Smith | Cypher | Agents (Agent Jones, Agent Brown & Agent Johnson) | Susan McCallister | Jim Whitlock | Mako Sharks | William Wharton | Percy Wetmore | Jeremy Melton | Mr. Tinkles | Thrax | Mayor Phlegmming | Bruiser | Joe Cramp | Thrax's Henchmen | Lord Voldemort | Quirinus Quirrell | Draco Malfoy | Severus Snape | Mountain Troll | Burke Bennett | Frank Stokes | Merv Green | Buggy Ding Dong | Parade of Hope | Rainbow Randolph | Scrappy-Doo | N' Goo Tuana | Zarkos | Demons | Luna Ghost | Akasha | Spiders (Consuela & Tank) | Lucius Malfoy | Basilisk | Gilderoy Lockhart | Acromantula (Aragog & Acromantula Colony) | Mr. Gray | Mr. Chairman | Bob Smith | Robo Dog | Jonathan Jacobo | Peter Pettigrew | Dementors | Marge Dursley | Clara Dalrymple | Sir Trenton | Trenton's Pride | Ra's al Ghul | Scarecrow | Carmine Falcone | League of Shadows (Decoy of Ra's al Ghul) | Victor Zsasz | Joe Chill | Arthur Slugworth | V | Barty Crouch Jr. | Nagini | Bellatrix Lestrange | Adam Sutler | Lewis Prothero | Norsefire | Peter Creedy | Colonel Coetzee | Captain Poison | Zodiac Killer | Arthur Leigh Allen | Xerxes | Dolores Umbridge | Agent 23 | Siegfried | Dalip | Joker | Two-Face | Sal Maroni | Gambol | Joker's Thugs | Principal Deedle | Ezekial Gallows | Prudence Prufrock | Lord Henry Blackwood | Lord Coward | Esther Coleman | Decoy Queen | Kitty Galore | Paws | Mayor Brown | Wanda Grubwort | Lake Monster | Mal Cobb | Blue Jones | Angelique Bouchard | Dr. Julia Hoffman | Bane | Talia al Ghul | Barsad | Catwoman | John Daggett | Tom Buchanan | Jay Gatsby | Myrtle Wilson | George Wilson | Daisy Buchanan | Precursors | Kaiju (Trespasser, Knifehead, Mutavore, Otachi, Leatherback, Raiju, Scunner & Slattern) | Artemisia | M.U.T.O. | Dr. Mann | Victoria Vinciguerra | Léon Rom | Skull Devil | Preston Packard | It | Bowers Gang (Henry Bowers, Patrick Hockstetter, Belch Huggins & Vic Criss) | Alvin Marsh | Butch Bowers | Mathias Vogel | Ana Miller | Nolan Sorrento | Innovative Online Industries (I-R0k, F'Nale Zandor & Sixers) | Claire Wyden | Brett Wyden | George, Ralph and Lizzie | The Meg | Jack Morris | Shere Khan | Tabaqui | Howard Clifford | Ditto | Sebastian | Ann Laurent | King Ghidorah | Rodan | Alan Jonah | Asher Jonah | Emma Russell | The Banana Splits (Fleegle, Drooper, Snorky & Bingo) | Poppy | Karl | Leo | Cry Baby | Kelly | The Principal | The Biology Teacher | Tom Rogan | Arthur Fleck | Penny Fleck | Randall | Clowns (Joker) (Clown & Ambulance Clown) | Wall Street Three | Penny Fleck's Boyfriend | Rose the Hat | The True Knot | Andrei Sator | Priya Singh | Terrance Mendoza | Butch | Mechagodzilla | Apex Cybernetics (Walter Simmons, Ren Serizawa, & Maia Simmons) | Warbats | Hellhawks | Shang Tsung | Sub-Zero | Mileena | Reiko | Kano | Kabal | Goro | Reptile | Nitara | Shao Kahn
Shorts
Daffy Duck | Sylvester | Tasmanian Devil | Wile E. Coyote | Elmer Fudd | Yosemite Sam | Marvin the Martian | Instant Martians | Gossamer | Tom | Jerry | Spike
Television
The Grinch | Cousin Mel | I.M. Slime | Snow Miser | Heat Miser | North Wind
See Also
Adventure Time Villains | Batman Villains | Ben 10 Villains | Catwoman Villains | Cats & Dogs Villains | Cartoon Network Villains | DC Animated Movie Universe Villains | DC Extended Universe Villains | DC's Legends of Tomorrow Villains | Eraser Villains | Game of Thrones Villains | Gremlins Villains | Hanna-Barbera Cinematic Universe Villains | Harry Potter Villains | Lethal Weapons Villains | Looney Tunes Villains | Melanie Martinez Villains | Middle-Earth Villains | MonsterVerse Villains | Mortal Kombat Villains | New Line Cinema Villains | Pokemon Villains | Powerpuff Girls Villains | Primal Villains | Regular Show Villains | Rick and Morty Villains | Robot Chicken Villains | Rush Hour Villains | Samurai Jack Villains | Scooby-Doo Villains | Steven Universe Villains | Superman Villains | The Banana Splits Movie Villains | The Conjuring Villains | The LEGO Movie Villains | The Matrix Villains | Tom and Jerry Villains | TMNT Villains | Wild Wild West Villains | Xiaolin Showdown Villains | Yu-Gi-Oh! Villains
Community content is available under
CC-BY-SA
unless otherwise noted.