Presumably a homeless runaway, Ape was one of the first Morlocks organized by Callisto. Ape had developed a strong friendship with fellow Morlock, Tar Baby. More recently, Ape was captured by mutants working on behalf of the latest Weapon X program. Unbeknownst to his captors, Ape was ultimately imprisoned in the mutant internment camp dubbed Neverland. Here, mutants were rendered powerless and if potentially dangerous to remain alive, were sentenced to death. Ape was seen among those first to die under the program.
Television History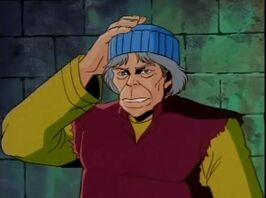 Ape is a Morlock, a community of mutants living beneath the streets of New York City. With anti-mutant protests and fear at a high, mutants are hunted by large groups of angry humans led by the F.O.H.. Ape and Tommy are spotted and chased down into an alley. Ape disguises himself as a trashcan and escapes.
Ape was seen among the mutants living in the small town of Skull Mesa. Along with Annalee, Ape stole an ambulance to gain medical supplies for the young Morlock Leech who was seriously ill. They crossed paths with the X-Men Storm, Wolverine and Jubilee who helped revive the child.

Villains
Community content is available under
CC-BY-SA
unless otherwise noted.