Jurassic World: Dominion Dominates Fandom Wikis - The Loop
Play Sound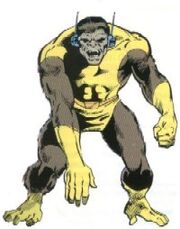 Click to help Cruella!

This scum Ape-Man is driving Cruella insane!
IT MUST BE REWRITTEN OR ADDED TO!!
So sayeth the great Lord of Darkness Sauron, or he will send Darth Vader to terminate you.

Help improve this article by rewriting, expanding, updating the poorly written text of the article. ✓
Gordon Keefer
Gordon "Monk" Keefer was a criminal who served time in prison for having tried to rob a Stark Industries facility, during which he was interrupted by Captain America and Rick Jones.
He was later broken out of jail by Cat-Man on behalf of the Organizer to join his Ani-Men. The Ani-Men were soon sent against Daredevil by the Organizer, after he had crossed the Organizer's plans on several occasions. After implicating Daredevil in a bank robbery, the Ani-Men were next sent to kidnap Debbie Harris. When Cat-Man was captured during the attempt, Keefer was sent to assassinate him before he could reveal the Organization's secrets. He was defeated along with rest of the Ani-Men by Daredevil and sent to prison.
Later, Keefer escaped from prison alongside his fellow Ani-Men Bird-Man and Cat-Man. They started working for the Exterminator as the Unholy Three. They were once again defeated by Daredevil. They also fought both Daredevil and Spider-Man as the Unholy Three but were defeated.
Until this moment little more than a man in an ape suit, Keefer did possess super human strength when working for Count Nefaria in the team's 3rd incarnation. Still in Nefaria's employ but apparently returned to his original, non powered form, Keefer later fought Iron Man on his orders but was apparently killed along with the other Ani-Men when the Spymaster detonated a bomb inside Nefaria's base.
Roy McVey
A criminal recruited by the Death Stalker for a second band of villains in imitation of the Unholy Three. He was killed by Death Stalker, along with the second Cat Man, Sebastian Patane.
Ape-Man III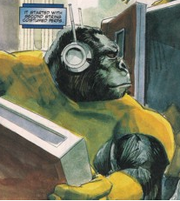 During the Secret Wars storyline, a third Ape-Man alongside a third Cat-Man and a second Frog-Man were shown committing crimes while the heroes were on Battleworld. They somehow got the equipment of the original Ani-Men and used it to rob a vault wagon only to be opposed by the NYPD.[8] During the Civil War storyline, Ape-Man alongside the third Bird-Man and the third Cat-Man were among the villains in Hammerhead's supervillain army.