Wiki Targeted (Entertainment)
Play Sound
Jafar says: Read my lips and come to grips with the reality!


This article is a stub and is in need of expansion. You can help Villains Wiki by expanding it.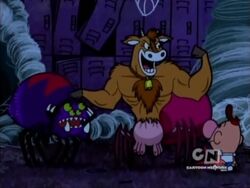 Arachnotaur is the secondary antagonist of The Grim Adventures of Billy and Mandy: The Wrath of the Spider Queen. He is a Spider god of anger from the Spider Planet in Galaxy Omega 9.
He was voiced by Dee Bradley Baker.
Past Life
He was imprisoned by the Galactic Council until he was accidentally released from his cosmic prison by Billy. Billy was at the school café and eventually chose the chocolate milk carton, which contained Arachnotaur in it, but  it will be the perfect opportunity to be released from the carton. When Billy accidently smacked the carton off of Jeff's hands, the seal ripped open and inadvertently released Arachnotaur from its prison. Arachnotaur then possessed Jeff's mind and pitted them against each other.
Billy later arrived to help Jeff, and revealed to the spider that he was being mind-controlled. Arachnotaur then exited Jeff's body and showed himself, revealing that he wanted to teach Jeff the power of anger. Billy tells Arachnotaur that he would defeat the Spider God with the power of "passive resistance" until he eventually gets tired and goes away. 
Personality
Arachnotaur is deceitful and violent, as he encouraged Billy to hurt Jeff's feelings when the milk carton was destroyed despite Jeff being innocent, even laughed when the argument ended with both participants angry. He possessed Jeff to teach the spider the power of anger and offered Billy an alliance for evil purposes before being interrupted.
Gallery