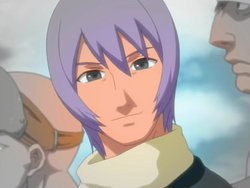 Arashi is an anime-exclusive villain in Naruto. He serves as the main antagonist of the Land of Rice Fields Investigation Mission arc.
He was voiced by Hikaru Midorikawa in the Japanese version, and by Benjamin Diskin in the English dubbed version.
Biography
At the end of a war between the Fūma clan and a neighboring country, the clan were heading for te Land of Rice Fields hoping to settle down. Arashi is seen by Orochimaru as the hope of the Fūma clan and decides to swear loyalty to him alongside Jigumo, Kamikiri, Kotohime, and Kagerō in order to restore the clan to its former glory.
The result turned Arashi into a madman. He posed as Orochimaru and used his clansmen as tools. After Kagerō's first defeat, he kills Jigumo and Kamikiri who were angry at being betrayed then uses them at Casualty Puppets. Upon meeting Naruto and his company, Arashi sheds his Orochimaru disguise before revealing Jigumo and Kamikiri as part of his body.
He easily manages to injure Naruto and entraps him in the Curse Mandala that would crush him. His cousin, Sasame attacks and briefly returns him to his senses, but it doesn't last. Sakura moves in showing determination to do something for her friends. Soon, Naruto breaks free, making shrapnel that returns Arashi to his senses.
The battle then begins to make Arashi's hideout collapse. To atone for his sins, Arashi throws Sasame to Gamahiro and Jiraiya and accepts his fate to die as a puppet.
Powers and Abilities
As a talented Fūma clan ninja, Arashi can create the Curse Mandala to crush his opponents within. He then uses the Casualty Puppet to turn his comrades Jigumo and Kamakiri into his extra limbs, but it also warps his mind.