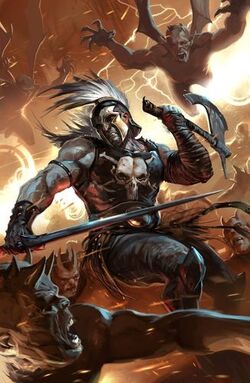 | | | |
| --- | --- | --- |
| " | The chain of command. Rules of engagement. This Geneva Convention thing. Medical evac. Supply lines. The white flag. The Red Cross. Worrying about evacuees and refugees. Taking prisoners. Losing the battle but winning the war. Cursed diplomats. The proper standard of grooming. Sensible things like having enough bullets before you go into battle. That's the dung my sister cares about. I'm the other God of War. | " |
| | ~ Ares | |
Ares is the Greek God of War and a villainous enemy of the Marvel superhero Thor, as well as an occasional hero.
Biography
Ares is the son of both of Zeus and Hera. Ares was worshiped as the God of war in ancient Greece and Rome. Ares was unsatisfied with Zeus' rule of Olympia. He tries to take over Mount Olympus on more than one occasion. Ares has three times attempted to conquer Olympus, twice in league with his uncle, Pluto, god of the Olympian underworld, but every time time he's thwarted through the efforts of his half-brother, Hercules, and any of Hercules' allies.
Ares, who hated Hercules ever since he had killed Ares' monstrous Stymphalian birds in the days of ancient Greece, had tried to gain revenge against Hercules.
Later, he ended up joining the Avengers (in the comic series The Mighty Avengers), which lead to his tenure in Norman Osborn's Avengers (in the comic series The Dark Avengers).  Eventually, he was brutally murdered in the siege on Asgard after fellow team-mate Sentry went berserk and tore him in half.
Gallery