m

Line 1:
Line 1:
−

{{Template:One-Line Article}}[[File:Armaggon(tmnt2012).png|thumb|250px|right]]

+

{{Template:One-Line Article}}[[File:Armaggon(tmnt2012).png|right]]

 

Armaggon is a new villain in TMNT season 4, he is also a wanted criminal, a bounty hunter and has been hired by Lord Dregg to hunt, bring the Turtles alive to him and Armaggon is voiced by Ron Perlman.

 

Armaggon is a new villain in TMNT season 4, he is also a wanted criminal, a bounty hunter and has been hired by Lord Dregg to hunt, bring the Turtles alive to him and Armaggon is voiced by Ron Perlman.

 
 
 

==History==

 

==History==

 
 
 
+

According to the criminal files he is wanted criminal through 87 Star Systems.

−

Write the first section of your page here.

 
 
+

==The Outlaw Armaggon!==

 
+

He is seen in the begining where he was discussing a deal with Lord Dregg before going after the turtles in the Fugitoid's ship which cuased them to land in Overmind's Lair, he is soon seen making a new deal of Lord Dregg about keeping the turtle's alive, he is soon helping them destroy Overmind before going after them again, he is soon defeated at the end when the Station exploded, but was not finished.​​

 
 
 

==Personality==

 

==Personality==

 
 
 
+

He is shown to be greedy when he doubled his bargment with Dregg when he gets a new mission.

−

Write the second section of your page here.

 
 
+
 

==Trivia==

 

==Trivia==

 

* Armaggon was an original character from Archie's TMNT comic book.

 

* Armaggon was an original character from Archie's TMNT comic book.

 
+

* He is the first Armaggon to be shown in animation.

 
+

* At Comic Con, many people confused him as a mutant.

 

[[Category:TMNT Villains]]

 

[[Category:TMNT Villains]]

 

[[Category:Male Villains]]

 

[[Category:Male Villains]]
---
Revision as of 21:13, 15 December 2015
✘

---
This page was marked for deletion because it has little to no content at all. If you think it shouldn't be deleted, please comment in its talk page.
---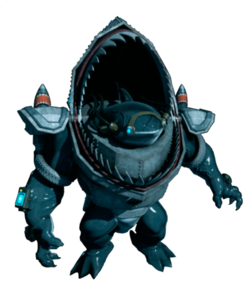 Armaggon is a new villain in TMNT season 4, he is also a wanted criminal, a bounty hunter and has been hired by Lord Dregg to hunt, bring the Turtles alive to him and Armaggon is voiced by Ron Perlman.
History
According to the criminal files he is wanted criminal through 87 Star Systems.
The Outlaw Armaggon!
He is seen in the begining where he was discussing a deal with Lord Dregg before going after the turtles in the Fugitoid's ship which cuased them to land in Overmind's Lair, he is soon seen making a new deal of Lord Dregg about keeping the turtle's alive, he is soon helping them destroy Overmind before going after them again, he is soon defeated at the end when the Station exploded, but was not finished.​​
Personality
He is shown to be greedy when he doubled his bargment with Dregg when he gets a new mission.
Trivia
Armaggon was an original character from Archie's TMNT comic book.
He is the first Armaggon to be shown in animation.
At Comic Con, many people confused him as a mutant.
Community content is available under
CC-BY-SA
unless otherwise noted.