✓
This Villain was proposed and approved by Villains Wiki's Pure Evil Proposals Thread. Any act of removing this villain from the category without a Removal Proposal shall be considered vandalism (or a futile "heroic" attempt of redemption) and the user will have high chances of being terminated blocked. You cannot make said Removal Proposal without permission from an admin first.
Additional Notice: This template is meant for admin maintenance only. Users who misuse the template will be blocked for a week minimum.


✓
| | |
| --- | --- |
| | This Article Contains Spoilers - WARNING: This article contains major spoilers. If you do not wish to know vital information on plot / character elements in a story, you may not wish to read beyond this warning: We hold no responsibility for any negative effects these facts may have on your enjoyment of said media should you continue. That is all. |



Click To Help DIO!

DIO has declared that this article has stopped in time, and any and all information on it may be outdated.
Help improve this article by checking and updating it's info wherever necessary
And now time resumes!

✓
NOTE: This article is about the incarnation of Arnim Zola from the Marvel Cinematic film series. The mainstream version can be found here: Arnim Zola.
| | | |
| --- | --- | --- |
| " | HYDRA created a world so chaotic that humanity is finally ready to sacrifice its freedom to gain its security. Once the purification process is complete, HYDRA's new world order will arise. We won, Captain. Your death amounts to the same as your life. A zero sum. | " |
| | ~ Zola explaining HYDRA's plan. | |
| | | |
| --- | --- | --- |
| " | I am afraid I have been stalling, Captain. Admit it. It's better this way. We are, both of us, out of time. | " |
| | ~ Zola's last words to Captain America. | |
Arnim Zola is a recurring antagonist in the Marvel Cinematic Universe, appearing as the secondary antagonist of the 2011 superhero film Captain America: The First Avenger, the overarching antagonist of its 2014 sequel Captain America: The Winter Soldier, a posthumous antagonist in the 2016 film Captain America: Civil War and a mentioned character in the 2019 film Avengers: Endgame. Variants of Zola appear in varying capacities in the Marvel anthology series What If...?, serving as the secondary antagonist of Episode 1x01, and another appearing in the last two episodes.
He is a Swiss Nazi scientist who aids Red Skull to organize HYDRA in his quest to conquer the world with the Tesseract. After Red Skull's defeat, Zola is pardoned and recruited by S.H.I.E.L.D., but instead joins forces with Alexander Pierce and rebuilds HYDRA after its dissolution, allowing the organization to survive into the 21st century and pose a threat to the Avengers through its many undercover operatives.
He was portrayed by Toby Jones, who also played the Dream Lord in Doctor Who, Lanfranco Cassetti in Agatha Christie's Poirot, Aristides Silk in The Adventures of Tintin: The Secret of the Unicorn, Culverton Smith in Sherlock and Gunnar Eversol in Jurassic World: Fallen Kingdom.
Biography
Captain America: The First Avenger
Zola is a Nazi scientist who works with the Red Skull to harness the Cosmic Cube's power (known in the film as the Tesseract). When HYDRA was organized he became his second in command and personal scientist. After HYDRA forces found the Cube, Schmidt asked Zola if he could study its power, and he accidentally discovered how to transform its energy into advanced laser ammunition.
He designed advanced weapons for HYDRA when they became separated from Nazi Germany and was valued enough by the Red Skull to help him escape by giving the scientist access to his personal automobile when Captain America raided the base, thus enabling Zola to also deliver it to safety in the process. He later staged an ambush for Captain America and the Howling Commandos onboard a train, in which Bucky Barnes lost his life, but was eventually captured and interrogated by Chester Phillips, Phillips noting that his lack of the cyanide pills normally used by HYDRA agents to prevent capture suggested that he did not want to die personally.
In exchange for sanctuary after Phillips sent a fake letter confirming that he had provided the Allies with information, Zola told them everything he knew about HYDRA and revealed that Red Skull's plans were of world domination.
Captain America: The Winter Soldier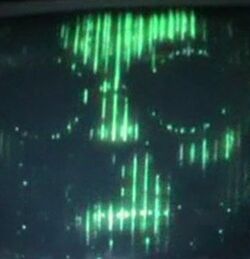 Zola returns in a minor, yet important role in Captain America: The Winter Soldier, where Captain America and Black Widow find him in an abandoned S.H.I.E.L.D. base and it is revealed that he uploaded his consciousness into a supercomputer before receiving a terminal diagnosis in '72, leading to his physical death.
Zola reveals that, when S.H.I.E.L.D. was founded, he was recruited to work for them, but at the same time, hoping to finish up what the Red Skull has started, Zola rebuilt HYDRA within S.H.I.E.L.D. and that they had been secretly been manipulating the world for many years to the point where humanity was willing to give up its freedom. Under the orders of U.S. Secretary of Defense Alexander Pierce (who is a high-ranking member and current leader of HYDRA), Zola designed an algorithm to be implemented by the S.H.I.E.L.D. helicarriers designed by Project Insight that would wipe out several million people on planet Earth - the only ones that could do anything to stop HYDRA from establishing a "new world order".
However, their conversation comes to an end when S.H.I.E.L.D. launches a missile attack pinpointed on Rogers' location, as Zola has been distracting them to allow the launch to happen. Whilst Rogers and Romanoff barely make it out alive, Zola presumably dies in the missile explosion.
Captain America: Civil War
It is also revealed that he was the true mastermind behind Howard and Maria Stark's deaths, by planning out an automobile "accident" on Long Island, which took place in 1991. It was also revealed later in Captain America: Civil War that the assassin responsible for the accident was none other than Bucky Barnes, who was, at that time, being brainwashed by HYDRA operative Vasily Karpov.
Avengers: Endgame
In Avengers: Endgame, when the Avengers travel back in time to collect the Infinity Stones and undo Thanos' genocide, Tony Stark/Iron Man and Captain America travel back to the S.H.I.E.L.D. base in 1970 to retrieve Pym Particles and the Space Stone. While there, Tony happens upon his father Howard, searching for Zola, wanting to ask him important questions.
What If...?
In the anthology series What If...?, Arnim Zola has two variants so far.
What If... Captain Carter Were The First Avenger?
The first variant appears in the first episode of the series. He first appears being escorted on a truck with the tesseract, which his superior; Johann Schmidt, also known as the Red Skull. Intends to use to some The Third Reich, which he believes to be Hydra's Champion. He is captured by Captain Carter, who takes the tesseract as well. After the tesseract is taken back by Red Skull, Captain Carter interrogates Zola for the location of Red Skull's main base. He is never shown again in the episode, nor is it shown if he still hides HYDRA within S.H.I.E.L.D.'s ranks, if he was ever recruited or not.
What If... Ultron Won?
Main article: Arnim Zola (Ultron's Timeline)
Captain America: Super Soldier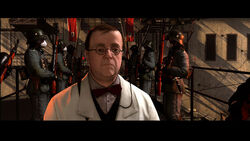 Arnim Zola makes an appearance in the video game; Captain America: Super Soldier as one of the main antagonists. The game takes place during Captain America's time in WWII, fighting the armies of HYDRA. Throughout most of the game, Zola is seen as a human. But around the middle of the game; Zola acquired a robot body. He told Captain America that he transferred his mind into a robot body to be immortal. Captain America fights Zola around four times in the game, and every time, Captain America fight Zola in his robot body. At the end of the game, after Captain America defeated the Sleeper, it turns out that Zola didn't transfer his mind into a robot body, but instead, he uses a video camera on his face placed it on the robot.
Gallery
Images
Videos
Trivia
Zola was intended to appear as a minor/cameo antagonist in Ant-Man. The cameo would reveal that he was in fact still alive, and had acquired the robotic body his comics counterpart had. However, this was cut in the concept phase.

However, in the finale of What If...? Season 1, Zola inhabits Vision's body and his face is projected on his chest in a manner reminiscent of his comic book counterpart.
External links

Villains
Comics
Absorbing Man | Adolf Hitler | A.I.M. | Aleksander Lukin | Anaconda | Arcade | Arnim Zola | Awesome Android | Baron Blood | Baron Wolfgang von Strucker | Baron Zemo | Batroc the Leaper | Beetle | Bi-Beast | Black Cat | Black Talon | Black Mamba | Black Widow | Blitzkrieg | Blizzard | Blood Brothers | Boomerang | Boomslang | Brothers Grimm | Bulldorzer | Bullseye | Cache | Carnage | Carrion | Chemistro | Constrictor | Cottonmouth | Controller | Count Nefaria | Cowled Commander | Crimson Dynamo | Crossbones | Dark Avengers | Darren Cross | Death Adder | Demogoblin | Doctor Faustus | Doppelganger | Eel | Electro | Famine | Fer-De-Lance | Firebrand | Fixer | Flag-Smasher | Ghost | Gorgon | Grand Director | Grant Ward | Graviton | Grey Gargoyle | Griffin | Grim Reaper | Grizzly | Heinz Kruger | Herr Kleiser | HYDRA | Hydro-Man | Iron Monger | Ironclad | Jack O' Lantern | Kang the Conqueror | Killer Shrike | King Cobra | Kingpin | Klaw | Korath the Pursuer | Korvac | Kraven the Hunter | Lady Deathstrike | Living Laser | Lizard | Loki | Lucia Von Bardas | Machinesmith | Madame Viper | Madcap | Magneto| Man-Ape | Mandarin | Master Man | Masters of Evil | Mentallo | Mesmero | Mister Hyde | M.O.D.A.M. | M.O.D.O.K. | Mole Man | Moonstone | Namor | Nightmare | Nightshade | Nitro | Piledriver | Princess Python | Puff Adder | Punisher | Punisher (Earth-95126) | Quicksand | Rattler | Red Ghost | Red Skull | Rhino | Ringmaster | Rock Python | Ronan | Roxxon | Säurespritze | Scarecrow | Scorpion | Sebastian Shaw | Secret Empire | Selene Gallio | Serpent Society | Shocker | Shockwave | Shriek | Sidewinder | Silver Sable | Sin | Sinister Six | Skeleton Crew | Slither | Slug | Songbird | Super-Adaptoid | Super-Apes | Superia | Super Patriot | Supreme Intelligence | Tarantula | Taskmaster | Terminus | Thanos | Thunderball | Thunderbolt Ross | Thunderbolts | Tiger Shark | Tinkerer | Titania | Titanium Man | Trapster | Typhoid Mary | U-Foes | Unicorn | Ultron | Vapor | Vector | Vermin | Vulture | Whiplash | Whirlwind | Winter Soldier | Wizard | Worthy | Wrecker | X-Ray | Yellow Claw | Zahnmörder | Zodiac
Movies
Captain America (1990): Red Skull | Valentina de Santis
Captain America: The First Avenger: HYDRA (Red Skull, Arnim Zola, Heinz Kruger, HYDRA Lieutenant, & Velt) | Adolf Hitler | Roeder | Hutter | Schneider
Heroes United: Iron Man and Captain America: HYDRA (Red Skull & Taskmaster)
Captain America: The Winter Soldier: HYDRA/STRIKE (Alexander Pierce, Winter Soldier, Crossbones, Jack Rollins, Jasper Sitwell, Russo, Senator Stern, Arnim Zola, Wolfgang von Strucker, List, Scarlet Witch, & Quicksilver) | Georges Batroc | Ferdinand Lopez | Gerald Durand
Captain America: Civil War: Helmut Zemo | Thunderbolt Ross | Winter Soldier | Scarlet Witch | HYDRA (Vasily Karpov, Josef, & Winter Soldiers) | Hero Mercs (Crossbones)
TV Series
The Falcon and The Winter Soldier: Winter Soldier | Flag Smashers (Flag-Smasher, Dovich, Gigi, DeeDee, Lennox, Nico, Matias, & Diego) | Sharon Carter | Baron Zemo | LAF (Georges Batroc & Louie) | Senator Atwood | Valentina Allegra de Fontaine
What If...?: Red Skull | Arnim Zola | Heinz Kruger | HYDRA's Champion

Video Games
The Amazing Spider-Man & Captain America in Doctor Doom's Revenge: Doctor Doom | Electro | Hobgoblin | Rhino | Boomerang | Grey Gargoyle | Oddball | Batroc the Leaper | Mysterio
Captain America and the Avengers: Red Skull | Crossbones | Klaw | Living Laser | Whirlwind | Sentinel | Grim Reaper | Wizard | Mandarin | Juggernaut | Ultron
Captain America Super Soldier: HYDRA (Red Skull, Arnim Zola, Madam Hydra & Baron Strucker) | Baron Zemo
Captain America: The Winter Soldier: Winter Soldier | Sin | Taskmaster | Shockwave | Serpent Society (King Cobra, Puff Adder & Diamondbak)
See Also
Agent Carter Villains