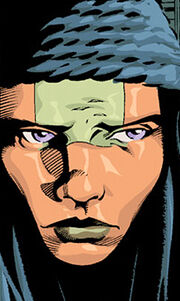 Asanté Vos is a major antagonist in the Twilight quadrilogy in the comic series Star Wars: Republic. She is the cousin of the Jedi Master Quinlan Vos and part of the glitteryll conspiracy, believing that it will provide her with the opportunity to become more than a Kiffu Guardian
Biography
Asanté was part of the conspiracy masterminded by Chom Frey Kaa to traffic the amnesia-inducing drug glitteryll, although how much she knew is unknown. In order to prevent her cousin Quinlan and his Padawan Aayla Secura from being assassinated after they discovered the plot, Asanté stunned Aayla and fed her and Quin glitteryll to wipe their memories. Quin was dumped on the planet Naar Shaddaa, while Aayla became a dancer in Pol Secura's estate. However, Quinlan regained enough of his memory to return to Ryloth, where he remembered seeing Aayla. When he arrived, Asanté introduced herself as his cousin and brought him to Pol. She was also present when Secura received a message from Chom Frey Kaa telling him to kill Vos.
Betrayal and death
After Quin and Vilmarh Grahrk discovered the spice spiders used in the production of glitteryll, Asanté appeared and shot Quin from behind. With Quin wounded, she explained her motivation: she wanted to be something more than simply a Kiffu Guardian, and the glitteryll scheme provided her with the money to achieve this goal. As she was about to kill Quin, something she expressed remorse for having to do, one of the spiders attacked her from behind and ate her.
Community content is available under
CC-BY-SA
unless otherwise noted.