✓



Click To Help Dr. Wily!

Dr. Wily has declared that this article is still under construction.
Please don't delete or edit this article yet, it may contrast with the original author's edits.
After I finish this article, the world will be mine! MWAHAHAHAHA!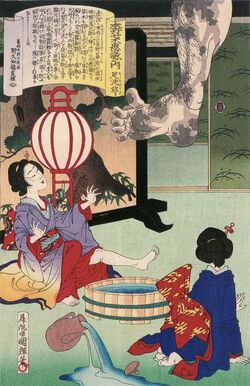 The Ashiarai Yashiki is an extremely bizarre Japanese spirit that takes the form of a disembodied leg and foot, many times larger than a normal human and often covered in mud or blood, this frightening being was believed to literally smash its way into the homes of terrified humans and demand them to wash it.
History
The reason behind this attack was unknown and most likely could never really be understood as spirits such as the Ashiarai Yashiki were believed to be governed by laws far beyond human understanding, yet even by Japanese mythology standards the Ashiarai Yashiki stands out as one of the more unique monsters of folklore and despite being little more than a giant foot it was capable of human speech.
According to some legends failure to comply to this creature's demands could result in death and/or misfortune, as is common with many mythological beings.
A popular origin of the mysterious Ashiarai Yashiki is that it was the form of mischievous Tanuki or Kitsune rather than an actual entity of its own right : explaining the strange features the spirit was said to have, such as thick fur and a destructive personality if ignored.
It could also of been a play on words (common in Japanese culture), as in ancient times "to wash one's feet" was to be cleared of a misdeed, suggesting the owner of the home that the Ashiarai Yashiki attacked was guilty of some crime and the spirit was punishing them in some form or other.
Popular Culture
The Ashiarai Yashiki also acts as the main focus and villain of the video-game Ashi Wash, where it appears and threatens to destroy the player's home unless they comply to its demands.
Due to the strange nature of the video-game it became a very popular choice for "Let's Play" channels, which in turn has helped to spread awareness of the original myth.
Community content is available under
CC-BY-SA
unless otherwise noted.