Jafar says: Read my lips and come to grips with the reality!


This article is a stub and is in need of expansion. You can help Villains Wiki by expanding it.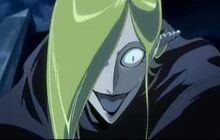 Atori is a Dragon Knight and a major antagonist in the anime Noein. He was voiced by Eddie Frierson in the English dubbed version of the anime and by Ken'ichi Suzumura in the Japanese version. His name is Japanese for finch.
Fukaru comes from an alternate dimension called La'Cryma where he was given special abilities from an event in his world called the Quantom Revolution. Unlike the rest of the Dragon Knights, Atori is showned to be mentally ill and sadistic as he sometimes fights against them in the series and use exetreme methods as neccessary. He even likes to belittle Karasu in the series as though he was his rival. Atori's past life shows that he had a younger sister named Sara who died young as she accidentally stepped on a mine. Atori loses his memories and becomes innocent. Atori forms a bond with Miho as he believed her to be his deceased sister. In the end of the series, Atori fights to his end as he protects Haruka's from the second Shangri'La raid that costed him his life. Atori is tall and skinny, with long blonde hair covering his right eye and has dark colored lips. His spin weapon is lightening based attacks.
Video
Community content is available under
CC-BY-SA
unless otherwise noted.