Wiki Targeted (Entertainment)
Play Sound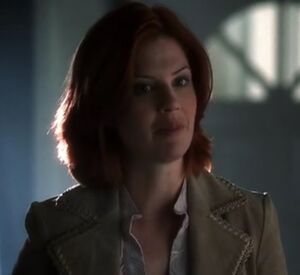 Audrey Hilden is the secondary antagonist from "A Night at the Movies", episode 3.19 of CSI.
She was portrayed by Megan Ward.
Biography
Audrey Hilden is a woman who had filing a lawsuit against her dentist, Gus Sugarman; claiming that Sugarman assaulted her while under anesthesia. She was using the Langly and Langly law firm to file her suit, and it was there that she met showgirl Kelly Goodson, who was filing a sexual harassment suit against her boss, Anthony Haines. The two women vented about the people causing their problems, and it was at that moment that the women decided to eliminate each other's problems in the manner of the 1951 Alfred Hitchcock film Strangers On a Train.
Kelly did her part; she killed Sugarman at the Wonderland movie theater, after Audrey set up Sugarman to appear at the theater. Audrey received a call from Kelly, who told her that the deed was done, and after this, Audrey called Sugarman's phone three times to see if Kelly was telling the truth. She backed out and refused to kill Haines, which led to Kelly stalking Audrey and later killing her in her home, strangling her to death with an extension cord.