✓



Click To Help Dr. Wily!

Dr. Wily has declared that this article is still under construction.
Please don't delete or edit this article yet, it may contrast with the original author's edits.
After I finish this article, the world will be mine! MWAHAHAHAHA!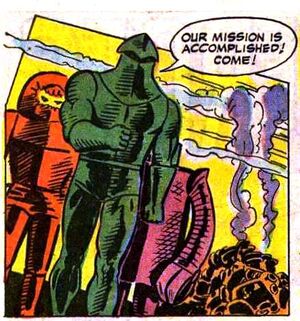 The Awesome Threesome are three robotic villains made up of Claw, Magneto, and Torpedo Man. Aquaman, Mera, Aqualad, and aquababy were visiting the remains of the Pavillion. The Awesome Threesome went into The Science Hall unnoticed to steal the Gyro-Moleculizer. Aquaman and aqualad here the commotion and once recognizing the Awesome Threesome apprehend the trio and destroy the Gyro-Moleculizer.
A 12 foot alien begins to attack a monorail and Aquaman and Aqualad go to help. The Alien runs to Atlantis and teleports into a flying saucer and departs. The alien was serving five thousand years of imprisonment on earth and the Gyro was keeping him on earth. The Awesome Threesome were being mind controlled to destroy the Gyro-Moleculizer. Torpedo Man was the only member to join Alexander Luthor Jr.'s Secret Society of Super Villains.
Gallery
Community content is available under
CC-BY-SA
unless otherwise noted.